It's strange to think of a non-MBTA route being able to enter MBTA bus territory and serve a subway station, no less! And yet, here we are with the BAT's 12 bus. Running all the way from Brockton to Ashmont, this is both the BAT's longest route and its busiest. What draws so many people to this lengthy ride? Let's find out.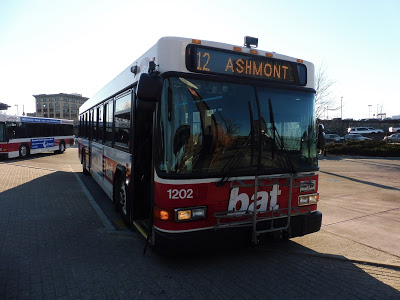 The bus at the BAT Center.
Heading out of the BAT Center complex, we navigated through downtown Brockton via Commercial Street, Centre Street, Montello Street, Lincoln Street, and Main Street in quick succession. A lot of people got on at a shelter on Main Street, then we left the tall-ish buildings of downtown behind as we headed north. Now, since the 12 runs parallel with the 1 along this section, the latter takes care of all the local stops, since it's much shorter.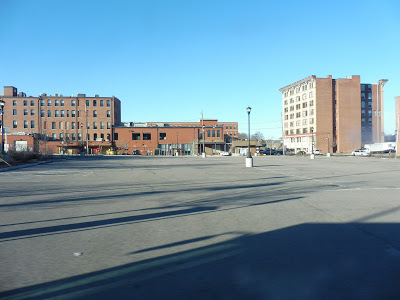 Welcome to beautiful downtown Brockton…
That said, we still made stops along the way, so…yeah, I'm not sure how strictly the "no stops" thing is followed. Regardless, the street was an eclectic mix of residential, commercial, and industrial buildings. We also passed a cemetery, a school, and a church along the way. Although coming pretty close to Montello Station, we did not serve it directly.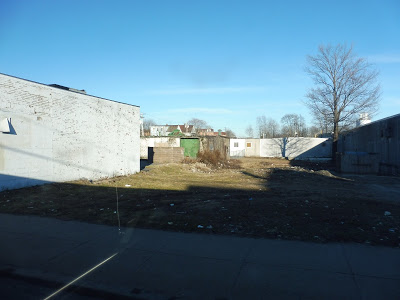 An empty plot of land.
It got less dense after that, with the apartments becoming just houses and the businesses becoming more spread out. As we entered Avon, the businesses left completely and it became a suburban residential neighborhood. And once we passed an intersection with the wide Harrison Boulevard, the 1 ended and we were alone on West Main Street.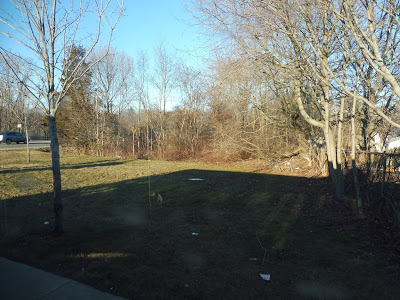 A patch of trees.
We went by a little convenience store on one side and an industrial warehouse on the other, and then it was houses once more. After a little while, Avon Middle High School was on the left and an incredibly cute library was on the right. These buildings signified that we were arriving at Avon Square, which was…nothing much, actually. It was basically just a fire station, a church, and a few businesses along a wide, pedestrian unfriendly road.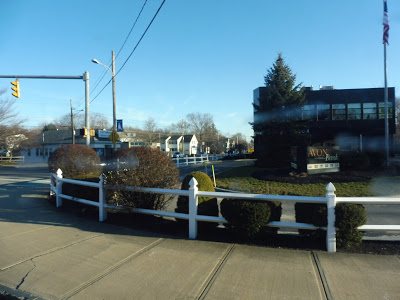 Mmm…gotta love Avon Square.
This also marked the point where we were joined by the MBTA's 240 bus. Yes, from Avon Square all the way up to Ashmont, the 12 is paralleled by the 240, stopping at the same stops. This seems like an interesting arrangement, with two transit authorities basically running the same route, but I guess that's how it is.
Soon after Avon Square, we entered Randolph. Although South Main Street hosted a few industrial and commercial buildings, it was still mostly houses. However, we soon passed a school and went under pylons in quick succession, and arrived in Crawford Square just a bit later.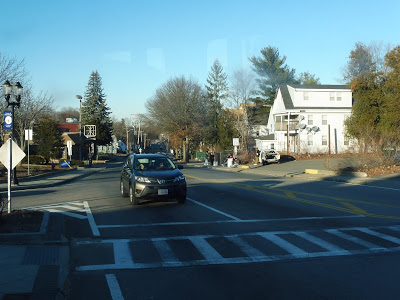 A street in Crawford Square.
There was a connection to the 238 here, although the square was still underwhelming. The street was too wide, the sidewalks were too small, and the businesses were too uninteresting to make it seem like a fun place to hang out. As we continued up North Main Street, the businesses started to get big parking lots around them, and we even passed a small shopping plaza.
However, after that, it went back to mostly houses, with a bit of retail. There were also a few churches, industrial buildings, housing developments, and another school. Near the intersection with Pond Street, North Main was lined with businesses for a little while. We passed through one more residential stretch, then the street grew incredibly wide, went by some highway development, and went under I-93 with a cloverleaf interchange.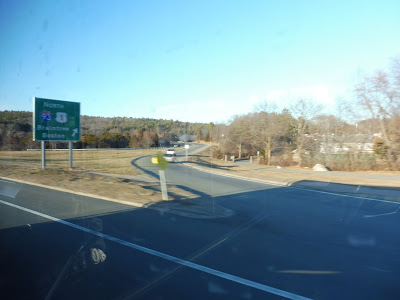 One of the ramps onto the highway.
Right after that, we entered Quincy, the street became Randolph Ave, and we were right smack in the middle of the Blue Hills Reservation. Understandably, this section had no stops, so we were just speeding through the woods. Once we left the reservation into Milton, there was a bit of retail, and then it switched over to spaced-out houses.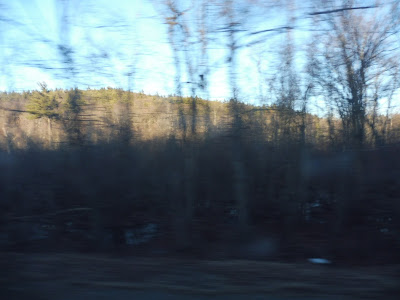 Woods!
The fringes of the reservation still dominated the right side of the road, while the left featured houses and, at one point, the entrance to a golf club. We also passed the huge Milton Department of Public Works, which seemed like just a big industrial complex. After that, we turned onto Reedsdale Road, which was mostly residential except for a library. For a short time, we were also running with the 245 along here.
The 245 left us at Brook Road, where we continued onto Central Ave. The houses got closer together as we got further north, until they became businesses. Here, we crossed over the Mattapan High Speed Line at its Central Ave stop, and then went over the Neponset River.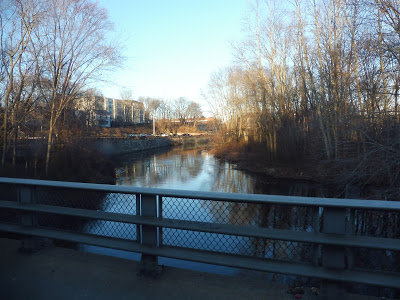 What a lovely view!
On the Boston side, we turned onto River Street, joining the 27. After a mix of apartments and retail, it became entirely the latter when we entered the Lower Mills area and turned onto Dorchester Ave. From there, the street became lined with apartments on one side and a huge hospital on the other. More residences now lined the street on both sides, then we finally took a right into the Ashmont busway.
The bus gobbling up passengers to go back to Brockton.
BAT Route: Ashmont Route 12 (Routes to Boston and Beyond)
Ridership: This is by far the busiest route on the BAT, with 2,029 riders per weekday and 1,301 per Saturday. There's no data for the 12's Sunday service yet, but every time I see one on Sunday at Ashmont, it's packed. My ride on a late Saturday afternoon was lighter, with about 25 passengers in total. Most of them went from beginning to end, but a few people got on between Brockton and Avon and others got off at local stops along the route.
Pros: It's a BAT route that connects to the freakin' Red Line! That in itself is awesome! Of course, this makes it quite busy, and it even has a few express trips during rush hour. Although the route has a premium fare over the rest of the BAT ($2.00 instead of $1.25), it's still vastly cheaper than taking the Commuter Rail into Boston (which costs $7.50). Finally, although the headways are the same as other BAT routes Monday through Saturday, the 12 has a longer service day, from 4:50 AM to 12:20 PM on weekdays and 5:05 AM to 11:40 PM on Saturdays.
Cons: The Sunday service is bad. I mean, it only runs about half as often as other BAT routes! Now how does that make sense? Is this not the busiest route on the system? I'm pretty sure it's still gonna get ridership on Sundays! So why doesn't it run as often as other routes?
Nearby and Noteworthy: Hmm…to be honest, the most "noteworthy" place the route serves is Ashmont, but only because you can get the Red Line to actually interesting attractions from there. I mean, I could mention the small squares the 12 passes through, but none of them were very captivating.
Final Verdict: 8/10
Well, regardless of the 80 minute headways on Sundays, the 12 is definitely one of the best routes on the BAT. It runs as often as other BAT routes all other times, but it also has a longer service day, and – oh yeah – serves Ashmont! It's a cheap (but slow) alternative to the Commuter Rail, and it gets a bunch of ridership along its massive length. If only it had more frequent Sunday service…
Latest MBTA News: Service Updates