Geographically, the 27 runs very close to the Mattapan High Speed Line along its whole route. Looking at it on a map, I thought it seemed like the most useless bus route ever! But in actuality, it serves quite a lot. See, the Mattapan High Speed Line is separated from River Street by the Neponset River, which doesn't have any crossings on the western half of the route. Thus, each mode of transportation basically gets its own side of the river. We're taking a look at the northern part today, along which the 27 runs.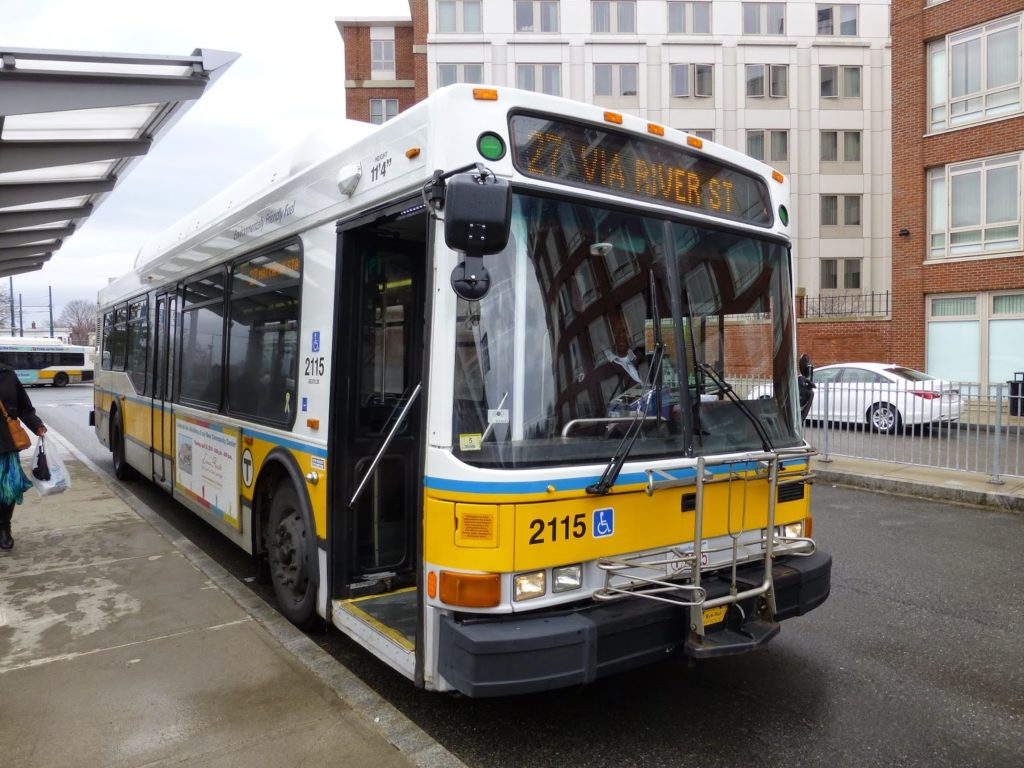 A really odd angle at Ashmont.
We left Ashmont heading down Dot Ave, where things got residential pretty quickly. We passed a big hospital and then entered the Lower Mills historic district. The street became lined with businesses, and there were also some old factories in view. Here we turned onto River Street.
Passing a small mall, River Street then became more residential. We went by a huge assisted living complex, and a playground later on. The Neponset River Reservation then took up one side of the street, with more houses on the other side. Soon, however, there were apartment buildings on either side of the road that signified that we were in Mattapan. We pulled into the Mattapan busway right after that.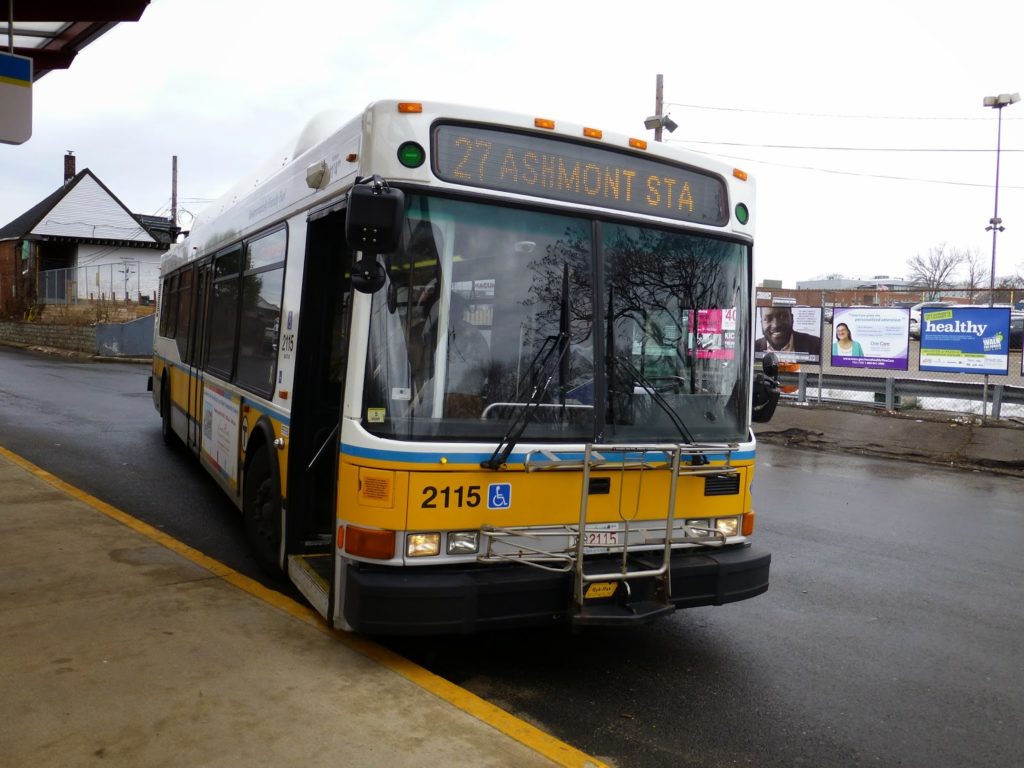 The bus in Mattapan.
Route: 27 (Mattapan Station – Ashmont Station via River Street)
Ridership: There were about 15 people on my ride. Weirdly, some of them actually took this bus from beginning to end! I guess it's because the bus is 50 cents cheaper than the Mattapan High Speed Line. On weekdays, this bus only gets an average of 887 boardings, but when it gets combined with the 24 on weekends, the ridership jumps to 1,319 boardings on Saturdays and 724 on Sundays (it may seem like less, but it's still good relative to other Sunday buses).
Pros: As you can probably tell, this is a really short route. It's scheduled to take 10 minutes to get from Ashmont to Mattapan, and it really was that quick. Still, it serves the side of the Neponset River not covered by any public transit lines. Also, combining the 24 and 27 nights and weekends seems to be an efficient way to save money while still keeping both routes.
Cons: I wonder if they could also combine the routes middays. They should leave rush hour alone, for sure, but there were 15 people on my midday 27 bus – not very much. That said, the 24 gets higher ridership than the 27, so perhaps it's more crowded middays.
Nearby and Noteworthy: The Lower Mills seemed like a pretty cool place. It would be interesting to tour one of those old factories, but I'm not sure if you can.
Final Verdict: 8/10
This is a nice little route! I forgot to mention the schedule, but it runs a consistent every half hour all day. On weekends the 24/27 runs every 40 minutes Saturdays and every 65 minutes Sundays, which both mean healthy amounts of people on each vehicle. So yeah, overall, this is a great little route with a fine schedule and fairly good ridership.
Latest MBTA News: Service Updates
Governor Charlie Baker wants to make some radical changes to the MBTA, but transportation officials are pushing back.