It's interesting just how close this route comes to MBTA bus territory. The 1 ends only about a mile away from the southern terminus of the 238 and the 240! Does that mean the route itself is interesting? Nah.
The bus entering the BAT Centre.
We headed down Commercial Street, then we turned onto School Street. This took us under the Commuter Rail tracks and past Brockton City Hall before we turned onto Main Street, running through the vast array of unoccupied buildings known as downtown Brockton. As we continued north, it started to become a mix of industrial buildings and businesses, while houses lined the side streets.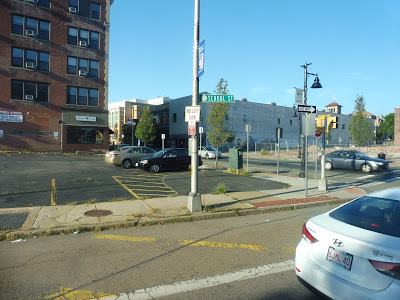 Beautiful downtown Brockton…
We passed a cemetery and a school, after which the scenery got more diverse: there more more houses along the road now, and the industrial buildings came less frequently. After we "went by" Montello Station (it was a few blocks away, but close enough), the houses got more spread out and suburban. Entering Avon, we merged onto East Main Street, which was entirely suburban houses.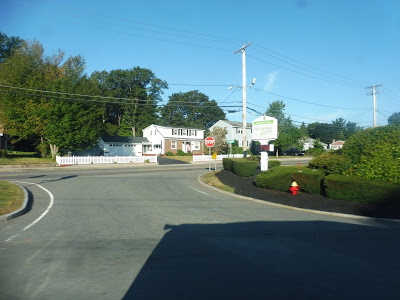 Heading onto East Main.
We made a sharp roundabout turn onto Memorial Drive, which led us to the route's terminus, Walmart. However, I stayed on to go back to Montello, and the 1 takes a slightly different routing to go back. We headed down Harrison Boulevard, which was all forest, before turning onto West Main Street. That took us past houses back down to North Main Street, and I took the route down to Montello.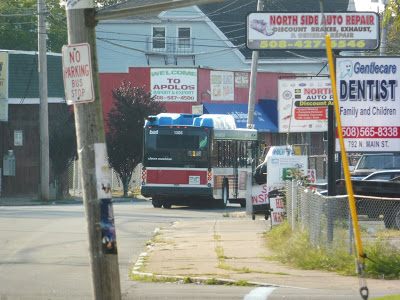 Mmm…Brockton.
BAT Route: Brockton Route 1 (Montello Street via North Main Street)
Ridership: In 2014, the 1 got about 680 passengers per weekday, 400 per Saturday, and 170 per Sunday. My ride had about ten people on board, which is good for a weekday morning going outbound, and the route seems to get pretty good ridership in general.
Pros: This is basically the local version of the 12, offering service along its Brockton section for a cheaper fare with additional service to Walmart. It has the typical BAT pulse schedule, which works fine, although there's one exception…
Cons: There's no weeknight service – instead, riders are put onto the 12. Now, I'm a little dubious about that: do passengers have to pay the higher fares of the 12 during those times? Sure, it's only 25 cents more, but that could make a big difference if people are relying on night service every day.
Nearby and Noteworthy: I don't think this route serves much of note. I guess there's Walmart?
Final Verdict: 7/10
Despite the questionable weeknight service, the 1 is still a fine BAT route. It has the classic schedule, it serves a good amount, and it gets decent ridership.
Latest MBTA News: Service Updates