Alright, let's switch gears to a proper Commuter Rail line. As one of the more transit-dependant cities in the greater Boston area, it makes sense that Brockton has more than one Commuter Rail station. The northernmost one in the trio of Brockton stops is the fun-to-say Montello Station, and it's…pretty much a generic Commuter Rail station.
Yep, that's a typical platform for the Old Colony Lines.
As usual, this platform is way longer than it needs to be, and only a small portion of it has shelter. It is a high-level platform, though, and the shelters are fine, if bland. They have what you'd expect from a newer Commuter Rail station: benches and wastebaskets…and that's about it. There's another shelter further down the platform on the inbound side, and it's pretty similar to the main one.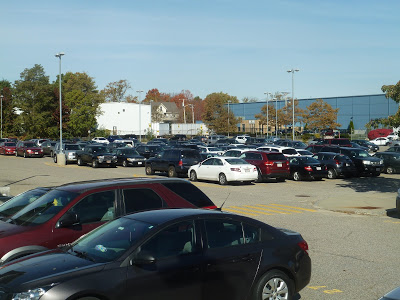 The crowded parking lot.
Considering that the area around Montello is relatively dense, it's great that the station has a sizeable parking lot. Well, technically two. There's a smaller lot on one side of the station accessible via a path across the tracks, but the main one is on the eastern side. In total, the station has almost 350 spaces, which is fantastic.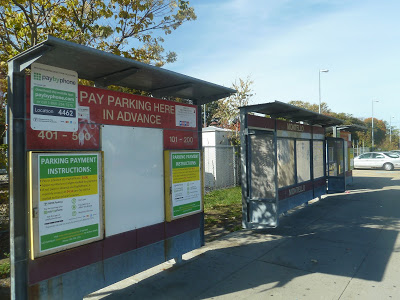 The bus waiting area.
Montello is served by the 230, the southernmost MBTA bus route, which heads up to Quincy Center. That bus goes directly into the parking lot, stopping at a rather meager waiting area. It consists of a couple of old "honor boxes", plus a station sign. These are all somewhat sheltered, but there aren't any benches, which is annoying. In addition, the BAT serves this station, but I'm not sure if it directly goes into the parking lot.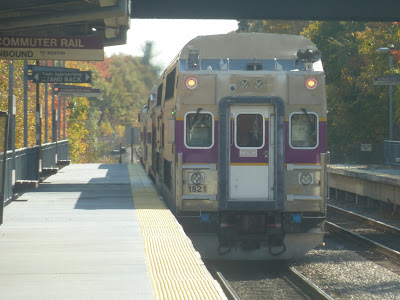 A train leaving the station.
Station: Montello
Ridership: Although Montello is the least-used of the three Brockton stations, it still gets a good amount of ridership. Every weekday, the station gets 655 inbound riders. However, it looks like not too many people come in by car. There are lots of houses around the station, so many riders probably walk here, while some may take the 230 or the BAT.
Pros: The station is accessible and fully high-level. Plus, it has a big parking lot and a few bike spaces. Also, since it's in a pretty dense area, Montello serves quite a few people, and it has some bus connections to boot.
Cons: Mainly, I just wish the bus shelter had a bench. You never know how long people may have to wait for a bus, and leaning against a wall for half an hour isn't the best. Also, Montello is just a boring station as a whole, feeling rather bland and quiet.
Nearby and Noteworthy: The area around the station is mostly either industrial or residential, but there are a few fast food restaurants if you head up North Montello Street. Not that you'd come to Montello for a few fast food restaurants.
Final Verdict: 7/10
I find it hard to give a station as boring as this anything higher than a 7. I mean, Montello honestly has quite a few good things about it. It's got a high-level platform, a big parking lot, and bike spaces. But…it's just so bland! Plus, there's the lack of bus benches, but admittedly, people seem to just wait on the steps to the platform. But that's not a proper bench! Okay, so most of the reason it's a 7 is because the station's boring, but the bench thing is annoying, too.
Latest MBTA News: Service Updates