Welcome to the southernmost bus route on the MBTA! The 230 is one of those suburban trips that stays on the same road most of the time and goes through multiple towns. So, is everyone ready for some Brockton-Holbrook-Braintree-Quincy action? Let's do this.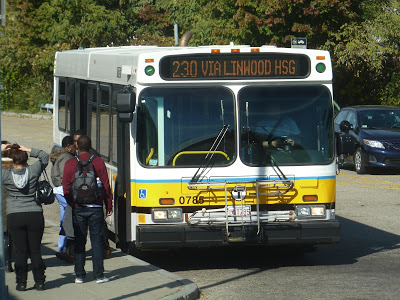 The bus at Montello.
After boarding in the Montello parking lot, we headed up Sparks Street, passing the industrial surroundings of the station. We then turned onto Howard Street, which after a bit, was lined with dense houses. There was one more industrial stretch, then we entered Holbrook and it was residential again, though less dense.
We passed a cemetery, then the street became South Franklin Street. There were some businesses at the intersection with Linwood Street, onto which we turned. Midday 230 trips serve Linwood Housing, so this was a small detour into a development where all the residences were the same. Someone got off here, then we headed back to South Franklin Street.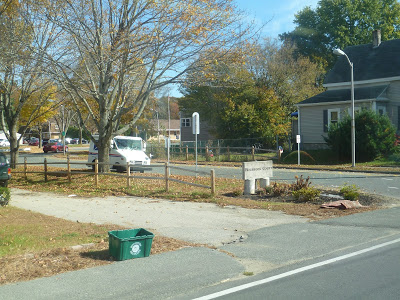 The entrance to Linwood Housing.
Continuing north again, we went by a shopping mall, a school, and a storage center, then it went back to houses. After a little while of pure residences, some more industrial buildings started to creep in between the houses. From there, we passed the Holbrook Public Safety building, a huge high school, and then we entered Holbrook Square.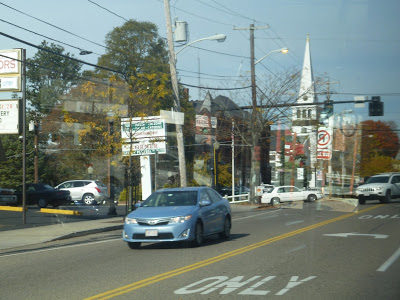 There are some weird reflections going on here, but this is a glimpse of Holbrook Square.
I gotta be honest, I wasn't too impressed with Holbrook Square. Aside from some interesting old buildings, it didn't feel very downtowny. With wide roads, lots of cars, and parking lots in front of the businesses, it wasn't pedestrian-friendly, and none of the businesses seemed especially interesting. That said, the old buildings were great, as I mentioned before.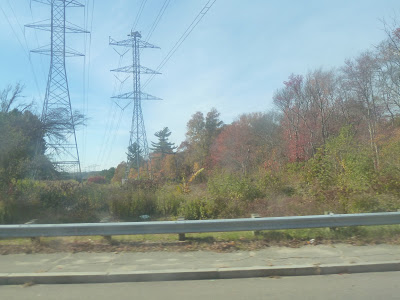 Going under some pylons.
As the businesses thinned out on what was now North Franklin Street, the houses came back and it was residential again. After heading under some massive pylons, we passed another mall, the street became Washington Street, and we were in Braintree. It was still residential, though we did pass a nice-looking park at one point.
The houses were close together, but it wasn't quite as dense as it was back in Brockton. We went by a small clinic, then a few industrial buildings. We then crossed over the Commuter Rail tracks and closely followed them, while the street became Hancock Street. There was another industrial stretch, then we reached South Braintree Square, which was significantly more walkable and interesting than Holbrook Square from before.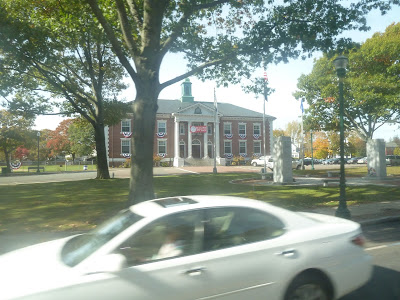 Hey, look, it's Braintree Town Hall! And…a car.
The businesses continued for a while, but there was a nice small park in front of Braintree Town Hall. However, we then turned onto Union Street, and the scenery completely changed. Heading under the Red Line/Commuter Rail tracks, we turned onto the incredibly wide Ivory Street, then went into the parking lot monstrosity of Braintree Station.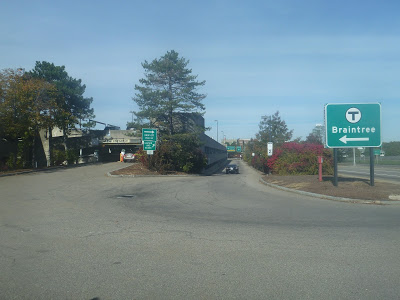 Leaving Braintree.
After dropping many of the passengers off, we returned to Union Street, then continued north on Washington Street again. It was residential, though there was the occasional businesses that slipped in between the houses. That said, it became all businesses when we reached Braintree Square, which was significantly less interesting than South Braintree Square.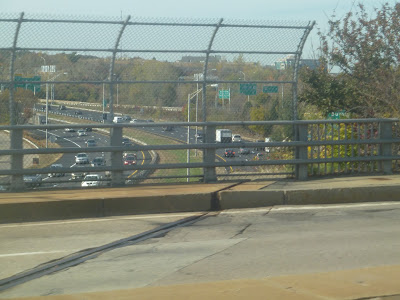 Some cars going down Route 3.
There were a few more houses, then we crossed over Route 3. The street was now Independence Ave. After going by a high school, we entered Quincy, the road soon getting residential. Soon after that, we passed the closed gate to Quincy Adams Station, which was so close…and yet so far.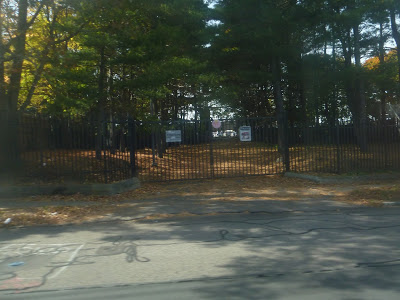 Ergh, this gate just makes me angry!
The houses were pretty dense by this point, but there were fairly industrial businesses at the intersection with Franklin Street. Independence Ave became Franklin Street here, which was lined with businesses of varying interest. Other routes were joining us as we turned onto School Street, then Hancock Street.
We headed right through the heart of Quincy Center, the street lined with retail. A few blocks north, there was construction, but luckily we avoided it for the most part by turning onto Temple Street, then Washington Street. Washington Street merged back into Hancock Street, and we turned into the Quincy Center busway soon after.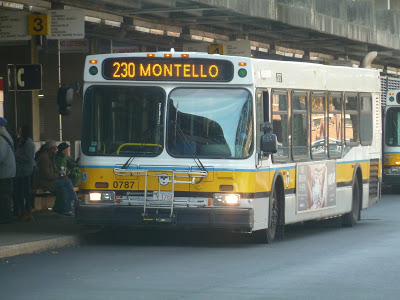 A different 230 in Quincy.
Route: 230 (Quincy Center Station – Montello Commuter Rail Station via Holbrook and Braintree Station)
Ridership: This is one of the busier Quincy routes on weekdays, with an average of 1,733 riders. It drops on weekends, with 756 and 492 average riders on Saturdays and Sundays, respectively. As for my ride, there were about 30 people in total, approximately half of whom got on at Montello. Braintree Station was where most of the riders got off, with only a few people continuing on to Quincy.
Pros: Since it's so long, the 230 serves a lot. It's the only MBTA bus route to Brockton and Holbrook (the routes serving the Holbrook Commuter Rail station don't actually enter the town), and one of only a few to serve Braintree. Also, I have to commend the 230's rush hour schedule – it runs every 20 minutes in the morning! Every half hour in the evening is slightly worse, but still good.
Cons: I want to be forgiving with the 230's schedule. Since it's a long suburban route, it makes sense that it wouldn't run that often, and I understand why it only goes every hour on weekdays and Saturdays. That said, every 90 minutes on Sundays is pushing it.
Nearby and Noteworthy: This route goes through a few suburban downtowns, so I'll run through them south-north. Holbrook Square didn't have much, though there were some interesting old buildings there. South Braintree Square is a great commercial center, including a great small diner. Braintree Square, however, seemed to have a lot of boring businesses, while Quincy Center is, of course, quite busy with lots of retail.
Final Verdict: 7/10
Honestly, considering what kind of route the 230 is, the schedule isn't bad. Every 20 minutes at rush hour is great for such a long trip through the suburbs, while the every hour schedule of weekdays and Saturdays is what you'd expect from a route like this. The Sunday schedule is bad, admittedly, but the fact that it runs the full length on Sundays is still great. And of course, this bus goes right through some major south shore towns, which makes the 230 a very important route to keep around.
Latest MBTA News: Service Updates