Hoo boy, we are going deep into Park-and-Ride Land today, people. After Alewife, Quincy Adams has the largest park-and-ride garage on the entire system. And unlike Alewife, which has seen lots and lots of development, Quincy Adams is still kind of in the middle of nowhere. And also unlike Alewife, which has pedestrian access to residential neighborhoods, there's no such thing at Quincy Adams. Pedestrians? What are those? Quincy Adams sure has no idea. Here we go.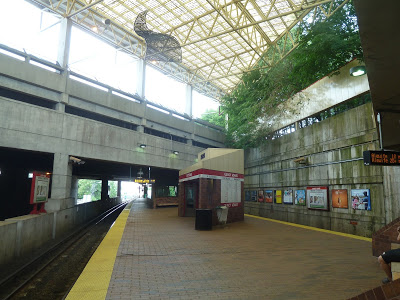 Woah…
Okay, so as you can see, Quincy Adams' platform is really cool. The middle is wide open, and lots of sunlight streams in. There's some interesting art up on the ceiling that makes up for the really ugly concrete. The coolest part, though, is the trees that poke into the station. Is it overgrowth? I have no idea, but they add a really unique touch to the station.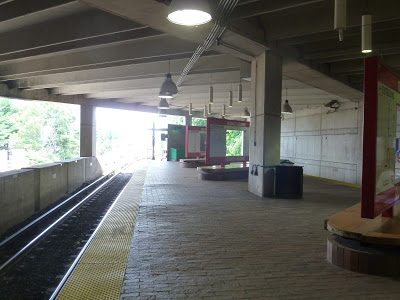 And then, this.
Unfortunately, the ends of the platform are much less impressive. They're very dark, despite natural light coming in, and don't really have much of note. It's just a lot of concrete. At least the whole platform is sheltered, though, since the parking garage was built over it. You can actually see parts of the garage from the center portion of the platform.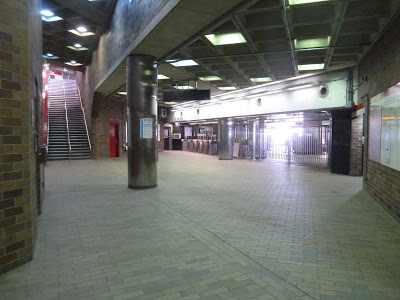 Well, that looks depressing.
From the platform, staircases lead down to the mezzanine. There are two sets of staircases, so one has an up escalator and one has a down escalator. There's an elevator between the two, as well. They lead to a very large area with not much of note, except for some bathrooms. And yes, they were disgusting.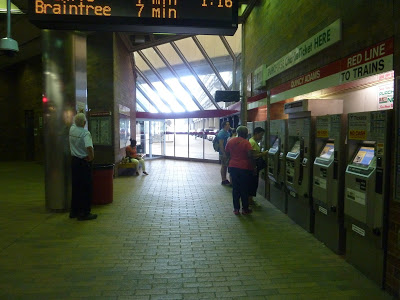 The mezzanine proper.
I'll say this, the mezzanine is certainly functional. It has a bunch of fare machines and a bunch of fare gates to easily transport lots of people. It also has a convenience store and multiple staircases and elevators to the parking lot. But there isn't much to write home about for its aesthetics. They're just kind of dark and bland. Still, at least it's not concrete!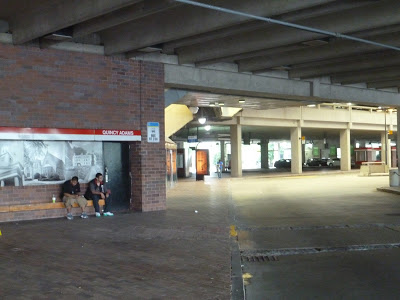 Ech.
The busway is also functional. It has lots of bench space, as well as a wastebasket, and it's entirely sheltered. Entirely sheltered, that is, by a gross, dark concrete parking lot. The busway also leads to the only pedestrian entrance to this station, out to Burgin Parkway, where there really isn't much of anything. You have to walk across some extremely pedestrian unfriendly roads in order to get to any form of neighborhood.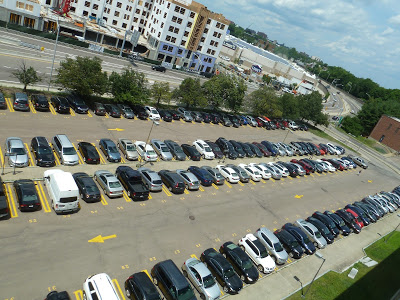 Don't ask me why this picture is tilted, because I have no idea.
Parking access from Burgin Parkway is limited – people only have access to a surface lot and the ground floor of the parking garage. That's still 290 spaces, though, which seems like a decent amount. I'm not sure if it's enough, though – as you can see in the picture above, that surface lot is packed (I took the picture from the roof of the garage, by the way). There are also 64 bike spaces at this station which are accessible from Burgin Parkway.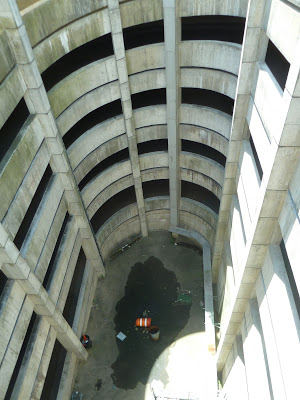 That's a loooooooong way down.
The bulk of this station's parking is in its huge, 6-story garage. In total, this station has 2,538 spaces, which is a massive amount. Interestingly, over a quarter of that is left empty on a typical weekday, so…I guess it's actually a little too much parking. For most of the garage, access is limited to highway ramps coming from Route 3. This station is extremely well-situated, though, right next to the big interchange between I-93 and Route 3, and only about 10 minutes from I-95.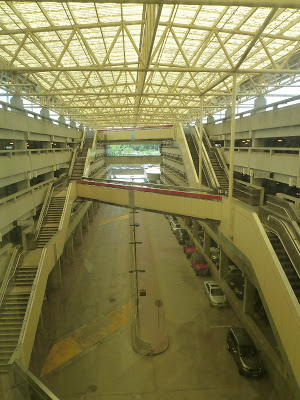 The huge center portion of the garage.
There's a road that runs through the center of the garage. I assume it functions as a pick-up/drop-off area, but I'm not sure about that. Interestingly, it has some sort of busway, with 12 berths! Only one of them seems to actually have something going to it, which is a shuttle to a nearby office park. Maybe this is where cars drop people off? I'm not sure.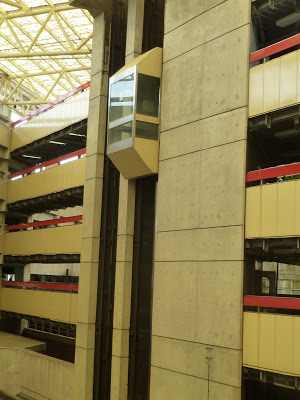 I love that!
There are a few ways of getting between the levels of the garage. There's a set of stairs, which run in a diagonal line down the center portion of the garage. Additionally, alternate staircases are located at the far ends of the lot, and they are disgusting, and do not touch the liquids you may encounter within them. Then there are the elevators, which are glass, and offer views on three sides. Not very interesting views, but views nonetheless.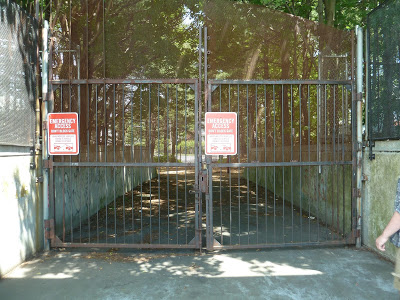 A closed-off pedestrian exit.
Okay, you know what grinds my gears? There was this nice, convenient pedestrian path that led to Independence Ave and a big residential neighborhood to the east of the station. Sounds great, right? Well, people were parking at local spaces and using the walkway to avoid paying at the garage, so the MBTA was like "Okay, well, we're losing some money on parking, so let's cut off hundreds of potential fare-payers from ever using this station by closing the walkway."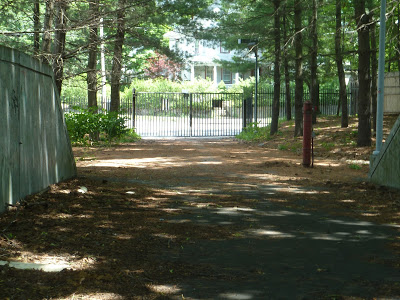 Are you kidding me? Look how close that is!
It took me a little while to find the closed exit, but it got me really mad when I found it. I mean, look at that picture above! What is that, 50 feet? People from that neighborhood have to go over a mile out of their way to get to a station that's right there! It's a 25 minute walk when it could take just 2 minutes! Geez, Louise, let's get out of here.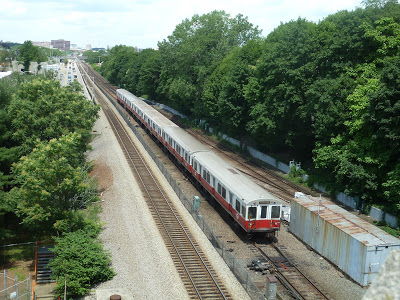 Aw, yeah, from-the-roof shot! Quincy Center can be seen in the background.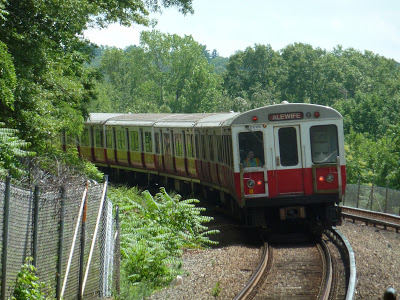 A train curving into the station.
Station: Quincy Adams
Ridership: Ech. It only gets an average of 4,785 riders per weekday, making it the second least-used station on the Braintree branch. I would assume most of these people either park here or get dropped off, because there aren't really any alternatives. There are very few neighborhoods within reasonable walking distance to the station (i.e. NOT over a mile to get to a station 50 feet away).
Pros: Okay, first things first, this station's platform is awesome, there's no doubt about it. And I think the amazing center part of it makes up for the dark portions on the ends. Also, this station offers lots of parking. More than enough, in fact! And it's in a great, accessible location for cars.
Cons: THE LOCKED GATE TO INDEPENDENCE AVE. Anyway, aside from that, parts of the station are pretty ugly, and it definitely has a brutalist feel to it overall. Also, Quincy Adams only has one bus connection, the 238 to Randolph from Quincy Center. The 230 on Independence Ave would also serve the station were it not for the fact that THE PEDESTRIAN WALKWAY IS HELD UNDER LOCK AND KEY BY THE MBTA – excuse me.
Nearby and Noteworthy: Do you like Lowe's? How about BJ's? Or perhaps Home Depot? Well, then this station is for you! Literally, that's it for noteworthy things.
Final Verdict: 4/10
If you're in a car, then this is a pretty great station. You can drive in directly from the highway, easily find a space in the huge parking lot, and make your way down to the really awesome platform. If you're walking, however, good luck with even getting to the station. Sure, there are a few residential neighborhoods to the west of Quincy Adams, but to the east – well, it's a shame the convenient pedestrian path is closed. Seriously, just reopen the darn path.
UPDATE 12/3/18: The gate has finally reopened!!!! This is seriously amazing news. Heck, why not, let's update this baby to a 7. It's always been a station just for cars, but now, pedestrians can use it too. Great job to everyone involved for getting this thing open again! Check out this post for pictures.
Latest MBTA News: Service Updates