Ah, here we go! Let's review a good-looking station for once! Yes, Ashmont was renovated recently, and it looks amazing. Let's get right into it and wash out the brutalism from the last review.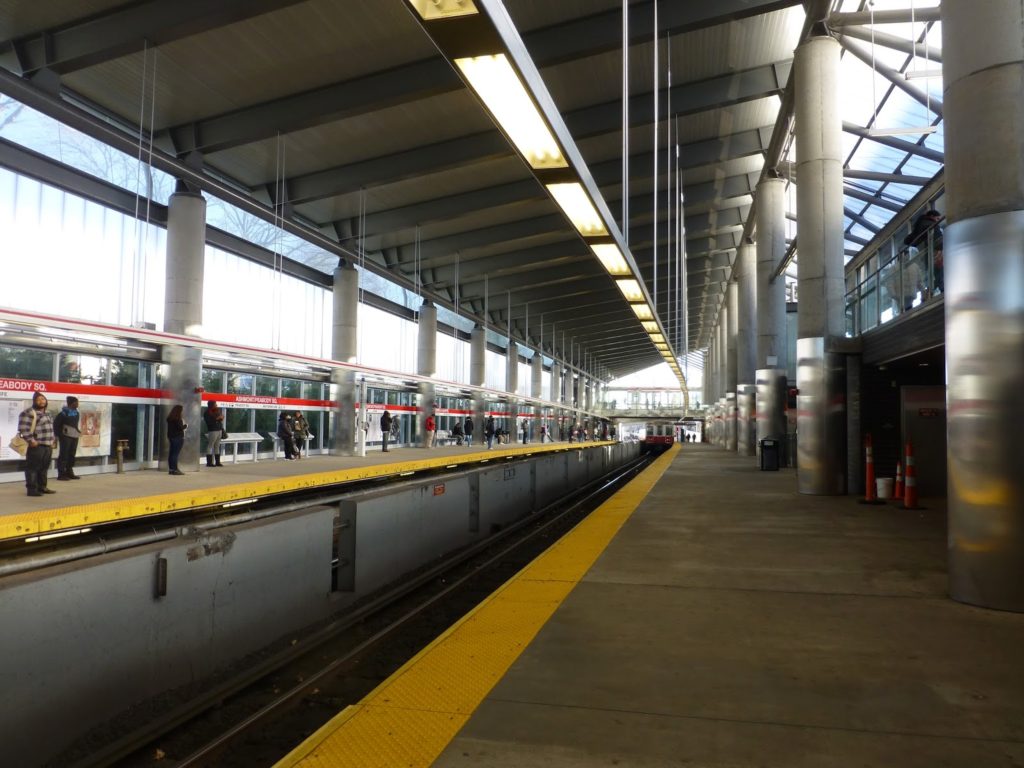 This platform is awesome!
I really, really love Ashmont's platform. It's at ground level, but completely enclosed, but it also has glass windows so you can still look out! It's a really, really nice platform. It does have these weird benches that you kind of lean on while standing up, but you have to take the good with the bad. There are normal benches, too.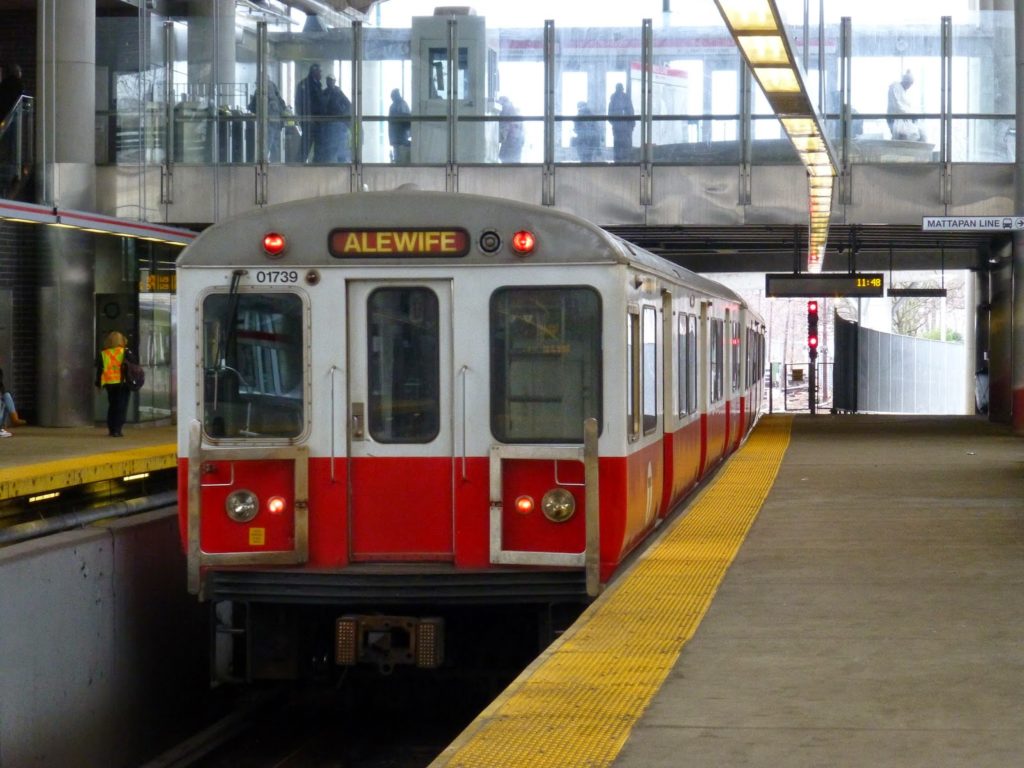 A train leaving the station.
And something I didn't fully understand until I last came here was that the outbound platform (where trains go out of service) has no fare gates! You can just leave and get into the busway! And it's not like people can fare dodge and just walk onto the outbound platform because you can't get on trains there! But the inbound platform still has fare gates, obviously! Okay, well, it's a cool layout to me, at least.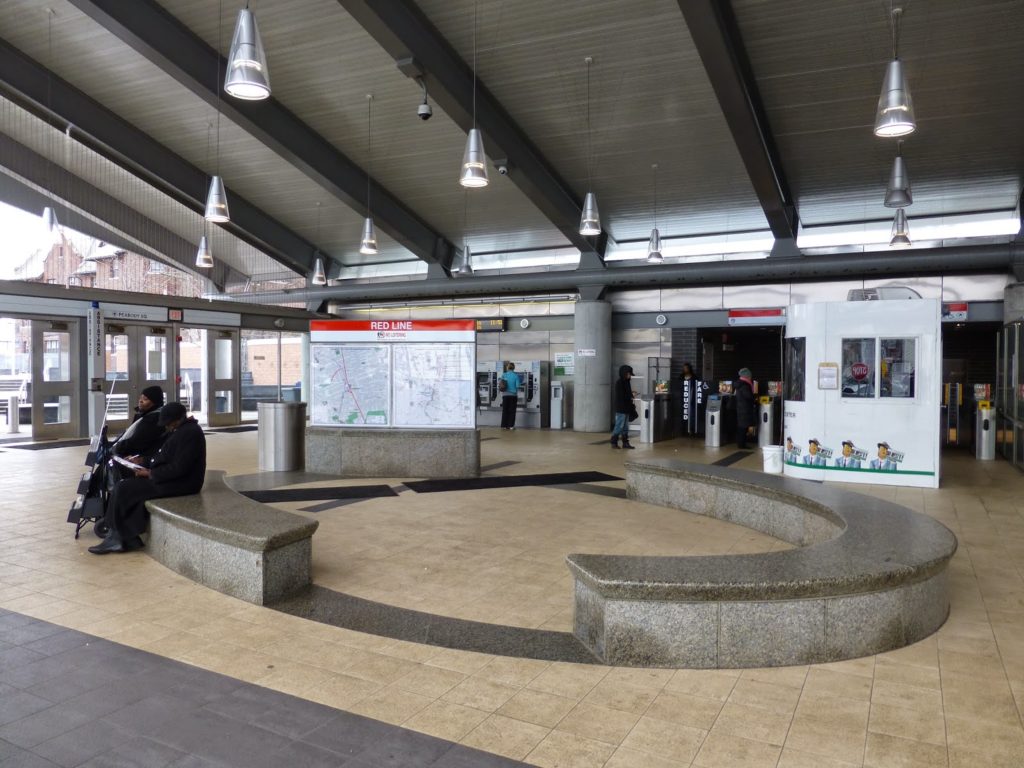 The northern mezzanine.
The northern mezzanine is pretty swanky. It has a bunch of fare gates and fare machines, with a very straightforward layout, which is always good. It also has some benches that form a circle, which is pretty cool. And there's a big window overlooking the platform where you can watch the trains go by. What's more, the glass was reasonably clean! Woah!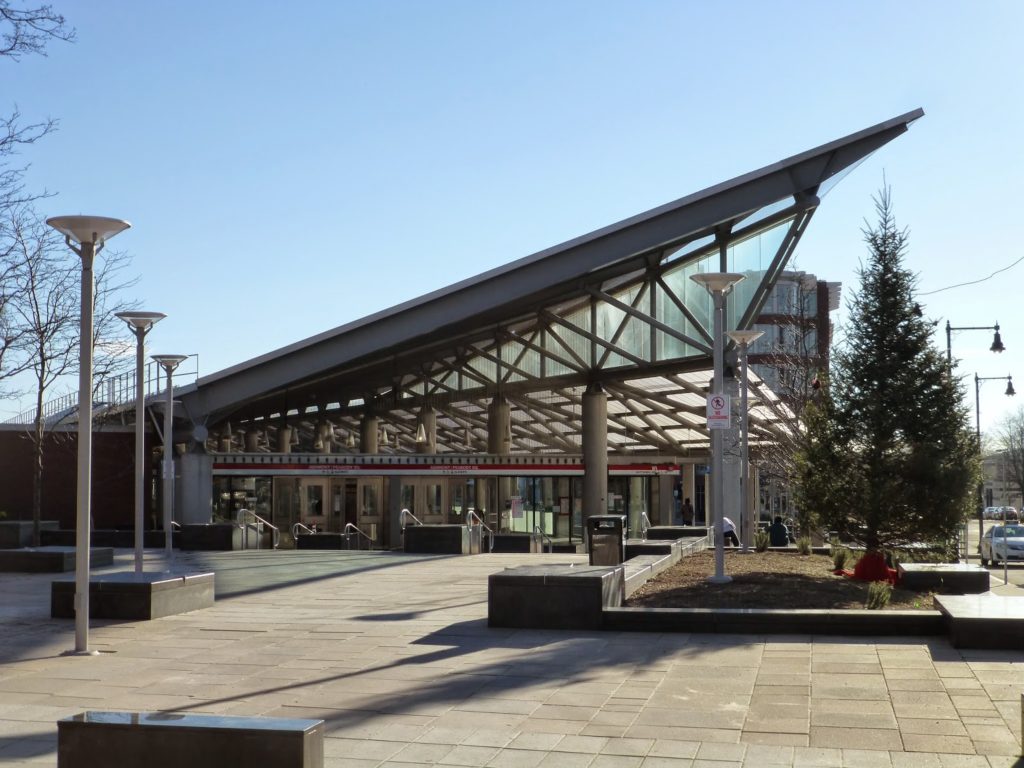 And that just looks amazing.
From the northern mezzanine, there's a small plaza that leads up to Peabody Square. It's pretty standard as far as plazas go, but my favorite thing about it is the view of the station it offers. Ashmont's slanted roof looks really, really cool. Also, there's a creepy moon-egg-face-sculpture-thing. Just saying…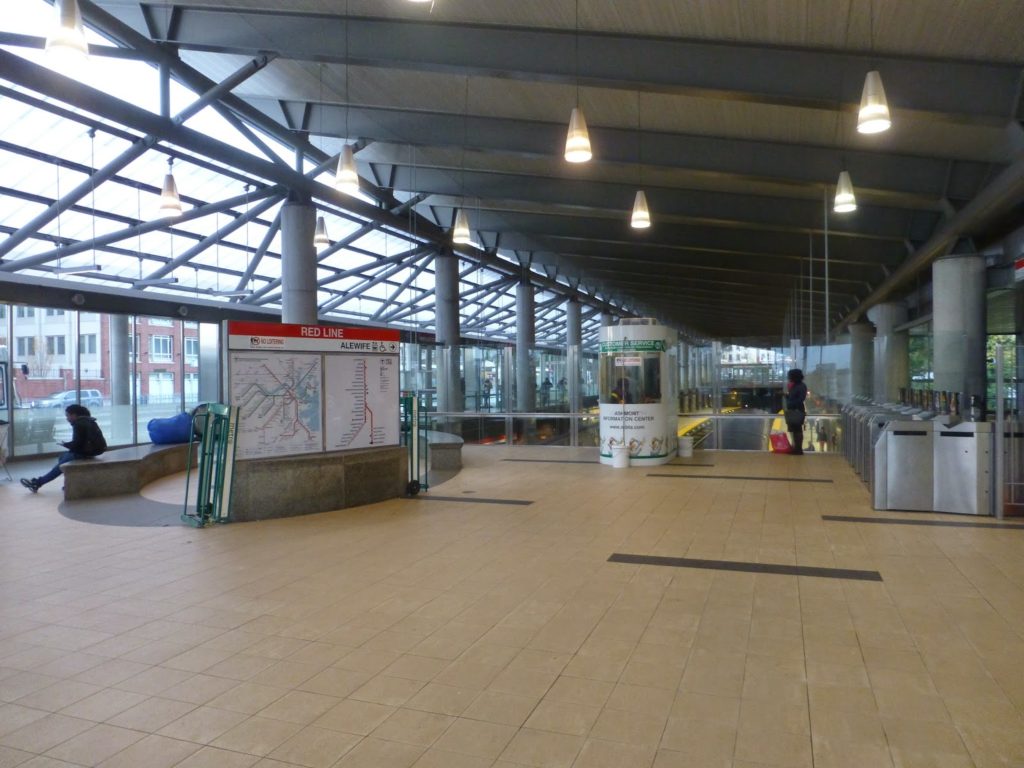 The second mezzanine.
The second way to enter the station is directly from the busway. Its mezzanine is pretty much the exact same thing as the other one, which isn't a bad thing. Also, Ashmont has a Pedal and Park facility that's just out of the way. You have to walk down Dorchester Ave a bit to find it. There should probably be some signage for that…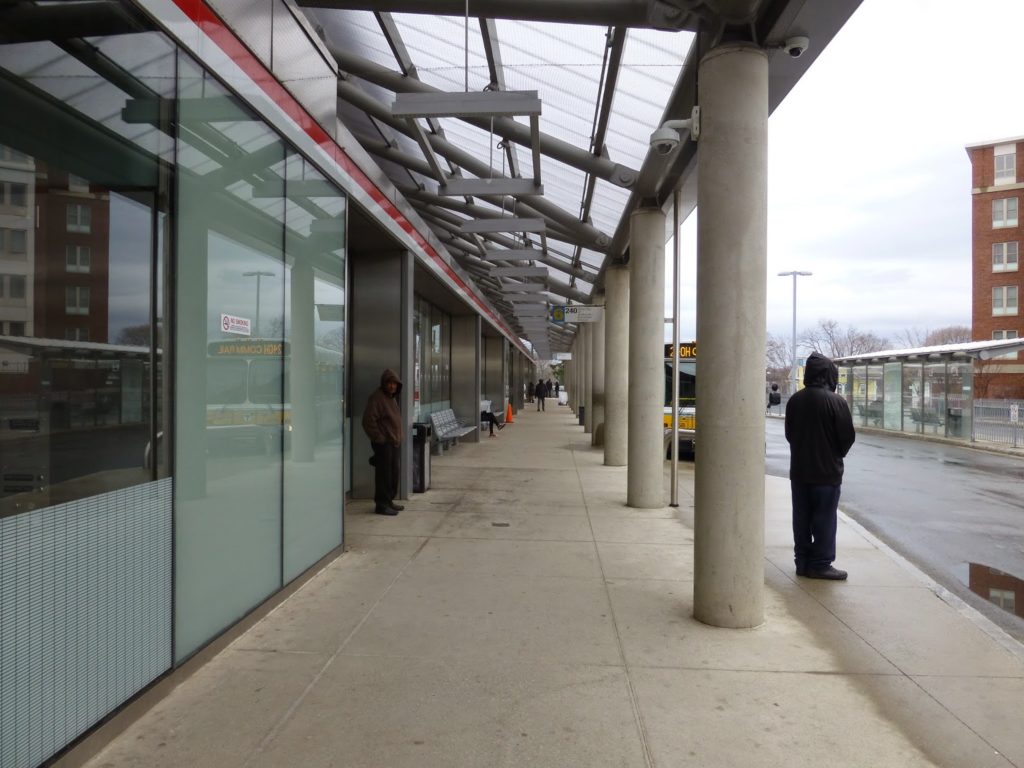 The busway.
The station's busway is fairly straightforward. It has two lanes, both of which are sheltered. Ashmont is served by 10 buses, plus route 12 of the BAT to Brockton. Oh, how I really want to take that BAT. I hate it when I'm in the busway and there's a BAT waiting there and I want to get on so bad but I know I don't have time to go all the way down to Brockton. Some day…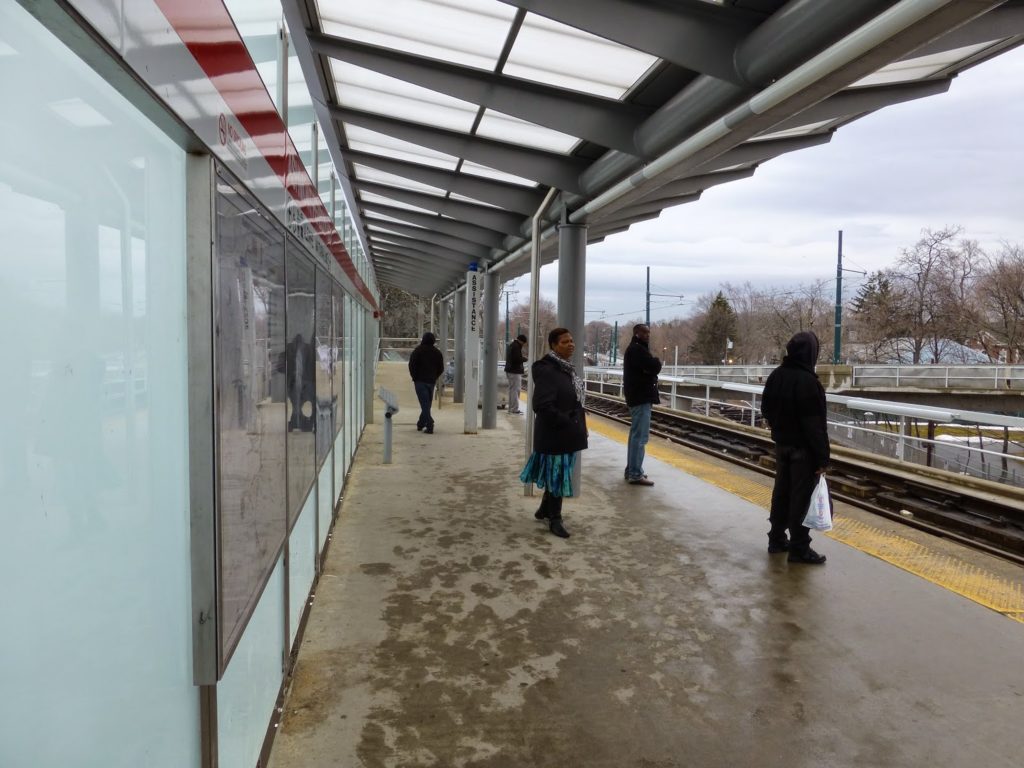 Ah, we can't forget about the good ol' Mattapan High Speed Line!
The Mattapan High Speed Line used to run right into the busway, and there was a free transfer from the train. However, as part of Ashmont's renovation, they cut off the MHSL to its own elevated platform. It doesn't have any proper benches, just a set of those weird "leaning" ones. I have to say, though, the elevated loop for the trolleys is fantastic.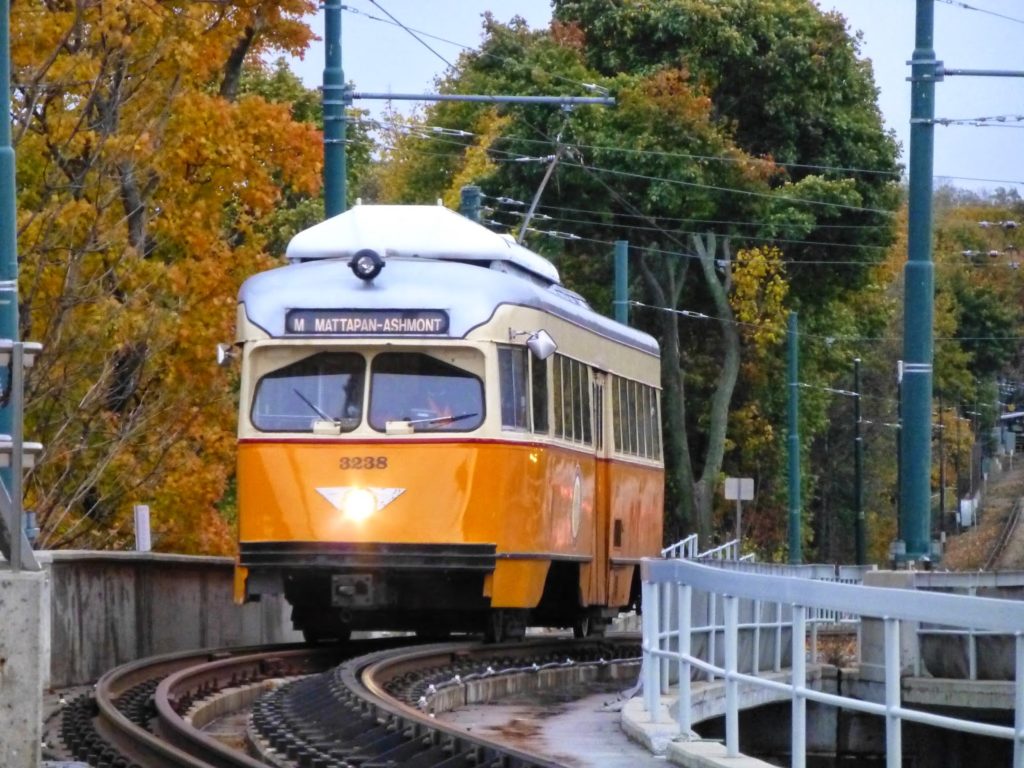 A trolley ascending into the station.
Station: Ashmont
Ridership: It's pretty high, all things considered. The Red Line gets an average of 9,293 riders per weekday, making Ashmont the busiest Red Line station south of South Station. This is also the hub of the Mattapan High Speed Line, so this is the station with the highest ridership on that line – 2,036 people per weekday.
Pros: Well, this is just a beautiful station! It's really modern, with glass and metal everywhere. It's also straightforward, including a busway that's not a total maze. Speaking of buses, there are quite a few bus connections here, as well.
Cons: For one thing, there should be better signage for the Pedal and Park. I didn't even know it existed until I took a bus from here and saw it out the window. Also, there really ought to be a free transfer to the MHSL from the Red Line. At the very least, add a proper bench to the MHSL's platform!
Nearby and Noteworthy: Actually, the surroundings of this station are surprisingly residential. There are some businesses in the immediate vicinity, as well as up Dorchester Ave, but it's mostly just houses.
Final Verdict: 9/10
Okay, so there are a couple of flaws here. The MHSL's platform could really use an actual bench, and there needs to be signage for the Pedal and Park, but honestly, this is a great station. Extra points for the amazing platform and the really cool slanted roof.
Latest MBTA News: Service Updates
Don't forget that it's free fare day this Friday! All MBTA modes of service will be free of charge, including the Commuter Rail.