Man, North Point Park is really nice! I was coming from the Science Museum and decided to take a detour to the park, which is right across the street. It's pretty new, having been built in 2007, and it's a great park. From there, I went over the even more recent pedestrian bridge under the Zakim, which was awesome as well. So yeah, if you haven't been to the North Point Park yet, I recommend you check it out.
Oh, right, then I went to Community College. That was slightly less awesome.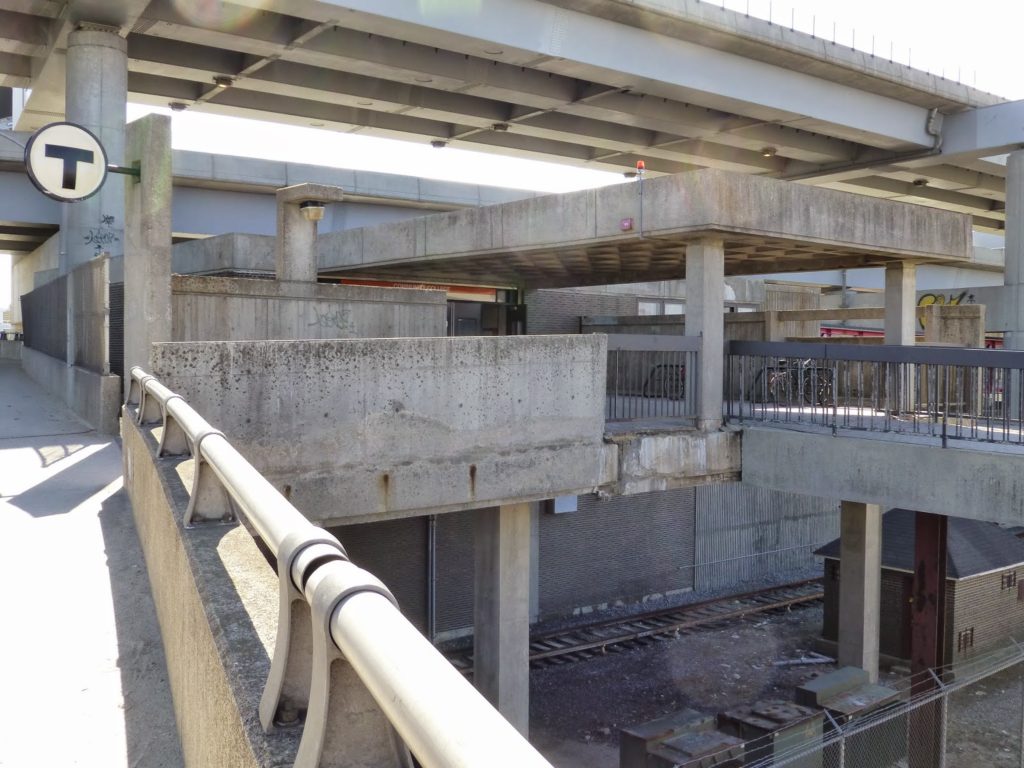 Aw, let's go back to the park…
One entrance to the station leads in from the Gilmore Bridge. It's a really pedestrian unfriendly area, since all the roads around the station are super wide. As for the entrance itself, it's very…concrete. Yeah, brutalist style isn't the best. There are also some bike racks here, which is convenient.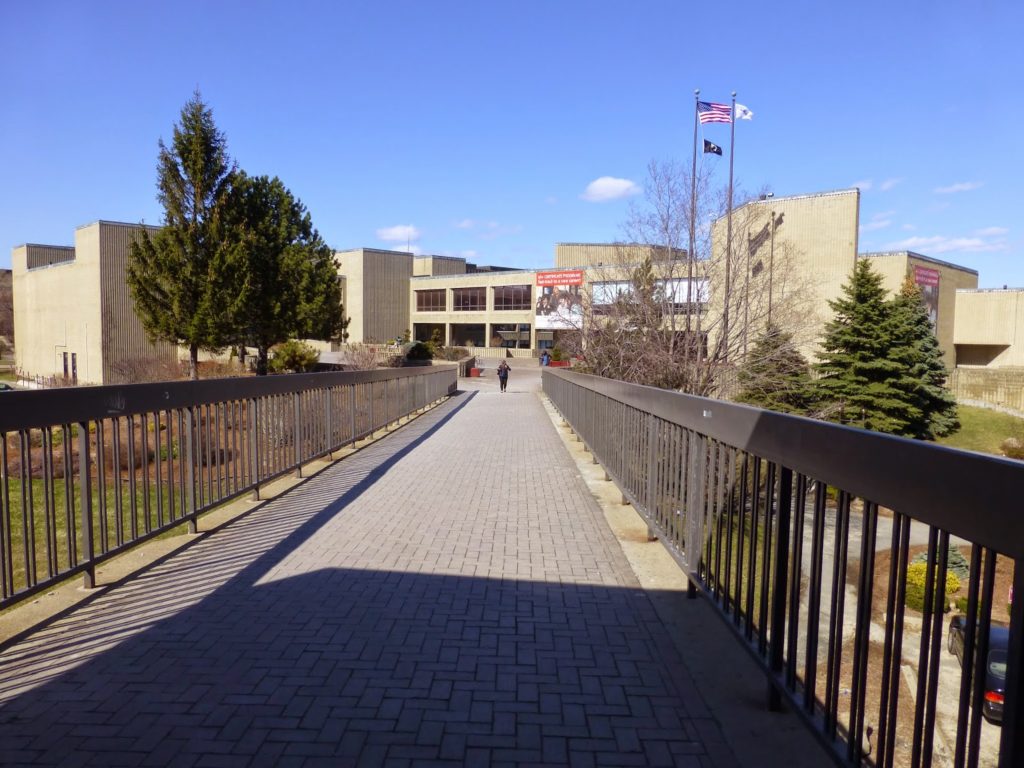 The walkway to Bunker Hill Community College.
Luckily, the MBTA accounted for the pedestrian unfriendliness. There's a system of pedestrian walkways in place which are definitely more frequented than the Gilmore Bridge entrance. The first one leads right from the entrance directly to the Community College itself, Bunker Hill Community College.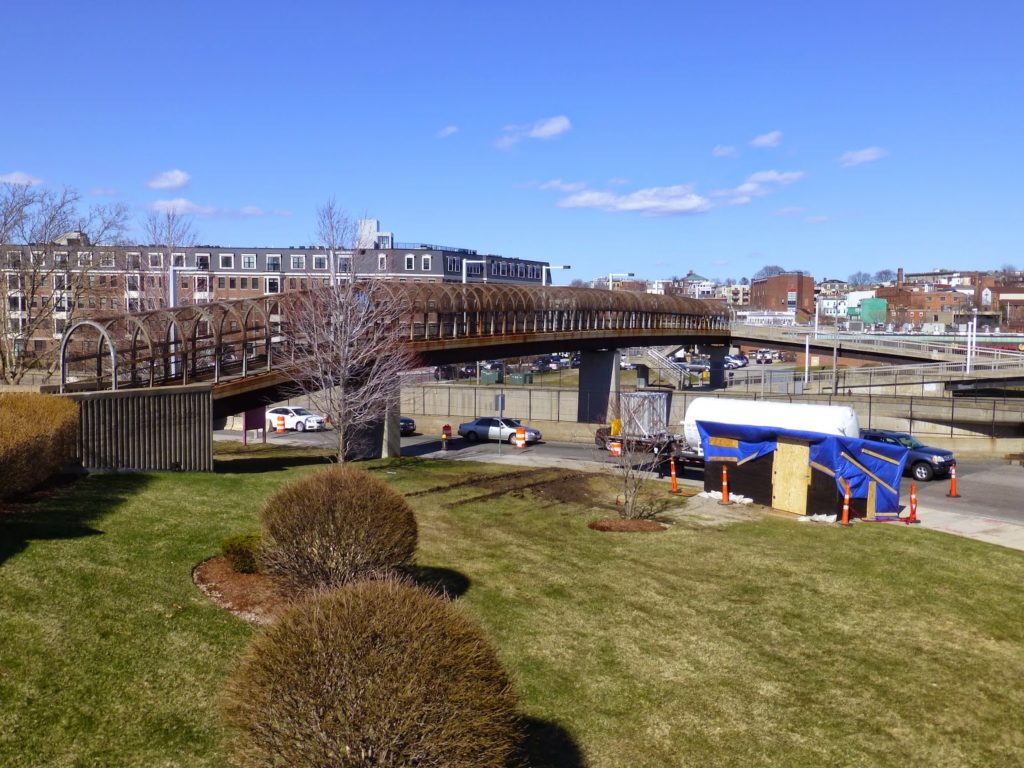 The second walkway.
If you navigate through the Community College's plaza, you get to a second walkway. This one leads over the massive New Rutherford Ave, which, let me tell you, is a pain to cross at ground level. From there, you can get into Charlestown.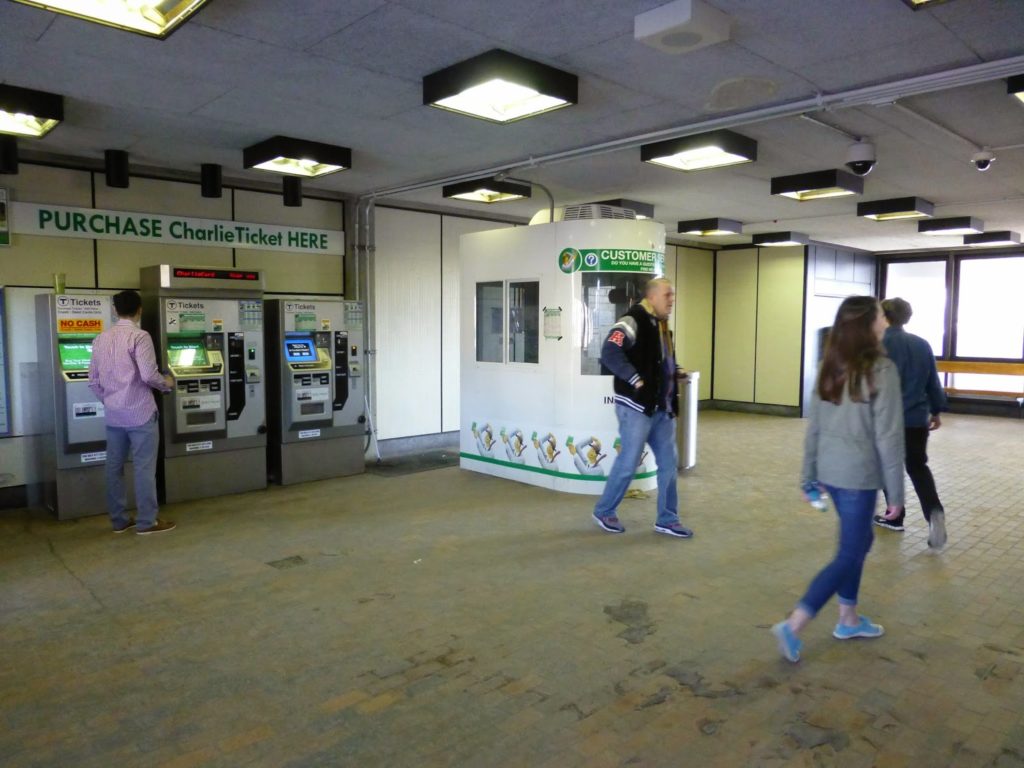 The mezzanine.
But back to the station itself. The mezzanine is small, bland, and doesn't expect a lot of ridership, with only a few fare machines and gates. It also has a bench with a payphone in front of a window. Interestingly, there's another window-bench combination past the fare gates. I guess this is for people who don't want to wait for the train outside when it's cold out.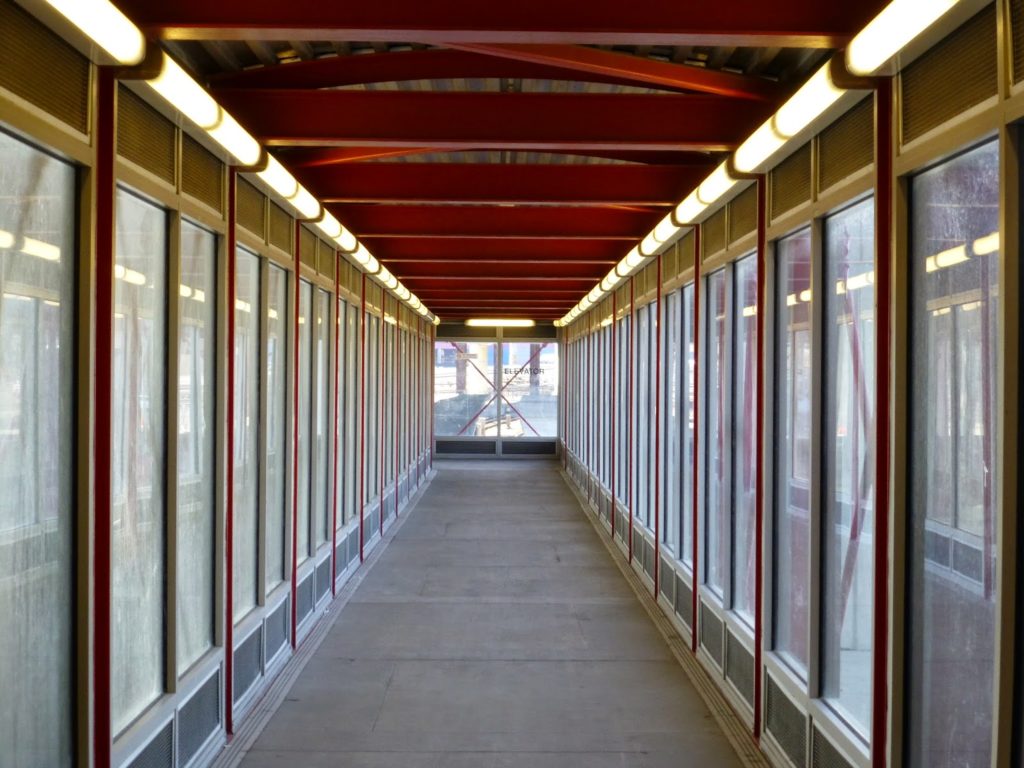 Woah…
There are stairs and an upward escalator that lead to the platform. They look like any other northern Orange Line station, so there isn't much to talk about there. More interesting is the elevator, which is accessed by a long glass walkway, seen above. Of course, the elevator itself smelled like urine, as MBTA elevators are prone to do, but the walkway was pretty cool.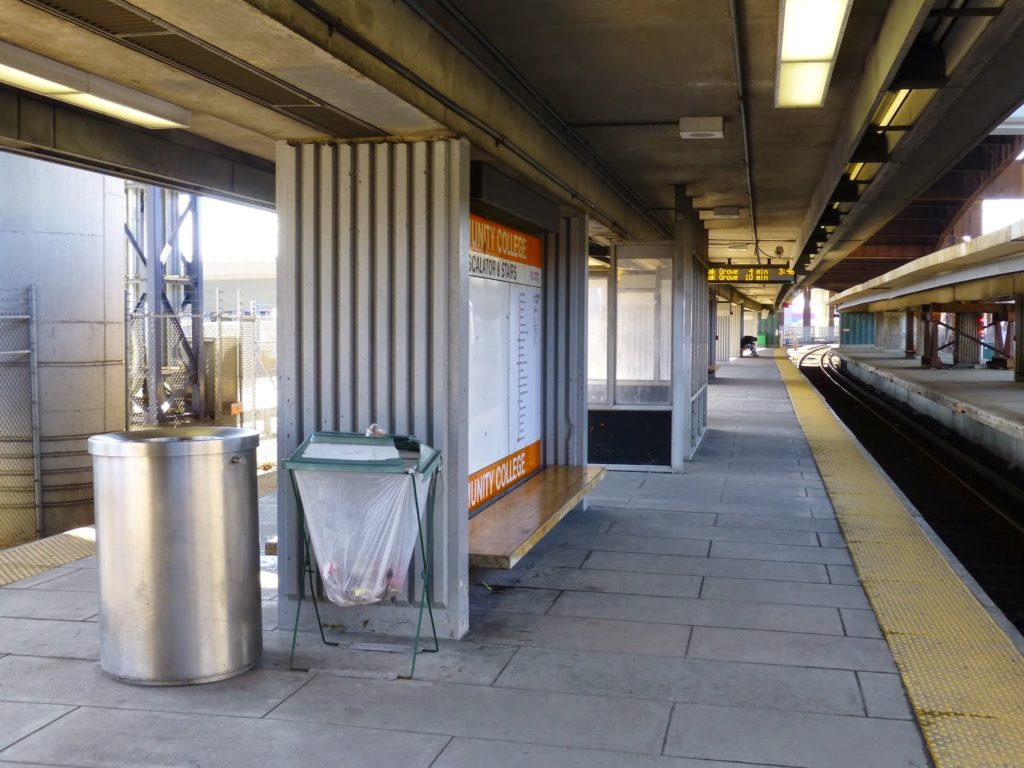 The platform.
The platform is typical northern Orange Line, serving both inbound and outbound trains. It's got concrete everywhere and those little bench-shelter rooms. The "unique" thing here is how noisy it is. Community College is right under I-93, and let me tell you, those cars are loud. However, it is cool that this station has a "ghost platform" which would've been used if the Orange Line ever got extended to Reading.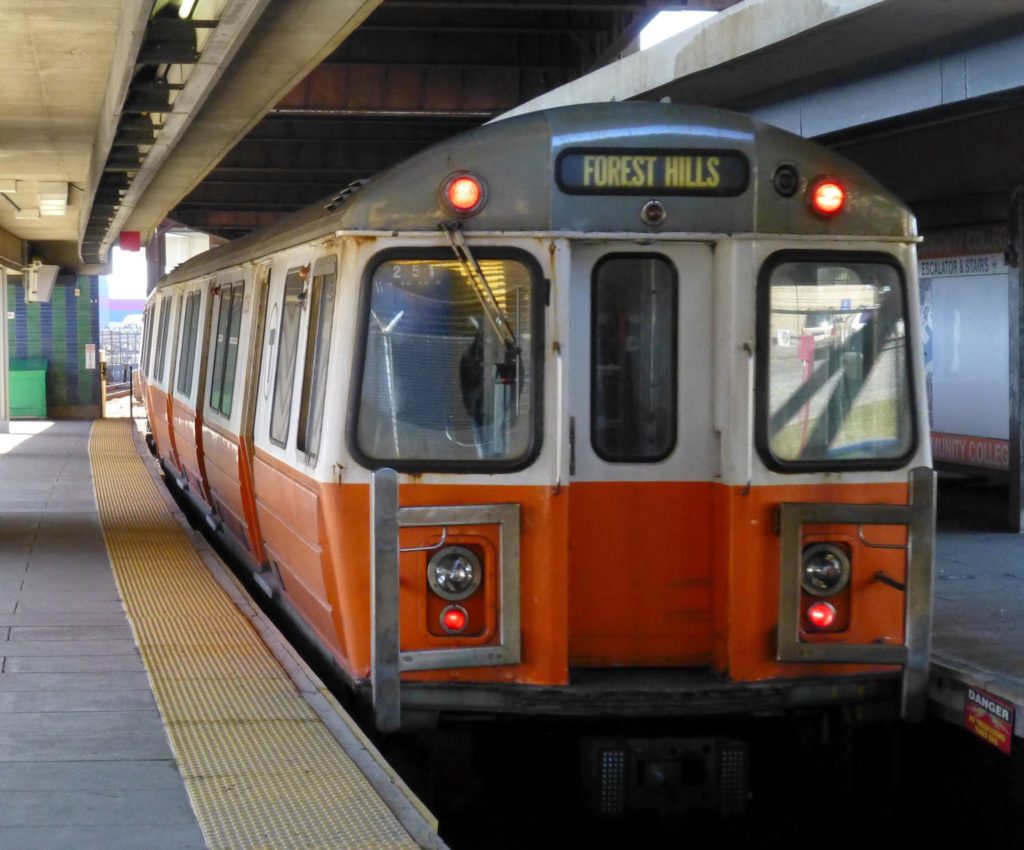 A train leaving the station.
Station: Community College
Ridership: This station has the fourth-worst ridership on the Orange Line overall, and the worst for its northern section. Community College only gets 4,956 riders per day, which could be attributed to its mostly industrial surroundings. Also, it doesn't have any bus connections, which could contribute to the low amount as well.
Pros: Okay, the pedestrian walkways are an admittedly nice touch. And overall, this station is straightforward for sure. So, um, that's good.
Cons: Two words: brutalist style. Seriously, why does every northern Orange Line station have to be so concrete and bland and awful? Also, it's right under a highway, so don't expect a quiet wait.
Nearby and Noteworthy: This is the closest station to the Bunker Hill Monument, but it's still a bit of a walk. Other than that…well, there's a 99 Restaurant across the street…
Final Verdict: 4/10
Yeah, there isn't much to say about this one. The direct connection to the Bunker Hill Community College and to Charlestown is certainly nice, but the station is so ugly! Brutalist style really doesn't do it for me, and this station has way too much concrete for my liking. Plus, it's right under I-93, which makes it extremely noisy.
Latest MBTA News: Service Updates