This is a route I've been wanting to take for a while. It's not quite as elusive as the 217 (though I really want to take that one, too), but it does run weekdays only and not very often at that. It serves quite a few parts of southern Milton, and a large part of Quincy west of the center. Yes, today we're taking a ride on the 245.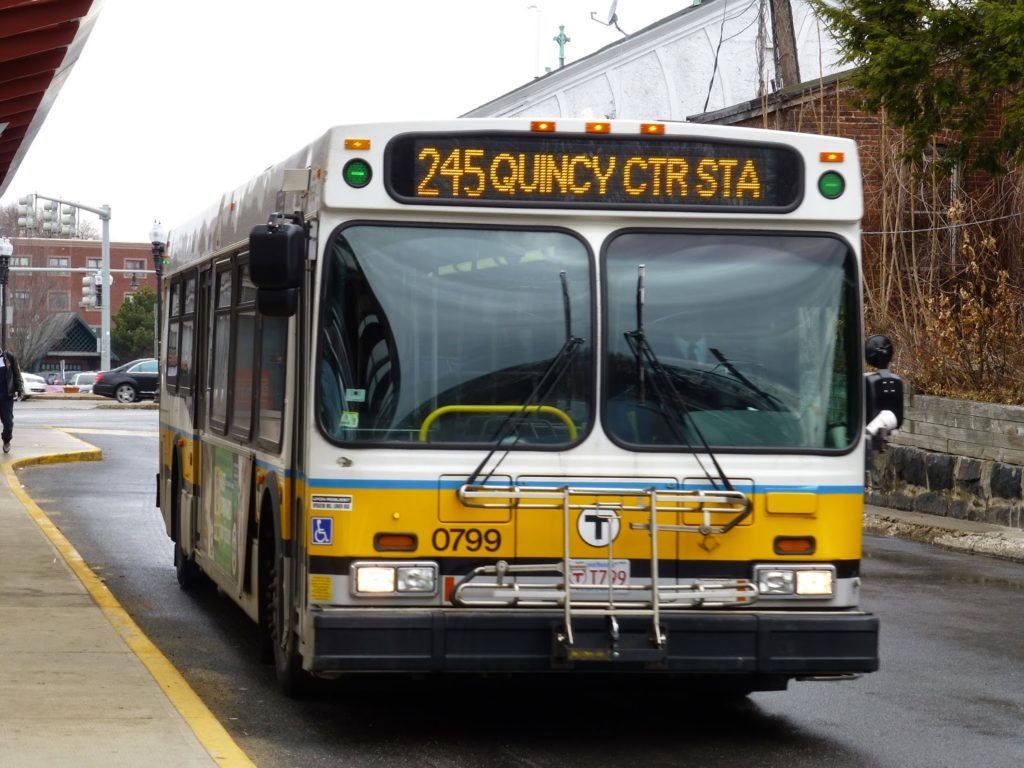 The bus coming into Mattapan.
We turned onto Blue Hills Parkway, which instantly became residential. It had a nice wide median, but we didn't have too much time to enjoy it, turning onto Brook Road soon after. We passed a park and a middle school, then joined the 240, turning onto Reedsdale Road. There is a variant of the 245 that stays on Brook Road, which seems suburban and even rural at points.
This was the standard route, though, and Reedsdale Road was all residential. We did pass a nice-looking library and a hospital, but it was mostly just houses. There was a church at the intersection with Randolph Ave, where the 240 turned off and we were on our own. We turned onto Pleasant Street a block later.
Pleasant Street was a windy residential road. It eventually became Edge Hill Road, and we passed a big school. Soon, the street got a little tree-lined median, making for a very nice residential neighborhood. After that, we turned onto Adams Street, joining the 215 and 217 and entering East Milton Square.
The street was lined with businesses for a bit, then got residential. The 215 and 217 went their separate ways, and we were alone once more, with some trashy businesses lining Adams Street. Unexpectedly, we turned onto narrow Common Street, which was residential.
Soon after, we turned onto Quarry Street, going by some big apartment complexes. It changed to Granite Street, and we curved north, passing some malls with huge parking lots. We were very close to Quincy Center, but then we turned onto residential Whitwell Street.
We went by the massive Quincy Medical Center, then came down a hill and turned onto Adams Street. This was another residential street, and also had its own "National Historical Park"! It got more urban after we crossed over the Red Line tracks and Adams Street curved south. We merged into Hancock Street and came into the Quincy Center busway soon after.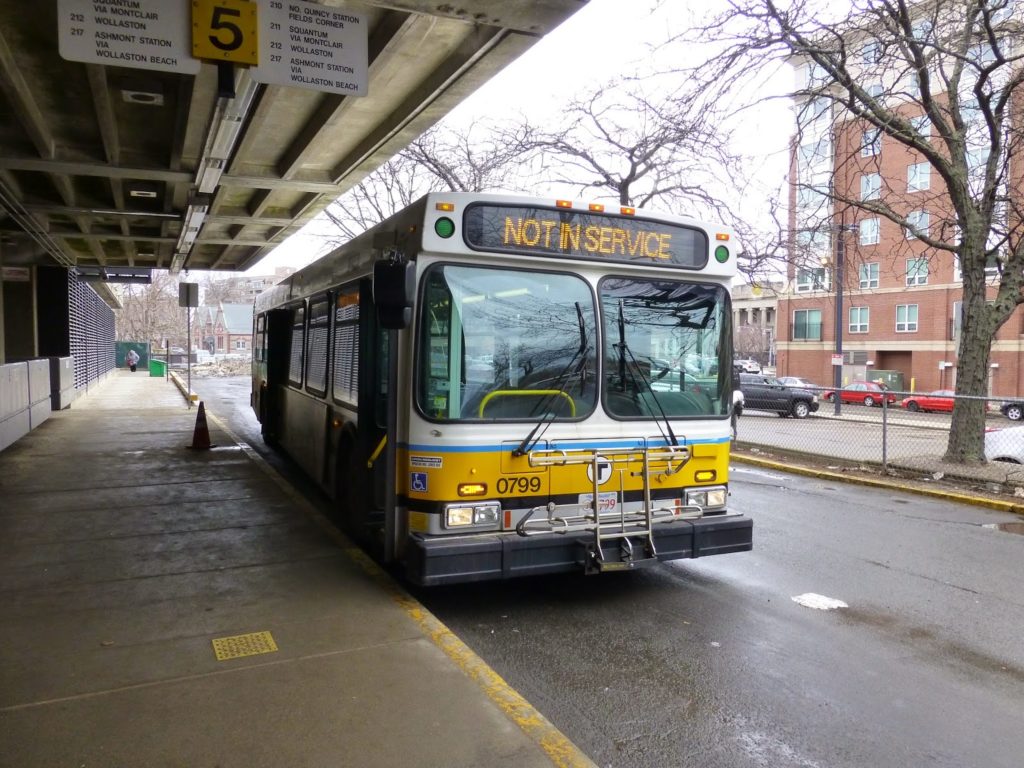 This is the 245 at Quincy Center. Well, it was the 245.
Route: 245 (Quincy Center Station – Mattapan Station via Quincy Hospital and Pleasant Street)
Ridership: On my ride, there were about 20 passengers in total. This route gets low ridership in general, with only about 561 boardings per day. Indeed, it ranks 137 out of 164 bus routes, so…not great.
Pros: The 245 serves quite a lot, from southern Milton to western Quincy. It's also the only link from Quincy to Mattapan, should anyone want to go between those places. I don't believe anyone rode from beginning to end on my ride, though.
Cons: The headways are varied, from as often as every 35 minutes to as infrequent as every 75 minutes. That's probably good for the ridership this route gets, but I still think limited Saturday service would be nice.
Nearby and Noteworthy: It was mostly residential, but there were some businesses in East Milton Square.
Final Verdict: 6/10
This route certainly serves a lot, and it was a very nice ride. It is weekdays only, however, with pretty limited headways. Saturday service would be nice, even if it's just in the denser Quincy section of the route. Maybe a shuttle from Quincy Center to East Milton Square?
Latest MBTA News: Service Updates