It's not often you miss the last stop on a bus. But once we reached the last stop of the 8, the driver decided to drive away before yelling at us. Thus, for all intents and purposes, my friend Jason and I missed the final stop of a bus route. What an accomplishment…?
But of course, there's a whole ride to talk about. We started out at
Kenmore Station
, from which we headed down Brookline Ave. We went over the Mass Turnpike, right past Fenway Park, and then went by lots of businesses and apartments. Passing the Landmark Center mall, right near
Fenway Station
, we then entered the Longwood Medical Center.
We turned onto Longwood Ave, going by tall hospital buildings, and then made a sharp turn onto Avenue Louis Pasteur. There was a short run on the Fenway, going by the Isabella Stewart Gardner Museum, then the MFA and the E Line. The street became Ruggles Street, and we passed some Northeastern University buildings (one of many schools on this route), then headed into Ruggles Station.
From there, we went down Ruggles Street again, going by some housing developments and a park. We then turned onto Shawmut Ave, and entered
Dudley Station
. After that, we headed up Washington Street along with the
Silver
Line
, making all of its stops until East Newton Street. There, we turned onto East Brookline Street, then Harrison Ave, then East Concord Street, then Albany Street (lots of twisting and turning).
This was the BU Medical Center, and so there were lots of tall hospital buildings again. On Albany Street, there was this yellow tube that went over the road – I have no idea what it's for, but I know that it would be really cool to walk through. We then turned onto Mass Ave, and entered an industrial wasteland.
This went on for a while until Newmarket Station, where we turned onto Newmarket Square. We then turned onto Southampton Street, and after that we entered the South Bay Center Mall. This was a major stop, and almost everyone on the bus got off here. Leaving the mall, there was a nice skyline view, and this time
I didn't get accused of taking pictures of peoples' daughters
.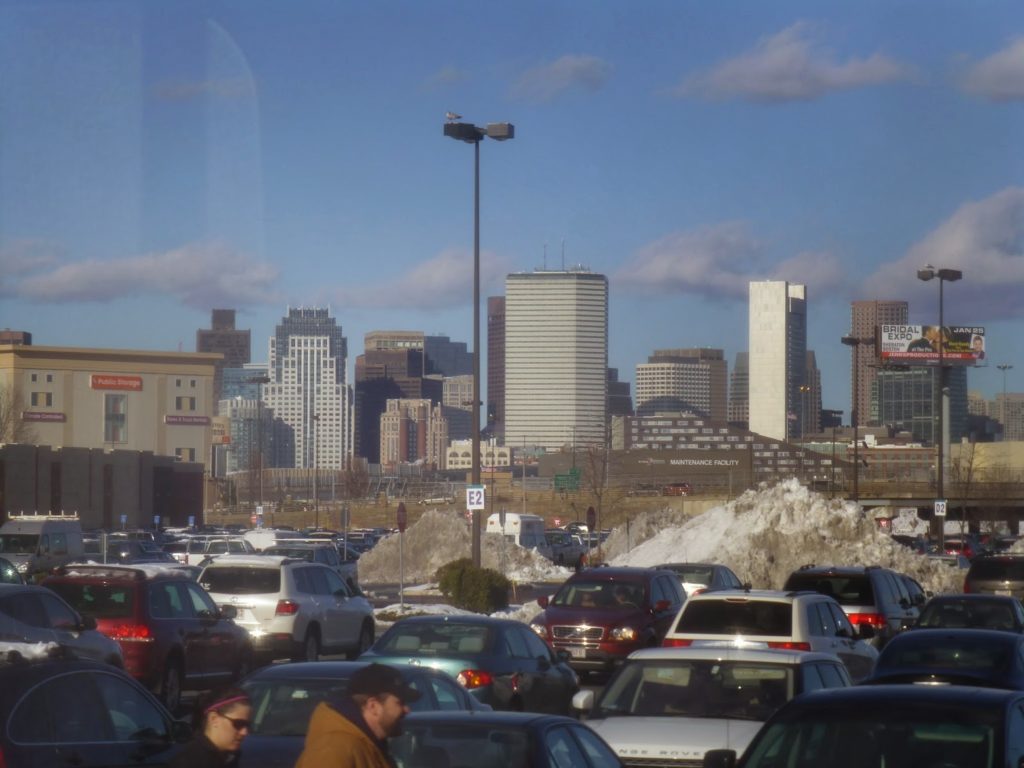 This came out surprisingly well, considering the amount of salt on the bus window.
We headed back to Mass Ave, going into the industrial wasteland again. But once we merged into Columbia Road, it turned residential. We followed Columbia all the way to
JFK/UMASS Station
, where a few people got on for the next part of the route out to UMASS.
From there, we headed onto Mount Vernon Street, going by a bank and a hotel. We also passed the Bayside Expo Center, where they're planning to build the main stadium if we end up hosting the Olympics. Passing a school, we reached what is apparently the last stop of the route, next to an apartment building and a housing complex. Everyone on the bus got off except for Jason and I, and the bus left the stop.
"Hey!" the driver suddenly shouted. "Where are you going?"
"UMASS," I replied.
"That was UMASS!" he yelled back.
"Fine, then drop us off at the last stop," I said.
"That was the last stop! So, where are you going? I'm not writing a book here!"
I still have no idea what that book analogy was supposed to mean, but I said we were going to the busway. I meant the UMASS busway, but he ended up taking us back to JFK/UMASS, which was actually better for us. I decided against taking a picture of the bus once we got there, though – I don't think the driver would've been very happy about that.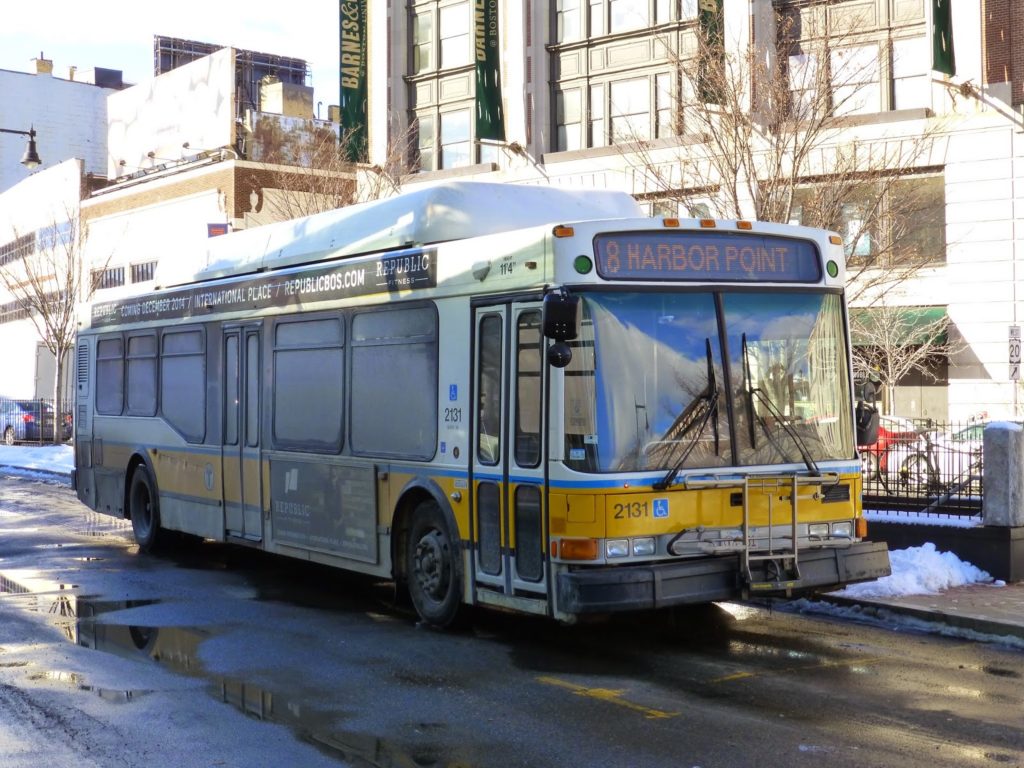 This one at Kenmore will have to suffice.
Route: 8 (Harbor Point/UMASS – Kenmore Station via BU Medical Center and Dudley Station)
Ridership: There were exactly 30 people in total on our ride, which is great for a Sunday. Most of them got on at local stops and got off at the South Bay Center. The route performs well overall, as well, with almost 4,000 riders per weekday, 1,500 per Saturday, and 1,000 per Sunday.
Pros:
This is a great crosstown route for southern Boston. It serves every line except for Blue, as well as Fenway Park, a few museums, a bunch of schools, two medical centers, and an evidently popular mall. It also provides a direct link from UMASS to those locations, though the
free shuttle
is much more efficient for getting to JFK/UMASS (and it's free). The 8's schedule is decent on weekdays, with headways of about 20 minutes during rush hour and 30 minutes during the day.
Cons: On weekends, though, it drops to every 40 minutes on Saturdays and every 45 minutes Sundays. Based on the ridership this route seems to get, that's certainly not enough. Also, this route is long and twisty. And since it's long and twisty, it's prone to being late. I don't use the 8 regularly, so I can't say how reliable it is, but my guess is not very. After all, our trip was about 15 minutes late, and it was a Sunday!
Nearby and Noteworthy: Lots of stuff! They were basically all listed in "Pros", though. Whoops.
Final Verdict: 6/10
This is a useful route, for sure, and lots of people use it. But that actually drops the score a bit, since it makes this bus's bad schedule seem even worse. Also, the 8 seems like the sort of route that's just asking to be late all the time. I'm not sure what could be done about it, but as it stands, this doesn't seem like the most reliable route.