No, this is not the closest station to Fenway Park. Why does everyone think that? Oh, is it the really misleading name? Yeah, that's probably it. The station is actually named after a road called the Fenway. But even the station tries to tell you it's the closest one to the famous ballpark by featuring a mural that says "RED SOX – TAKE THE T TO FENWAY." You're only kidding yourself, Fenway Station.
Yeah, right.
This station has two entrances. The first one feeds into the parking lot of the Landmark Center, a big shopping, entertainment, and office complex. The other is a staircase that leads up to Park Drive. Up here there are also a few bus connections, namely with the 47 and CT2. There's no proper busway (not that you need one with only two bus routes), but there are shelters on both sides. Not bad…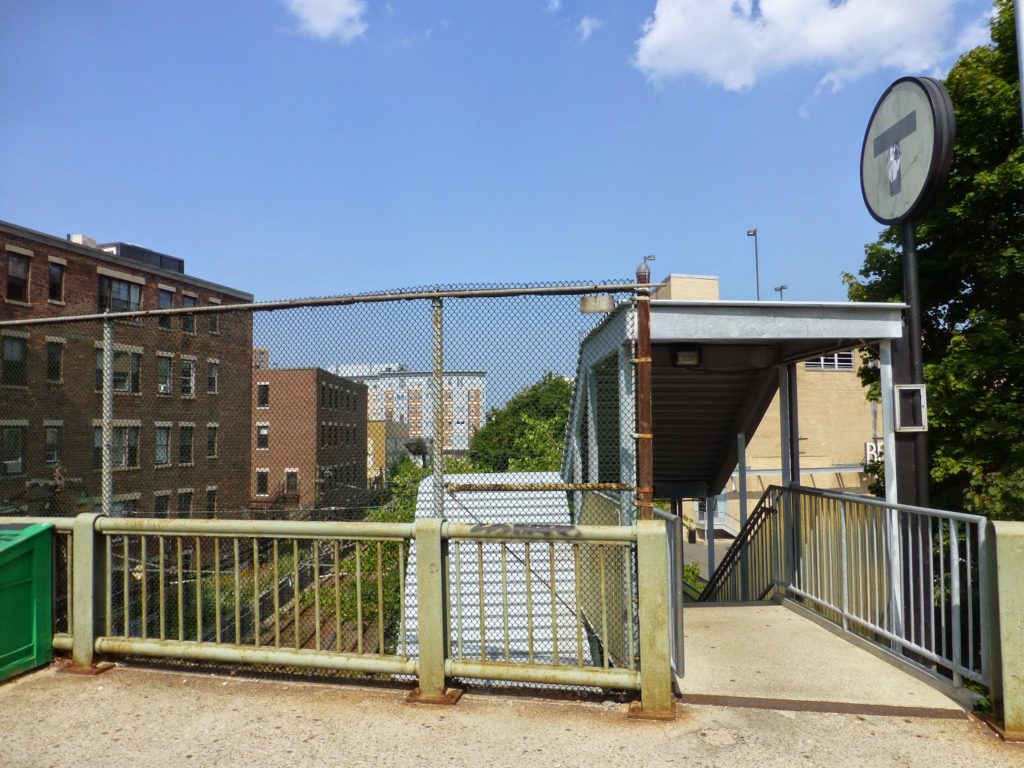 We've got the T logo, but no station sign. As you can probably tell by the foliage, I came here a while back.
The platform is pretty unique. Since most of the station is underneath Park Drive, a lot of the platform is sheltered. The walls are made of bare concrete, too, adding to the uniqueness. Now, "unique" doesn't necessarily mean "not dingy." It's pretty dark under there, and there are even some random pipes running around. My worst enemy.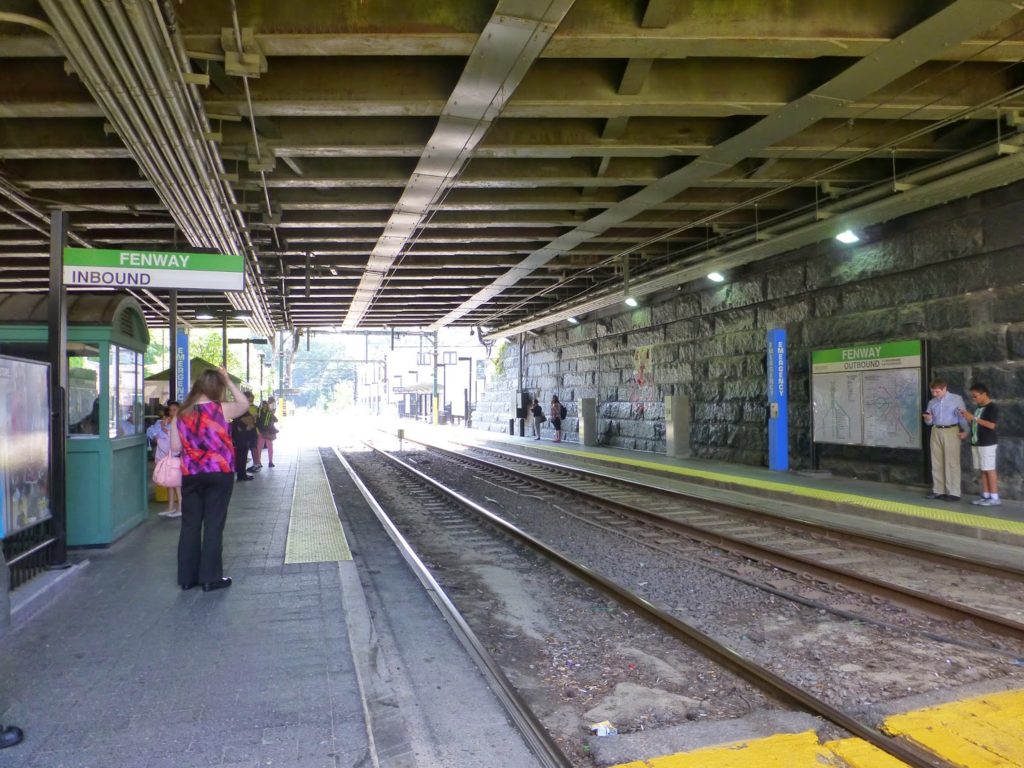 Under the bridge.
This station, like most Green Line stations, is front-door only boarding. Fenway does have the D Branch perk of at least getting CharlieCard machines. They're in their own little shelter, even though it's already sheltered by the bridge. Alas, there's no way to cross between tracks except for two level crossings, which I always feel compelled to run across. I'd rather not take any chances…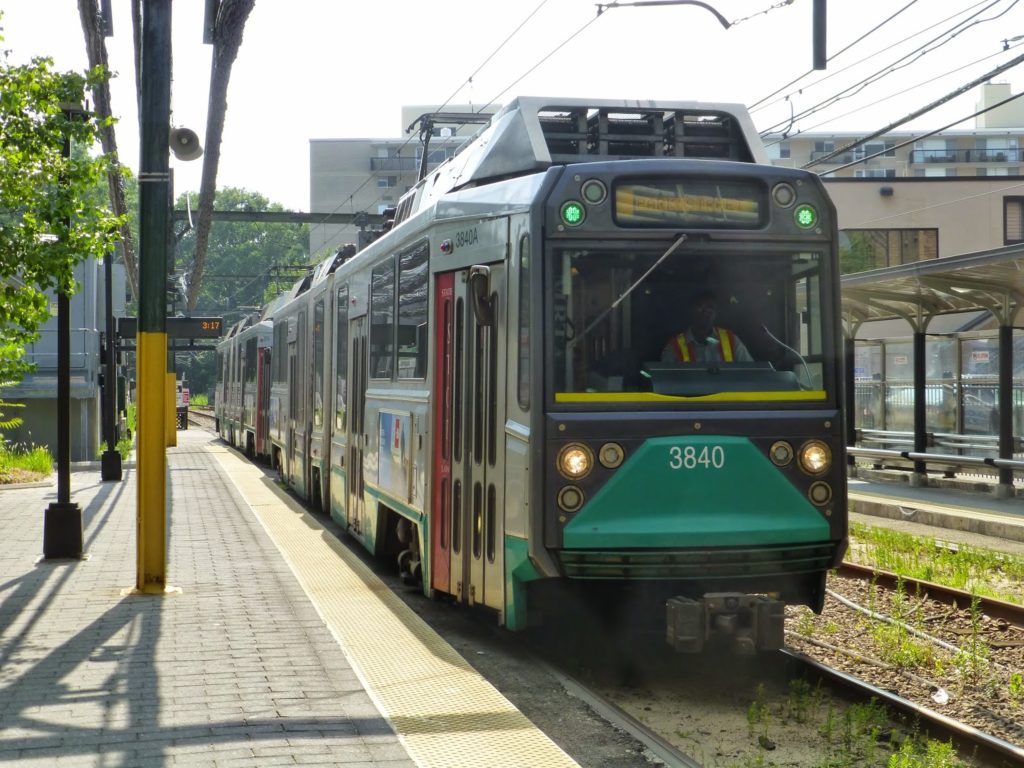 A train arrives at the station.
Station: Fenway
Ridership: Surprisingly, this is the busiest station on the D Branch, and one of the busiest on the above ground portions of the Green Line. It gets almost 3,500 passengers per weekday, some of which probably come from the apartments nearby, and others work at the Landmark Center. And I'm sure quite a few people use this station to get to Fenway Park, too.
Pros: It's a pretty unique station for the D Branch. Much of it is sheltered, and there are some nice amenities here. There's no busway, but shelters in both directions is more than enough for only two bus routes.
Cons: The station's kinda dingy under the bridge. Also, there's no way to cross the tracks aside from two level crossings, which is annoying. Finally, it would be nice if they had a Fenway sign at the Park Drive entrance. I feel like that would make it more obvious that there's a train station there.
Nearby and Noteworthy: Let me get this out of the way: this is not the closest station to Fenway Park. That honor goes to Kenmore, which is served by the B and C Branches as well. Landmark Center, however, seems like a good complex, and that's exclusive to Fenway. Plus, the reviews all say that the parking lot is a mess – so just take the train!
Final Verdict: 6/10
Not that great, but certainly not terrible. It's kinda cool how much of the station is under a bridge, which provides shelter, but also makes it more dingy. The bus situation is pretty good, but the track-crossing situation is not – a footbridge would be fantastic. And for goodness' sake MBTA, change this station's name to something less misleading!
Latest MBTA News: Service Updates