You may remember my Transit Tales post about the time my mother and I had to take a CT2 bus from the MFA to Kendall because a 47 passed us by. I wasn't a fan of the CT2 then, but I had only taken part of the route. Now I can say that I've taken the whole thing, and I don't feel too much better about it. The CT2 is an "Express-esque" bus (pretty catchy, especially since I just made it up), which basically means that it has a local route, but makes limited stops. It's a long one, too, stretching from Sullivan all the way down to Ruggles (so you can bet people won't take this from beginning to end).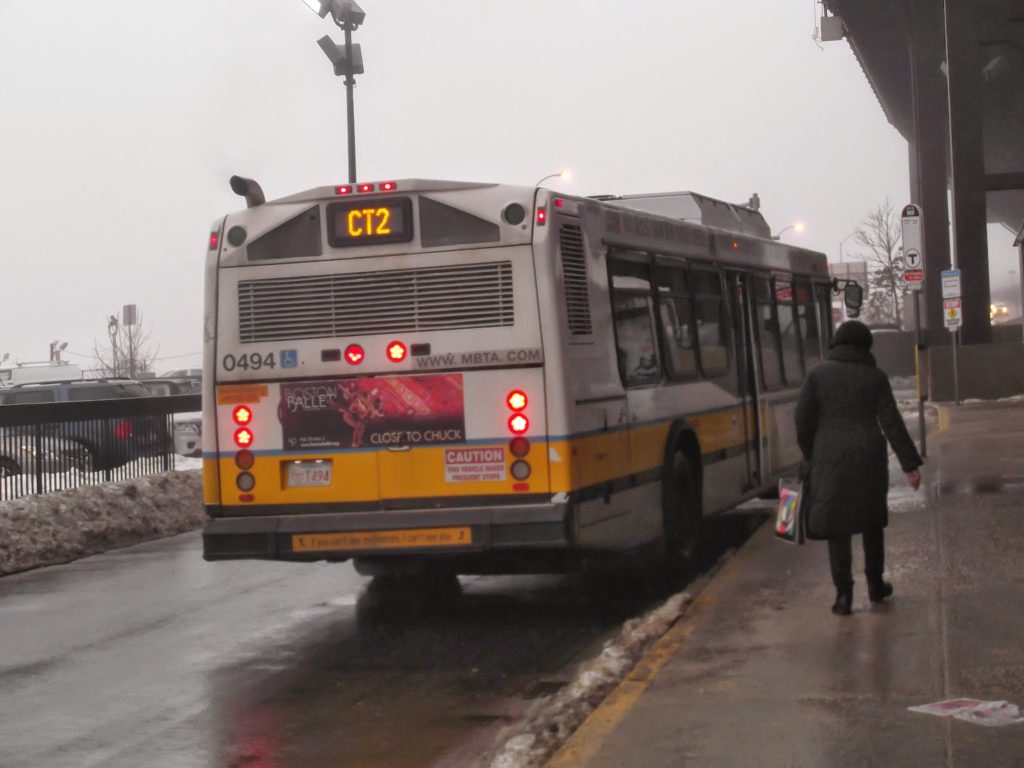 The back of the bus at Sullivan.
Leaving Sullivan after a short interrogation about photos, we headed down Cambridge Street, which soon became Washington Street. We were running with the 86 and 91, but again, it was making limited stops. I'm not really a fan of the neighborhood along here (too many auto shops), but it gets nicer…eventually. After passing under Commuter Rail (and soon to be Green Line) tracks, as well as the McGrath Highway (with a hilarious-looking bus shelter right under the elevated structure), we entered Union Square.
Union Square was much nicer, with a lot of businesses. We turned onto Somerville Ave, then Webster Ave, now running alongside the weekday-only 85. The CT2's limited stops are fairly far apart on this section. Webster Ave was a strange mix of apartments, auto shops, and industrial wasteland (though perhaps the latter two categories can be combined).
We turned onto Cambridge Street for a block, then turned again onto the much nicer Windsor Street. The CT2 doesn't actually make any stops on Windsor Street, but it was a charming residential neighborhood. We then turned onto Hampshire Street, a mix of apartments and businesses, and then we were among the tall buildings of Kendall Square. Crossing over the single track that will apparently become part of the Indigo Line, we pulled onto the little side street that MBTA buses use to get onto Main Street and stopped at Kendall/MIT Station.
After that we turned onto Vassar Street (pretty much the only unique portion of the route aside from a very short section later), going by the amazing Stata Center, then a more industrial area. We crossed over Mass Ave, then went by a massive sporting complex. Then we turned onto Amesbury Street, then (surprisingly) Memorial Drive. We had a bit of a speedy section here, then we went around a rotary and went over the B.U. Bridge, now running with the 47.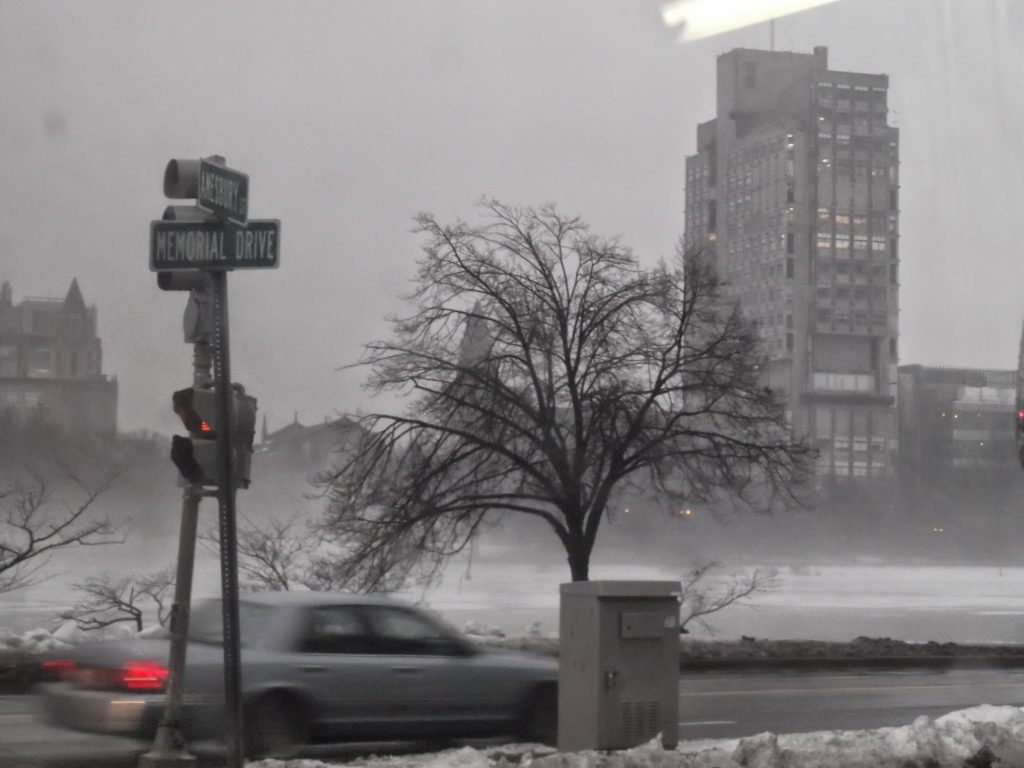 A low fog hangs over the Charles River. I love this picture.
Over the bridge, we crossed Commonwealth Ave, then Beacon Street just before the C surfaces. There was a lovely neighborhood with little three-story apartments along Park Drive, but after going over Fenway Station we turned onto Brookline Ave and entered the Longwood Medical Area. We turned onto Longwood Ave and had a very short unique portion before turning onto Huntington Ave. We then turned onto Ruggles Street and made our way into the Ruggles Busway.
Someone appears to be getting off…photobomber!
Route: CT2 (Sullivan Station – Ruggles Station via Kendall/MIT)
Ridership: There were a fair amount of people who rode this: about 30 people in total, and many of them seemed to be hospital workers (which, I believe – correct me if I'm wrong – the Crosstown buses are primarily meant for).
Pros: "CT" of course stands for Crosstown, and this bus definitely is a good crosstown bus. It's faster than the local alternatives when going between lines, but much more so in the northern half. More on that in just a sec…
Cons: First of all, it's weekdays only, which is never good. Every 20 minutes rush hour and every 25 minutes during the day would be a pretty good schedule if it were complemented by weekend service, but…it's not. And the whole "express" thing really only applies in the northern half of the route. It genuinely travels quickly from Sullivan to Commonwealth Ave, despite the fact that people request every stop – they're so far away that the bus still makes good time. But once it gets over the B.U. Bridge, it stops at every other stop, sometimes every stop that the local buses take. I know this is because there are so many connections down here, but the bus just slows to a crawl and it ends up feeling like just another local bus.
Nearby and Noteworthy: The section from Sullivan to Union Square isn't great, but from there it gets better. I would obviously recommend the Museum of Fine Arts.
Final Verdict: 5/10
As a crosstown bus, this is pretty good. And from Sullivan to Commonwealth Ave, the bus actually travels more quickly than a local bus would. But in Boston, it basically makes every stop that the buses it runs along make. Also, the schedule is pretty bad – weekdays only is never good. This bus has potential, but it really needs a better schedule.
Latest MBTA News: Service Updates
Hello, BostInno readers! Yes, I'm very late, I know. Check out the article here. Also, the results of the poll are in! 93% of voters said the Red Line is the best, while one person chimed in for the Green Line. I'm not sure yet if I'm going to put the polls on the sidebar or find something online that lets me put polls into a post. Let me know what you think in the comments!