I had been wanting to go to Kenmore for awhile, simply because of the countdown clocks they installed there. I finally got the chance to visit after – what else? – taking a bus. And the busway, I have to say, is pretty darn…awesome. Just the fact that a station in the city has a busway is amazing, but this is a really nice, modern structure. Although it's in the median of the street, there is an underground passage via the station proper. You don't actually have to pay to use it, so if you're not coming from the train, you can still get to the busway without much hassle.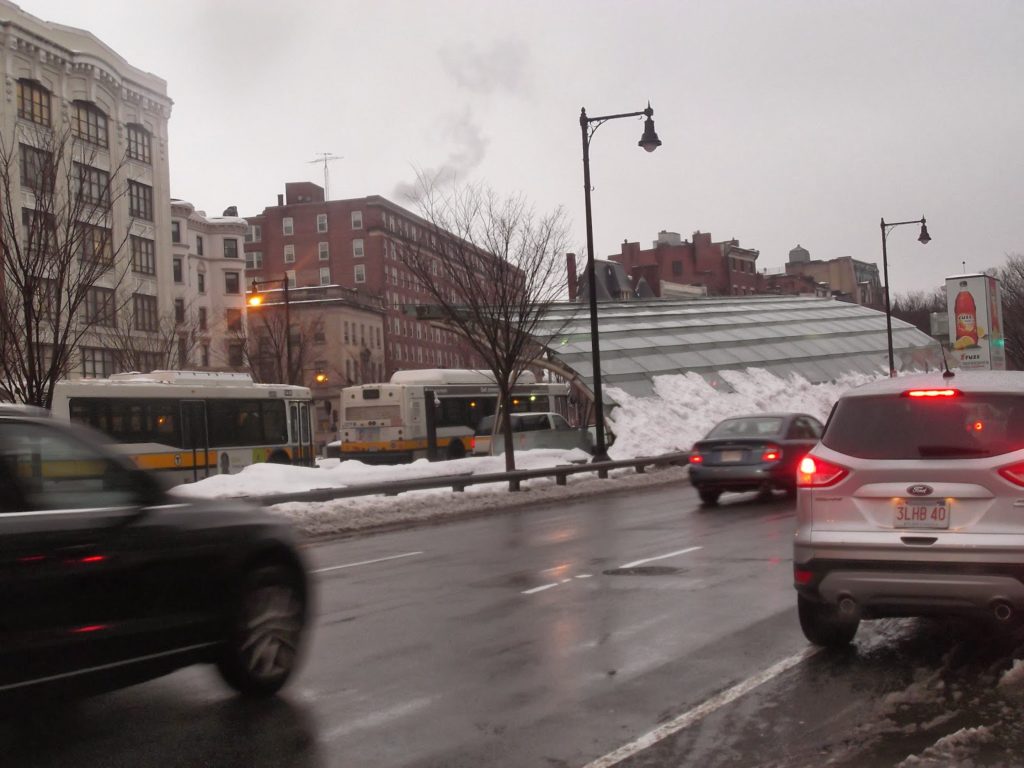 I wasn't really sure how to describe it, so I hope this picture suffices.
The busway itself is also very modern. There are numerous maps around, some subway and some bus. There's a black bench that runs along the length of the busway as well. There are both stairs and a urine-smelling elevator one can use to get down to the station proper. As for bus connections in general, there aren't actually that many. The five routes range from hopelessly overcrowded (the 57) to somewhat decent schedules (the 8, the 60 to a lesser extent) to somewhat horrible schedules (the 19, the 65). It's too bad such an amazing busway only serves five buses.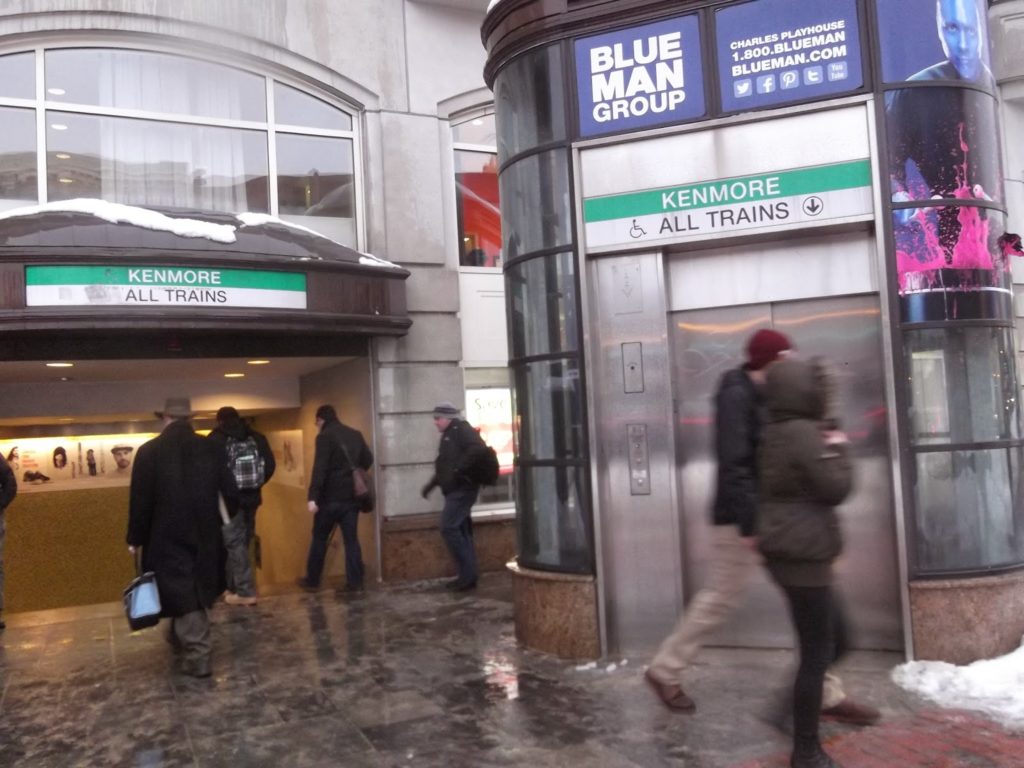 Two entrances in one!
As for the other entrances, there are two – one on either side of the street. They both offer a staircase as well as a urine-smelling elevator. And both of them have really disgusting passageways to the main station. Somewhat reminiscent of the Winter Street Concourse between Park Street and Downtown Crossing, the passageways are dark, dingy, and disgusting. At least they don't have the ugly pipes and random doors in the Winter Street Concourse, although the Concourse is much better lit.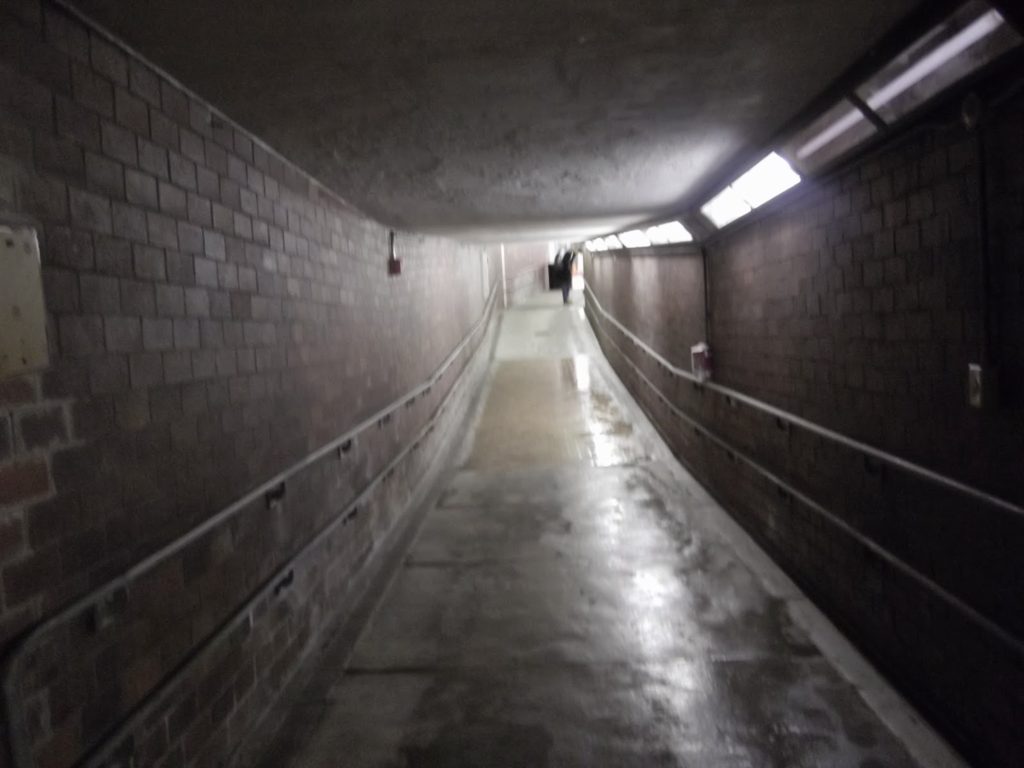 Blurry, but you can see how gross it is.
The station mezzanine is much, much better. There are Boston Red Sox references all around here (and for good reason – Kenmore is actually closer to Fenway Park than Fenway Station is), including an information booth painted entirely in Red Sox livery! The mezzanine also has generous amounts of glass, something I personally love. It had a very hectic feel to it, with everyone walking quickly to get to their trains.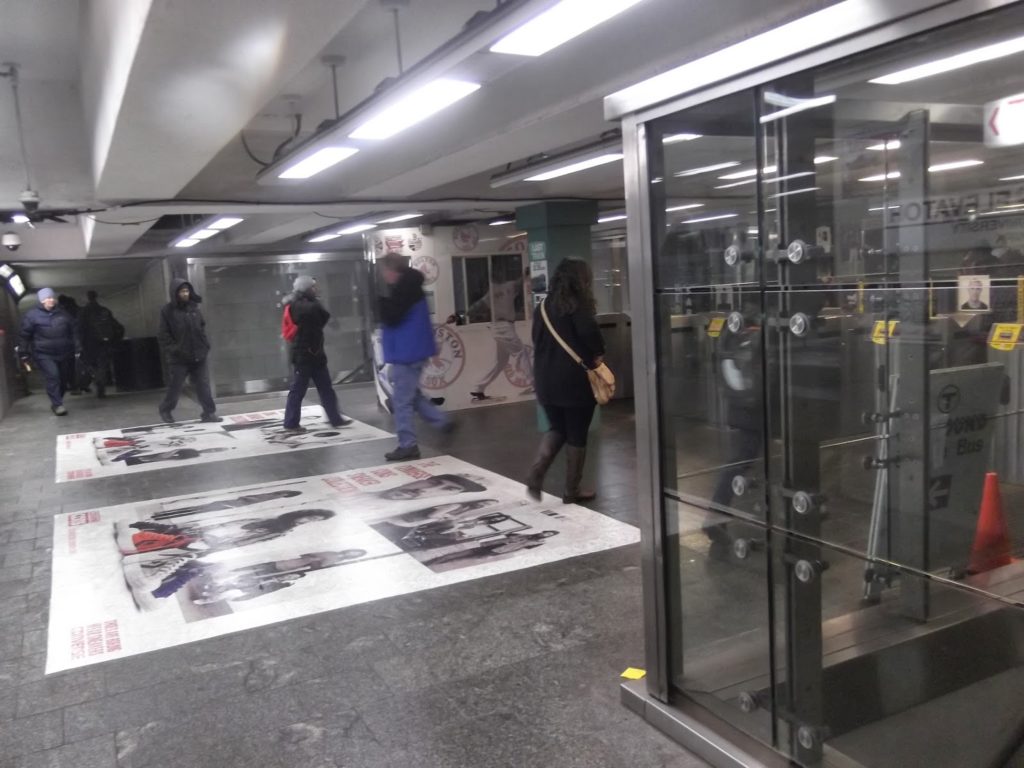 I love this mezzanine.
Kenmore's platform is nicely organized. The point where the B,C, and D Lines split, there are actually four tracks running through here. Two are for B Line trains, and two are for C and D Line trains (which share a tunnel for a few hundred yards past the station). The platforms themselves are simple (some may say bland), but I actually like them. Unlike some stations (*cough* Prudential *cough*), I didn't really find the pipes on the ceiling to be that ugly. Is it just because there aren't as many? I have no idea.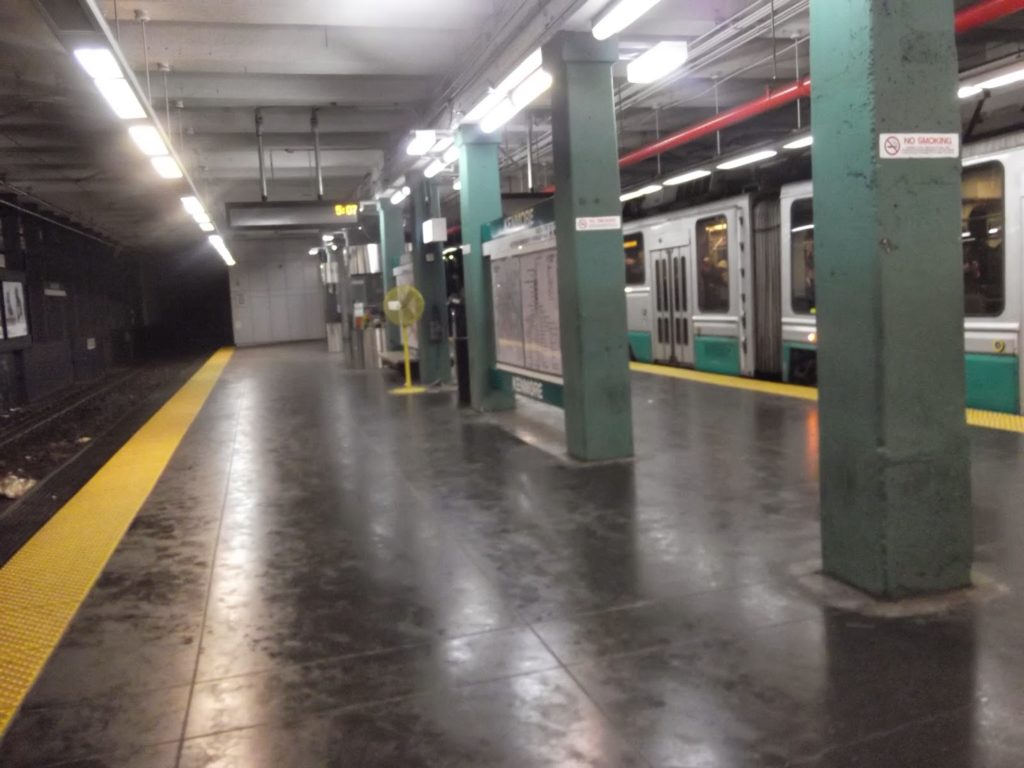 Well, I like it.
Of course, we can't forget about the elusive countdown clocks. Kenmore Station, as I said, is the location of the Green Line's first countdown clocks. Well, sort of. They don't actually tell you when the next train is coming, they only tell you where the next train is going (Riverside, Cleveland Circle, etc.). And it's only on the outbound side, as everyone knows where the inbound trains are going. There are even announcements to compliment the clocks. They may not have times, but it's a start.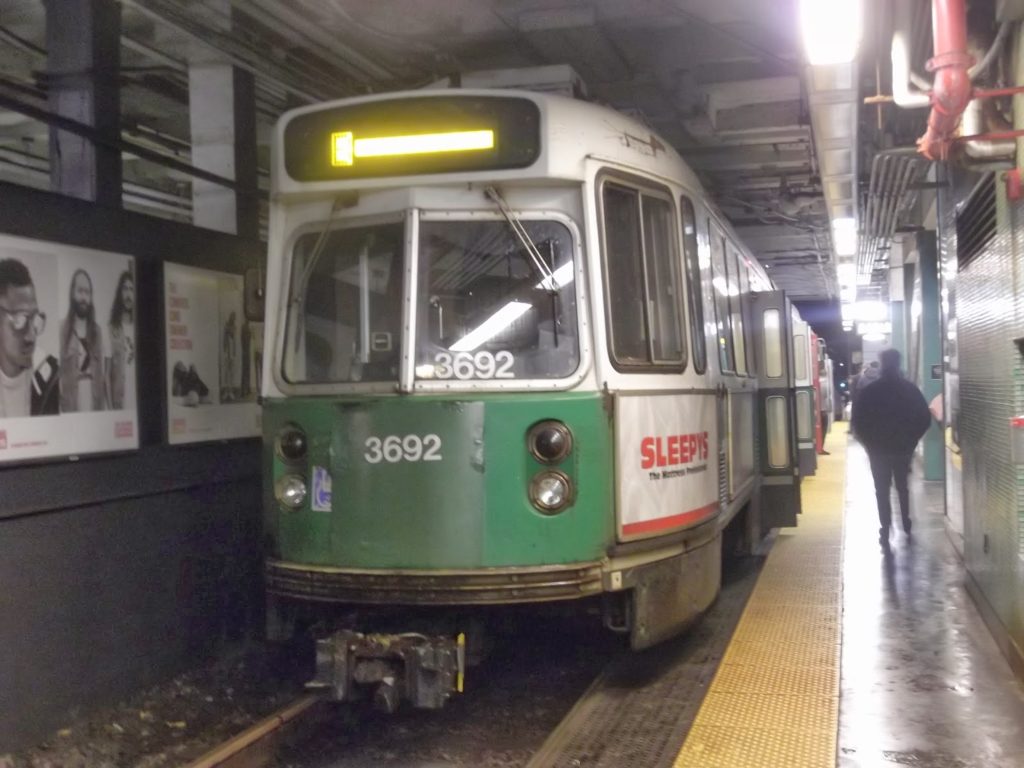 Well, I suppose the pipes seem a little more conspicuous here…
Station: Kenmore
Ridership: This is definitely the big Fenway Park station. I believe the MBTA runs special Green Line trips here on game days to serve the hoards of baseball fans. I believe there are also a few B.U. buildings around here, so students may also use this station.
Pros: I really like the busway, especially since it even exists. Most stations in Boston have their bus connections at random street intersections that are impossible to find (I'm looking at you, Downtown Crossing), but Kenmore has a proper busway. I also like the modern mezzanine, and the platforms, though some may find the latter to be bland and ugly. Oh, and the countdown clocks. You can't forget about the countdown clocks.
Cons: As I said, some may find the platform bland. But what's worse, in my opinion, are the really ugly passageways used to get to the mezzanine. Also, bus connections are rather slim. Finally, the countdown clocks don't show the time, but they're still the only ones on the system and are pretty cool anyway.
Nearby and Noteworthy: Right near the station is a typical massive Barnes and Noble. It seems like there are less bookstores everyday, but it's nice that this one is still there.
Final Verdict: 7/10
I think overall, this is a really nice station. The mezzanine is modern, the busway is fantastic, and the platforms are nice, in my opinion. Though bus connections are slim and that passageway is disgusting, this is still a pretty good station.
Latest MBTA News: Service Updates
A renovated Yawkey Station is set to open Monday, when the new Framingham/Worcester Commuter Rail schedule kicks in. It will be the MBTA's first "zero net energy" station, with solar panels and a photovoltaic power plant next to it. The full station is set to open in 2017.