Man, there are a lot more buses that I rode but didn't review than I thought. The 60 is yet another one of these – I rode the 60 a few years ago, but didn't review it because I didn't have any pictures of it. Well, I've got some pictures now, so it's time to take a trip out to Chestnut Hill.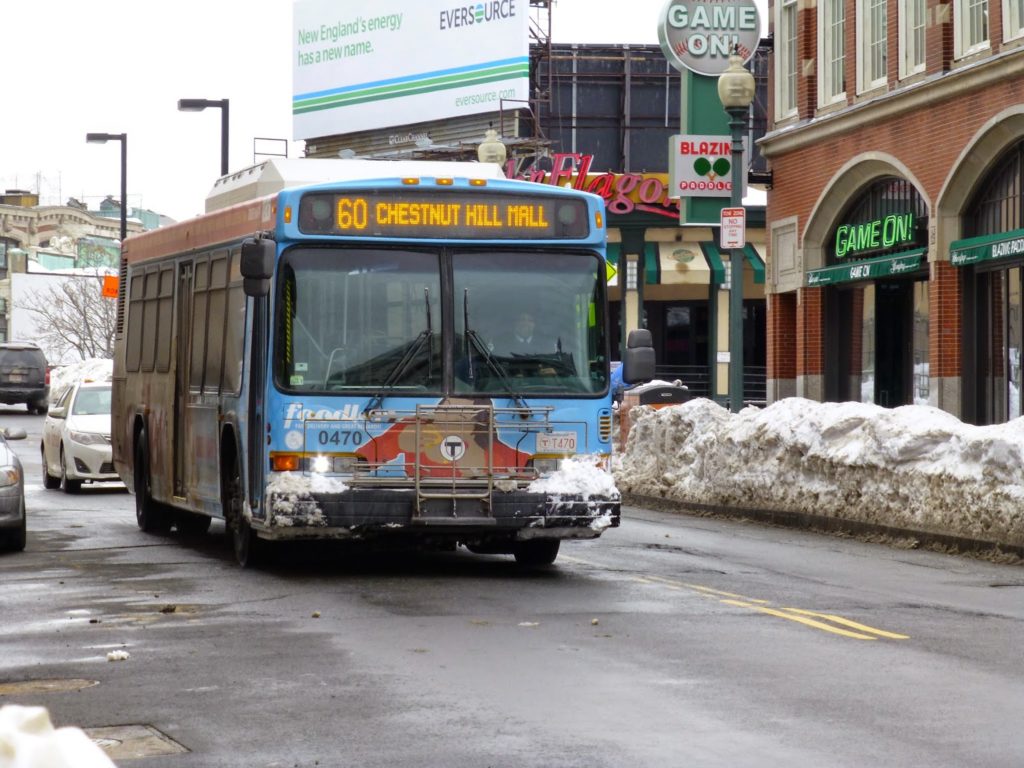 Come on, Foodler! You've already monopolized so much MBTA ad space! You had to go and get yourself a bus, didn't you?
I boarded the bus on Brookline Ave a little south of Kenmore, but there was only one other person on board. We continued down Brookline Ave, passing the Landmark Center mall and entering the Longwood Medical Area. After going by lots of hospitals, we went through a bit of the Emerald Necklace, then turned onto Pearl Street in Brookline Village.
For some reason, the 60 is the only bus that goes right by
Brookline Village Station
on Pearl Street. I don't know why
the 65
and
66
stay on Washington Street, since they essentially bypass the station that way. Anyway, we then turned onto High Street, which was a suburban residential neighborhood. After a sudden steep hill (where the driver floored it, of course), we made a sharp turn onto Cypress Street. It was still residential, but now the houses were much closer together.
There were a few businesses on the corner of Boylston Street (Route 9), which we turned onto. We sped past two schools, some apartments, and the Brookline Reservoir on this pseudo-highway. After a connection with
the 51
and a few houses and offices, the road got more rural-feeling. We went through forest, with some fun hills to boot. When the houses came back, they were very well-concealed from the highway, so it still felt rural.
Then all of a sudden…civilization! And lots of it. We left the highway and went through this mall-type thing called The Street, which had stores, restaurants, and a movie theater. After that, we returned to the highway then almost instantly turned off again, onto Hammond Pond Parkway. This road twisted its way through lots of trees, and eventually led to The Mall at Chestnut Hill.
This is the last stop on the route, but I had been hoping the bus would just continue from there. Unfortunately, everyone else got off, and the driver yelled at me. "Where are you going?" Now that I think about it, he looked pretty similar to the driver of
the 8
… Too bad he didn't use that pointless "book" analogy.
Anyway, my destination was Hammond Street, so I could walk to Chestnut Hill Station. We had passed it already, but I wanted to go all the way to the mall! The driver didn't seem too upset, luckily, and after picking up a few people, we left the mall.
The 60 actually goes a little further west before heading back to Kenmore. We returned to Route 9, going by some apartment towers. We then turned onto Jackson Street and made a full-speed u-turn to get to the eastbound side of Route 9. The bus stayed on the highway going back, and I got off at Hammond Street.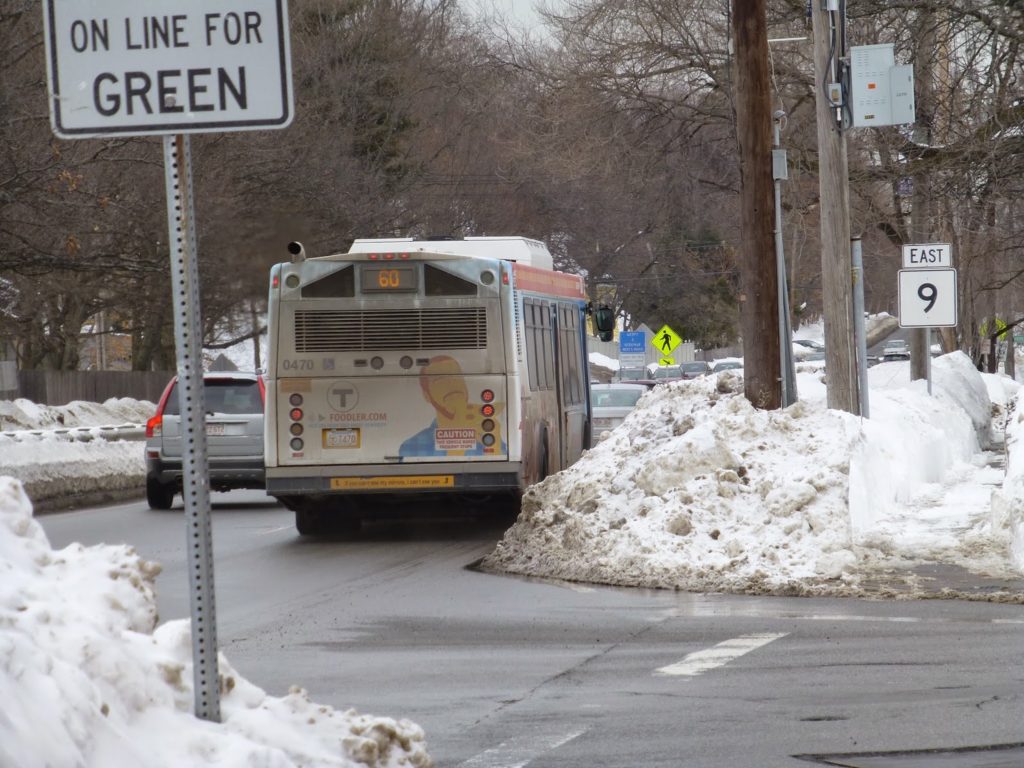 Come on, Foodler! That face looks ridiculous.
Route: 60 (Chestnut Hill – Kenmore Station via Brookline Village and Cypress Street)
Ridership: There were about 15-20 people on my ride. Surprisingly, they got on at various places along the route, and only one person got on at Kenmore. Most people got off at The Street or The Mall at Chestnut Hill. The route gets pretty low ridership overall, with about 1,400 riders per weekday, 725 per Saturday, and 375 per Sunday.
Pros: The 60 serves quite a lot of Brookline and gives it a link to The Mall at Chestnut Hill. And on the Route 9 section, this bus travels fast. It's a quick ride out to Newton. The 60 also has a mostly good schedule: about every 15-25 minutes rush hours, and every half hour during the day and on Saturdays.
Cons: Well, it's every hour nights and every 70 minutes Sundays. I don't have any other issues with the 60, though.
Nearby and Noteworthy: The malls out at the end of the route seemed to be pretty busy. Last time I took the 60, I remember going into a Star Market (part of The Street) that had really cool escalators. Or something like that.
Final Verdict: 7/10
The 60 serves as a really quick link out to the malls along Route 9. It runs often for the most part, but nobody shops at night, anyway. The Sunday schedule is gripe-worthy, but the 60 is one of the worst MBTA buses for Sunday ridership, so…