If I were to ask you if Brookline has good public transit access, you would probably say yes. After all, it has three Green Line branches serving it, providing frequent service to some pretty dense apartments. Yes, the northern part of Brookline gets pretty good coverage. But what about the part south of the D? The part with the grand estates, the huge yards, and the many forests and golf courses? This barren part of Brookline has only one single bus to serve its entirety: the 51.
This was back when the trees were green.
It all started at Forest Hills, way back in August (it took me a while to get around to reviewing this). After picking people up there, we headed down Washington Street along with a multitude of other routes. There were some nice apartments along here, with a few businesses. At Roslindale Square, we turned onto South Street, going by the Commuter Rail station, as well as a lot of commercial buildings.
We then left the other buses by going down Robert Street, and then turning onto Walter Street. which was residential. Eventually it became sort of a rural feel, as we were right next to the Arnold Arboretum. We turned onto Weld Street, which also felt rural until the intersection with Center Street, where there were some businesses.
Weld Street was residential again after that, as well as curvy. We were on it for quite a while until finally, we turned onto Corey Street and then the wide, tree lined VFW Parkway. It was a pretty beautiful street, but we soon turned onto Independence Drive at a small mall. We then went through (shudder) Hancock Village, a (groan) development where all the houses are the same. This is also where we entered Brookline.
Independence Drive became Grove Street, and luckily the houses became normal again. There was a line of businesses at Putterham Circle, then Grove Street became Newton Street and it felt rural again. We turned onto Clyde Street, which became Lee Street, and we went by some pretty impressive mansions.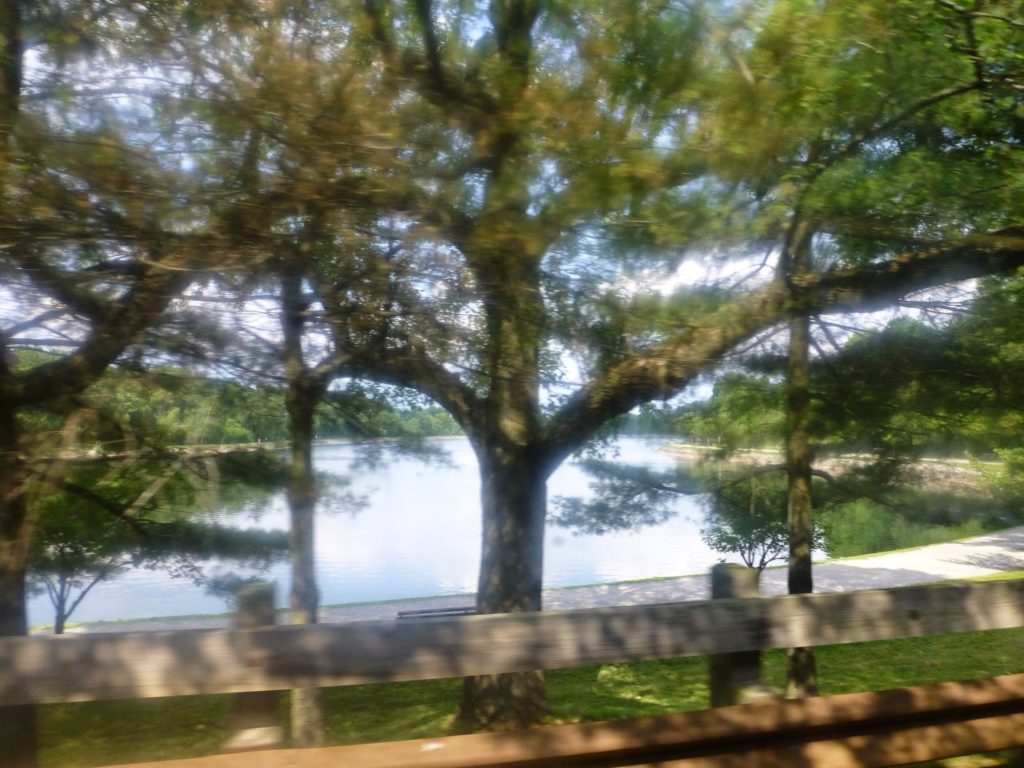 An obstructed view of the Brookline Reservoir.
Lee Street then curved to the left and we went by the Brookline Reservoir. We were on Route 9 for only a block before we turned onto Chestnut Hill Ave. The houses were much smaller and closer along here, a big contrast from the huge mansions from earlier. But we never made it to the apartments of Beacon Street, for we had to pull into the Reservoir busway.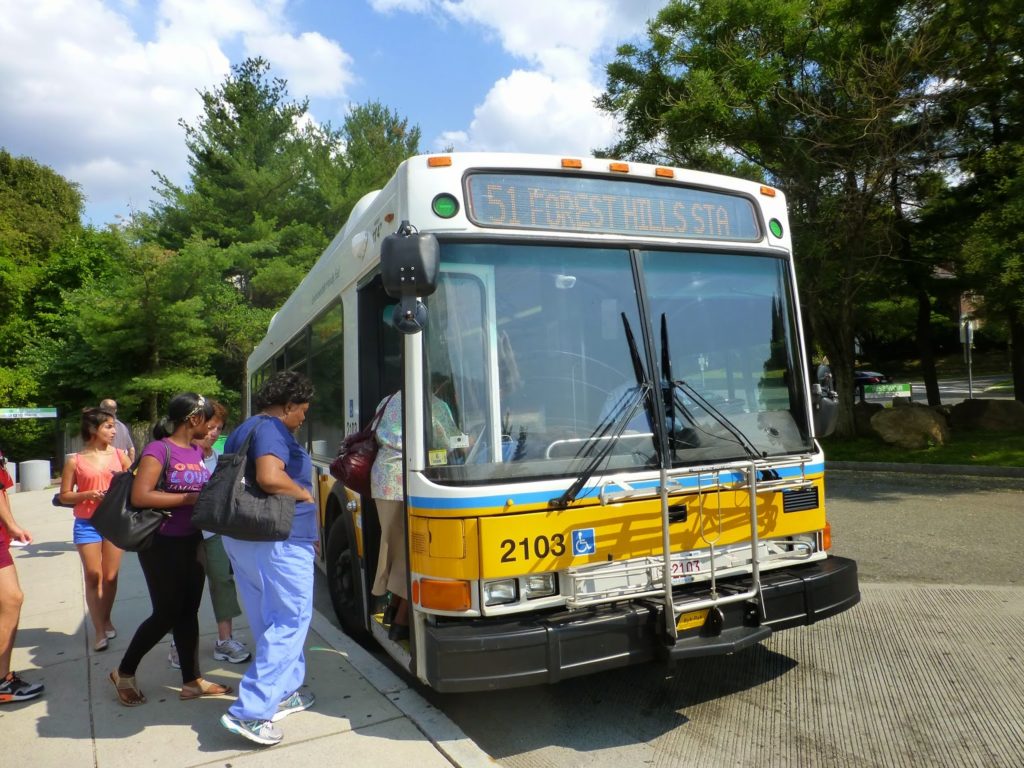 There are a few people going back to Forest Hills.
Route: 51 (Cleveland Circle – Forest Hills Station via Hancock Village)
Ridership: There were a little over 20 people who used this bus on a Saturday. That's not that bad, honestly. Everyone who got on at Forest Hills got off at certain points along the route and everyone who got on at certain points went all the way to Cleveland Circle.
Pros: It serves a massive swath of Brookline that has no other public transit options. That said, I'm sure many of those mansion dwellers have cars, but over 20 people on a Saturday isn't bad.
Cons: The schedule is pretty poor: every 25 minutes rush hour, every hour during the day and night, every hour and five minutes on Saturdays, and no service on Sundays. The route could also stand to be a little less circuitous. It makes a rather inefficient U shape near Forest Hills and Roslindale.
Nearby and Noteworthy: If you like gawking at mansions, then this is your bus! It does go through Roslindale, though, which has a lot of businesses.
Final Verdict: 5/10
This is really the only public transit available for much of Brookline, so I can't lower its score too much. But the schedule is pretty awful, and I don't like the U shape the route makes. Considering that no one got on or off in Roslindale on my ride (and the fact that there are a plethora of other buses that go there), perhaps the route could bypass it entirely by going through the Arnold Arboretum…
You can see how buses would travel faster with this new route. The question is if it's necessary or not. Much of the current route is served by other buses, but there's a short section on Walter Street that's just the 51. So rerouting this bus might not bode well for the folks in that neighborhood. Seems like a mixed bag, I suppose.
Latest MBTA News: Service Updates
The MBTA has given Keolis (the new operator of the Commuter Rail) a fine of $434,000 for late trains alone, and $804,000 in total! Apparently Keolis isn't doing the best job at keeping the Commuter Rail on schedule.88