I'll probably never review the Green Line street-running stops, since most of them are just…bad. And they're all bad in the exact same way. But since Reservoir and Cleveland Circle are basically considered one station, I figured I'd give them both a chance in the spotlight.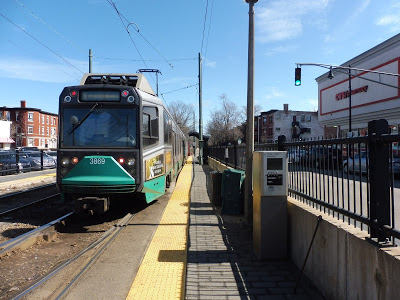 Cleveland Circle's "platform".
It had been a while since I had gone out on one of the street-running Green Line branches, but hooooo, boy – I had forgotten how simple these stops were. And Cleveland Circle is one of the better ones! It has a ticket validation machine, some newspaper boxes, and a shelter further down the platform. Such great amenities…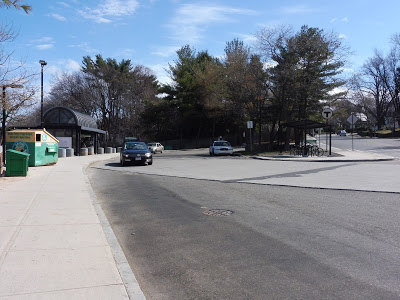 The station's busway.
Moving into Brookline, there's a busway and drop-off area right outside of Reservoir Station. Admittedly, it's only served by two routes, the 51 and the 86, but that's better than nothing. This area also features sheltered bike spaces. Although there's no official parking, Cleveland Circle has street parking along Beacon Street, which has to count for something, right?
The entrance into the station.
The entrance to Reservoir also forms a little sheltered plaza. The plaza features more bike spaces, a wastebasket, some benches for buses or pick-ups, and one of those "Charlie on the MTA" plaques about the song (seems like an odd place to put one, but okay). Unfortunately, the shelter has some rather nasty paint chipping along its metal roof.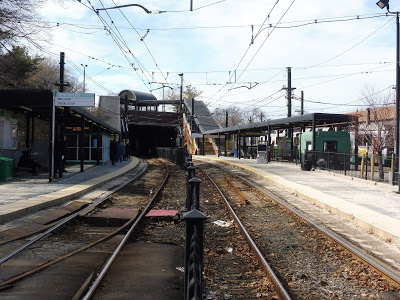 Looking down the platform.
You know how most D Line stations have…mmm…character? Yeah, Reservoir has none of that. Most of the platform is sheltered, which should be a good thing, but it's with those ugly metal paint-chipping structures. And though Reservoir Yard is right next to the station, which is pretty cool, it does ruin any tranquility Reservoir might've had.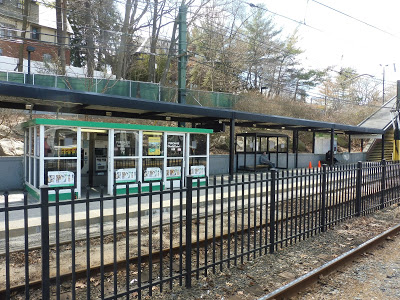 The inbound side.
Still, the platforms certainly don't lack in amenities. The inbound side has a regular shelter (a bit pointless, since there's a roof right over it), as well as a heated one. At the end of the station, there's a ramp which curves around to the busway, giving it "accessible" status.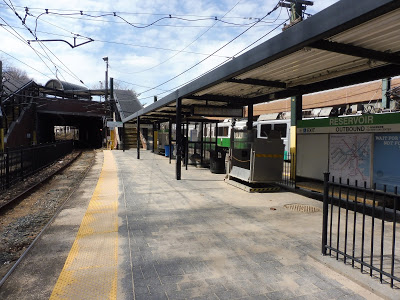 And the outbound side.
The outbound platform is, as you would expect, more basic than the inbound one, although I would imagine this station still gets traffic heading towards Newton. This platform has only the normal shelter (no heat, unfortunately), and a few other benches. Its accessible ramp leads right alongside the yard, and it drops you off a little further north down Chestnut Hill Ave.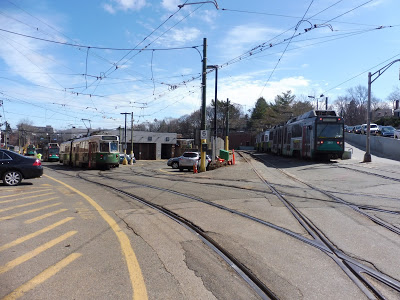 Instead of just one train, how about a bunch of trains?
Stations: Reservoir and Cleveland Circle
Ridership: Because the D is infinitely faster than the C, Reservoir gets more than twice the ridership of Cleveland Circle – 3,404 riders per weekday versus 1,457 for the latter. Cleveland Circle was basically empty when I was here, while Reservoir was full of people dressed in green heading for the Saint Patrick's Day Parade.
Pros: The only pros I can really give Cleveland Circle are its location and the fact that it's better than other Green Line street stops. Reservoir, on the other hand, is entirely sheltered, and features many more amenities than its C Line cousin.
Cons: Cleveland Circle has all the problems that Green Line street stops have: it's too narrow, too basic, and the ride is too slow. Reservoir's problems, on the other hand, are mostly aesthetic. The shelter running along the whole station looks awful, and the modern architecture makes the station lose any character it might've had.
Nearby and Noteworthy: Cleveland Circle has lots of businesses, mostly convenience stores and restaurants. I suppose the station of the same name is closer, but honestly, just use Reservoir. It's a faster ride, and only a slightly longer walk. That said, if you're not in a rush, the C is a pleasant ride, it has to be said.
Final Verdict: 6/10
Why is the score so high? Well, I was originally going to average out my opinions of the two stations, which would've resulted in a much lower score. However, Reservoir does perform well functionally, and I haven't factored in the busway yet. Also, there's a key point I haven't brought up: the fact that the stations are so close. Having essentially a transfer on the outskirts of the Green Line can be incredibly useful, like if you're coming from Newton and are trying to get somewhere along Beacon Street. I still dislike both of these stations, but they do have their perks.
Latest MBTA News: Service Updates
Okay, writing the review for Cleveland Circle made me think: can I really try to review every MBTA station without doing the street stops? To be honest, I think that's a no. Thus, I'm adding Green Line street stops to my to-do list! They'll probably just get bite-sized reviews since there isn't much to them, and I'm not sure when I'll get around to visiting them, but look out for street stops in the future!
Happy Easter, by the way.