Pre-blog, there were a few buses that my father and I took for fun. Some of these were used for the first posts (459, 30), but many ended up being forgotten. The 86 was one of those original buses, and I've actually used it a few times since then on the Sullivan-Harvard portion. Finally, in August, I took the whole thing, and yet I still kept putting the review off. But now, for the 250th post, let's finally take a look at the 86. This is probably one of the most diverse routes on the MBTA, running from posh Cleveland Circle to Harvard University to industrial Sullivan Square. It makes for quite an interesting ride.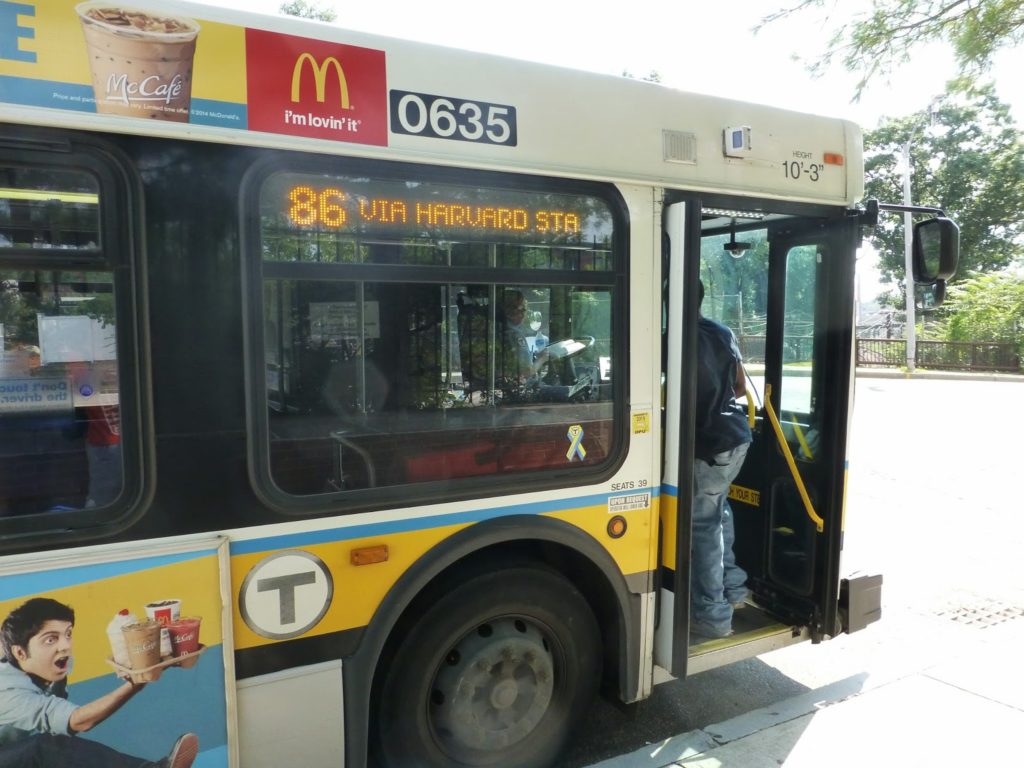 That guy in the bottom left looks pretty goofy.
Leaving the Reservoir busway, we went right up Chestnut Hill Ave, going by some businesses and a park. The non-revenue Green Line tracks split off at Commonwealth Ave, but we continued up Chestnut Hill, going by some nice apartments. Soon these turned into houses, though almost right after we came to Brighton Center, which has some fantastic brick architecture.
We continued onto Market Street, where we went by a church, a few houses, some businesses, and a really cool-looking TV station. After crossing over the Mass Turnpike, the street became Leo M Birmingham Parkway. We didn't stay on it for very long, though, turning onto Western Ave to join the 70 and 70A routes. It was pretty industrial, but soon we joined the 66 route on North Harvard Street.
We went by the massive Harvard Stadium as well as some university buildings, then crossed over the Charles River. The North Harvard Street bridge is being worked on, so there's usually quite a bit of traffic. Luckily, the 86 made it over without a hitch, and we turned onto Eliot Street. There were quite a lot of businesses here, being Harvard Square.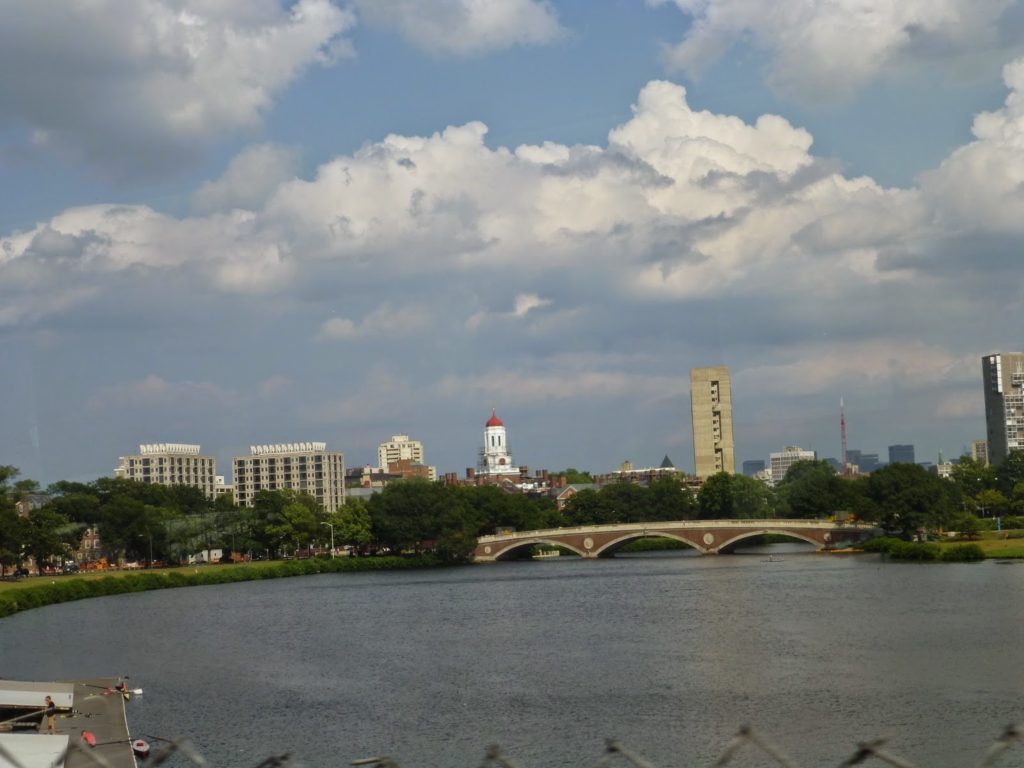 A nice view from the bridge.
Now, Cleveland Circle-bound 86 buses go right through the heart of the square, but Sullivan Square-bound trips go through the bus tunnel instead. So, we turned onto Bennett Street, University Street, and Mount Auburn Street before heading into the tunnel. I would imagine that this is a much faster route than what Cleveland Circle-bound riders have to deal with, since they go right through the traffic-ridden square.
Leaving the tunnel, we bypassed the Dawes Island stop (which only Cleveland Circle-bound buses use), looped around the busway portal, and headed into the Cambridge Street tunnel. Coming out, we turned onto Quincy Street and went by a massive cathedral-esque building of which tourists love to take pictures.
We then turned onto Kirkland Street, passing a really out of place apartment building, and then some beautiful houses in a leafy neighborhood. There were some businesses at the intersection with Beacon Street, then Kirkland became Washington. This was where the atmosphere changed from a more suburban feel to closely-spaced Somerville apartments. Not that I don't love the latter kind of neighborhood.
There was a school, and immediately after we crossed over the Commuter Rail tracks and entered Union Square. There were, of course, a lot of businesses here, and a few bus connections. Washington Street merged into Somerville Ave and then made a left turn, where we were joined by the 91. Going under the McGrath Highway and some more tracks, it started to feel kind of industrial. Washington Street became Cambridge Street as we entered into Boston, and then we pulled into the Sullivan Square busway.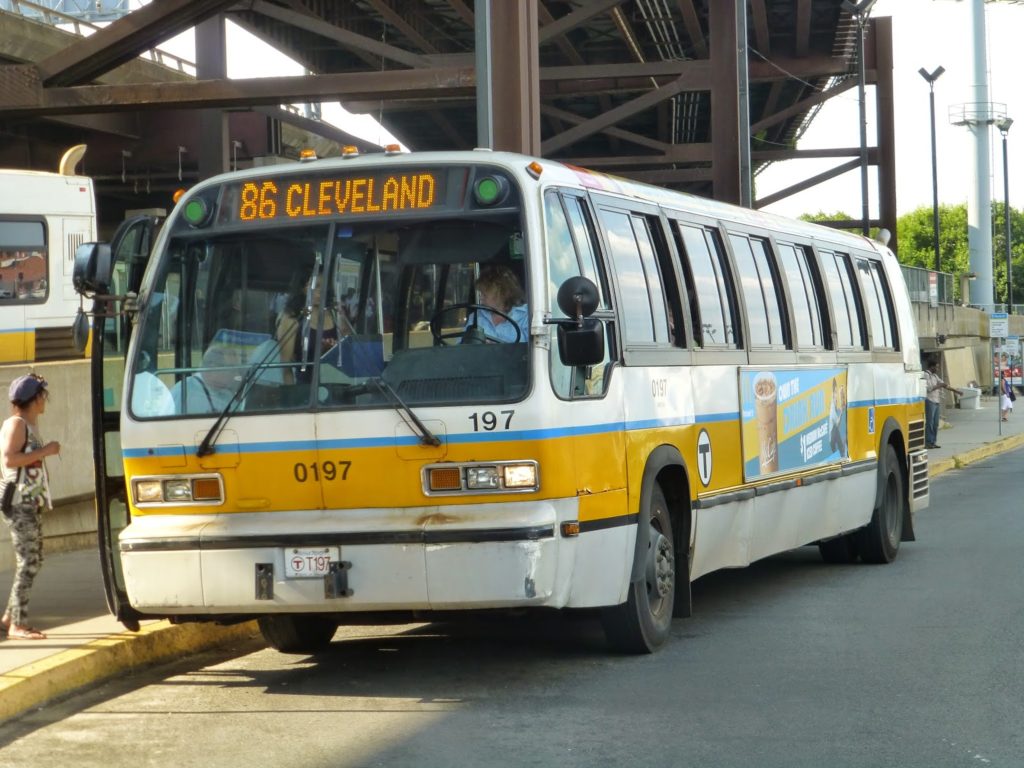 Since the first picture was so bad and my bus flashed NOT IN SERVICE immediately upon coming into Sullivan, I decided to wait for the next bus to get a decent picture.
Route: 86 (Sullivan Square Station – Reservoir (Cleveland Circle) via Harvard/Johnston Gate)
Ridership: Very high – 52 people! And it was a Saturday! Some people used it for crosstown connections, and others used it just for local service, but nobody went from beginning to end…except me.
Pros: This is a fantastic crosstown route, connecting to three out of four subway lines. It seems to get very high ridership, which is also good. The route is about half-and-half in terms of unique portions, which means that there are plenty of bus connections, but also parts that just the 86 serves. This bus also has a pretty good schedule: every 10 minutes rush hour, every 20 minutes during the day, every half hour Saturdays, and every 35 minutes nights and Sundays.
Cons: I wish the bus was consistent about its route through Harvard, preferably going via the bus tunnel. It can be really confusing for those who haven't taken the bus before.
Nearby and Noteworthy: This bus goes by many businesses, none of which I know anything about. As usual.
Final Verdict: 8/10
This is a great crosstown route with a pretty good schedule (especially for a non-Key Bus Route). My only problem is the route it takes in Harvard Square. My personal opinion is that they could route all trips through the busway to improve speed. The problem with this, though, is that it seems like buses can't get into the busway from the Cambridge Street tunnel, so the intersection would have to be reconfigured. That would be a lot of work, so maybe just improving signage for Cleveland Circle-bound buses would be fine…
Latest MBTA News: Service Updates
The Fairmount Line is finally getting weekend service in a week's time! Check the new schedule here. But more importantly, to me, anyway, is that this is the 250th post! The blog's been experiencing a lot of growth, both in terms of followers, and evidently in content. These posts have just flown by, and I look forward to writing many more to come…