After spending most of the summer in camp, I had one free week in July to do something fun. My father and I wanted to take a bus that only runs on weekdays, and the 459 stood out. Leaving from Downtown Crossing, the bus makes its way down to the World Trade Center, and then the airport. It stops at Terminal C and Airport Station, and then heads up to Salem via Lynn.
One train ride later, after running around Downtown Crossing looking for Otis Street, we were on the bus. We were the only ones until South Station, where a few other people boarded the bus. One person got on at the airport (why anyone would use the 459 for airport connections is beyond me), then the bus had an express run on McClellan Highway. There isn't much of note on this stretch, but the bus travels FAST! The Saugus portion of the route travels through swampland, which makes for interesting views.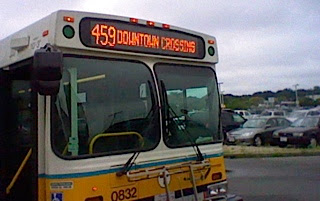 The 459 in Salem on a gloomy day.
In Lynn, there were a couple of guys shouting inappropriate things across the bus. We also happened to notice that one seemed to have an ankle bracelet…hmm. At this point, there were a lot of people using the bus for local service around Lynn. We traveled through Swampscott, where not many people got on or off. Finally, everyone got off at the stop in downtown Salem, while my father and I continued to the terminus at the Salem Commuter Rail station.
A number of exciting things happened afterward:
We waited over an hour for a bus that never came
We ended up grabbing a Commuter Rail train bound for North Station, and
They forgot to charge us for the ride (Ha-ha!)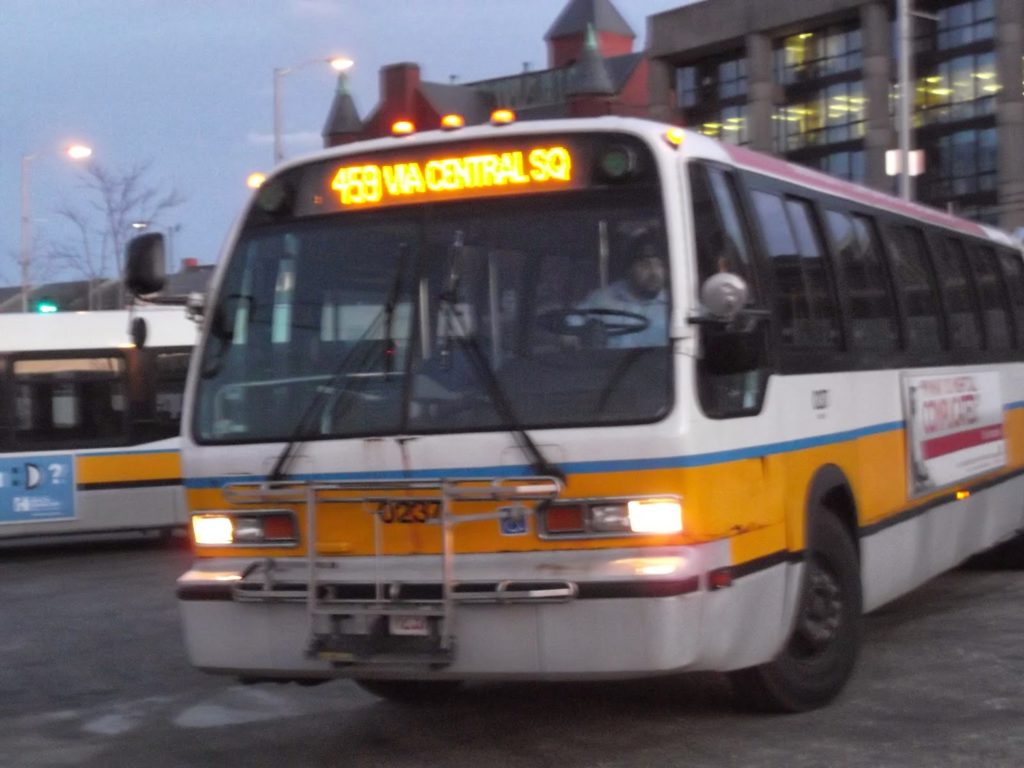 A different bus on a different day.

Route: 459 (Salem Depot – Downtown via Logan Airport)
Rating (1-10): 8

Ridership: There weren't many people until we got into Lynn, where people use the bus for local service. My father and I were among the few people (if any) who took the bus from Boston to Salem. Of course, you have to take into account that it was in the middle of the summer during the day.
Pros: It's just a great ride in general. There's a lot of things to see, and it provides a nice link from Boston to Salem (though I wouldn't want to ride the bus on Halloween). Plus, an inner express fare of $3.50 is much better than $6.75 for the Commuter Rail (when you're actually charged).
Cons: The overall headways could use some work. The bus runs about every hour, weekdays only (on weekends, the 455 will take you from Salem to Wonderland). Yes, I know it runs often for a North Shore express bus, but that nonexistent bus in Salem cost it those 2 points in the rating. More of a pet peeve is the fact that the route only stops at Terminal C. Sure, barely anyone uses the bus to get to the airport, but stopping at all terminals might increase ridership.
Nearby and Noteworthy: In Salem, just about everything has the word "witch" in it. Because of this, I'm recommending the Peabody Essex Museum. Also, the Derby Square Bookstore sells almost everything at 50% off.
UPDATE 9/1/19: And so, my first-ever review drops off the face of the earth: this route has been rightfully eliminated. I mean, 8/10? Geez!
Latest MBTA News: The Green Line "E" branch is closed between Northeastern and Heath Street due to a power issue. Also, this weekend the Orange Line is being replaced by shuttle buses between Sullivan Square and Oak Grove as part of the Assembly Square Project.