There are, for all intents and purposes, two buses that terminate at Brighton Center (I'm counting the 501/503 as one, since they follow each other for almost the whole route). When I ended up on the 501, I wanted to do the double-whammy. And lo and behold, there was a 65 right there when I got off! "When is this bus leaving?" I asked the driver who was taking a smoke. "About 5 minutes," said the driver. "You can get on if you like."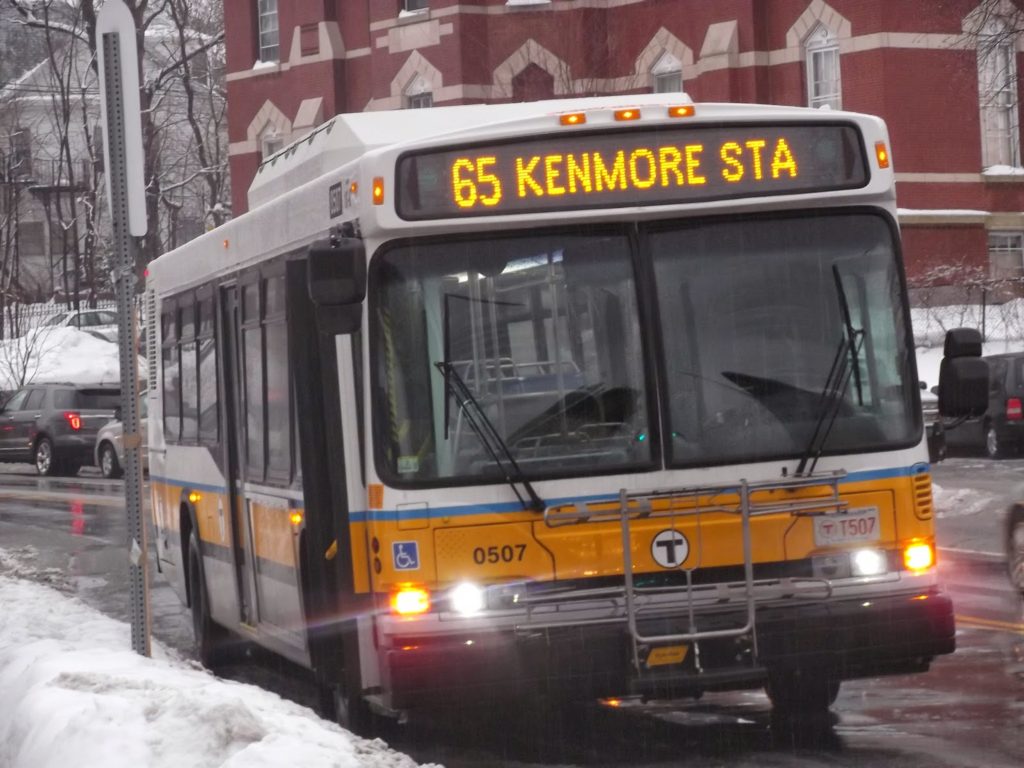 The 65 on Chestnut Hill Ave. I took this bus a while ago, as you can tell by the snow.
One other person got on before we left down Chestnut Hill Ave. Right away, we turned onto Washington Street, heading through the main drag of Brighton Center. At St. Elizabeth's Hospital, Washington Street made a sharp turn to the right. On the right side of the road there were mostly houses, and on the left there was a big park, then a church and some apartments.
We crossed Commonwealth Ave, with a connection to the B Line. There were some apartments and businesses, but it went back to houses soon after. At Beacon Street, though, Washington was lined with stores and taller apartments. But once again, it went back to houses. There was an interesting stop called "Gardner Path," which looked like a long staircase, and then it started getting more urban.
We entered Brookline Village, where lots of small businesses lined the road. There was a very short stretch on Route 9, which Washington Street becomes, then we headed up Brookline Ave. Interestingly, whereas the 60 route (which joins up with the 65 at Brookline Village) makes a short detour onto Pearl Street to better serve Brookline Village Station going outbound, the 65 does no such thing. I'm not sure if there are any traffic rules preventing the bus from doing this, but I feel like it would be a no-brainer, really.
We turned onto Brookline Ave and went through a section of the Emerald Necklace, then through the tall buildings and hospitals of the Longwood Medical Area. They got slightly less tall when we crossed over another park and came very close to Fenway Station, but it was still very urban. The businesses lining the street ranged from chic to, well, not so chic. Fenway Park was visible to the right, then we crossed over Route 9. We turned onto Commonwealth Ave after, and pulled into the Kenmore Station busway.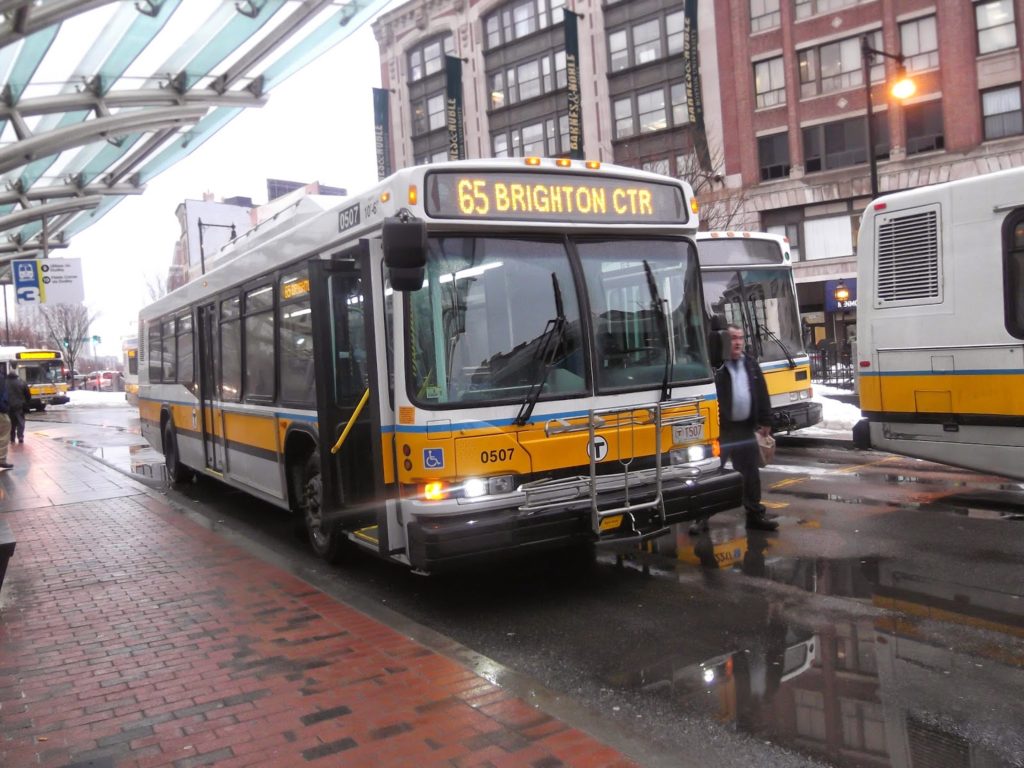 The bus at Kenmore Station.
Route: 65 (Brighton Center – Kenmore Station via Washington Street, Brookline Village, and Brookline Ave)
Ridership: It was pretty quiet for most of the route, but there was a massive spike in ridership at the Longwood Medical Area. There had been about 10 people on the bus until then, but the total ridership ended up being about 30. But I think the people who got on at the LMA were mostly just using it on a "whatever comes first" basis, as most of the buses on Brookline Ave go to Kenmore anyway.
Pros: It's not a bad crosstown route between the branches of the Green Line. This is also the only bus on Washington Street, too. The weekday schedule is pretty good, running every 15 minutes rush hour and every 25-35 minutes during the day.
Cons: The last bus is at 8:30 PM, though, which is a very early cutoff. The Saturday service is only once an hour, too, with service ending at 5:30 PM, which is very early. Sunday service is nonexistent. I also find it weird that it doesn't go onto Pearl Street in Brookline Village to better serve the Green Line.
Nearby and Noteworthy: As usual, I don't have anything specific, but I love Brighton Center, and the bus passed through a lot of nice neighborhoods.
Final Verdict: 6/10
It's a good crosstown bus, and it serves a lot in between the branches of the Green Line. But the schedule is pretty horrible on nights and weekends. The ridership wasn't that great, I suppose, as most of the riders were on a "whatever comes first" basis, but no Sunday service seems pretty harsh. And I don't see why the bus can't go onto Pearl Street with the 60. That just makes no sense.
Latest MBTA News: Service Updates
Be sure to check out the poll on the right side of the page!