As if Holyoke Gate wasn't confusing enough, the 66 had to go ahead and stick "Dawes Island" in there. I mean, come on! Let's just put the terminal at Johnston Gate where all four above-ground Harvard buses go and be done with it! …Although southbound 86 buses still stop at Dawes Island… oh, never mind. The stop is right next to the bus tunnel portal, immediately south of the Cambridge Common. The bus was about 10 minutes later, but it eventually rounded the corner of Mass Ave and picked up the 10 or so people waiting.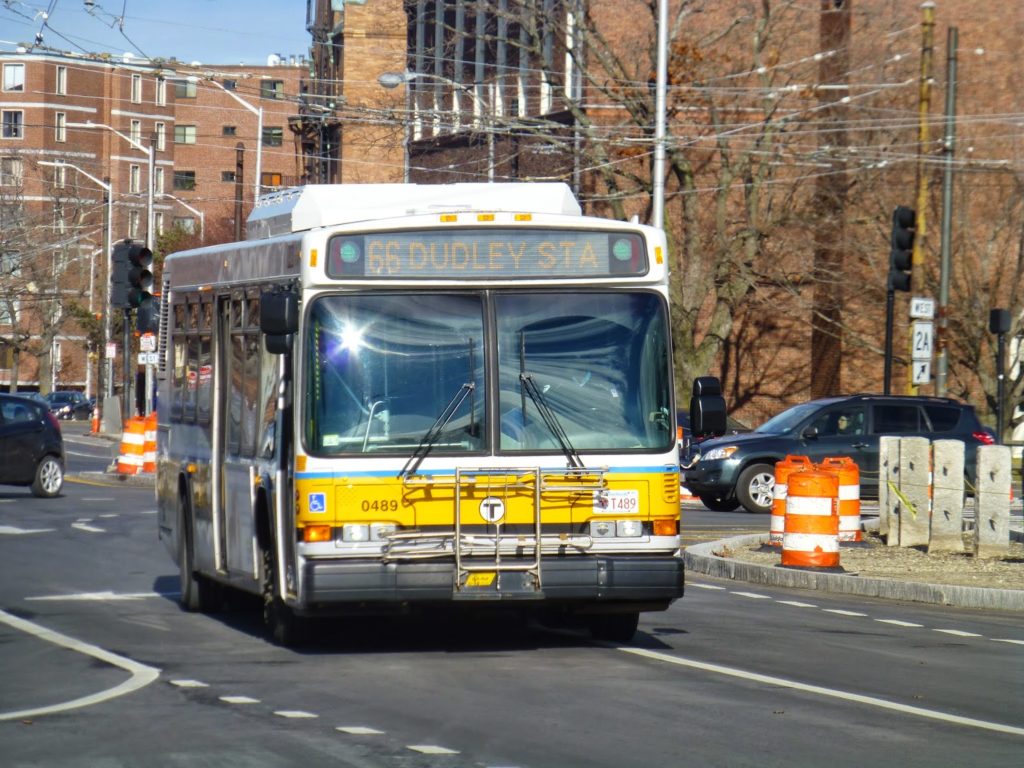 The bus arriving at Harvard. Those trolley wires look pretty crazy in the background.
The 66 is sort of like a crazier, more suburban, and much more circuitous version of the 1. Aside from the fact that they both go from Harvard to Dudley, these are two very different routes. Indeed, outbound buses don't even have a direct transfer with the 1, and so we headed away from it through downtown Harvard Square.
There were lots of brick, 2-4 story buildings on this section. We made our way to JFK Street, going by some Harvard University buildings, and then headed over the North Harvard Street bridge along with the 86. I prefer the eastern view from here, though the western view is good, too. Traffic flowed uncharacteristically quickly, and we were over the bridge in no time.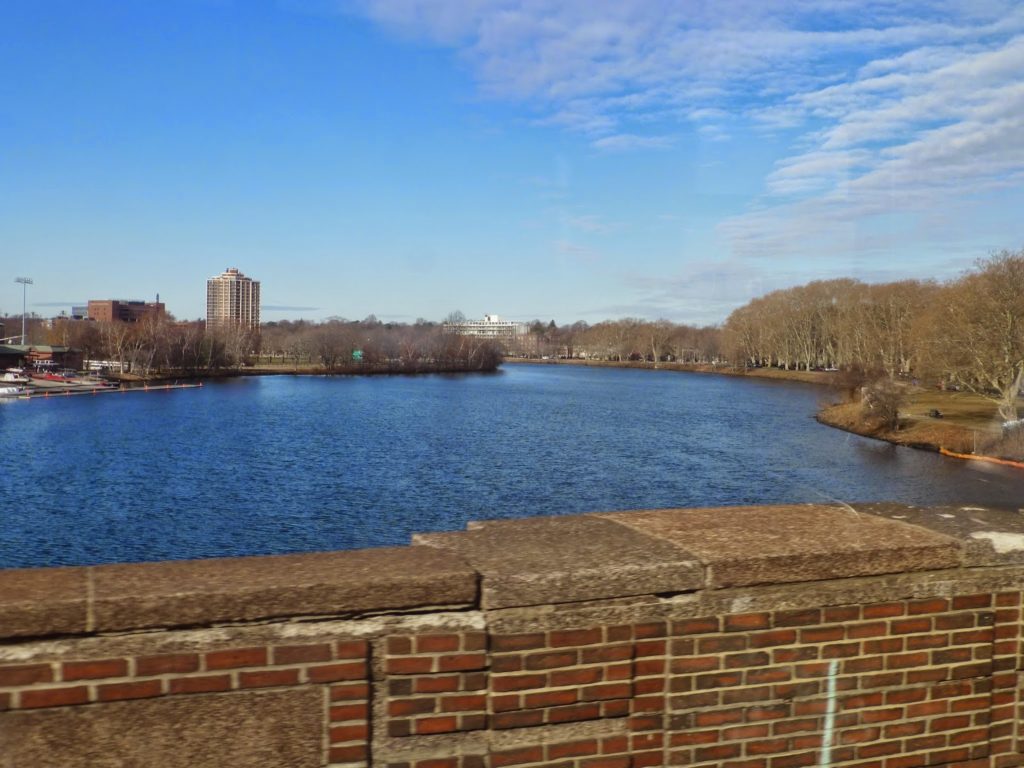 Looking down the Charles.
Now in Allston, we sped past some more Harvard buildings, including the Stadium. At Western Ave, the 86 left and we became the sole route on North Harvard Street. The neighborhood became residential, with a nice-looking library in between the houses. Soon we turned onto the very wide Cambridge Street, joining the 64.
We went on a long bridge over the Mass Turnpike, then passed through a weird, somewhat industrial area. There were businesses again at Union Square, where we made the sharp left turn onto Brighton Ave, joining the 57. It had a leafy median, which used to host the old A Branch tracks to Watertown. We soon turned onto Harvard Ave, going by some very unique small businesses.
We crossed over Commonwealth Ave, then it actually got residential for a bit. Eventually, though, we entered the main drag of Coolidge Corner, which was mostly one-story buildings (an exception being that awesome movie theater). After crossing over Beacon Street, the businesses stuck around.
The next major area was Brookline Village. Here, we crossed over the Green Line tracks and swerved onto Route 9, not actually serving the station. There were some nice apartments when the street became Huntington Ave and we were joined by the E Line tracks. Luckily there were no streetcars clogging up traffic when we came through.
It got more residential once we turned onto Tremont Street, but there was still retail on the first floors of some apartments. We went over the Southwest Corridor, stopping at Roxbury Crossing Station, then joined the seven other buses on Malcolm X Boulevard. We sped down here, going by a few schools, and then pulled into Dudley Station.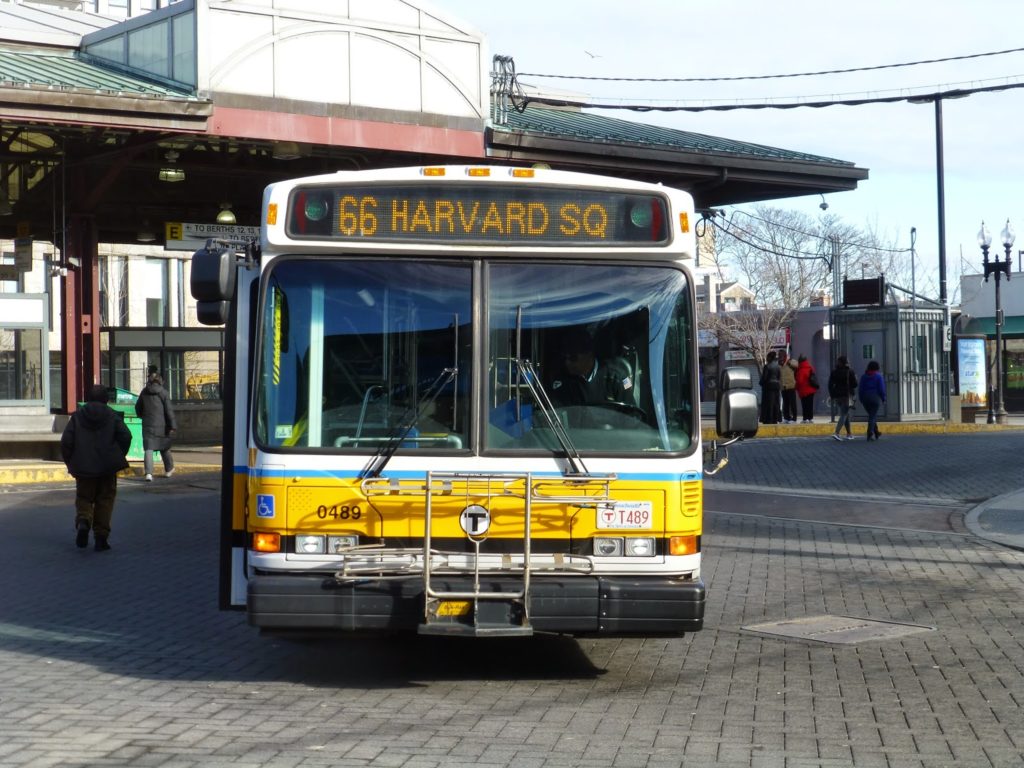 Neoplan diesels look so weird when you can't see the bump on top…
Route: 66 (Harvard Square – Dudley Station via Allston and Brookline Village)
Ridership: Very heavy. On a Sunday, there were over 45 people that rode, many using the route for crosstown service. This is actually the third busiest MBTA bus route on weekdays and Saturdays, and the second busiest on Sundays. Indeed, every time I see one of these buses, it's packed to the gills, so there you go,
Pros: It's a fantastic crosstown route, but it also covers some neighborhoods that don't get any other transit options. It's a Key Bus Route, so the schedule is obviously great – every ten minutes rush hour, every 16 minutes during the day, every 20 minutes at night, every 15 minutes late nights on Friday and Saturday, and every 17 minutes on weekends. I don't know why the bus runs more often late nights, but it goes until almost 3, so that's fantastic. I think the weekday headways are slightly longer than the Key Bus Route average, but we'll let that slide.
Cons: The 66's length and frequent stops mean that it is often late, as I found out myself. This also means bunching – throughout our trip there was this other bus that always seemed to be on our tail. Keep in mind that it was a Sunday. Finally, I wish this bus's terminal was somewhere other than Dawes Island, like maybe Johnston Gate – the former is really hard to find, especially with horrible signage at Harvard.
Nearby and Noteworthy: Coolidge Corner has both an amazing movie theater and an awesome independent book store. As you can tell, I'm quite the Coolidge Corner fan.
Final Verdict: 6/10
Overall, this is a decent Key Bus Route. It's a time-saver if you're going between lines on the west side of the system, and it runs pretty darn often. Of course, it could be late, bunched up, or most likely completely packed. Oh, and good luck finding Dawes Island. You have to get over these annoyances to fully appreciate the 66. Next week, there'll be a guest post of this route offering a second opinion. Stay tuned…
Latest MBTA News: Service Updates