There are a lot of places where crosstown routes make sense. In Boston, for example, the 66 takes a very radial route around the city, but it still gets extremely busy because it runs through an urban area. People want to get between places without having to go downtown in the process, and it works great in this case. But how about running a suburban crosstown route in a suburban hub-and-spoke kind of system? That's where GATRA's 11 route comes in.
The fancy new bus at the Emerald Square Mall.
The 10 is interlined with the 11, so my friend Nathan and I just stayed on the bus at Emerald Square. Leaving that mall, we headed onto Route 1 for a bit before…turning into the parking lot for a Target. Welp, that was fast! After looping around there, we crossed Route 1 again to serve another mall, this one also served by the 12.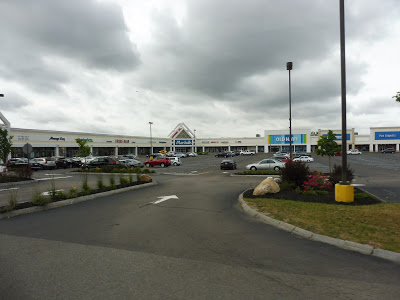 I'm getting sick of malls…
Strangely, we didn't serve Walmart like the 12, going right back to Route 1 instead. There were a few more businesses with huge parking lots, then a bit of an industrial break before returning to more malls. One such mall was Mayfaire Plaza, into which we diverted.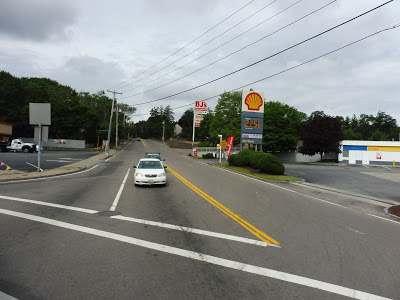 A side street.
After going by another mall on Route 1, the 12 left on Newport Ave, but we were joined by the 24. The road was lined with more businesses and parking lots, with a short break for some pylons to cross over. Eventually, though, we turned onto Brown Street, which went into a completely residential neighborhood.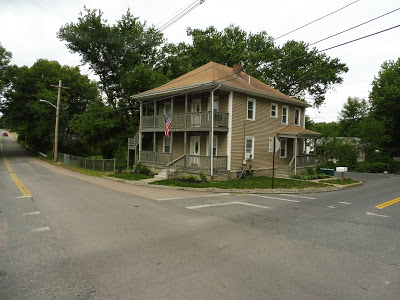 A residential intersection.
Only a school got in the way of the many houses, which continued as we turned onto Mendon Road. This street took us back to Route 1, where it was rather industrial with a few auto shops. We went under I-95, and after some more industrial scenery, we entered Rhode Island. Turning onto Roosevelt Ave and then George Bennett Highway (with an interesting freight track in the median), we arrived at the "terminus" at Broadway and Benefit Street.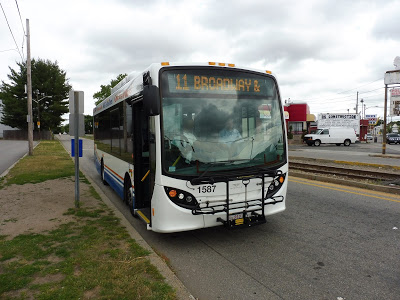 This is the most random place to end a bus…
GATRA Route: 11 (South Attleboro Connector)
Ridership: Well, if we're talking about my ride, it got two other people, which is miserable. The route's overall ridership on weekdays is slightly better, at around 125 riders per day (about the "average" for Attleboro and Taunton routes). On Saturdays, the route gets about 105 riders, which is above average, although I credit the increased ridership to the lack of weekend service on the 24.
Pros: Um…it serves Emerald Square…and it serves Pawtucket. Yeah. Uh…it runs every hour?
Cons: I'm sorry, but I don't see why this route gets Saturday service but the 24 doesn't. In a hub-and-spoke system, won't more people want to go to the hub? Although…maybe people don't need to go from Pawtucket to Attleboro. Perhaps there's just a large ridership contingency of people going from Pawtucket to Emerald Square? After all, this is the GATRA's second most productive route on Saturdays, so that's gotta count for something. I'm seriously starting to doubt myself here.
Nearby and Noteworthy: Emerald Square, basically. The terminus is technically Pawtucket, but it's basically right on the border. You would have to use the RIPTA to get into the city itself.
Final Verdict: 5/10
You know, I'm not really sure anymore. The 11 gets pretty good productivity, especially on Saturdays, but it was quiet both when I rode it and when I saw it at Emerald Square on a Saturday. Still, the numbers can't lie…can they? I still think it would be better to operate the 10, 12, and 24 on Saturdays rather than the current 10, 11, and 12 setup they have now (and I think it would save them a bus). But still…if the 11 gets ridership, I guess that's fine. I'm sticking with a tentative 5 at the moment.
Latest MBTA News: Service Updates