A bus route from Attleboro to Rhode Island? Sign me up! I'm always looking for creative ways of getting places, and being able to ride the GATRA for the first time was certainly creative enough for me. Plus, this route is weekdays-only!
The inside of the bus was pretty simple, with sideways-facing seats along the lower section and forward-facing seats on the upper part. Requesting stops was done by pulling cords, which lit up a sign up front. It was smaller than a regular-sized bus, but based on the ridership, that made a lot of sense.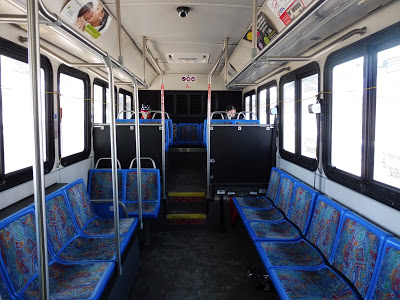 Looking towards the back…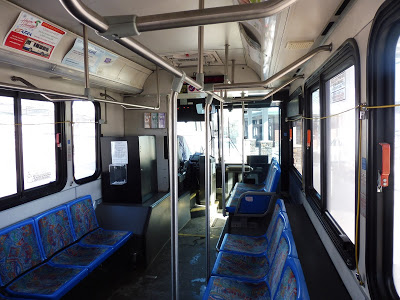 …and towards the front.
We completely bypassed downtown Attleboro, heading right out to the residential County Street. Aside from a middle school and the Capron Park Zoo, the street was entirely lined with houses houses. There was some retail at the intersection with Thacher Street, but once we turned onto it, it was residential once more.
At an intersection with a single gas station, Thacher Street curved upward, while we stayed on what was now called South Ave. We went by a few housing developments, and after another gas station, we passed through an interchange with I-95. There were a few more houses on the other side, but then the scenery started to change.
The windows were very dirty, so pardon the subpar photography.
Now there was nothing. I mean, we were just speeding through the woods. The street didn't even have sidewalks! The forest continued until the road became West Street and we passed a water treatment center. Here, the houses came back and the street became Newport Avenue.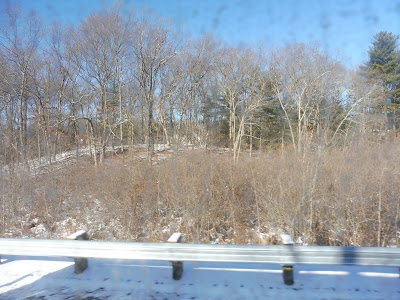 Woo! Woods!
This section was denser, with closer houses. However, the residences all went away once we reached Route 1, where malls and businesses with huge parking lots were king. Inbound trips of the route deviate to serve one of those malls, but since we were going outbound, we headed south on Route 1 instead.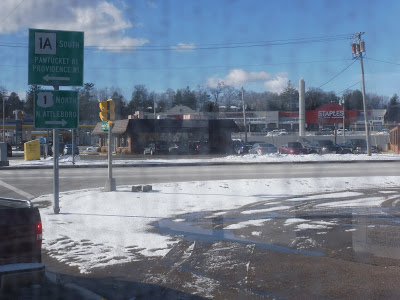 Lovely.
It wasn't quite as mall-filled as the northern route, but there were still quite a few parking lots heading south. And they were all connected to fast food restaurants and auto shops and the like. This continued for a while until we (mercifully) turned onto Brown Street, which was narrower and entirely residential.
Some houses.
The houses were broken only by a middle school at one point, and they continued when we turned onto Mendon Road. This street led us back to Route 1, which was…basically the same as when we left it off. Passing more auto shops, we went under I-95 once more and then crossed the Commuter Rail tracks.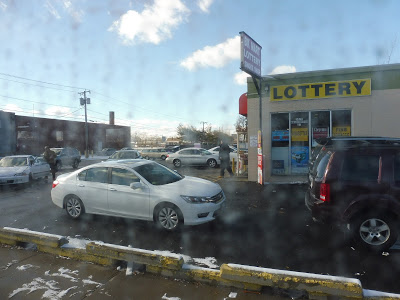 A convenience store.
As is prone to happen, it got urban all of a sudden right when we crossed the border into Rhode Island. Here, we turned onto Roosevelt Ave, and then George Bennett Highway. This street was interesting, since it had a railroad track running in its median! Not sure if that's used anymore. The end of the road was the last stop, and the bus laid over to wait for its trip back to Attleboro.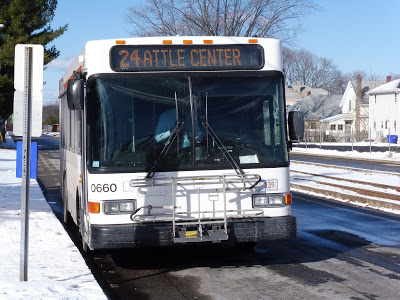 The bus in Pawtucket.
GATRA Route: 24 (Attleboro/Pawtucket, RI)
Ridership: Unfortunately, GATRA doesn't publish its ridership statistics by route, instead by "service area". And it puts Attleboro and Taunton into the same grouping, which really isn't much help. Thus, I'm stuck talking about the ridership on just my bus, which was…four people. Okay, it was Martin Luther King Day, but wowee, that's low.
Pros: This bus provides a direct link from Attleboro Center to Pawtucket, the only bus to properly do that. (The 16 comes close to a less dense part over to the east, but it doesn't cross into Rhode Island.) The only other GATRA route to Pawtucket is the 11, which doesn't go to Attleboro Center. In addition, when coordinated with the 12, the 24 provides every half hour service from Attleboro to Route 1, though it's not that that section really needs service that frequent…
Cons: That said, weekend service would be nice. Although the 24 runs a pretty standard every hour schedule on weekdays, it doesn't run on Saturdays, leaving all service to the Emerald Square Mall-bound 12. And that would be fine, except that Pawtucket is a busy place, too! Sure, the 11 goes there, but you would have to transfer from the 12, and that's an extra 50 cents.
Nearby and Noteworthy: If you're lazy, you can use this bus to get to the Capron Park Zoo, but I've already said that it's in easy walking distance from the Commuter Rail station. Other than that, the 24 doesn't really serve much of note.
Final Verdict: 6/10
Hmm…I might be influenced by GATRA's transfer policies here more than anything. I'm sure the Saturday ridership from Attleboro Center to Pawtucket is minimal, but it's still there. And the fact that it's an extra 50 cents and 9-minute wait to get there on Saturdays is really annoying. I'm not saying the 24 needs to run on Saturdays, per se, but offering a free transfer specifically between the 11 and 12 would be great. But hey, the 24 is a fine route on weekdays!
Latest MBTA News: Service Updates