The 1 is basically omnipresent wherever you go on the RIPTA. It serves the authority's two biggest transit hubs, as well as two Commuter Rail stations. A merger of three former RIPTA routes, the 1 runs through some incredibly varied neighborhoods, and can be very interesting to take the whole way. Well…except you can't take it the whole way. I shall explain.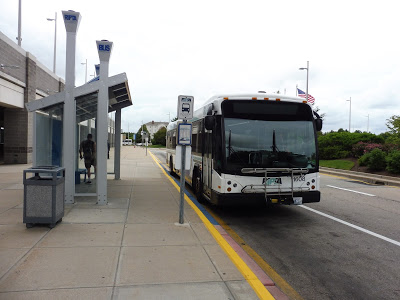 This isn't the 1, but we thought it was the 1, so…yeah.
The full route is from T.F. Green Airport to South Attleboro Station, but no bus actually does the whole thing. The trips that start at T.F. Green Airport only go as far as Pawtucket, while the trips that start at South Attleboro only go as far as, um, "Shaws." So in order to take the whole thing, one has to wait for the next bus in the middle of the route.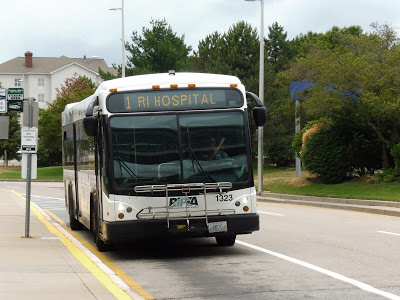 Ah! There's the 1!
My friend Nathan and I were the only people on the bus from T.F. Green, so we headed onto Post Road without any passengers. The scenery? Lots of parking lots and weird airport businesses. We went by a really deserted mall, but that was about it for intriguing views – the rest was just retail with parking lots out front.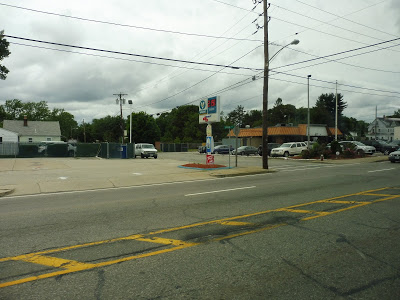 Mmm…how pretty,
We went through a highway interchange, and after lots of car dealerships on the other side, it went back to more pitty businesses. Soon we reached Elmwood Ave, where the 20 left and we started a solo portion. There was a bit of a residential section from there, at least in the form of a few developments. The businesses came back for just a bit longer (as well as a school), but it became all houses after that.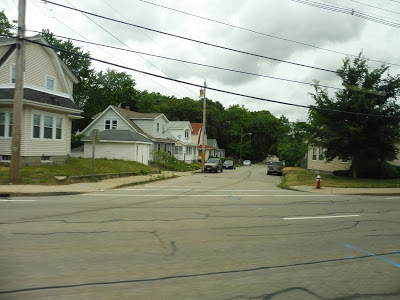 A residential side street.
However, once we turned onto Warwick Ave, it was more of the same scenery as Post Road…sigh. Although this time, there were also some industrial and residential buildings thrown in the mix. We went by Shaws, where South Attleboro trips begin, then crossed over the Pawtuxet River.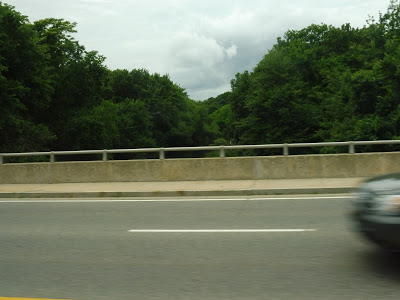 What a great river view…
On the other side, we passed a Stop and Shop (isn't that basically the same thing as Shaws?) and then it got residential. There was also the occasional business, and we passed an apartment building at one point. Later, quite a lot happened at a certain intersection: we connected with the 3 for a second, we merged onto Broad Street, and we went by an amazing cathedral.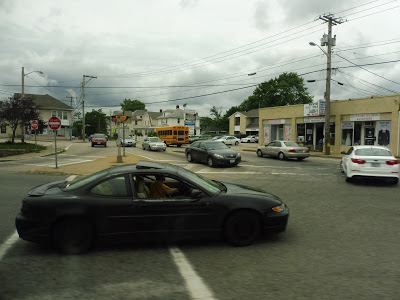 A busy intersection.
Heading up Broad Street, it was yet another mix of houses, businesses, and a few industrial buildings (as well as a cemetery). However, the sudden influx of (pretty sketchy) businesses signified that we were at the Broad City Line, the terminus of the R-Line. For some reason, this is where Nathan and I decided to get off to wait for a South Attleboro bus.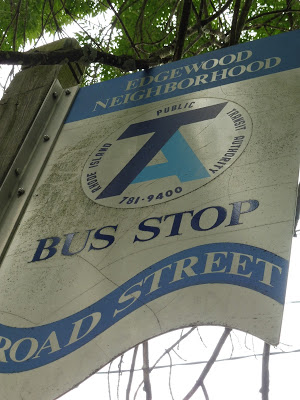 What a strange stop!
We had about 15 minutes until the next bus was due to arrive, so we decided to walk back down the route a bit just for fun. Along the way, we encountered some really strange-looking stops. I guess the neighborhood commissioned them, because they're specific to "Edgewood," but it was rather unclear that they were actual RIPTA signs. I think they were old, because the logo was very different from the current one.
Hello, other 1!
So, continuing from Broad City Line, we merged away from the R-Line pretty quickly onto Eddy Street. For a few blocks it was lined with dense houses, but then the scenery became industrial. We went by some big factories and warehouses before going over I-95. Crossing over, we also saw a Providence and Worcester freight train doing some shunting, but it was on the wrong side of the bus for a picture.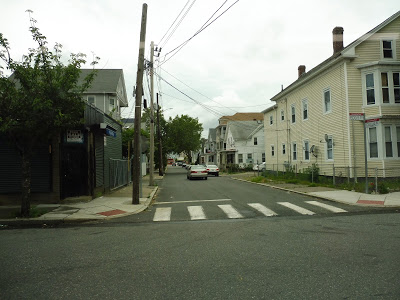 Here, have a side street instead.
Although there were a few houses past the highway, it very quickly shifted back to industrial scenery, along with a few businesses. At Public Street, we were joined by the 3, and then we passed the Rhode Island Hospital. But while the 3 stops outside the building, the 1 actually deviates to serve the front door on this narrow street. It seemed like a pointless and annoying deviation at first, but there ended up being a huge crowd waiting at the hospital that doubled the ridership on board.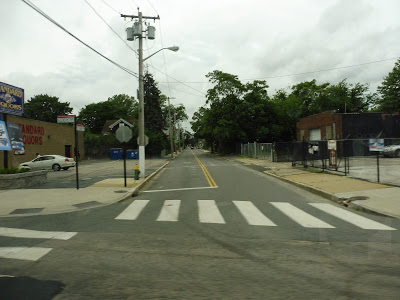 This all looks rather industrial.
From the hospital, we went under I-95 and entered the most industrial part of the route so far. There were all these huge abandoned plots of land, and the land that was occupied was made up of abandoned warehouses. However, the street eventually became Dorrance Street, and all of a sudden there were buildings and businesses on either side – we were in downtown Providence.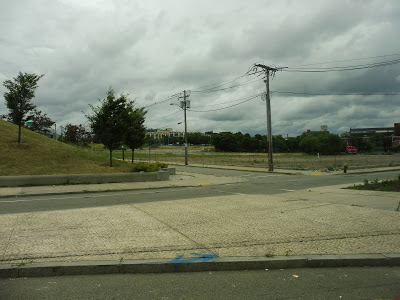 Oh…well this certainly isn't downtown…
We soon pulled into Kennedy Plaza, where a big exchange of riders occurred – most of the bus got off while lots of people got on. By this point, Nathan was incredibly excited, since he had never been in the East Side Transit Tunnel before, which the 1 runs through just after Kennedy Plaza. However, at this point, the driver made an announcement: "The tunnel is closed today." Well, shoot! Oh well, at least we got to take an interesting detour.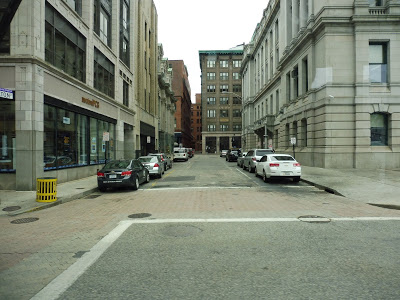 A street near Kennedy Plaza.
We still crossed the Providence River on Washington Street as if we were heading into the tunnel. Perhaps we would just take the direct on-street alternative to it? But no, we ended up turning onto North Main Street instead, with some great historic buildings on one side and a park on the other.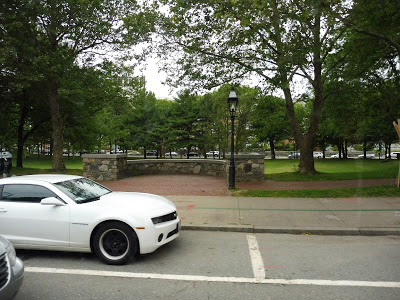 I love this park!
Soon, we turned onto Olney Street, which is a street not usually covered by RIPTA bus routes. It was a leafy neighborhood, with houses and apartments lining the street. We went up and over a hill, passing a big field in the process. Turns out it was the field for the Hope High School, where school trips on the 1 operate both in the morning and afternoon.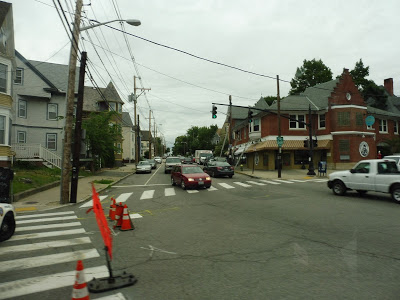 The intersection with Hope Street.
When we rejoined the regular route at Hope Street, it seemed like we were just going to continue up to Pawtucket. However, we first had to head south to serve the parts of the route we had bypassed. Thus, we turned right onto Hope Street, which became Thayer Street soon after. We were going by some very nice houses along here (being close to Brown, the East Side is the most affluent neighborhood in Providence).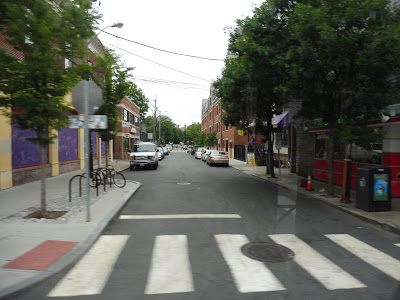 A side street from a little further down Thayer.
Soon the street became lined with lots of businesses, this being the main drag of the East Side. Many of them were hipstery, but that's to be expected with a college nearby. We went by the closed tunnel (it looked fine to me), then turned onto Waterman Street and back up onto Brook Street. Things were mostly residential, and we soon merged into Hope Street to continue the route north.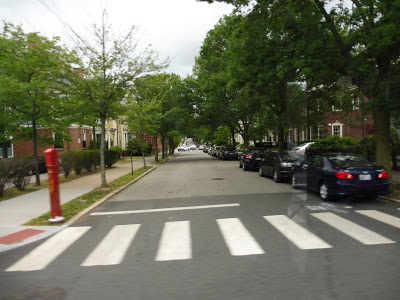 These are some great-looking houses!
It continued to be residential on leafy Hope Street, but we also went by a park, a few churches, and a school. The houses went on for quite a while until the intersection with Rochambeau Ave, where the street all of a sudden became lined with businesses. They weren't as nice as the ones back on Thayer Street, but they certainly weren't as bad as the ones back on Post Road (man, that feels like a long time ago).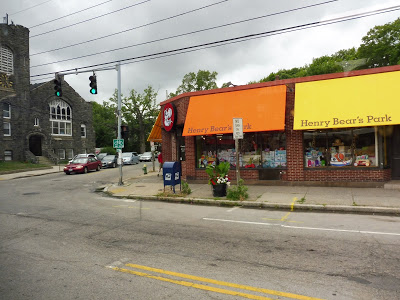 Henry Bear's Park exists outside of Massachusetts? Why was I not aware of this?
Eventually the street became lined with houses again, and it had kind of an East Arlington feel now – a strange mix between urban and suburban. We went by another park, and then some more industrial-feeling businesses with parking lots came up (including a few auto shops).We were in Pawtucket now and the street became East Ave, but the East Arlington style of housing continued past the short retail section.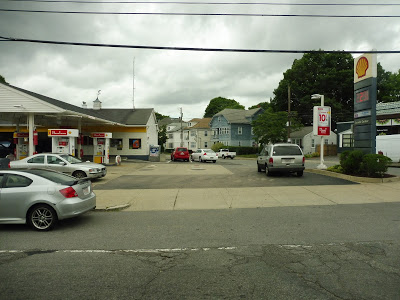 A gas station with some houses behind it.
We passed another school, then a small plaza with an office building in it. Next, East Ave merged into George Street, and we went by a cemetery and crossed over I-95 again. After the street got a leafy median, we turned onto East Ave once more. We were in downtown Pawtucket now, with brick buildings lining the street. Were they nice brick buildings? No…not really.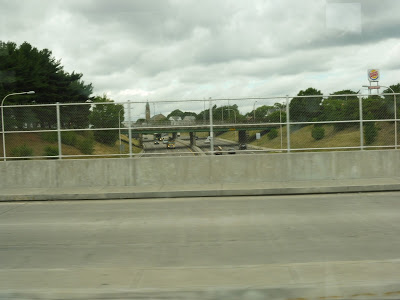 Going over I-95.
We made our way onto Roosevelt Ave in order to serve the Pawtucket Transit Center. This is where buses from T.F. Green Airport terminate, but since we were going all the way to South Attleboro, we picked up a few more passengers and headed off. We turned onto Exchange Street, going over the Blackstone River, and after a few more brick buildings, we turned again onto Broadway.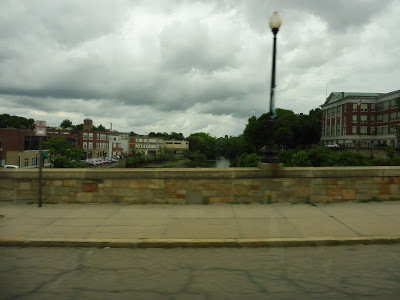 Nice view!
There were a few industrial buildings, then we crossed I-95 for the fourth and final time on the route. The scenery was incredibly varied on the other side of the highway, with businesses, houses, churches, and a school all making it into the mix. We soon turned onto Benefit Street, that intersection being the terminus of GATRA's 11 and 24 from Attleboro.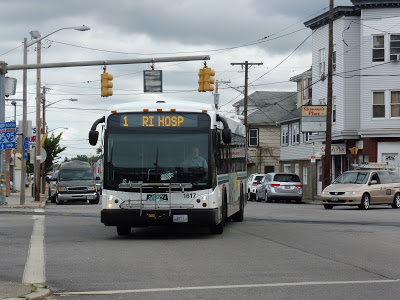 Although it's the same bus, this was from earlier in the day when Nathan and I got off the 11 at Broadway and Benefit. Review of that route coming soon!
Benefit Street was simply lined with dense houses for a while. A few auto shops and businesses cropped up at the intersection with Mendon Ave, but it was pretty consistently houses. Eventually we turned onto Cottage Street, also lined with houses, then we turned again onto Newport Ave, joining the 35.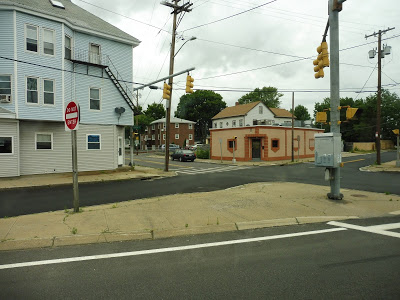 What a strange median…thing.
After some pretty sketchy-looking businesses, Newport Ave went onto a bridge over the Commuter Rail tracks and we entered Massachusetts. Right on the other side of the bridge, we turned onto an unnamed loop road, and the driver let us off at a rather unassuming stop that was pretty far from the station itself. As the bus went into a mall to lay over, Nathan and I started walking toward the Commuter Rail.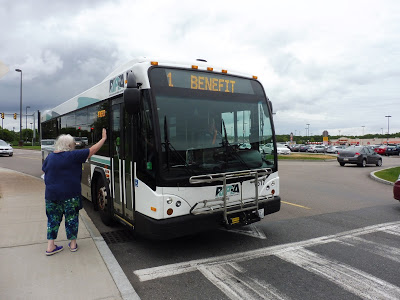 That woman tried to get on, but the driver said she would have to wait at the inbound stop on the other side of a parking lot.
RIPTA Route: 1 (Eddy/Hope/Benefit)
Ridership: Alright, this is tricky. Since the 1 used to be three separate routes, and since the RIPTA's ridership information is relatively outdated, I had to get the data from the three former routes of the 1. Bear with me:
The original 1 route (covering the portion south of Kennedy Plaza) got 1,900 passengers per weekday, 700 passengers per Saturday, and 382 per Sunday. Annoyingly, the 1 used to be completely different, with two branches and a route that covered a lot of what the 3 covers now. Still, one branch went onto Post Road (not all the way to the airport, though), and the data does show that the ridership drastically increases north of Broad City Line.
The 42 served the section from Providence to Pawtucket along Hope Street. This was RIPTA's 8th highest ridership route, with 2,000 passengers per weekday, 852 per Saturday, and 465 per Sunday. It basically runs the same route as what the 1 does now.
The 77 covered the part of the route from Pawtucket to South Attleboro, although the 77 didn't quite make it to the station – it terminated further east on Benefit. Regardless, the route got decent ridership for such a short distance, with 643 riders on weekdays, 337 on Saturdays, and 120 on Sundays.
So adding all those up, the 1 theoretically gets 4,543 riders per weekday, 1,889 riders per Saturday, and 967 riders per Sunday. However, with a combination of generally increased frequency and the fact that all the routes are now streamlined, that number might even be higher. I know my trip was busy, with almost 50 riders in total (from Stop and Shop to South Attleboro, at least). I would be very interested to see official ridership counts for the 1 now.
Pros: This route serves a lot. Like, a lot a lot. I mean, it seems like wherever you go on the eastern portion of the RIPTA, you will see a 1. It's insane. What's more, it runs quite frequently, on weekdays, at least – every 15 minutes on the shared portion, with every half hour service to the outer portions. That becomes every half hour on the shared portion at night, which is still really good, although all night service runs from T.F. Green Airport to Pawtucket, for some reason. The weekend schedule makes sense, at least along the shared section, with every 40 minute service.
Cons: However, this means that on weekends, the outer sections only get a bus every 80 minutes. Well, that simply won't do! Sure, I'll bet no one uses the route to get to T.F. Green (especially since the 20 is more frequent), but what about South Attleboro? The section on Benefit Street can get reasonably busy, and every 80 minutes seems very infrequent for that ridership. Also, what's the deal with running all the night service to T.F. Green? I can't imagine anyone riding down there at night! Service should run to South Attleboro instead, where there are many dense houses and people who could be using the route. Finally, I'm curious as to why the 1 does the hospital deviation. I understand that many people use it, but it might be better to deviate the 3 (which passes right by the hospital) instead, since it's a less busy route. That would ease crowds on the 1, plus it would give the 3 a bit more ridership.
Nearby and Noteworthy: This is the most frequent route from Providence to the East Side, which is most definitely a hopping neighborhood. That said, it's a nice, short walk if you'd rather get some fresh air. Honestly, the most noteworthy part of the 1 is its diversity. Hop on a bus at Pawtucket and ride it all the way down to T.F. Green and you will see the huge variety of neighborhoods the route passes through.
Final Verdict: 8/10
This is definitely a great route if you're using it along the shared section. But if you're trying to get out to one of the outer portions, particularly on a weekend, that's gonna be problematic. I've read the
original proposal
for the 1, which suggested running "long" and "short" trips (with "short" trips operating between Shaw's and Pawtucket). I can see why they didn't implement this, since the long trips would just end up being late. However, I don't see why they can't run the full route on weekends. They could even cut service to T.F. Green, since it doesn't get too many people – on Saturdays and Sundays, how about running the 1 from Shaw's (or Broad City Line) up to South Attleboro? That would give better service to a part of the route that needs it. Still, even with its current schedule, the 1 does its job pretty well and serves a
huge
part of the Providence metropolitan area.