Here's an alternate way of getting from the Emerald Square Mall to Attleboro. The 12 is theoretically more direct than the 10, but it suffers from "deviation syndrome" up near Emerald Square, and it ends up taking forever just like the 10. Oh well…what GATRA route doesn't have deviation syndrome?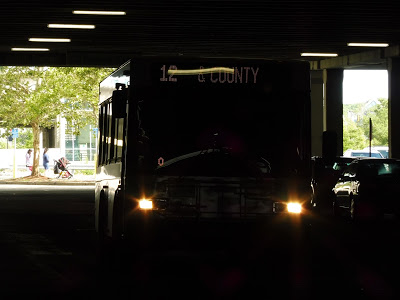 The Emerald Square Mall busway is a…dark place.
Leaving the Emerald Square Mall, we headed out onto Route 1…and almost instantly hit traffic. Well, no, Route 1 was flowing fine. But, see, we had to make a left turn in order to serve another mall, and since the light was so short and so many other people were heading left, we had to wait for quite a while.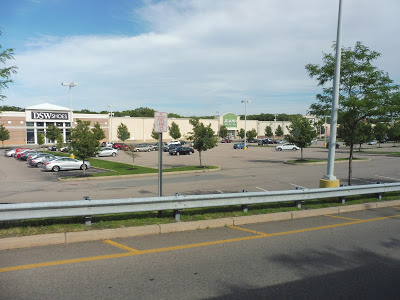 HOORAY ANOTHER MALL!
After serving this mall, I figured we would be able to get back onto Route 1 and get going. But nope! First we had to deviate again to serve Walmart! WOOOOOOOOO! Yes, there were two people that got on, but why do we have to go all the way up to the front door? What's wrong with boarding from across the parking lot? It was so slow.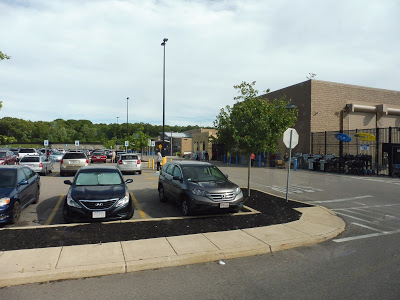 Walmart: everybody's favorite place.
Okay, so we finally returned to Route 1 and continued south. We continued to pass huge stores with big parking lots, but luckily we didn't have to divert to serve them. There was a bit of an industrial section for a bit, but don't worry – the malls came back! Indeed, we had to deviate once more to serve Mayfaire Plaza. I swear, these GATRA routes spend more time in parking lots than they do on actual roads.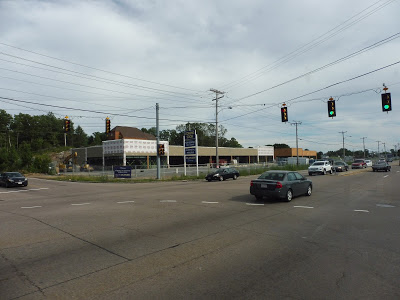 Something being built, I guess.
We returned to Route 1 for only a little bit before turning onto Newport Ave. All of a sudden, the surroundings became residential, and let me tell you, the route sped up immensely from there. The street became West Street and we passed a water treatment facility, then it became pure woods as we merged onto South Ave.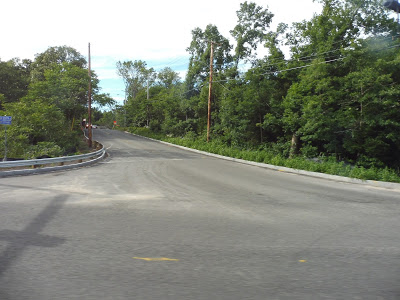 Some trees.
After a few houses, we went under I-95, and it stayed residential on the other side. We also passed a few housing developments, and luckily we didn't deviate to serve them. The street then became Thacher Street, but we turned onto County Street at a square of the same name (where there was some retail).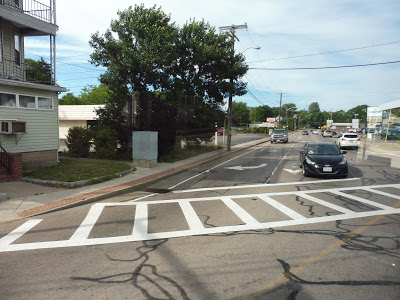 The intersection at County Square.
We went by the nice-looking Capron Park (which has a zoo in it), then the housing became more dense. Soon after passing a school, there were a few more businesses before we turned into the Attleboro Transit Center busway. As this was the last 12 trip of the day, our bus went out of service and the driver drove off.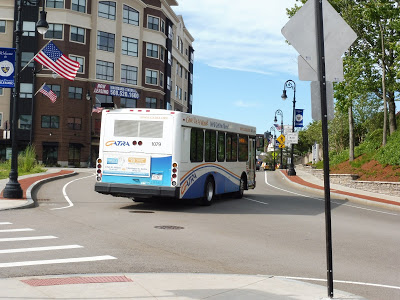 At least it's bright now.
GATRA Route: 12 (Attleboro/North Attleboro)
Ridership: On weekdays, this is the GATRA's third-busiest route, with about 170 average riders. On Saturdays, it jumps up to second-busiest, with around 145 average riders. I took the bus on a Saturday, and there were about 10 people who boarded. That's not bad for GATRA standards!
Pros: The route basically offers an alternate way of getting from Emerald Square to Attleboro, plus it serves some other malls along the way. To be honest, the residential section from Route 1 to Attleboro doesn't seem to get many riders, but it does let the bus go pretty fast. The schedule is good, too, with every-hour service on weekdays and Saturdays.
Cons: But…but just like the 10, it still takes forever! The mall deviations are so time-consuming, and we ended up being late getting back to Attleboro. I understand that the deviations get some riders, but they really slow down the route and affect its on-time performance.
Nearby and Noteworthy: The malls, I suppose. Who doesn't love malls?
Final Verdict: 7/10
Again, this is a good GATRA route that seems to get a good amount of people. It's slow because of its deviations, but if people use them, I guess that's fine. Next up, though, we're looking at another Attleboro route that's significantly less decent, and is the reason I think GATRA's Saturday service should be restructured. Stay tuned!
Latest MBTA News: Service Updates