Okay, maybe this one won't be so bad. The numbered GATRA routes are typically more well-established and get more riders than some of their…other routes. What's more, the 10 is basically the premiere Attleboro route, so maybe it'll be good! Maybe it won't make a bunch of deviations from the main route all the time, and it'll be nice and direct. Or not.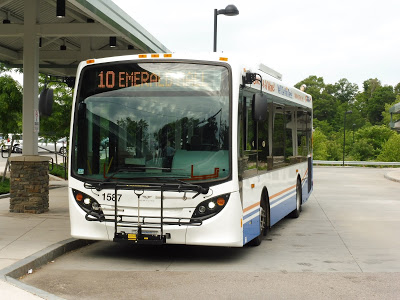 Hey, at least the bus is nice!
My friend Nathan and I were originally going to use the 16 to get to Rhode Island, but when this beauty of a bus came up, we had to take a ride. It was a brand new New Flyer MiDi, and the inside felt a bit like the second bus I rode in Florence, except more sensibly designed. It felt super modern and looked really great and clean, although the seats were uncomfortable and the stop request bell was very hard to hear. Still, GATRA only has three of these, so it was great to take a ride.
Looking toward the front of the bus.
Leaving from the GATRA terminal at Attleboro Station, we headed up Main Street, passing the main businesses of downtown Attleboro. As we left the center of town, the scenery became a mix of houses and businesses, then we crossed over the Bungay River. We went by a cemetery on the other side and then we turned onto West Street.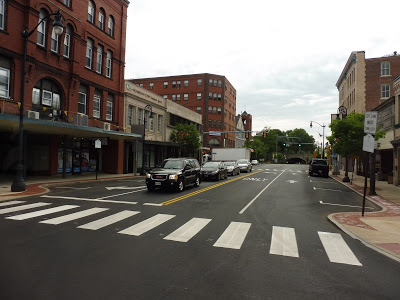 Ahh, beautiful downtown Attleboro.
West Street was lined with houses until the intersection with North Ave, where there was a small shopping plaza and some apartments. Coincidentally, we also turned onto North Ave, which was mostly houses for a bit, aside from another development. However, we soon passed a field and an industrial wasteland right across the street from each other, then went under I-95 after another field (connected to a high school).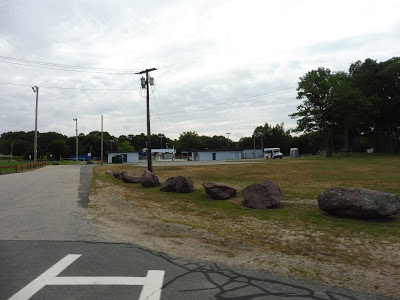 That's a GATRA Dial-a-Ride vehicle parked in the field. I wonder what it's doing there…
After more residential neighborhoods, we turned onto Robert F. Toner Boulevard to make – ugh – a deviation to Triboro Plaza, a shopping mall. But wait…there were two people waiting at the mall! A deviation that actually gets riders? And it had a shelter and signage and everything! Wow, this is a strange concept to grasp, but I like it!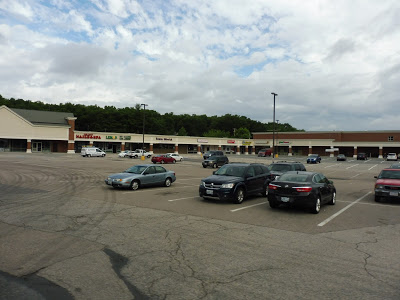 There were two people waiting here? Oh well, more power to them, I guess.
We returned to Robert F. Toner Boulevard, which became Commonwealth Ave. The scenery was pretty varied, with houses, businesses, and a post office along the road. It became Elm Street, where we passed a school and a park, as well as lots more houses. Eventually, we reached the North Attleboro Council on Aging, which we had to – aghhhh – deviate to serve. And yet…one person got on! Okay, 10, you're two for two so far with deviations.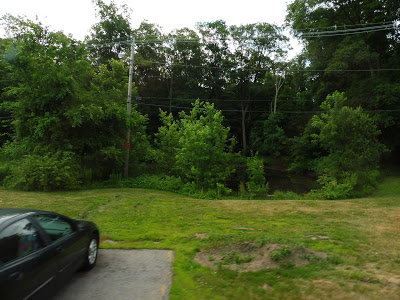 A park at the Council on Aging.
We made our way back to Elm Street, and after crossing Route 1, we went by some dense apartments and a fire station. We then turned onto Washington Street, which was lined with businesses – this was North Attleboro Center, a place which I did not know existed! Next, we turned onto High Street, which was lined with more houses.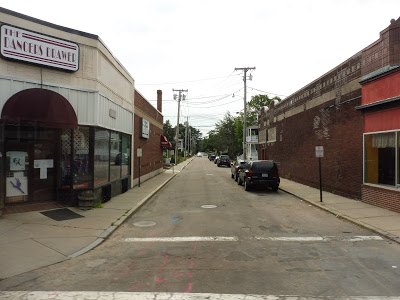 A side street in North Attleboro Center.
But alas! It was a dirty trick! Turns out this whole High Street adventure was just another – AHHHHHH – deviation. This time, it was to serve a housing development, and it got no riders. Nice try, GATRA, nice try.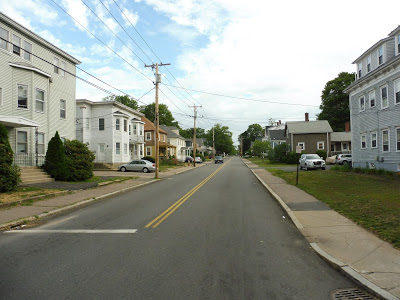 Some houses near North Attleboro Center.
We made our way back through the center before turning onto…Route 1. Uh-oh. Yes, the road was just lined with really pitty, industrial businesses for a while, interspersed with the occasional housing development or shopping mall. And boy, there really isn't much else to say. The bus usually diverts into a Stop and Shop, but I've taken two trips on the 10 and only one of them included that deviation; it got no one.
These flowers aren't exactly making the median more pretty…
At one point, someone hit the stop request and the bus pulled over next to the "Pineapple Inn," the sketchiest-looking highway motel I've ever seen. And…two people got off here! And walked toward the inn! People inhabit that place? It was a very strange sight.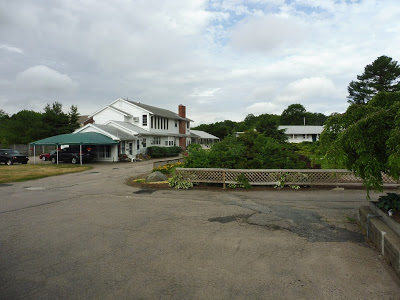 The Pineapple Inn, ladies and gentlemen!
We went by some more washed-out businesses, including a huge Showcase Cinemas that seemed deserted. After going under I-295, we turned off into the Emerald Square Mall, which did seem like a decent mall, I'll admit. However, we navigated to the strangest location for a bus stop – it was underneath the mall's big parking garage. It was here that the bus became an 11, and Nathan and I just stayed on to continue to Pawtucket.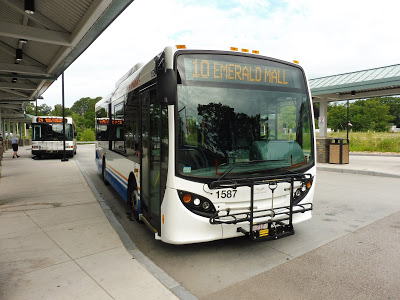 Here's another shot in Attleboro, since the bus was signed as an 11 by the time we got to Emerald Square.
GATRA Route: 10 (Attleboro/North Attleboro)
Ridership:
Oh believe me, ridership on the 10 is extremely high. You need to prepare yourself for this massive number: a little over 200 riders per weekday and 130 riders per Saturday. Hey, it's crowded for the GATRA, okay? This is their second-busiest route.
Pros: Well, the ridership, for sure – at least people use this route. Also, the schedule for the 10 is good, since it's solid every-hour service Mondays through Saturdays.
Cons: The problem is that it has a habit of being late, since they really don't give it enough time to get to Emerald Square. And though the deviations get people for the most part, I think those should be the first things to go. For example, the Triboro Plaza deviation is also served by the 14, which takes a more direct route through it, anyway; the 10 could stop serving it.
Nearby and Noteworthy: The route serves a good amount of malls on its route, but the only one that really seems worth visiting is Emerald Square. Even then, it's still just a generic shopping mall.
Final Verdict: 7/10
Sigh…this is only because the route gets ridership, okay? I'll be talking a lot more about how the GATRA can improve its Attleboro routes later on, so for now, I just think that the 10 should iron out some of its deviations because it's often late. It's a fine route, I guess.
Latest MBTA News: Service Updates