Hooray! A city where we actually got to take a bus! However, it didn't exactly go as planned. Before we get to that, though, here are some pictures of other buses I saw that I didn't ride.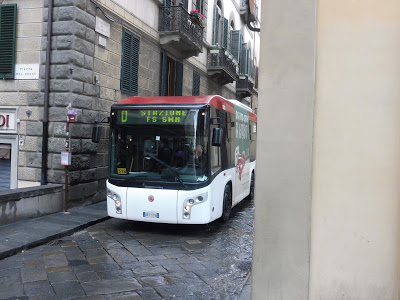 Wow, that's a tight fit.
And so is that.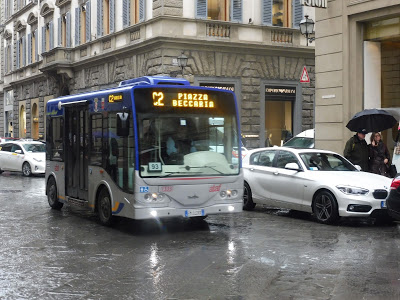 That bus is so cute!
A full-sized vehicle.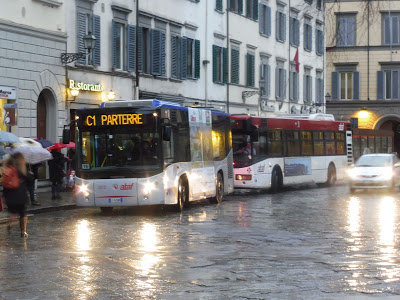 A few buses at a major stop.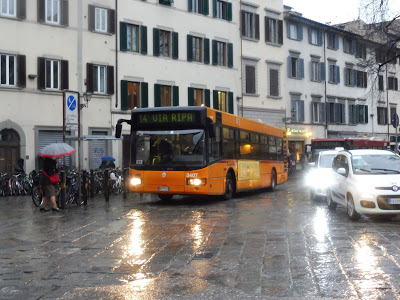 A bus on the 14.
A side view of another bus.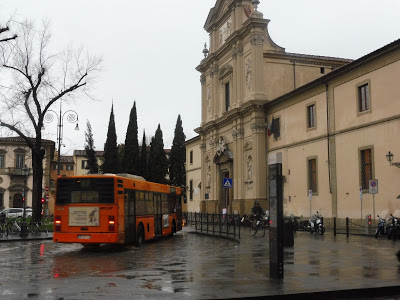 A vehicle rounding a corner.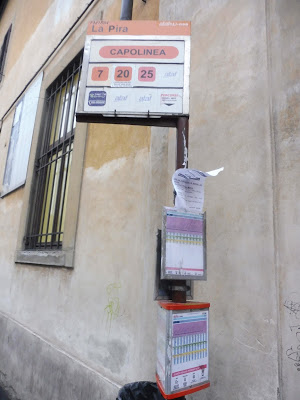 A bus stop.
A bus on the 19.
And now for the bus that I rode. Since the streets of Florence's historical center are so narrow, its bus company, ATAF, can't run full-sized buses through it. However, it does have a few minibus routes that loop around through the city, including the C1, on which a few friends and I rode during some free time.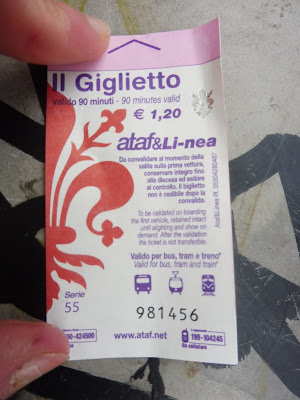 The ticket.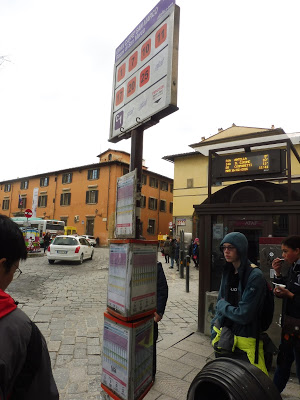 The stop, with the countdown clock in the background.
We were waiting for the bus at the Piazza di San Marco, which is a major stop served by a lot of routes. There was an employee outside who sold us tickets while the countdown clock told us when the next bus was arriving. The C1 runs every 10 minutes, so we didn't have long to wait.
I like how the destination board wasn't working so they just stuck a "C1" paper on the front.
On the inside, the bus was pretty badly designed, I have to say. Considering how small the vehicles on the C1 are, do they really need three doors? It leaves so little room for seating! Plus, the ticket machine is in a position where it's easy not to notice as you walk in – and you need to validate your ticket. Yes, there's an honor system on Florence buses, and it came to bite us in the rear later on.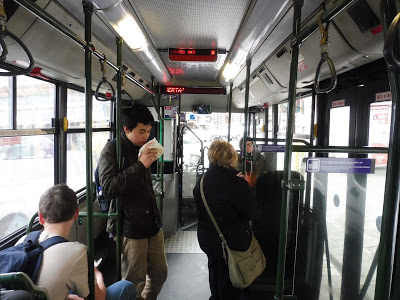 Looking toward the front…
…and the back. You couldn't stand next to that back door because it would swing and hit you. I found that out the hard way.
We left the busway at Piazza di San Marco and headed up Via Giorgio la Pira, with close beige buildings on either side. After going by a park, the buildings got more "modern" – though in such a historic city, modern buildings are still quite old. Eventually, we came to an oblong roundabout at the Piazza Della Libertà, which was a wide enough street to have a segregated bus lane for a bit.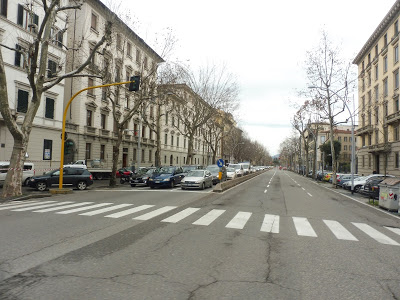 A wide street.
Next, we turned onto Viale Don Giovanni Minzoni, which was quite leafy with quaint apartments. Then we turned onto Via Giovanni Pascoli (a different Giovanni, I guess), and soon pulled into a parking lot where the final stop was. Here, we all left the bus and realized that we had arrived at a completely different part of Florence. We even found an arcade!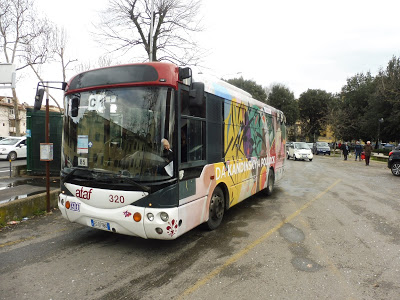 The bus at its terminus.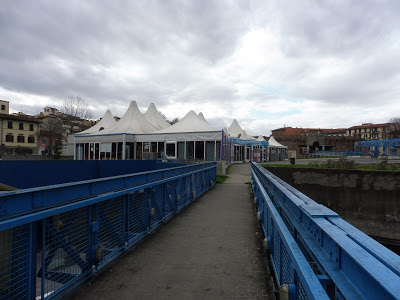 A strange blue walkway.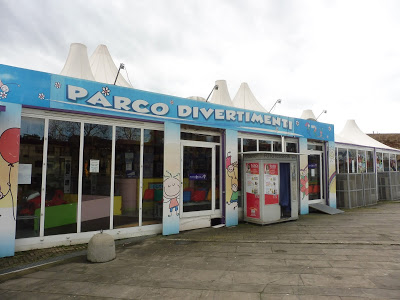 The arcade!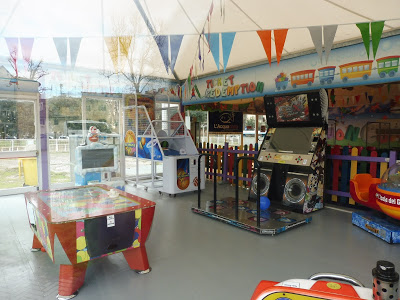 Alas, it was closed, but here's a look inside.
The big plaza near the arcade.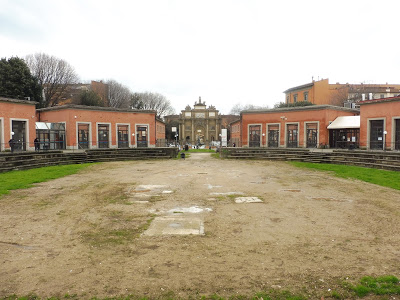 Ummmm…this is interesting.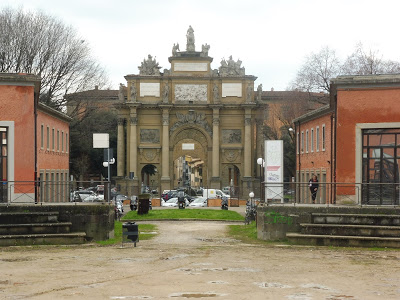 Okay, that's an impressive gate.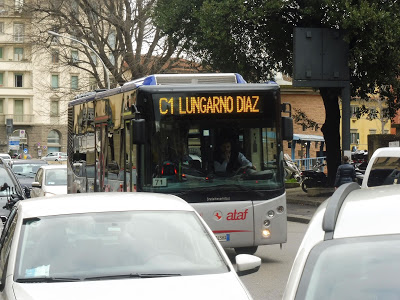 The bus we took back.
Having walked a bit from the terminus, we got on at the second stop of the route. Unfortunately, there was a row of parked cars between the sidewalk and the stop, so we had to walk out when the bus came. This one was a lot more modern, and though the layout was still slightly weird, it was much better than before. There were even automatic announcements!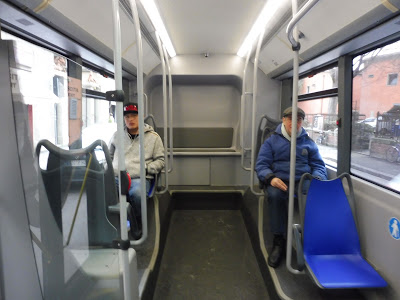 Looking toward the back…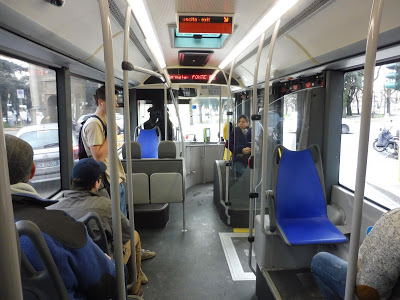 …and the front.
We circled around the Piazza della Libertà, then headed down the straight Via Camillo Benso Cavour. But soon, trouble came onto the bus in the form of two old-looking police officers. But though they were old, they also looked like people with whom you would not want to mess.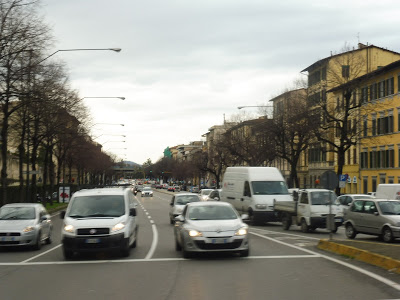 Mmm, lookathelovelyviewdon'twanttothinkaboutthecopsrightnow.
Turns out they had come on to check everyone's tickets. And, as it turned out, two members of my group didn't realize they were supposed to scan their tickets. I don't blame them – I mentioned how the ticket scanners were pretty hard to find on these buses – but the fine they had to pay was ridiculous! It was €50 for each person, and the officers didn't even care that we were tourists and didn't know better. Needless to say, we all exited the bus in a fit of anger at the next stop while the cops presumably counted the money they had gotten from those "dumb American tourists". How about telling us tourists we're supposed to scan our tickets on the hard-to-find machines, huh, ATAF? Geez.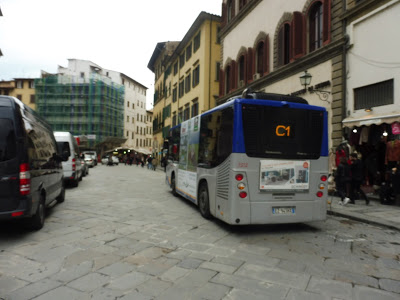 A bad picture of the bus leaving.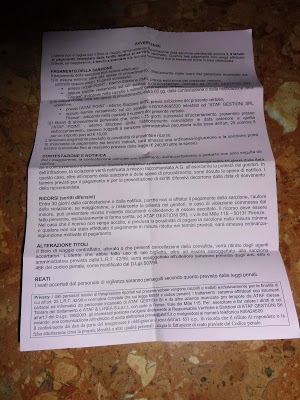 The sheet the cops gave my friend, all in Italian. Way to make sure tourists don't understand anything, ATAF!