Assisi was like the small-town portion of our trip – but though small towns are usually considered uninteresting, Assisi was anything but. I mean, it's not often you get to visit medieval villages on the sides of mountains, is it? With narrow streets, old buildings, and panoramic views, this was a really awesome place to visit.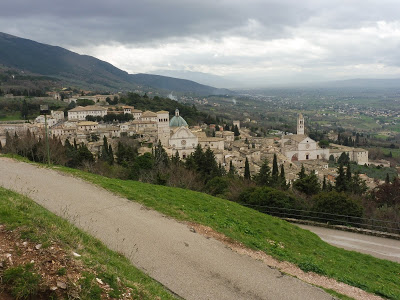 For context, here's a view of the lovely town.
And as it turned out, Assisi has a bus system! It's a very small one, with basically only two routes: Lines A and B run together as kind of a figure-8 around the town, operated by a single minibus, while Line C is a shuttle to the train station at the bottom of the mountain using full-sized buses. During some free time, a few friends and I rode the Line A portion of the figure-8, which ended up being a really spectacular trip. First, a few miscellaneous bus photos.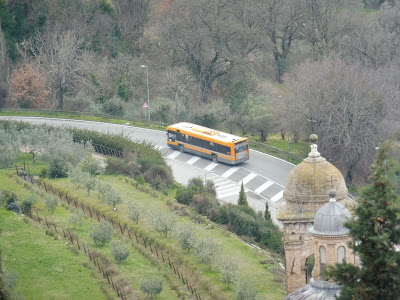 A full-sized vehicle on Line C.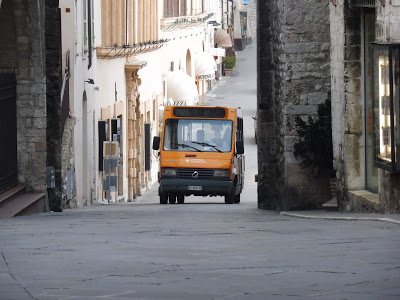 A Line B bus coming up a hill…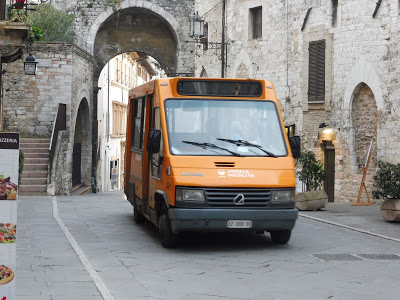 …and passing by.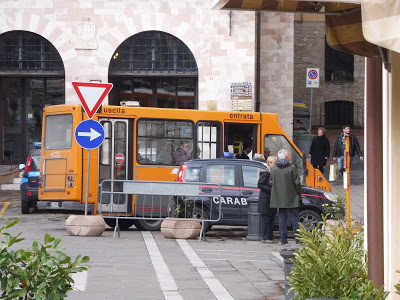 And here's the bus at the terminus of Line A. To be honest, it can probably be assumed that it's the exact same vehicle every time.
This was a minibus, and for very good reason. As I mentioned, this is a mountain town, and so the route was very hilly, with lots of narrow streets to boot. The bus was nice and simple inside, with a ticket scanner right at the entrance. (How about trying that out, Florence?)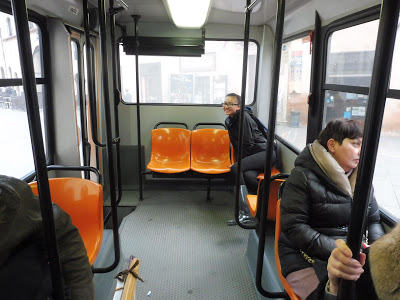 Well, I suppose I have to give a shoutout to Jay, striking a pose in the back.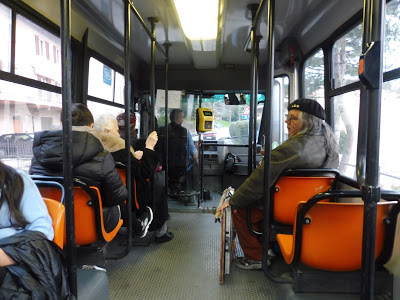 Looking up front.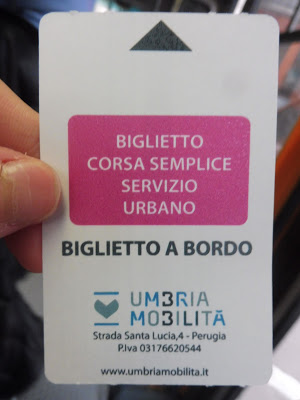 The ticket.
The bus started in Assisi's main square, the Piazza del Comune. We then headed up Via S. Paolo, and I do literally mean "headed up" – this narrow street was steep. On either side there were old stone buildings housing shops, and later on, apartments.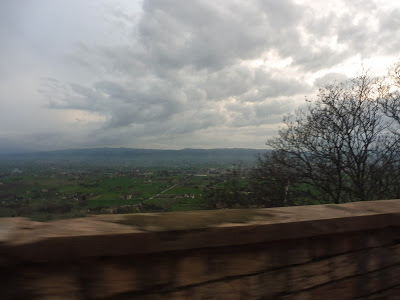 Lovely view!
We went under an arch between two buildings, then the street name changed to Via Metastasio. It went right up to the side of a cliff, offering a fantastic view down the mountain. From there, we were surrounded by old buildings again, as the street suddenly curved downhill and made a terrifying 90 degree turn in the process.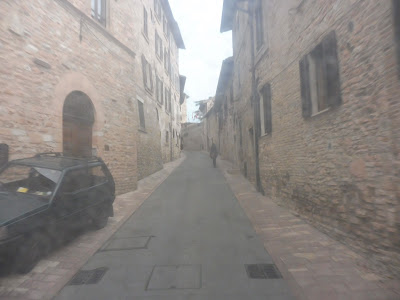 The rear window was quite dirty, so…yeah.
After that, we headed onto Via Cardinale Raffaele Merry del Val (insanely long street name there), which left the town and was lined with nice trees. Running along the mountainside with just woods for surroundings, there were some more incredible views out the window. We curved onto Via Egidio Albornoz, going by some kind of settlement, and then it was forest again with the occasional industrial building (and of course, the views stuck around).
Unsurprisingly, I didn't capture them well at all.
Eventually, we made a hairpin turn onto Via Renzo Rosati in order to climb further up the mountain. This led to civilization again with (slightly) modern houses. After a quick loop around a parking lot to serve a boarding school, we turned onto Via Eremo della Carceri, which went steeply uphill and through a gate.
Of course, when I say slightly modern, I do mean slightly.
We merged onto Viale Giovanni XXIII, now passing some legitimately more modern houses. Well, they were still made of beige bricks, but they were certainly newer constructions. The street curved sharply downhill and we turned onto Via della Cooperazione, going by a few businesses and some more houses.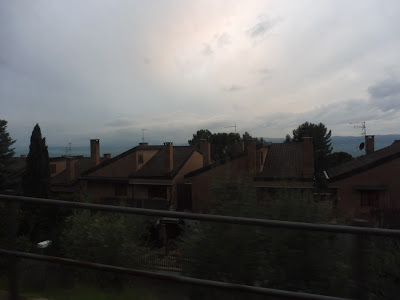 Speaking of which…
We continued down that road for a while, passing residences in little clusters and traversing lots of hills. Eventually, we turned onto Via Ada Negri, which curved up and around to a residential area. At one point, the driver saw a friend and they talked in Italian for a bit before we kept going. Our driver, by the way, was awesome, albeit scary. I mean, he took those sharp turns quickly. Plus, there was one point when someone ahead of us was going slowly as we accelerated up a hill, so he literally put his hands behind his head as we headed up. That was…interesting.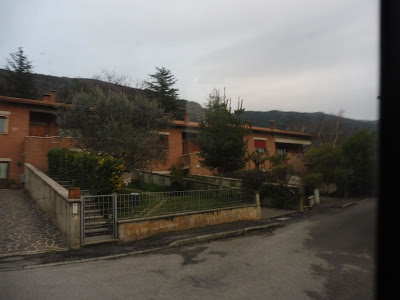 Some blurry houses.
Our trips was one of the ones to serve a so-called "stadium" (more like a field with bleachers, but this is the mountains, after all), so we headed up the narrow Via Giovannino Guareschi. Coming close to the stadium, we then turned onto Via Giovanni Renzi, passing a fancy-looking hotel. Merging onto Via S. Benedetto, we were going by houses once more.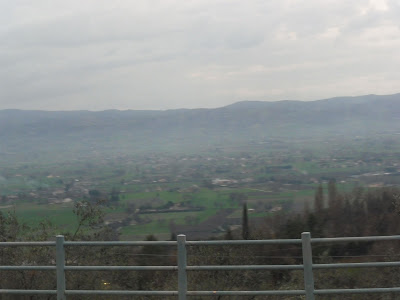 How's about another view?
The street curved around onto Via della Madonna dell'Olivo, and we soon passed a gas station and a few other businesses. After going around a rotary, we reached a stop just outside Assisi's city wall, and laid over for a little bit. From there, we entered the old city once more, and there were lots of medieval buildings again. We passed a basilica and lots of shops until we arrived at the Plaza del Comune, this time on the other side. The bus would continue as Line B to keep on driving through the mountains, but we got off right in the plaza, ending an absolutely amazing bus ride.
Goodbye, bus!