I had been eager to get my review of the 7 out quickly, which I had used to get back from City Point, but for some reason I wasn't as excited to do my way of getting there, the 10. I'm not sure why this is, but finally I'm reviewing it. Better late than never, right?
The 10 has a smaller loop at Copley than other buses, but it still boards at the main stop on Saint James Ave. Leaving there, we headed down Huntington Ave, then turned onto Stuart Street, then Dartmouth Street. We stopped at Back Bay (but didn't go into the actual busway), then as the street got narrower, we went through a beautiful neighborhood lined with brick apartments.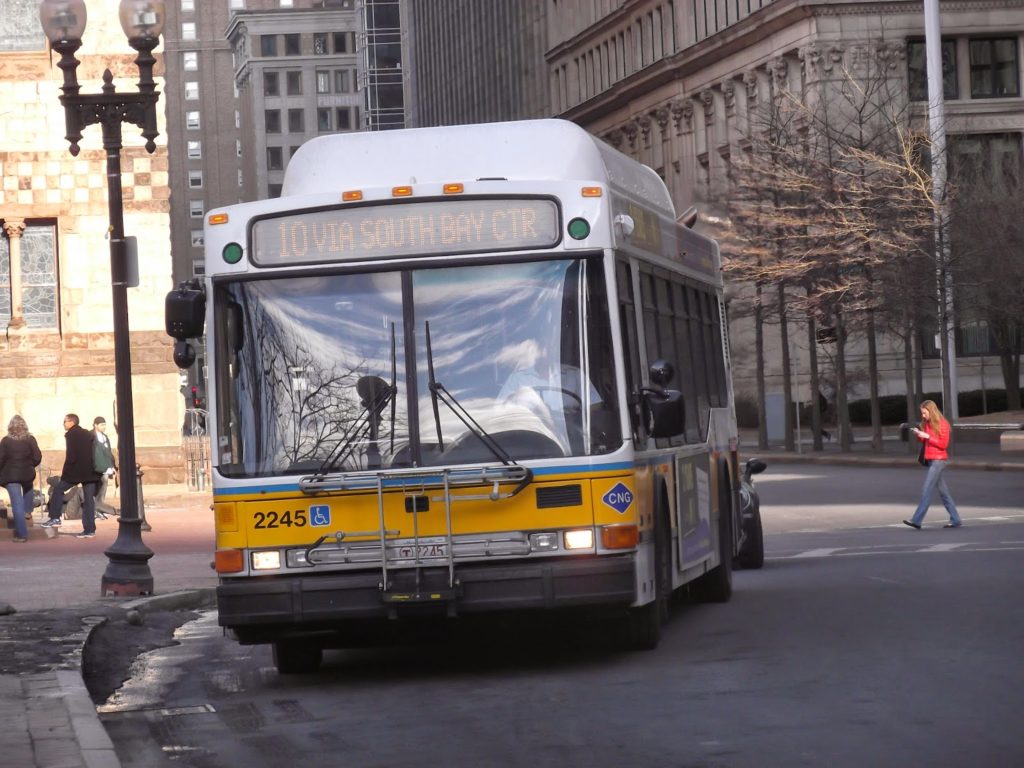 The 10 pulling into the Copley Square bus stop.
But after we crossed Tremont Street, there was a dramatic change. The charming apartments were now tenements and projects, not to mention the high school with the 10 foot tall chain link fence surrounding it. There was a cool cathedral near Washington Street, though.
We made our way to the Boston Medical Center via a somewhat crazy route – ultimately we ended up on Mass Ave, that's all you need to know. Mass Ave was a horrible industrial wasteland over here, which was somewhat surprising considering what it's like everywhere else on that street. We went by Newmarket Station, but as this was a Saturday no trains were running.
At this point some 10's turn off to avoid South Bay Center, but most of them go via the mall on Saturdays. As such, we went just a little further down Mass Ave before turning into the mall parking lot. The bus stop was on an island in the middle of the lot with just a bench, no shelter. There were a lot of people waiting here nonetheless, but once they were told that we were going to City Point, most of them didn't get on. Presumably they were waiting for the 8, which also goes to the South Bay Center.
After that we crossed over to the other side of the parking lot for another stop. There was a beautiful view of the Boston skyline on the left side of the bus, but I was sitting on the right. I aimed my camera across the aisle to get the picture, when a guy in the seat behind me tapped my shoulder. "Excuse me," he said, "are you taking a picture of her?" He pointed across the bus to a girl who I presumed to be his daughter. "No," I replied. "It's just the view." He seemed skeptical, but he didn't pester me anymore. Okay…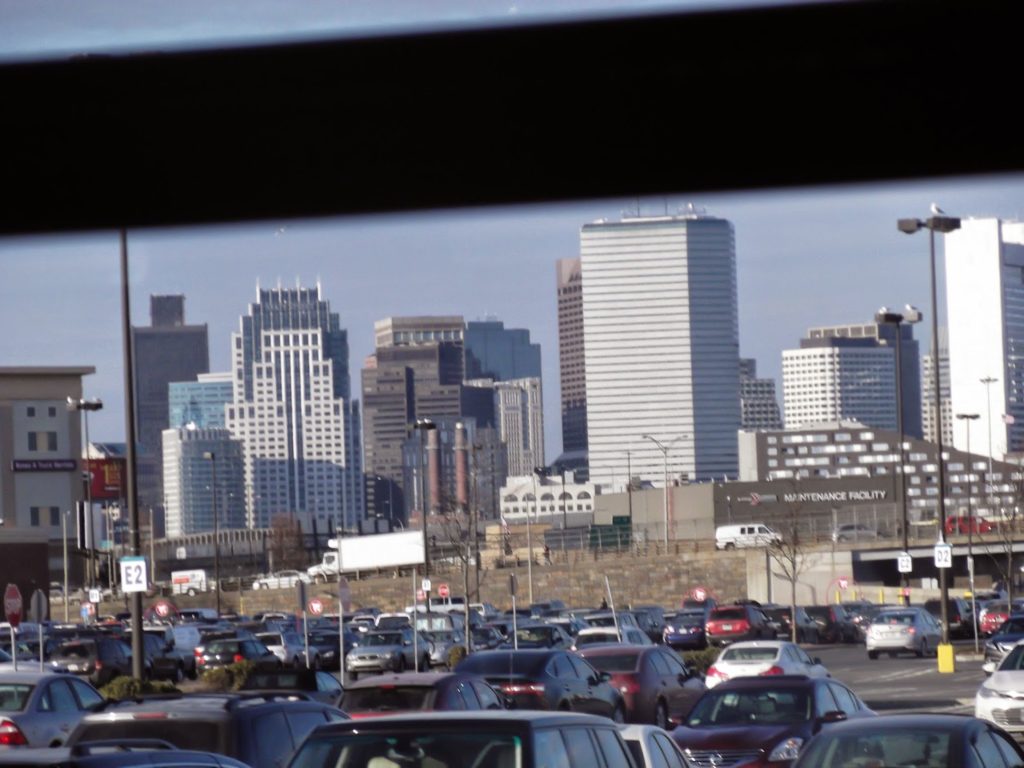 See? Not your daughter.
We went onto a twisty road to get up to Southampton Street, which then crossed over I-93. We also went over some train tracks, and there appeared to be a large Amtrak yard to the left. We then turned off into the Andrew Station busway, where most of the people (including the guy and his daughter, whom I apparently took a picture of) got off. "You be good," the guy said to me as he left the bus. Okay…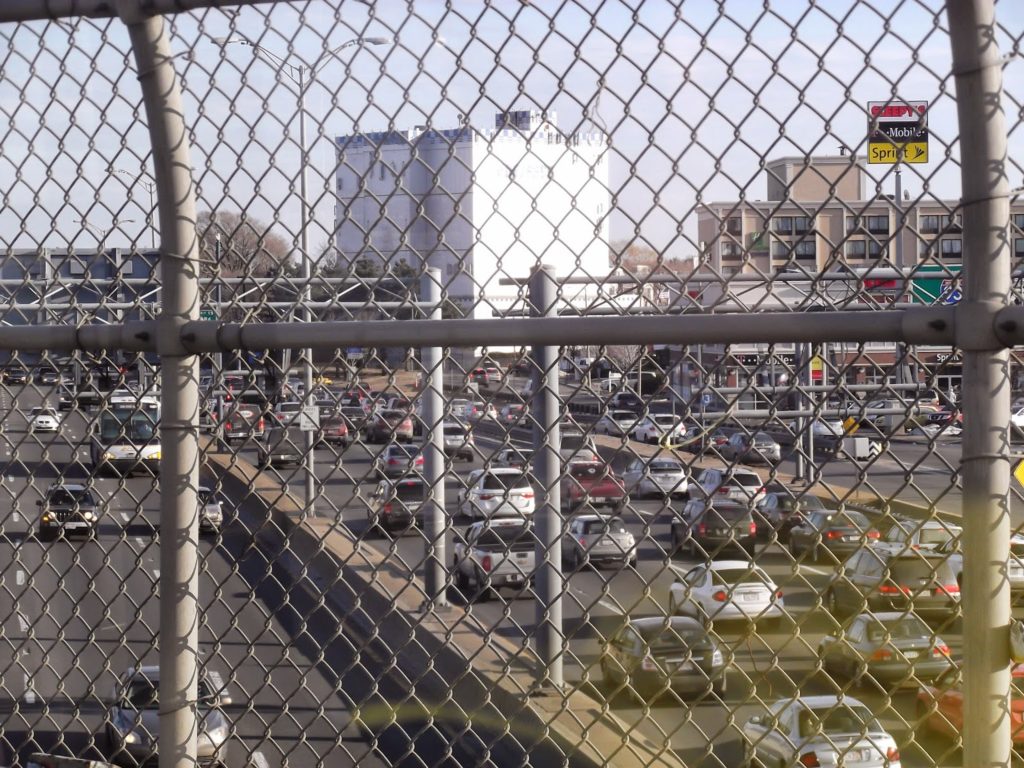 Glad I'm not on I-93…
From Andrew we went down Dorchester Street (along with the weekdays-only 5 route), which was initially lined with apartments, but they soon became small businesses. We were joined by the 9 when we merged into East Broadway, which had pretty much the same atmosphere as Dorchester Street. After a while (about when we were joined by the 7) it became lined with a mixture of urban houses and more lovely brick apartments.
The beach was visible, but a block before it we turned onto Farragut Road. The bus was empty by the time we got to East First Street and went through this weird industrial neighborhood. At a seemingly random place, the driver told me it was the "last stop" and kicked me off the bus onto a street with no sidewalk and a massive chain link fence telling me not to trespass. Okay…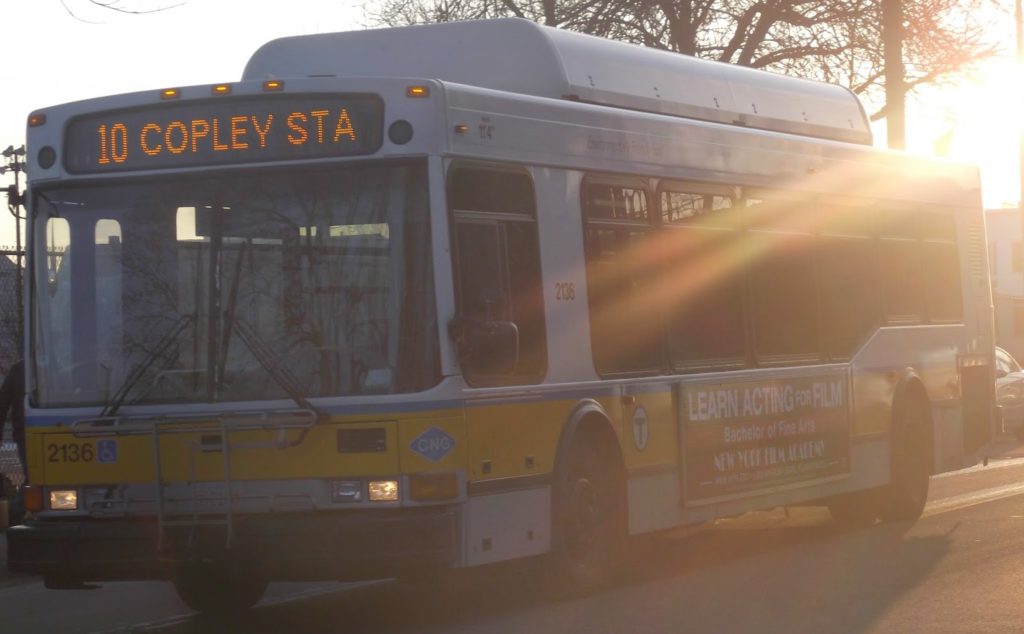 The 10 in the sunset.
Route: 10 (City Point – Copley Square via Andrew Station and BU Medical Center)
Ridership: In the end, there were about 35 people who rode this bus. That's not bad for a Saturday, frankly. No one went from beginning to end; most people got off at Andrew.
Pros: It cuts a nice path through the South End, and it seems to get healthy ridership. The schedule is also pretty good: about every 25 minutes rush hour (not great, but not bad), every 35 minutes during the day (also not great, but passable), every 20 minutes on Saturdays (surprisingly), and every 40 minutes on Sundays (not horrible, just meh).
Cons: It's also every 60 minutes during the night, which is actually pretty bad. And frankly, 40 minutes on Sundays isn't too great either.
Nearby and Noteworthy: Copley Square, once again. Dorchester Street also seemed kind of nice, but don't go to the industrial wasteland!
Final Verdict: 8/10
This is a pretty good route. Though most of it is shared with other buses, it provides a nice link from areas such as the Boston Medical Center or the South Bay Center to Andrew Station. But if you do plan to go from City Point to Copley for whatever reason, keep in mind that the 10 takes a rather circuitous route. The 9 would probably be the better choice as it's much more direct. The 10's schedule is good for the most part, but nights and Sundays (to a lesser extent) could use some work.
Latest MBTA News: Service Updates
The MBTA put the new map in 40 Green Line trains! It's about time.