Another early release day, another 9700 route. Today we're looking at the 9701, which is the shortest and arguably most boring of the three 9700s. That said, it does run along a street down which no regular routes go, so it does offer something unique!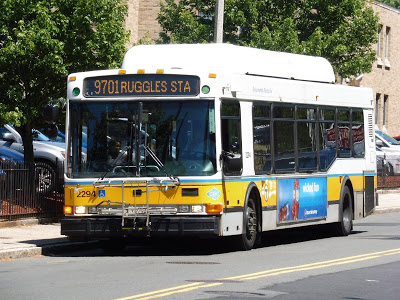 The bus across the street from the Brighton High School.
It turns out that all the 9700 routes do depart from that makeshift stop across from the Brighton High School. The 9701 has the most "frequent" service out of any of them, with departures at 2:05 and 2:10. Mine left at 2:07, so I'm not really sure which of the two it was, but we headed out onto Cambridge Street anyway.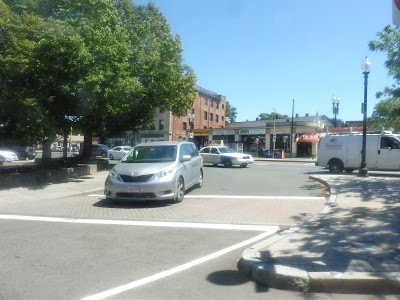 Union Square.
After some houses, we passed through Union Square, where the street was lined with businesses. There was an industrial section after that before we crossed over I-90 and the Worcester Commuter Rail tracks. Cambridge Street was wider on the other side, going by an abandoned parking lot for the closed CSX yard. We soon reached the ramp for I-90 and headed onto the highway.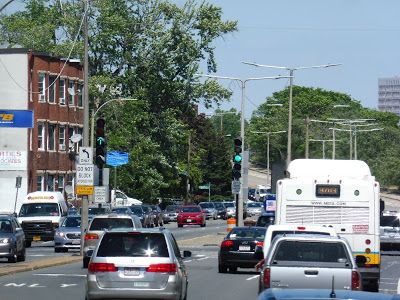 That's the 9703 in front of us.
I-90 went up onto its bridge over B.U., then we sunk back down below Commonwealth Ave. After passing more B.U. buildings and apartments, we went by Fenway Park and entered the Copley Square tunnel soon after. We then took the Back Bay exit, coming out of the tunnel and turning onto Dartmouth Street.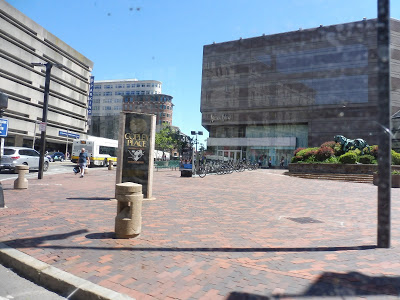 Stupid dirty windows…
Someone got out at Back Bay, but then the driver ran into a bit of a problem: the door was stuck open. His solution? Just keep on drivin' with the door wide open! He did fix it at a red light eventually, but it wasn't for a little while and it was very strange driving around with an open door.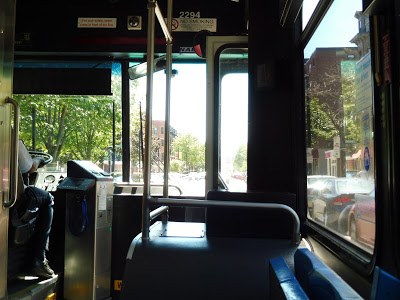 Um…is this safe?
We soon turned onto Columbus Ave, which is the section where no other regular routes run. The street was lined with pretty generic apartments, but they became lovely brownstones eventually. There were also a few businesses in the mix, as well as a church. We soon passed a field and the buildings got more modern, and then we turned into the
Ruggles
busway.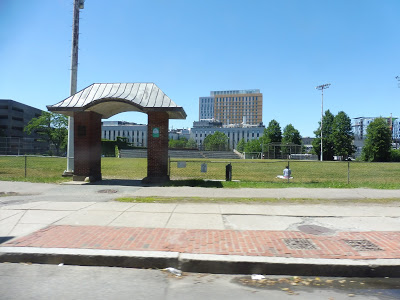 The bus became a 22 at Ruggles, ruining any photo ops, so here's a look across a field.
Route: 9701 (Brighton High School – Ruggles Station via Mass Pike)
Ridership: Slightly more crowded than the 9702, but the trip still only got about 10 students (who were blasting awful rap music the whole time). There would definitely be more people on a regular school day, though.
Pros: The 9701 is a quick route from Brighton High School to Ruggles, and it seems to be the busiest 9700 route based on its schedule: two trips per day instead of one.
Cons: Still, though, it lacks a morning trip like the other 9700s. This isn't as big of a problem with Ruggles, since one could walk to Roxbury Crossing and grab a 66 to get pretty close to Brighton High, but a direct trip would still be great.
Nearby and Noteworthy: This route is for students, not for visitors! Also, it's the most boring one of the bunch, since the 9703 is basically just a slightly longer version of this one.
Final Verdict: 7/10
This is probably the best of the 9700 routes due to its quickness, its consistency, and the fact that it gets two trips instead of one. Also, the morning hinderance for students really isn't as large as the one for 9702 riders. Still, though, a morning trip would be much appreciated.
Latest MBTA News: Service Updates