I feel like Roxbury Crossing is really overshadowed by Ruggles. For one thing, they're pretty close together – only about a half mile apart. For another, Ruggles is a huge intermodal transit hub, with Commuter Rail service and a whole bunch of bus routes. Roxbury Crossing, on the other hand, is a small local station, which has only one bus route that doesn't originate at Ruggles. So without Commuter Rail traffic and without much bus traffic, we're left with a quiet Orange Line station just south of a huge hub.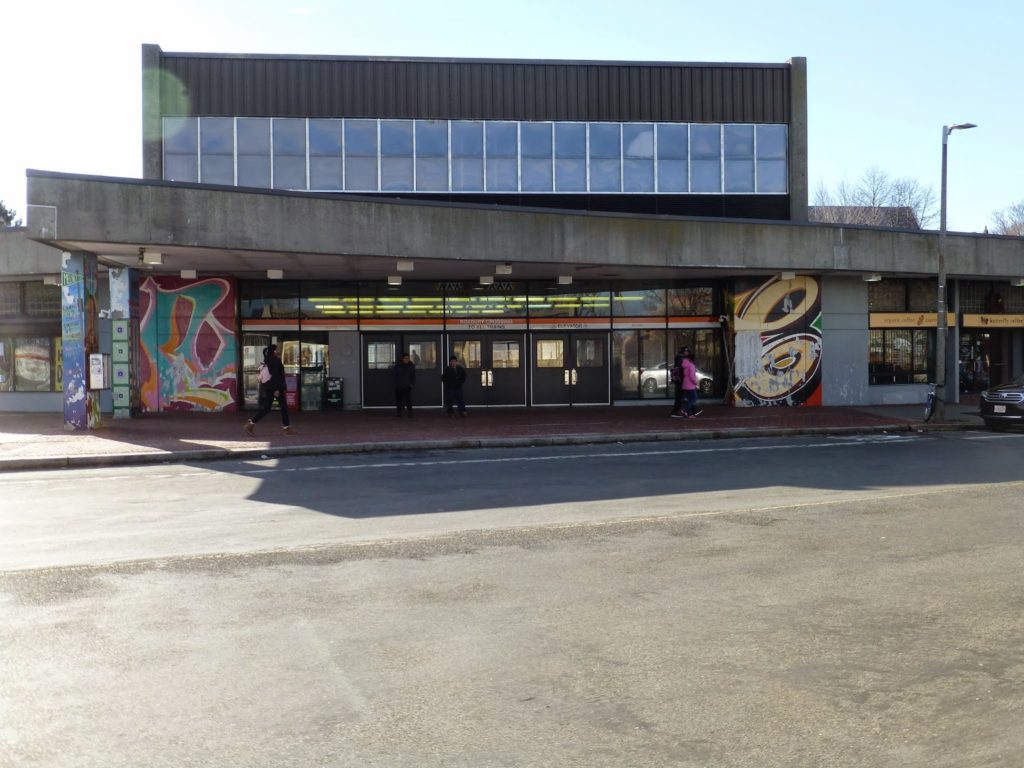 The entrance.
I really like the station's single entrance. It's pretty striking, with its sheltered portion sticking out at an angle and the high ceiling of the mezzanine visible. And I love the graffiti-like art on either side of the doors. Not to mention the cool paintings on some pillars, too. There's also a bike shelter with a few racks – certainly no Pedal and Park, but it's something.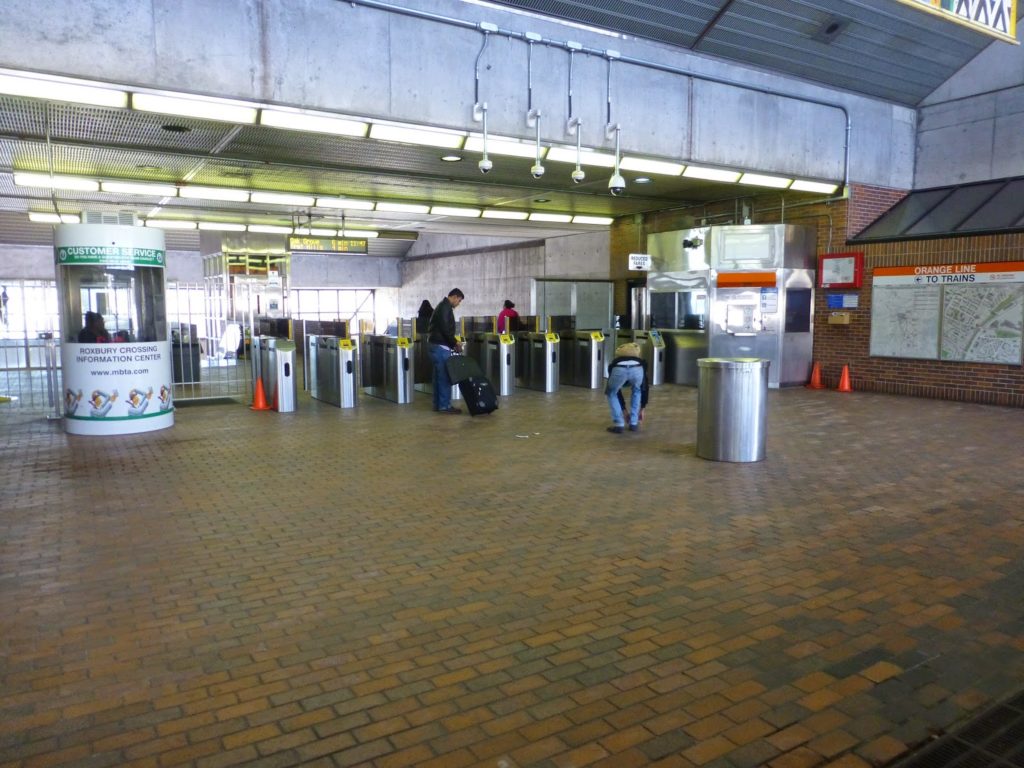 The mezzanine.
I like the mezzanine, too. There's some more art (series of patterns) that greets you right as you enter, hanging from the ceiling. The mezzanine also has a bit of retail, including a nice-looking cafe. But it's also very straightforward, seemingly designed to get large crowds of people through at once. I don't think this station ever gets the ridership to put it at capacity, though.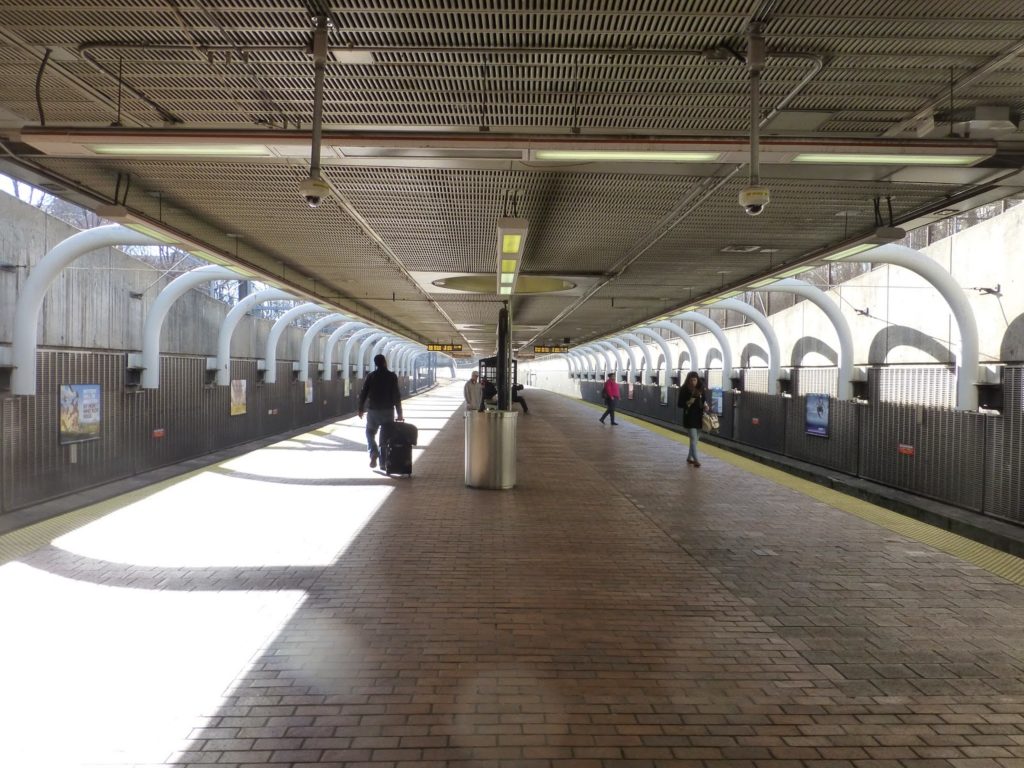 The shady platform.
The platform is outside, but below ground level. The whole thing is sheltered, which is great for an outdoor station like this. When I was here on a Sunday, it was really quiet and tranquil – there weren't many people, and trees could be seen over the walls of the Southwest Corridor. It was a nice wait. the peace broken only by an Amtrak train speeding past – there's a wall preventing you from seeing them, but you can certainly hear them. However, I didn't like the weird, ugly pseudo-shelters housing some of the platform's benches. There's no point in having shelter if the whole thing is sheltered already!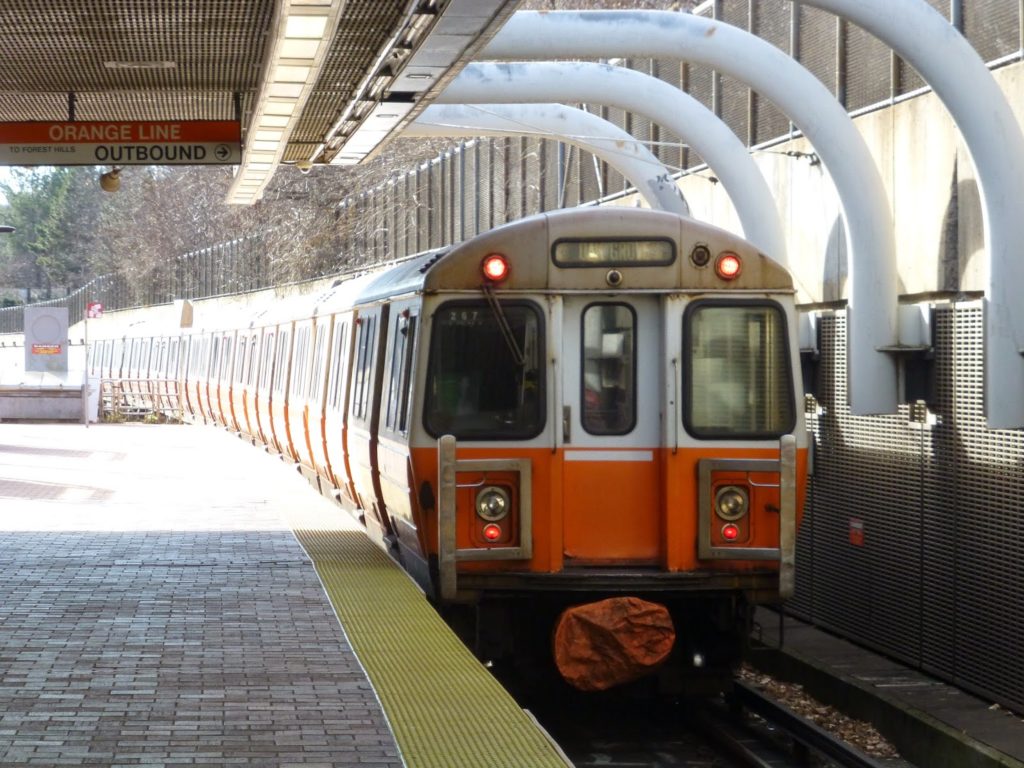 A train leaving the station.
Station: Roxbury Crossing
Ridership: As I mentioned before, this station isn't especially busy. It's the third least-used Orange Line station, with about 4,750 riders per weekday. Just like Shawmut, the primary ridership for this station probably comes from those living in the area, though Roxbury Crossing has the bonus of Roxbury Community College students.
Pros: Overall, the whole station is pretty nice. I absolutely love the entrance, as well as the straightforwardness of the mezzanine. And there's a whole bunch of art throughout both of these. It's great that the platform is sheltered, and it's also pretty tranquil.
Cons: The station has a very bland feel about it overall. There's nothing terrible in the aesthetics, but Roxbury Crossing has some fairly dated 80's architecture. Also, I don't like those pointless shelters on the platform – just get rid of them and keep the benches.
Nearby and Noteworthy: Roxbury Community College seems to be the only place of note around the station – the rest is mostly residential.
Final Verdict: 7/10
I like this station enough, but it could certainly use a makeover. The art helps the bland feel, but the station still looks very dated. Roxbury Crossing does seem like a quiet alternative to Ruggles, if you happen to have a choice between the two and don't like crowds.
Latest MBTA News: Service Updates