I love Shawmut on the outside. For one thing, it's situated in a very quiet residential neighborhood. There aren't any major streets in the general vicinity of the station, so it's very tranquil walking around the area. And since the station's underground, there aren't any noisy trains that break the peace. There's a big wide path that goes through the neighborhood, and along it are these cool old-fashioned signs directing the way to "tunnel trains."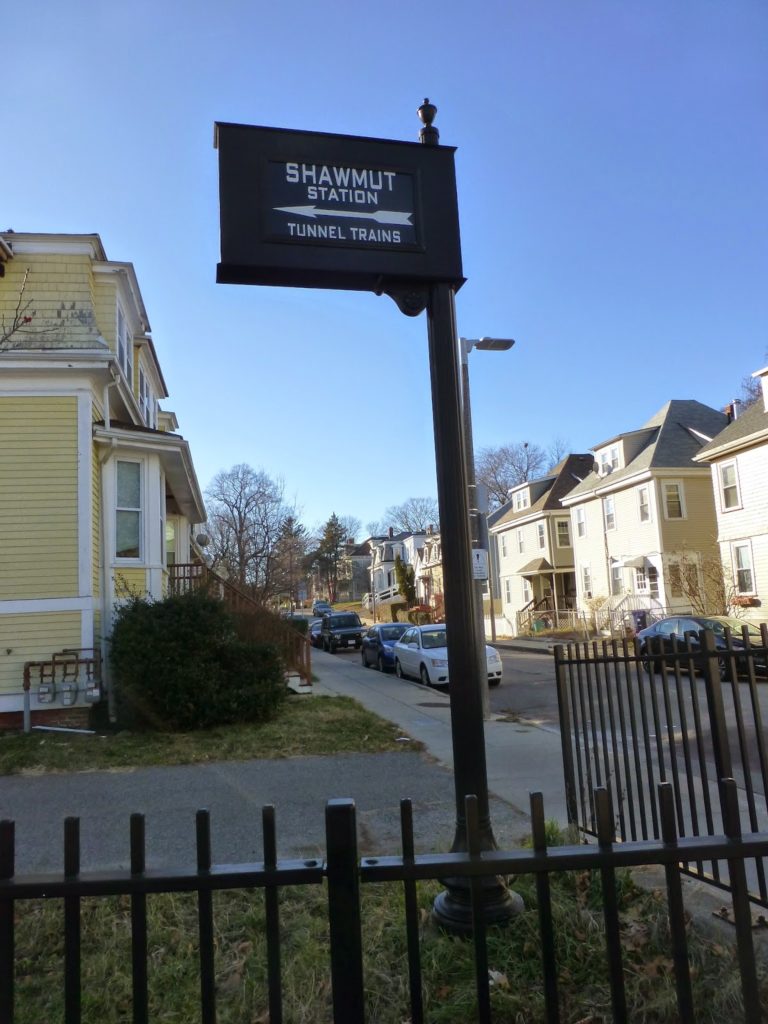 There's one of these at Fields Corner, too, but Shawmut has three along its path.
The station's single entrance, too, is magnificent. It apparently dates back to 1928, and certainly looks like it. It's very ornate, with pillars and brick architecture. The "Shawmut" sign isn't even in the Red Line livery, since it predated the line colors! The only indication that this is even an MBTA stop is the little plaque next to the doors that reads "Shawmut Station" with a T logo. But this is still an awesome entrance, and the station's surroundings are just as awesome.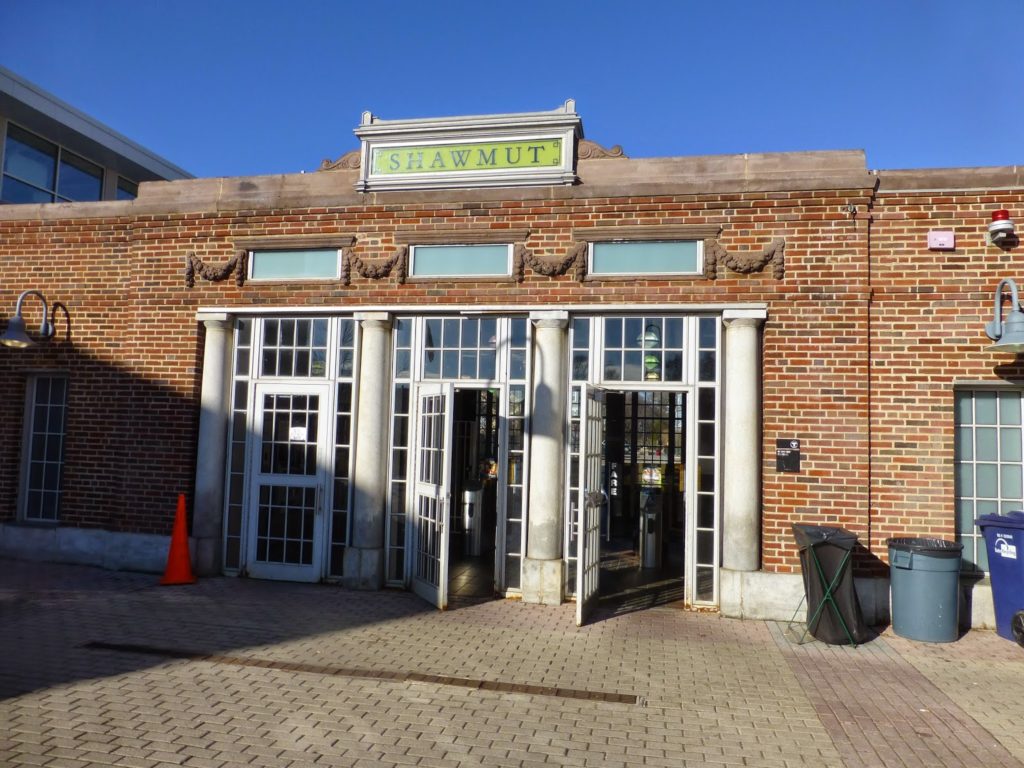 Into the unknown we go…
The mezzanine was pretty bland. All the walls and ceilings were white, which wasn't especially attractive. The ceiling was lined with these ugly stone beams, though at least there weren't any random pipes. And I have to admit, I liked the light fixtures hanging down – they added to the station's old-fashioned feel. Also, the layout was simple: two staircases and two elevators to two separate platforms.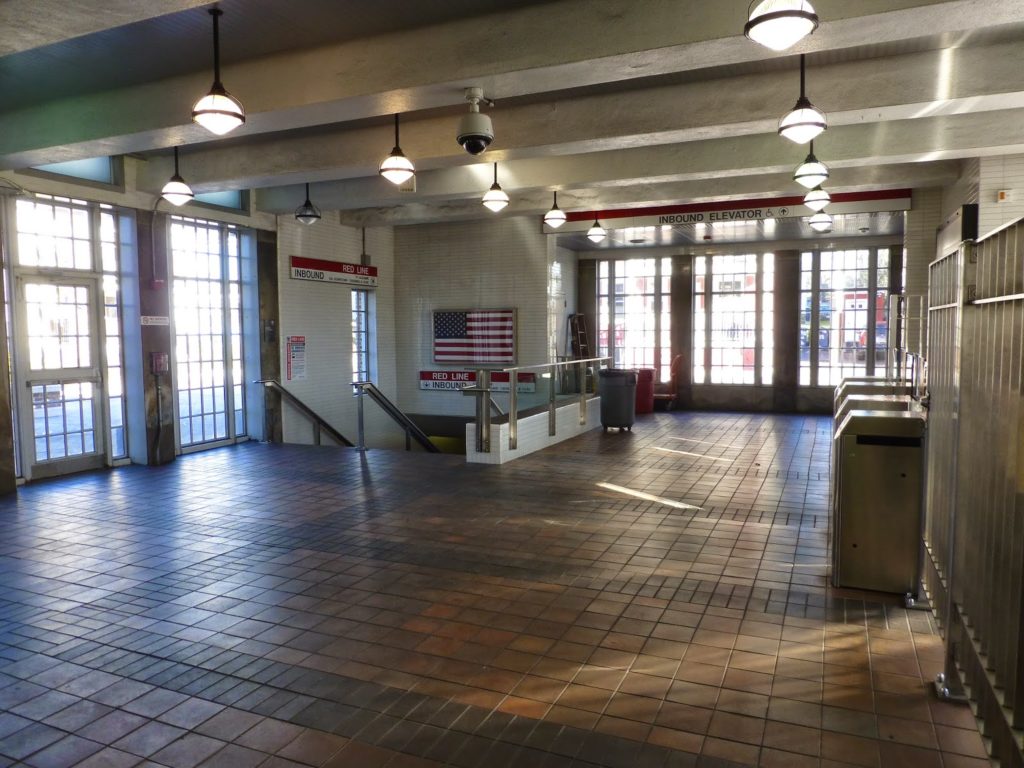 Plus, there's natural light that gets in there.
Okay, so I've been giving this station a lot of praise. But that all ends once we get down to platform level – this station is dingy. For one thing, the whole platform is colored yellow. This is not a good color for a subway station, as Shawmut proves. It's a really dull yellow, too, less "school bus yellow" and more "urine yellow."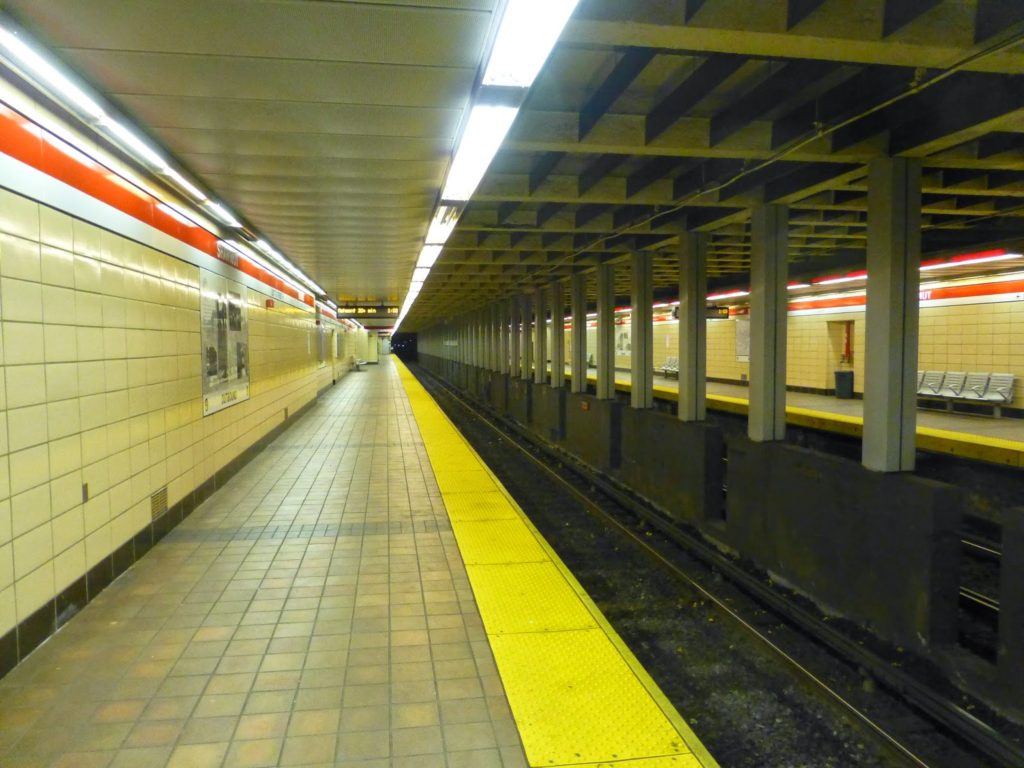 Looking way, way down.
And between the two platforms are all these sooty black buffers, with white poles going up to a dark, gross ceiling. The only redeeming factor about these platforms are the historical images along the walls. They're accompanied by text giving information about points of interest in Dorchester. Really, though, this is not a nice place to wait for a train (but at least it's clean).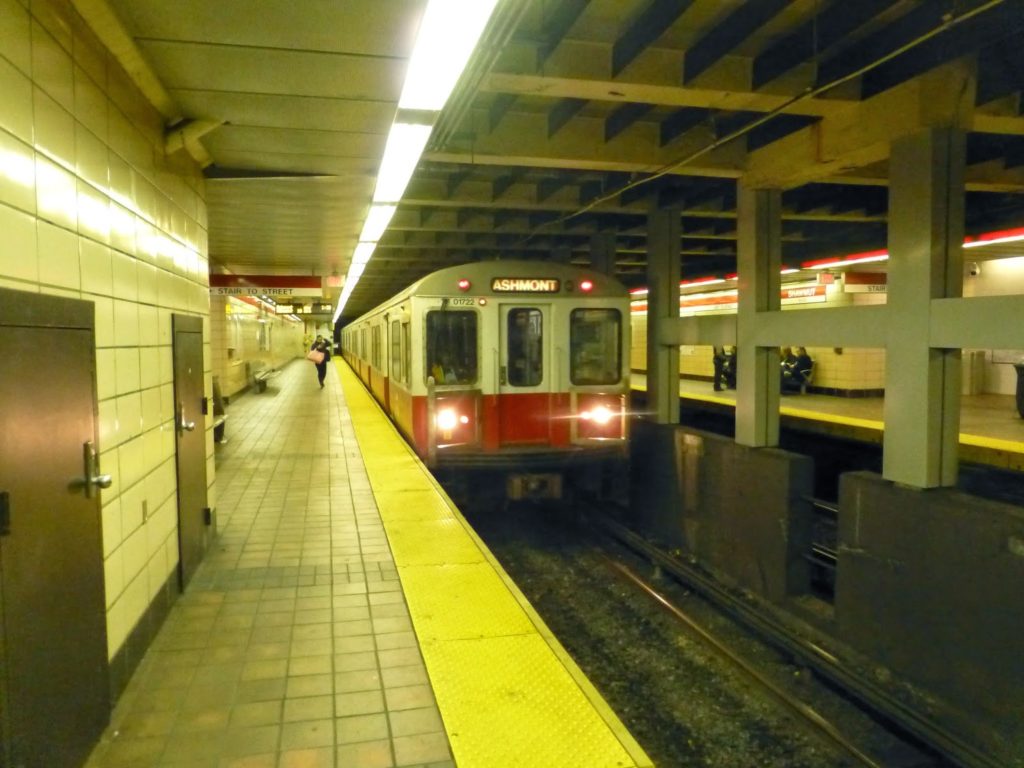 A train coming in, after a "20+" minute wait.
Station: Shawmut
Ridership: Probably due to its isolated location, this is the least-used station on the Red Line, and one of the least-used on the whole system. Every weekday, it only gets about 2,400 riders. Presumably the only people that use this station are those that live in the surrounding neighborhood.
Pros: The entrance and path are both fantastic. Also, I gave the mezzanine some flak, but it's not actually that bad. Even the platform is somewhat improved by the presence of the historical images and information.
Cons: The platform is still pretty awful. Not as bad as some other ones on the system (I'll never stop putting you down, Prudential), but still, I'm not a fan. Also, there aren't any bus connections, but that's because there'd be no reason to put a bus around here.
Nearby and Noteworthy: Nothing in the immediate vicinity, but this is the closest station to Codman Square, about a 10 minute walk away.
Final Verdict: 8/10
Okay, this station really grew on me as I went along with this review. I absolutely love the outside parts of this station (the entrance in particular), and the mezzanine does its job all right. The platform could definitely use some work, (especially since this station was renovated only a few years ago, in 2009 – did anyone think to fix the platform?) but you can't beat the tranquil location and awesome entrance.
Latest MBTA News: Service Updates