I was surprised at how…not bad Savin Hill was. Seriously, every time I went by here (either making a stop when going to Ashmont or zipping by when on a Braintree train), I always thought "Geez, looks like a pit." I mainly thought this because the station is right next to I-93, and it's noisy for sure, but the station itself is actually kinda nice.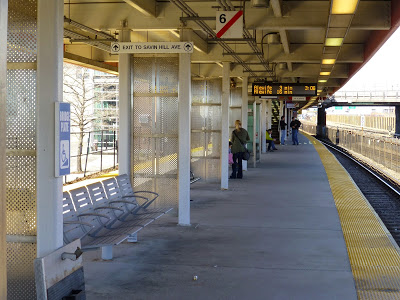 Okay, so the platform isn't actually that great.
Right, so the platform itself isn't the best. It's all covered, which is good, but it also has some pretty bland architecture. Plus, even though there's a thick fence between the station and the highway, it's still pretty noisy. There are plenty of benches on the platform, though, and they don't have those weird bench shelters like on the Braintree branch. Speaking of the Braintree branch, it's also fun to watch those trains speed by on the other tracks without stopping.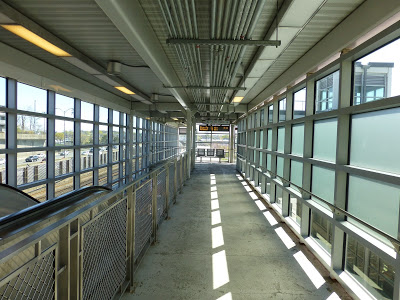 A nice glass hallway.
From the platform, there are stairs and an upward-bound escalator, as well as an elevator (which was added in Savin Hill's 2004-2005 renovation). These lead up to a nice hallway that in turn leads to both of the station's exits. The hallway is made of glass, and it even has some benches for people who may want to wait for the train inside.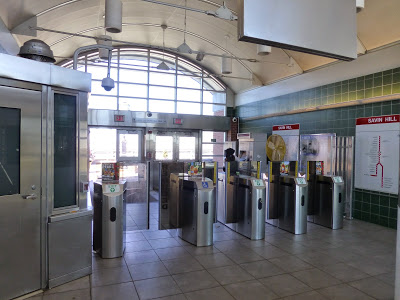 The main mezzanine.
I didn't get to spend too much time in the main mezzanine, since there was an MBTA employee in there and I wanted to "act natural". But from what I saw, it was a nice mezzanine, with cool green walls and interesting lighting. Lots of natural light gets in, too. As for the fare gates, there are only four, but this station doesn't get much ridership, so four is probably enough.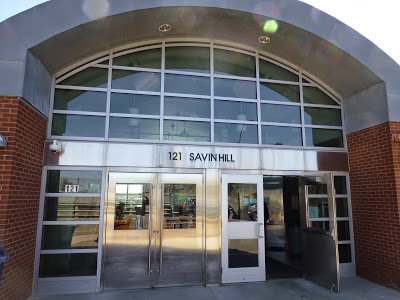 Oh, yeah, I can totally tell that's a train station.
Architecturally, the main entrance to Savin Hill is great. I love how the main part is made out of glass, and the brick walls on the side make for some nice contrast. There's also a cool old-fashioned street clock outside the entrance. But I would much rather have that clock be replaced with a T logo, because there is no indication at all that this is a train station! The sign just says "121 Savin Hill", in reference to the station's address on Savin Hill Ave. How about sticking a "station" after that "Savin Hill", MBTA?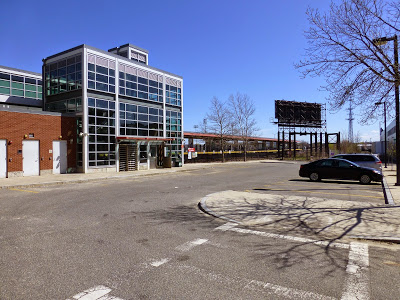 And the second entrance.
Believe it or not, there aren't any T logos at the second entrance on Sydney Street, either. It's more obvious with this one because you can see the platform from the street, but still! There isn't even any "Savin Hill" signage here, just a set of doors. The entrance itself is again nice, and it's pretty much entirely made of glass. There's also a small parking lot here with 20 spaces, which is a nice amenity even for a mostly local station.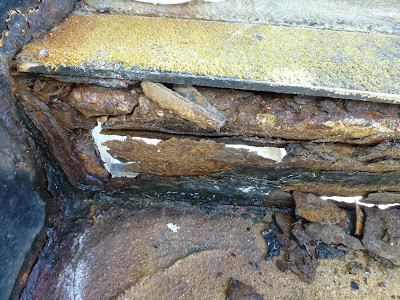 Well doesn't that scream structural integrity?
It may be hard to tell, but that picture above is of a step on the staircase from the second entrance to its mezzanine. It is, however, quite easy to tell that this thing is in dire need of repair. Considering that a few of the other steps are like this, too, is it possible that this staircase isn't safe? I wouldn't be surprised.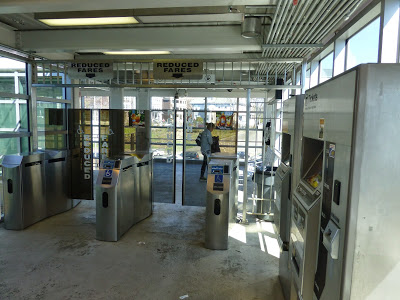 A much smaller mezzanine.
I assume this is the lesser-used entrance, since the mezzanine is comparatively small. It has two fare machines and two wider "reduced fare" gates. It's a nice mezzanine, with lots of natural light getting in from all the windows. From here, it leads right into the hallway that goes to the platform.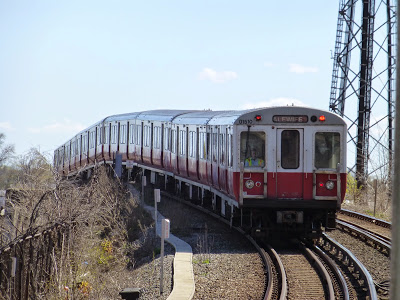 A train coming over the hill south of the station.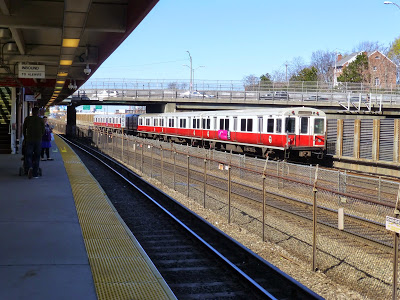 A Braintree train zipping past!
Station: Savin Hill
Ridership: This is the second-worst Red Line station for ridership, with only 2,440 riders per weekday. It narrowly beats out the worst Red Line station, Shawmut, by 29 people. And like Shawmut, Savin Hill is a very local station, which is probably why its ridership is so low.
Pros: Overall, the aesthetics here are great. Aside from the platform (and even that doesn't look bad, per se, just bland), this station looks fantastic. I love how much natural light gets into the mezzanines, as well.
Cons: This doesn't bother me too much, but it's worth noting that there aren't any official bus connections here (though the 18 is only a few blocks away). What does bother me is the fact that this station has literally zero signage. Seriously, just stick a T logo somewhere in the general vicinity of Savin Hill and that'll be better than the current situation. Also, we can't forget about the Rotting Staircase of Despair in the Sidney Street entrance.
Nearby and Noteworthy: Heading west from the station there are a few local restaurants to find, including the Savin Bar and Kitchen, which I thought looked pretty good.
Final Verdict: 6/10
Maybe I take aesthetics too seriously. I mean, functionality is ultimately more important than how a station looks, isn't it? While I'm gonna keep on hating Prudential, the above statement certainly applies here. I think Savin Hill looks great, but you can't forget about the lack of signage or the rotting staircase. Seriously, fix that staircase.
Latest MBTA News: Service Updates
Finally, there are proper countdown clocks on the Green Line! Yes, the D Line stops in Brookline now have screens telling you when the next train is arriving.