Okay, this driver was crazy. This was by far the most nerve-wracking bus ride I've ever taken. Now, maybe he was a really good driver and had an excuse to do all the reckless things he did, but it was still pretty scary. Of course, there's also a route to talk about, and that's the 22. It could be considered a companion to the 23, but they take completely different routes and only connect at their termini.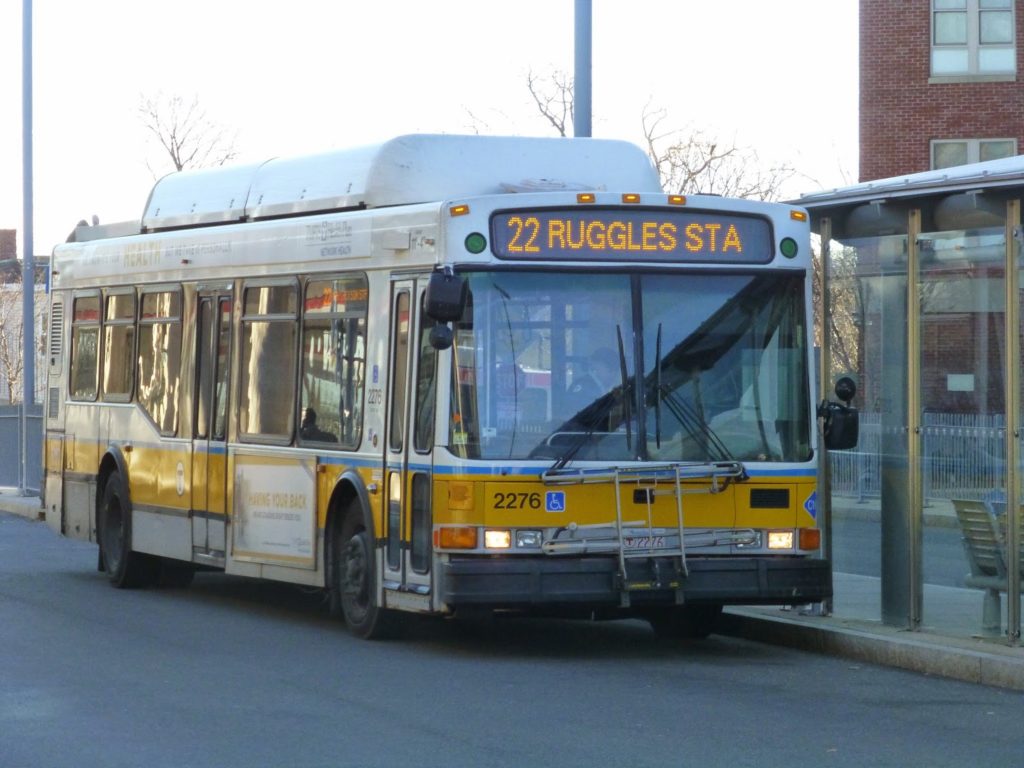 This isn't the bus I took, but it was also at Ashmont.
We left the Ashmont busway, and pretty quickly turned onto Talbot Ave, a residential street. Soon we reached Codman Square, where there were some small businesses. This is also where the 23 turns up Washington Street – the two routes don't intersect again until Roxbury Crossing. Meanwhile, we continued up Talbot Ave, which was once again residential.
We had a stop at the Talbot Ave Fairmount Line station, but it doesn't look like much transit-related development has happened around there yet. There was a school, then we turned onto the very wide Blue Hill Ave, which was lined with mostly apartments. The northbound side of the road has two lanes to choose from, but the driver couldn't seem to pick. So, we just stayed in between the two, Yeah, real safe.
Passing the Franklin Park Zoo, we ran through a red light and then turned onto Seaver Street. We picked someone up at the first stop along there, but there was someone else running to the bus. The driver started to leave, and took no notice when the guy on the outside banged on the back doors. "Someone wants to get on!" I shouted up to the front, which finally got the driver to stop and let the person in,
Travelling in between lanes again, the street had apartments on one side and Franklin Park on the other. Soon we reached Egleston Square, which had some businesses as well as a strangely tall, round apartment building. It went back to smaller apartments after that.
At Jackson Square, there were two buses waiting in the "left turn only" lane to head into the station's busway. We were coming along in the "straight only" lane, though we had to go into the busway, too. The light turned green just as we arrived at the intersection, and we swerved over, cutting off the two buses in the left turn lane, which had already started to move. I think my life flashed before my eyes.
After that terrifying experience, we headed up Columbus Ave, paralleling the Southwest Corridor. We passed Roxbury Community College, then joined a bunch of other buses coming from Malcolm X Boulevard (including the 23) at Roxbury Crossing. From there, it was a short run to Ruggles Station, where I believe we exceeded the busway speed limit by quite a degree. I couldn't help feeling relieved that we made it in one piece.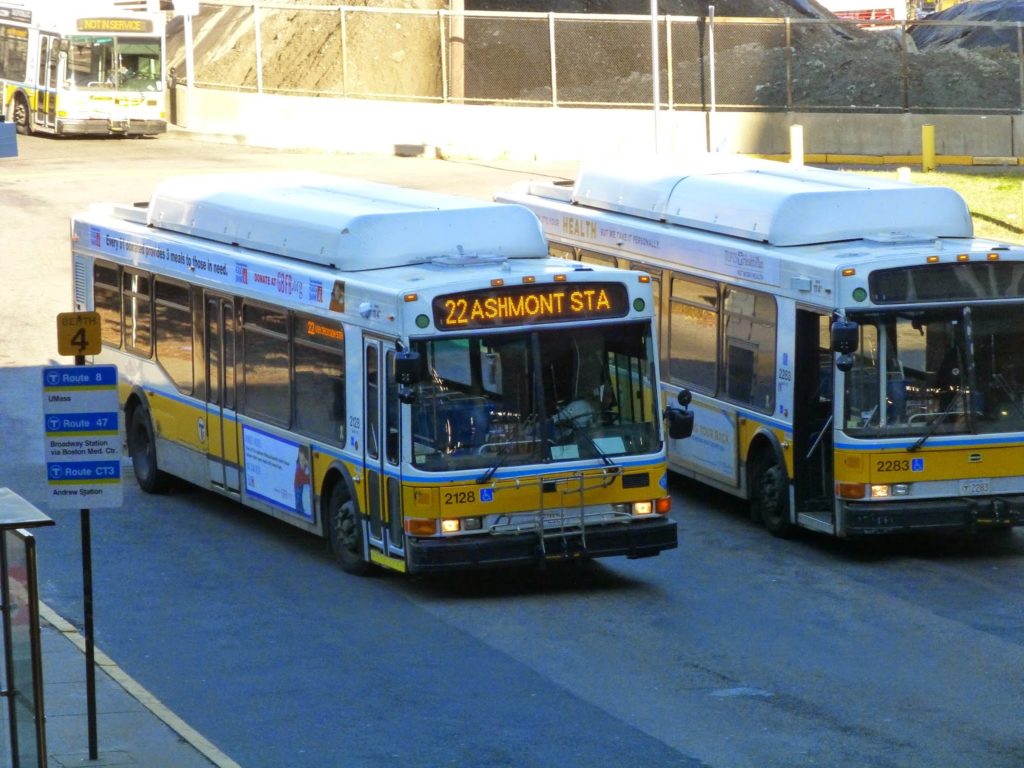 The actual bus I took, at Ruggles.
Route: 22 (Ashmont Station – Ruggles Station via Talbot Ave and Jackson Square)
Ridership: This is a Key Bus Route, and so ridership would normally be heavy. But for some reason or another, my bus only had about 10 people that rode. I believe that a few of them actually went from beginning to end, interestingly.
Pros: This is another good link from the Red Line to the Orange Line. The part on Talbot Ave is exclusively served by the 22, and this is the only route to serve the street's Fairmount Line station. Since it's key, it has an excellent schedule – every 8 minutes rush hour, every 15 minutes during the day, every 20 minutes at night, every 15 minutes late nights (on Fridays and Saturdays, until about 2:30), every 12 minutes Saturdays, and every 20 minutes Sundays.
Cons: Bunching, alas, and on a Sunday. At Ashmont, there were two 22s that came in together. And also, I wasn't a fan of the driver's driving techniques, but that's not the route's fault.
Nearby and Noteworthy: This route is mostly residential, actually. Still, Codman Square and Egleston Square have some businesses.
Final Verdict: 8/10
So I guess this ends up being the same as the 23. And actually, both routes had bunching problems. On average, the 22 is slightly faster, but if you're going from Ashmont to Ruggles or vice versa, it ultimately comes down to whatever comes first.
Latest MBTA News: Service Updates
This is the last post before I head off to Florida. I'll be back soon, though, with a guest post offering a second opinion on the 66. I don't plan to take any transit in Florida, so I doubt there'll be any Service Changes and I can get right back to MBTA reviews when I come home.