"How long is that bagel gonna take?" I asked my friend, Lucy.
"About 30 seconds," she replied. We were at the Dunkin' Donuts in Ruggles Station, where, having gotten off of
the 43
, Lucy said she was hungry. So here we were at a Dunkin' Donuts waiting for the woman to cook the bagel, and I was freaking out because
a 23
had just rolled up to the busway below. I was running up and down the stairs to make sure the bus was still there while checking up on the bagel's progress. Luckily, there were quite a few people waiting to get on and we made it with time to spare. But the bagel was overcooked.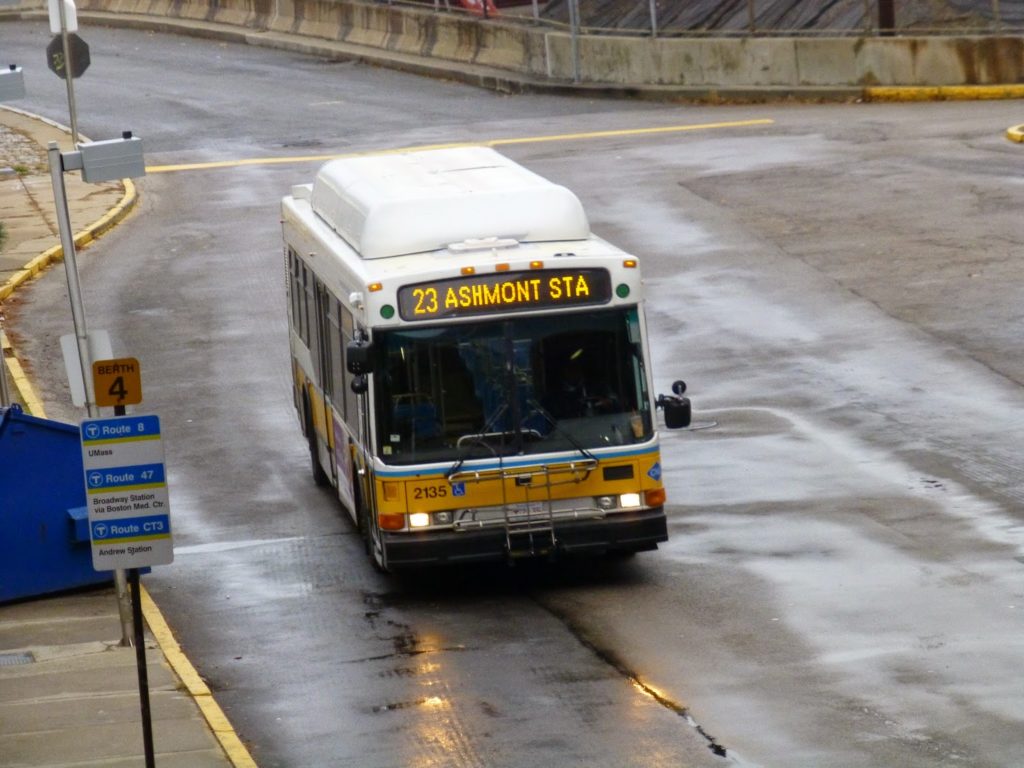 The 23 from up above the busway.
We headed down Tremont Street with a pretty crowded bus. After a stop at Roxbury Crossing (where no one got on or off), we turned onto Malcolm X Boulevard, going past some schools. At
Dudley
there was
another
massive crowd of people waiting to get on! Well, this is a Key Bus Route.
We went by some municipal buildings on our way to Warren Street, a wide avenue with a mixture of houses and businesses. There was a housing development and, surprisingly, some brownstones! We passed the Mall of Roxbury (it's not really that much of a mall) and then a YMCA. There were also quite a few churches along the entire route.
There was a residential area, and then some businesses at Grove Hall. We had been traveling with four other buses on Warren Street, but here we turned onto Washington Street, the unique part of the route. There were some cute apartments on one side, and a high school on the other. The high school looked tiny from where we were, but it turned out to be "vast" (Lucy's words), stretching behind Washington Street all the way to the next street over.
There were a few businesses at the intersection with Columbia Road, then there was a stop at Four Corners/Geneva. ("Fairmount Line Connection," woo!) We went through a residential area, then after a block of businesses there was a nice view of Dorchester from atop a hill.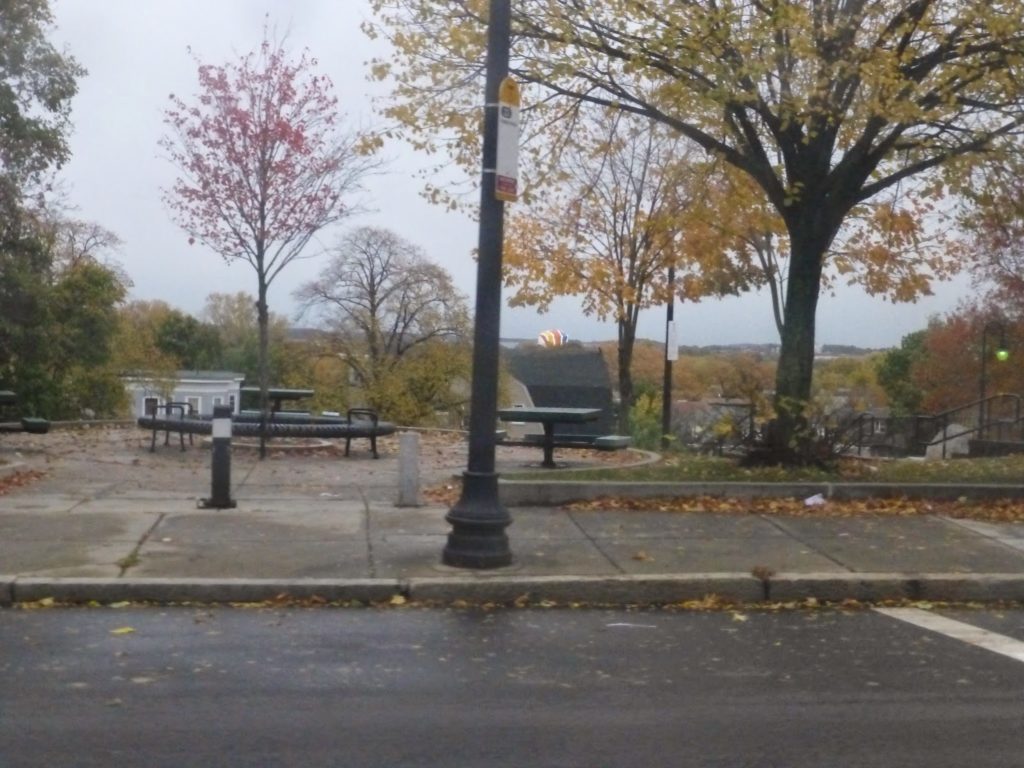 The picture doesn't capture it very well, but you can see that rainbow gas tank from here (which is, apparently, the largest copyrighted piece of art in the world)..
From here on out it was mostly businesses along Washington Street. At Codman Square, we turned onto Talbot Ave, which was slightly more residential. But at Peabody Square, there were businesses again, with Ashmont's very distinctive station building only a block away. Thus, we pulled into its busway a few seconds later.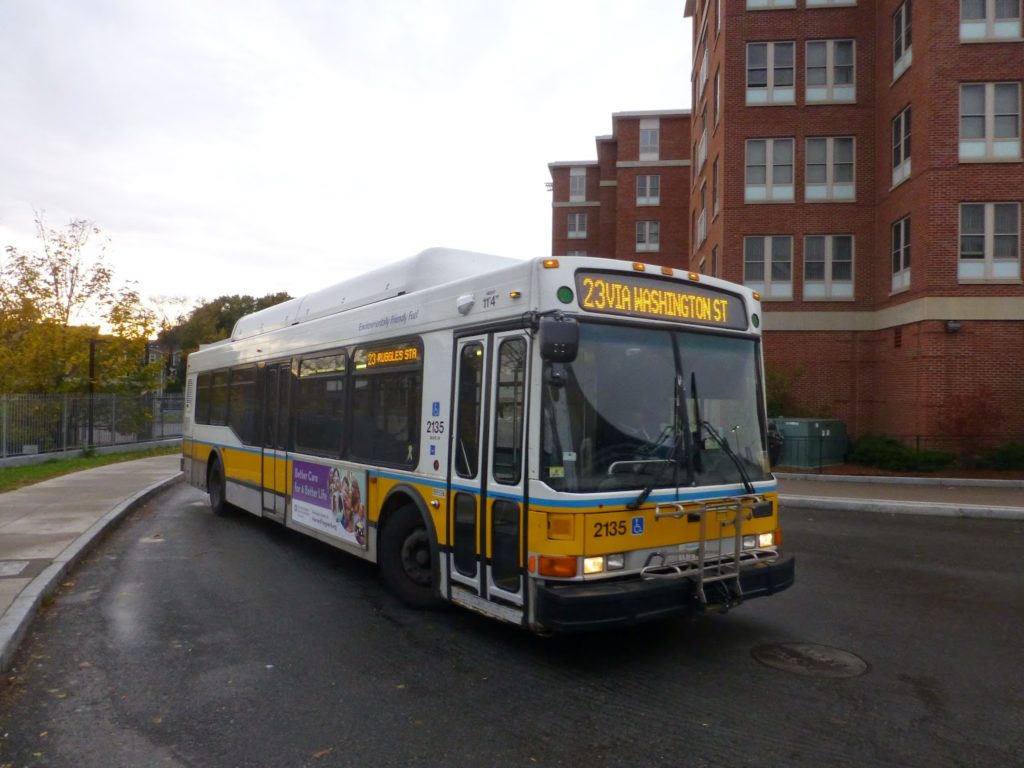 The bus turning to pick up people going back to Ruggles.
Route: 23 (Ashmont Station – Ruggles Station via Washington St)
Ridership: It's a Key Bus Route, so of course it's going to have high ridership. Very high ridership. Over 65 people, to be exact. That's not to say that they were all on the bus at once, though. There were a few major stops along the route where lots of people would get off and lots would get on. Many passengers were in it for the long haul; there weren't many that used the route for short trips.
Pros: This bus serves some neighborhoods not served by other buses, which is always good. Also, being a Key Bus Route, there's an awesome schedule here. It's every five minutes rush hour, every 12 minutes during the day, every 20 minutes at night, (with service running until almost 3 AM on Fridays and Saturdays!) every 10 minutes Saturdays, and every 18 minutes Sundays. Fantastic.
Cons: Being a Key Bus Route, bunching is certainly a possibility. Unfortunately, there was bunching in both directions when I took this bus. On a Sunday. Ugh.
Nearby and Noteworthy: There are businesses dotted along the route, for sure. There was a small park where that nice view was, so that might be worth checking out.
Final Verdict: 8/10
Serving some important neighborhoods as well as having an amazing schedule, the only thing that brings this bus down is its bunching. It was only two buses in a row, though; nothing as bad as
the 77
…
One of the losing bidders for new Red Line and Orange Line cars, Hyundai Rotem (I put pictures of their proposals for new cars on the
Facebook page
) is
protesting
the MBTA's choice of a Chinese company to build the trains.