The first time I took this bus (about seven months ago), it had been dark and thunderstorming. I remember people would run in and make comments about the awful weather as they paid their fares. I never gave the 43 a review, partly because I couldn't see a thing out the window and partly because the pictures I took were terrible. But now, I'm giving this bus a second chance.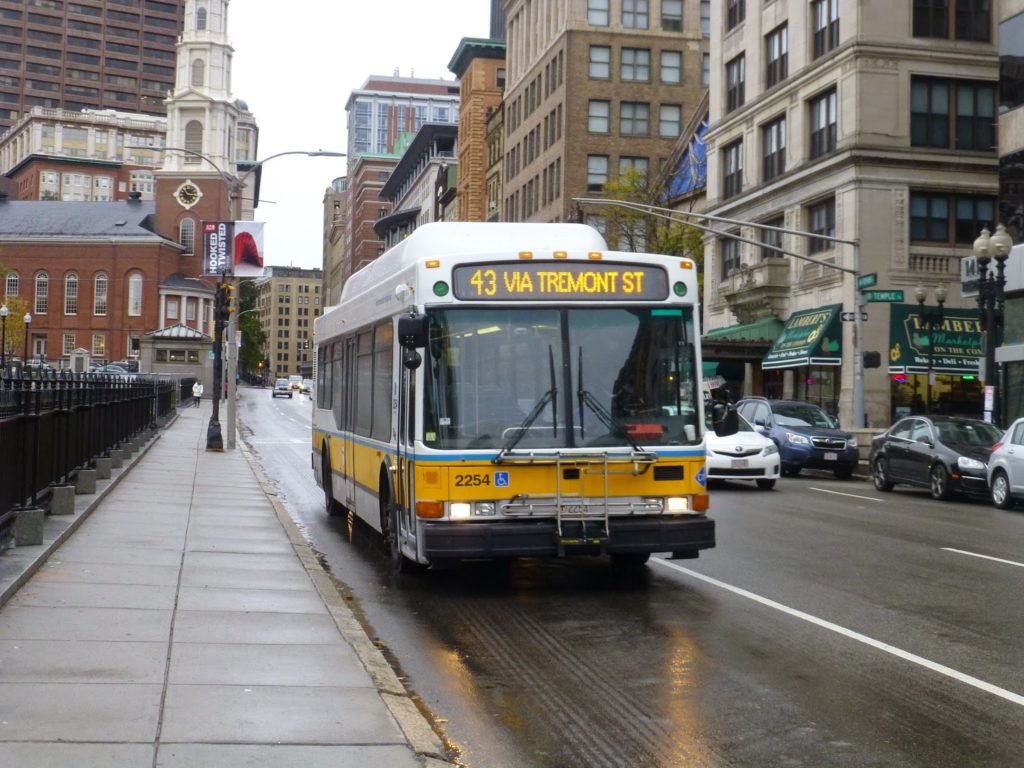 About halfway between Park Street and Boylston, a distance of about three inches.
After getting on at Park Street, we headed down Tremont Street with the Boston Common on one side and tall buildings on the other. After stopping at Boylston, we entered the Theater District, where there are a lot of theaters. And more tall buildings. They got much shorter after a stop at Tufts Medical Center, though.
Tremont Street made a sharp turn to the right, then the left, and then we went over I-90. There was a nice view of the John Hancock and Prudential buildings from here. At this point the driver was making extensive use of the horn to let people know not to mess with us. There were some points when he was driving so recklessly it felt like we were going to crash into someone.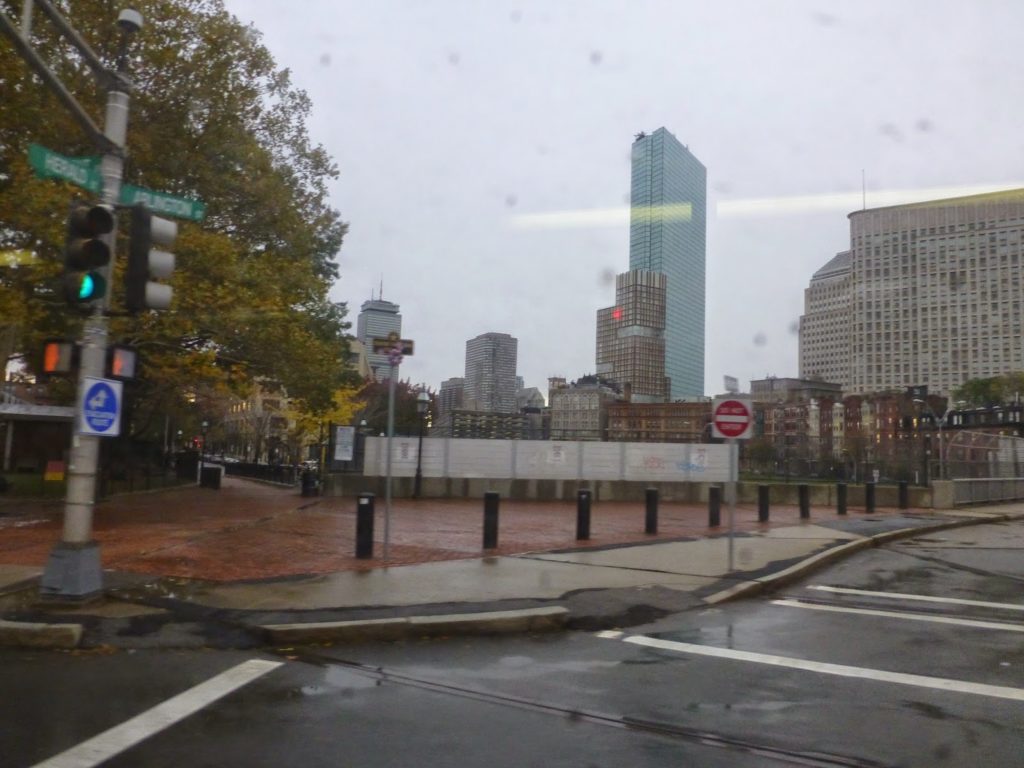 Bad picture, but nice view.
I really love the South End. I don't know if it's the narrow streets or the old-fashioned architecture, but I love it. The architecture, at least, is very prominent along the next section of the 43. And what's interesting is that there's a point when you suddenly notice that the neighborhood isn't all that nice anymore. All of a sudden there's a lot more graffiti and the buildings seem to be newer and less charming. There is an abundance of gardens around here, though, so that's good. Soon we turned onto Melnea Cass Boulevard, and then again into the Ruggles busway, where the bus changed its destination board to become a 15.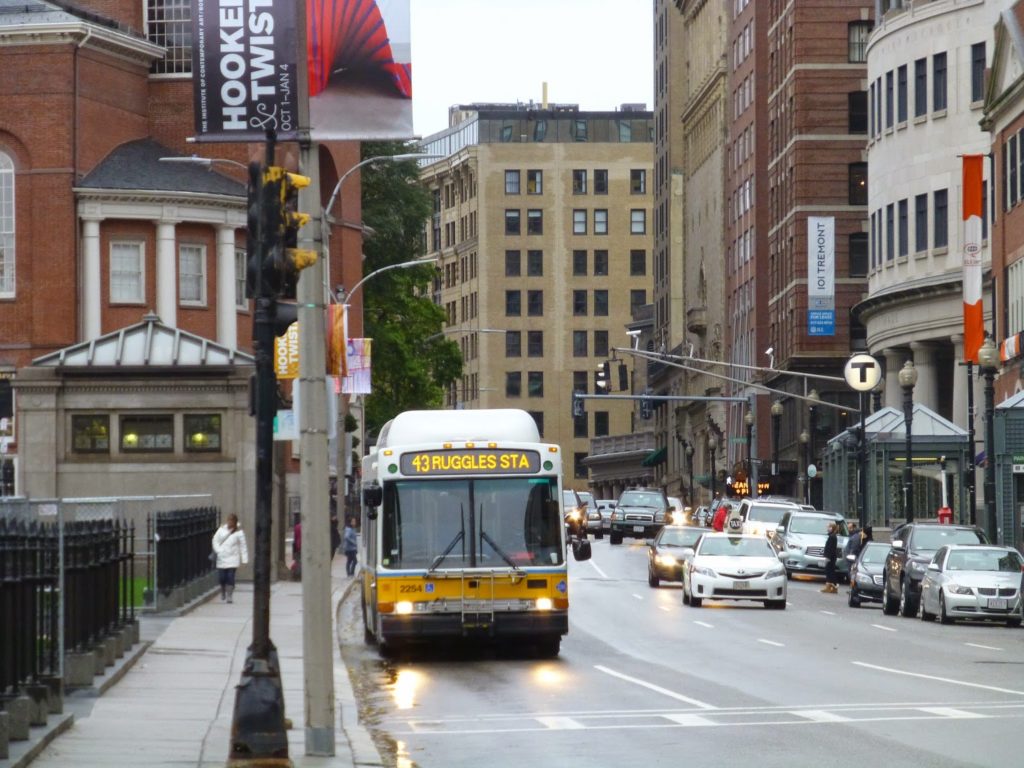 I love this one back at Park Street!
Route: 43 (Ruggles Station – Park and Tremont Streets via Tremont Street)
Ridership: A grand total of four people, plus one child. That's really bad, even for a Sunday. And the two other people (plus one child) only went for short distances, so for the most part it was just Lucy and I. (Yes, a friend came along! Hooray!) Even if people did ride, no one would ever have reason to take this from beginning to end, since the Orange Line goes from Ruggles to Downtown Crossing (which is part of a complex with Park Street) nice and quickly.
Pros: For one thing, this bus is fast (not as fast as the train, but still fast). Perhaps it's because practically nobody rode it, but it only took us about 15 minutes to get from Park Street to Ruggles. This bus is also a nice halfway point between the Orange and Silver Lines, serving parts of the South End not covered by those. Finally, the 43 has a pretty awesome schedule: every 20 minutes Weekdays and Saturdays, and every 25 minutes Sundays.
Cons: We admittedly took this bus on a Sunday, so low ridership is to be expected. But four people (plus one child) is really terrible! Maybe it was because of the time of day, or perhaps the weather, but the ridership was very disappointing.
Nearby and Noteworthy: Lots of theaters and some neat architecture are what awaits you on this route.
Final Verdict: 8/10
This is a nice route if you need to get from one end of Tremont Street to the other, or even if you're just too lazy to walk a few blocks. This is a bus that many people use for short distances, and it fits that niche well. A good schedule means there's always a bus somewhat close by, though maybe it could stand to run a little less often based on the ridership we saw.
Latest MBTA News: Service Updates
The first of the new MBTA buses will hit the streets tomorrow (November 5) at Haymarket! I'm excited for when they get around to my neck of the woods; I want to see what they look like!