I've been to Lechmere. I've been to Dudley. I've been to Prudential, for heaven's sake. Yet I was unprepared for Back Bay. This is the darkest, dirtiest, scariest, and overall dingiest MBTA station I've ever been to. Along with two of my friends, Jason and Michael, I explored this station from top to bottom (yet somehow I overlooked the Dartmouth Street underpass – whoops) and found a bunch of cool/disgusting things. We also spent about 45 minutes down on the Commuter Rail platforms, so I probably inhaled about 300 gallons of diesel fumes. Did I mention the diesel fumes? There are lots of diesel fumes.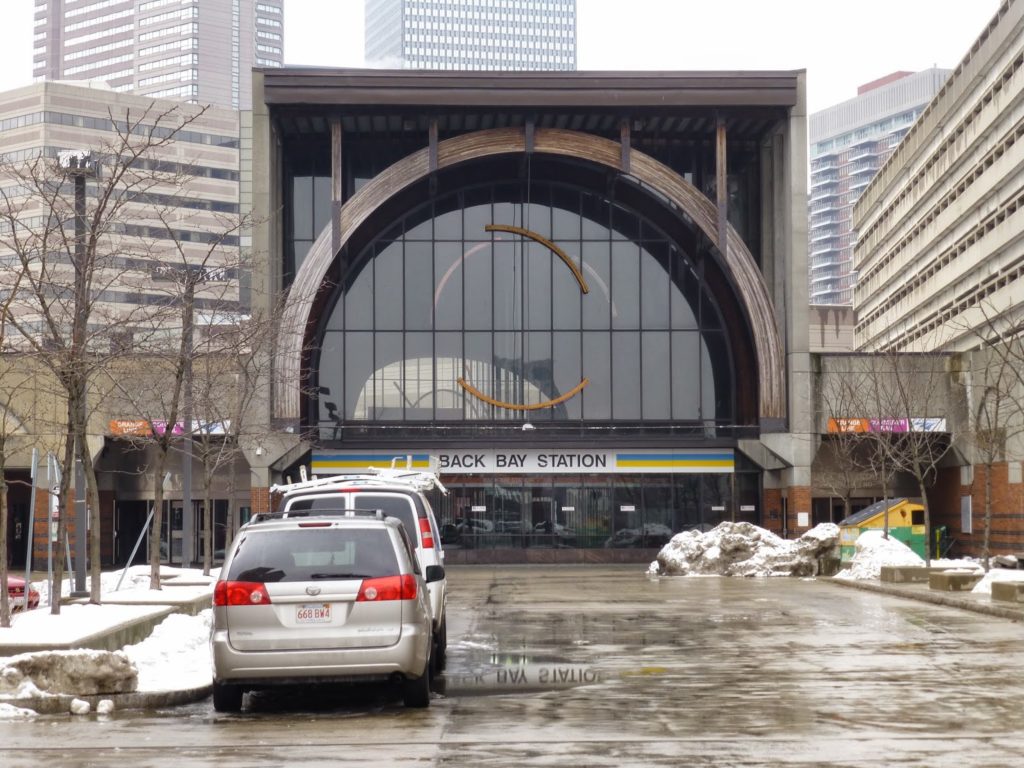 Well, isn't that a nice entrance? Too bad it doesn't warn you about the horrors inside.
The entrance on Clarendon Street is great. It has its own busway where MBTA buses 39 and 170 stop, as well as the Megabus to New York City. It's a fine busway, with benches and shelter. But the entrance itself is really cool-looking. It has a massive glass facade, with some circular art over the glass. Also, there are revolving doors, which is an amazing feature.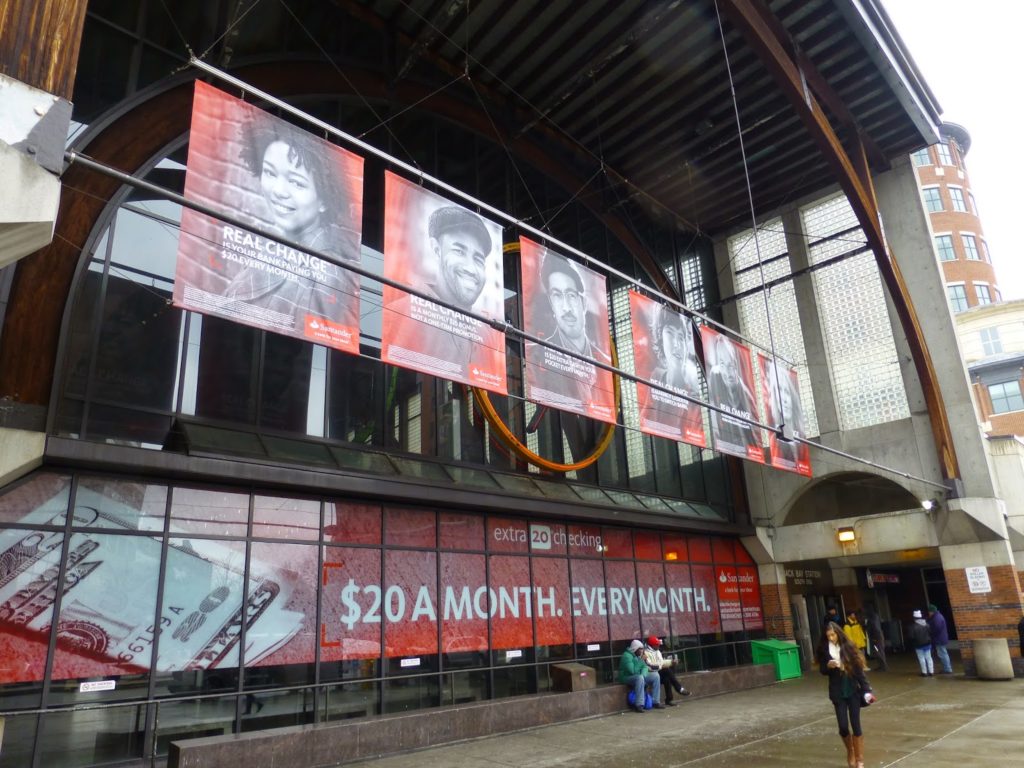 A pretty awkward angle of the second entrance, which is evidently dominated by Santander ads.
The second entrance is on Dartmouth Street, and looks pretty much the same as the one on Clarendon Street. It lacks a busway, though the 10 stops a little further down Dartmouth Street. I'm not sure how much ridership that route gets at this stop, but I feel like it ought to have a shelter. This is a very major train station, after all.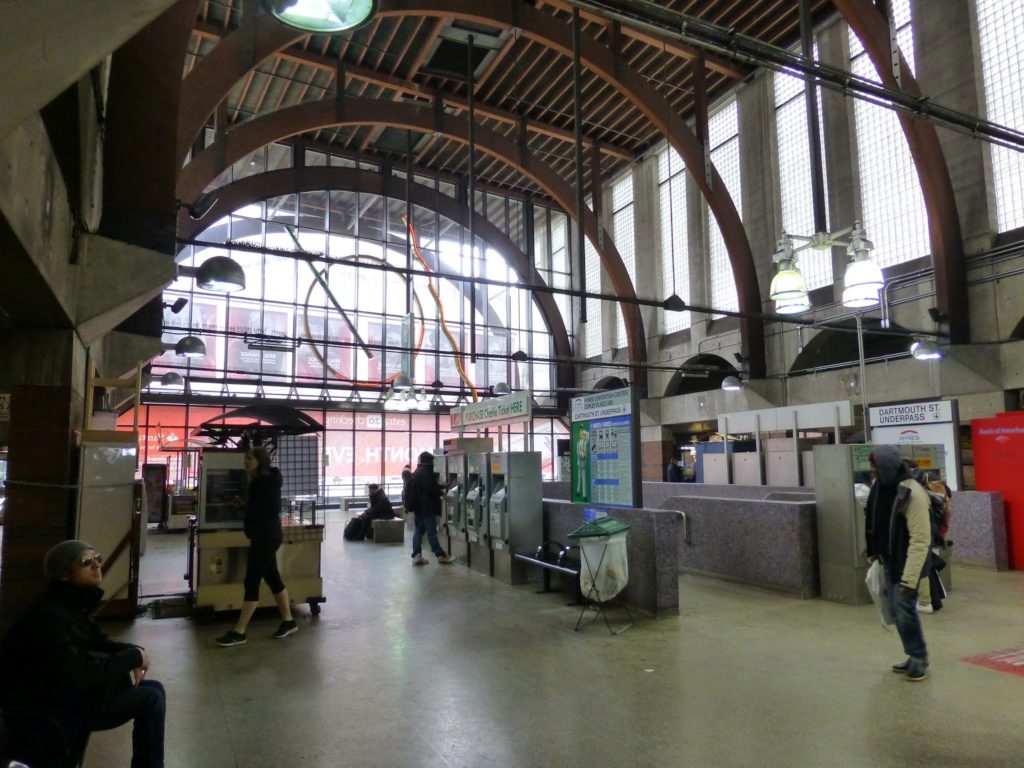 The beautiful entrance area.
The above-ground station building is really nice. Its ceilings are insanely tall, and lots of natural light gets in from the massive windows. There are a bunch of fare machines scattered about, and lots of fare gates heading to the Orange Line. Also from this entrance area is a staircase down to an underpass to Copley Place, the Hynes Convention Center, and the Prudential Center.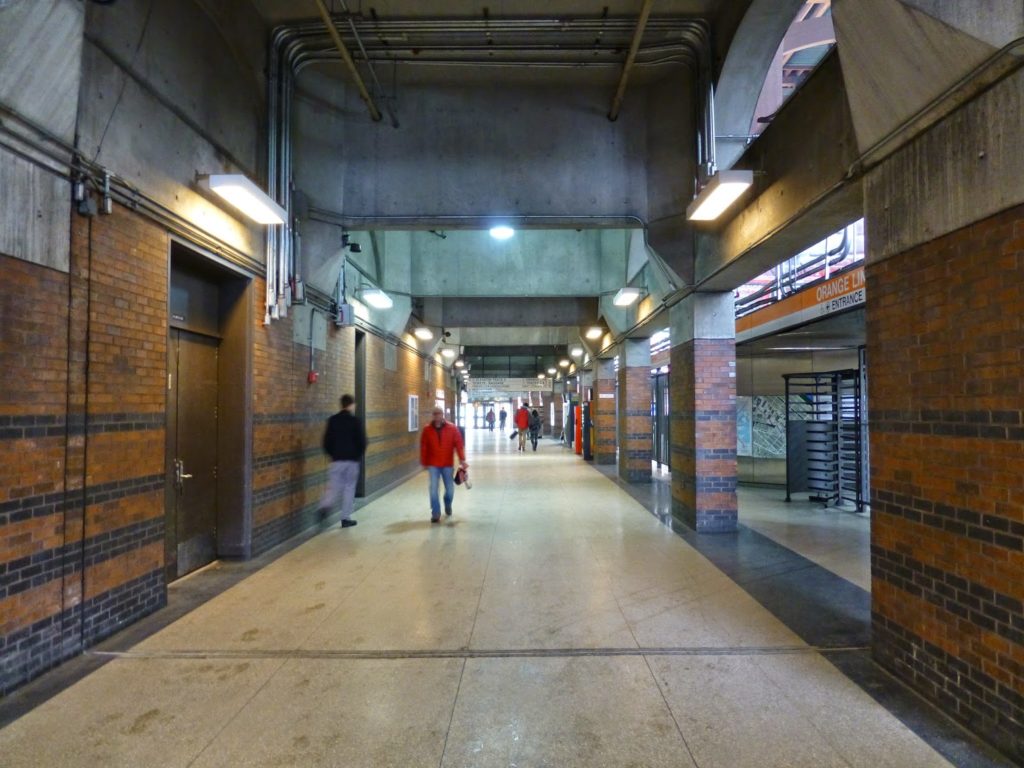 The hallway between the entrances.
A hallway then leads back to the Clarendon Street entrance. It has some vending machines along it, which is nice. And overall, the hallway looks pretty good, though it does have some random pipes scattered about.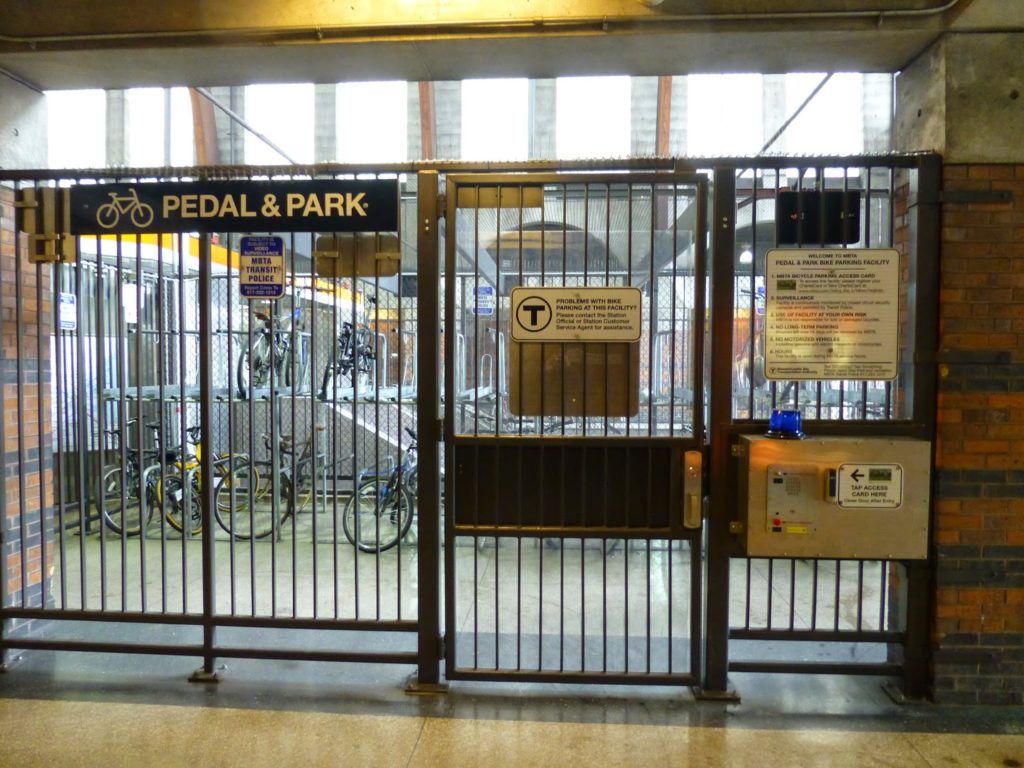 An indoor Pedal and Park! Woah!
On the Clarendon Street side of the station, there's actually an indoor Pedal and Park facility! It's something I've never seen before on the MBTA, and it's certainly interesting. I have to wonder, though, if the floor gets really dirty when people bring their muddy bikes right into the station to park them up.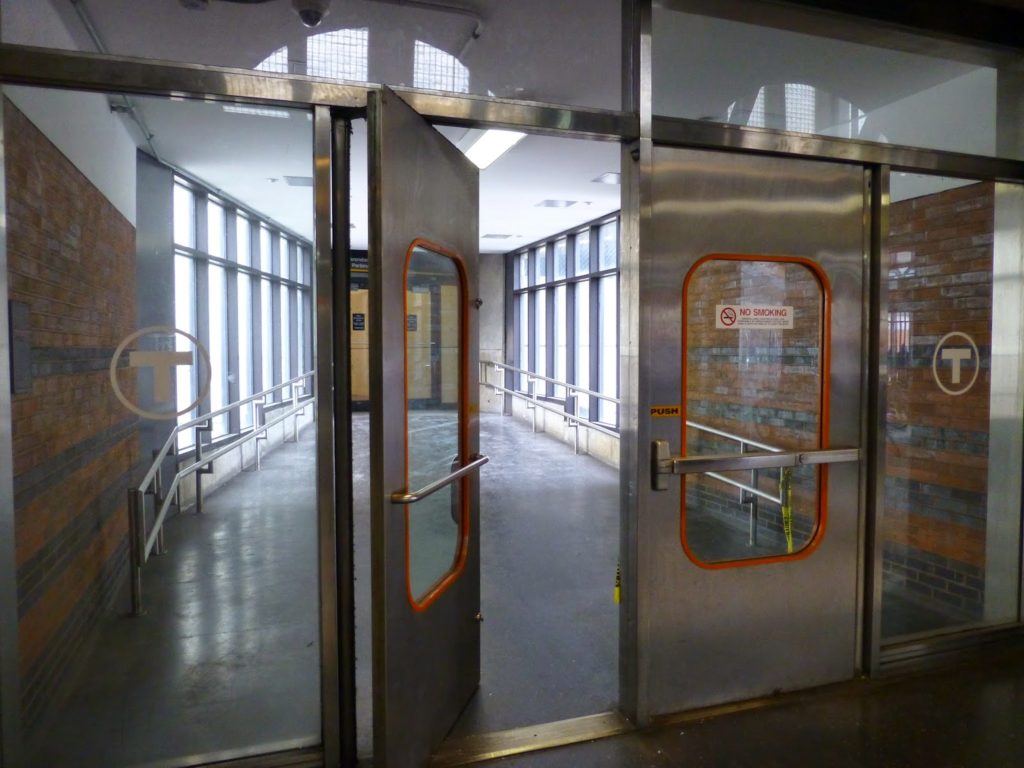 The forlorn entrance to the parking garage.
From this above ground area, there's an exit into a nearby parking garage. It's not an official MBTA garage, but it's nice that the connection is there. The exit is an overpass over Tracks 5 and 7 (you'll be hearing a lot about those later on), but unfortunately, the door to the parking garage was locked. Turns out it's only open on weekdays, which sort of makes sense, but people ride the train on weekends, too! I was here on a Saturday and it was still pretty crowded.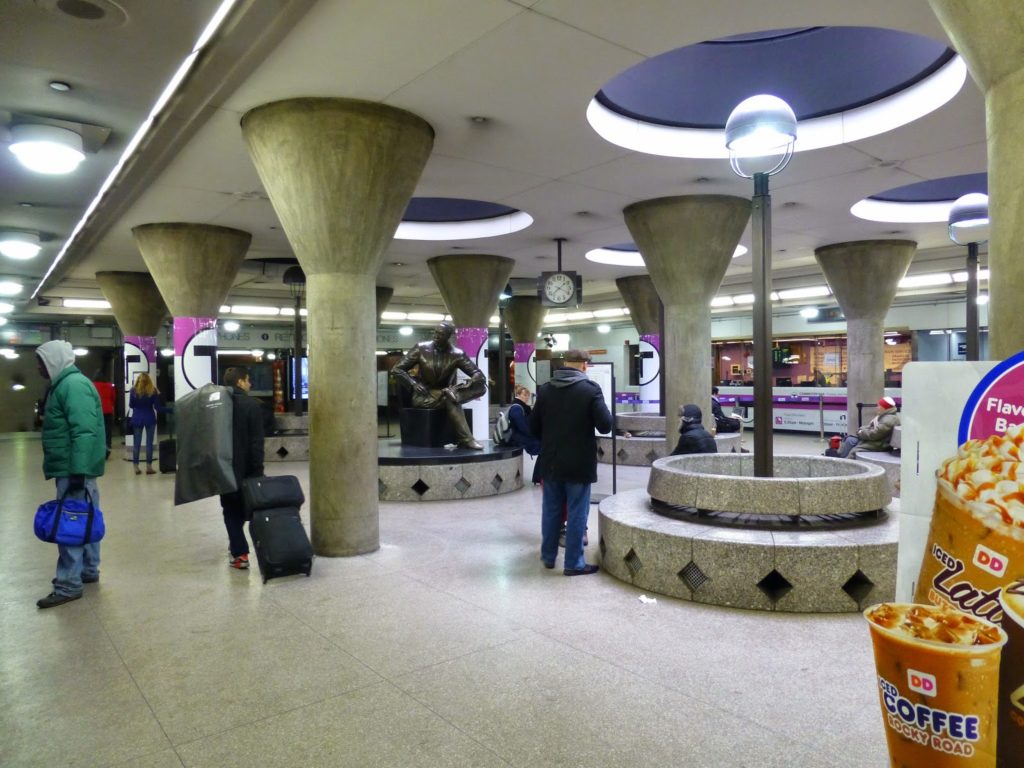 The waiting area.
The waiting area is a pretty nice place. It's very bright, with benches circling around cool-looking lamps. There's also a statue, which doubles as a bench itself. The waiting area includes payphones and bathrooms, which I was sadly unable to visit. Ticket offices run along the wall, and on the other side of the room, there's a Dunkin' Donuts. In fact, this station has two Dunkin' Donuts, on either side of the mezzanine. Overkill, much?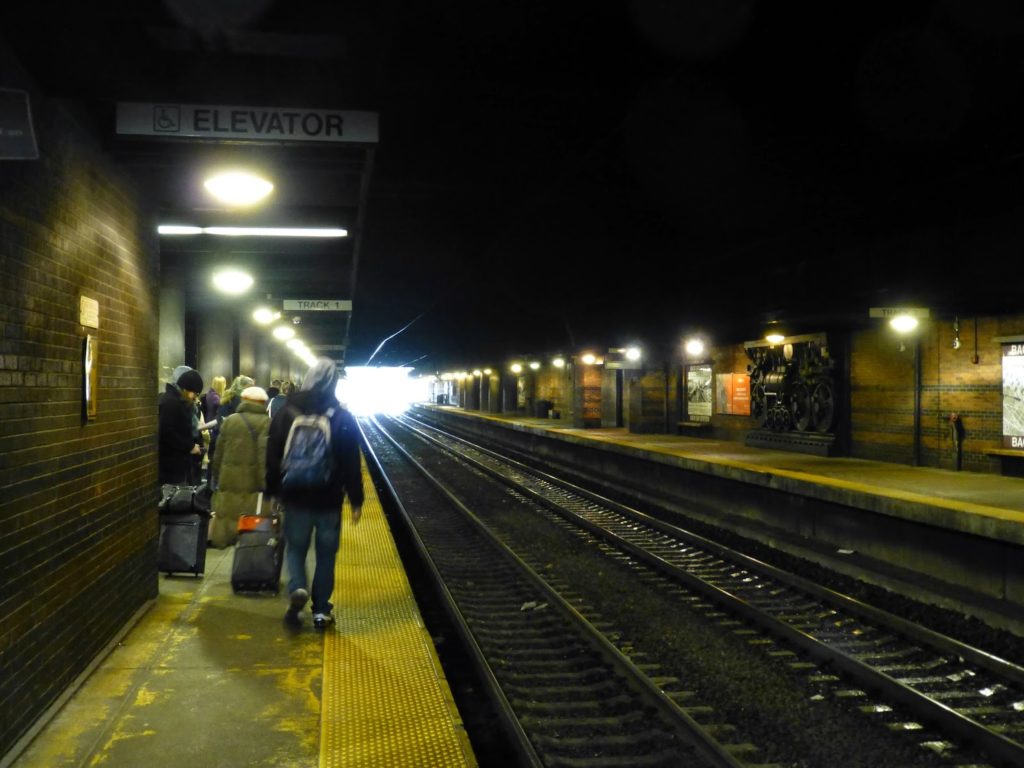 Look how smoggy it is down here on tracks 1-3!
Tracks 1-3 serve the Franklin, Needham, and Providence/Stoughton Lines, as well as Amtrak's Northeast Regional and Acela Express. They have high-floor platforms, though they're pretty dark. Also, they're super-smoggy because of all the diesel fumes that come through this station. Indeed, the air problems are so bad here that people with lung conditions are advised not to use this station. A scientist at the Clean Air Task Force, a nonprofit research group, said that the air quality down here was "some of the worst air quality I've ever measured." Fix the ventilation, MBTA!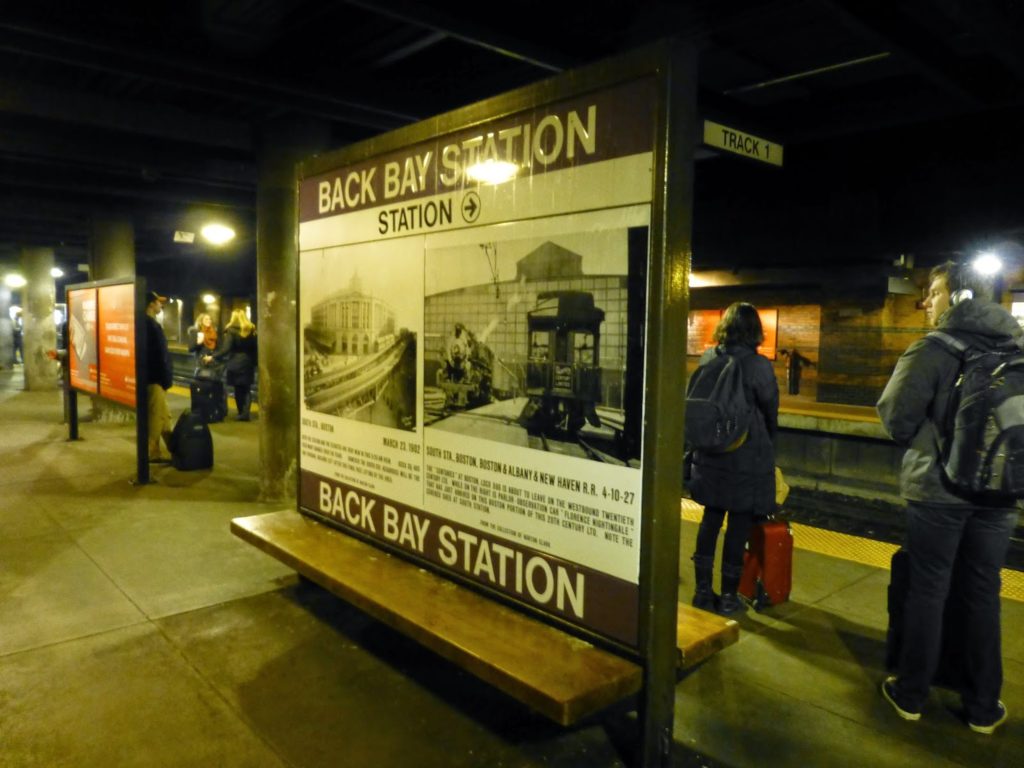 A bench with some historical information on it.
Aside from the darkness and air problems, this platform isn't too bad. It has lots of signs with some really awesome historical images and information. There are also way too many Santander ads, just like in every other part of the station. It's really annoying when a company monopolizes an entire station with their ads.
I love this!
On one of the platforms (I want to say Track 2, but I'm not too sure), there's a cool art piece of the workings of a steam engine (I think). Whatever it is, it looks really cool. It's 3D, with lots of detail in the little gauges and pipes going everywhere. It adds a bit of spice to a mostly gloomy platform.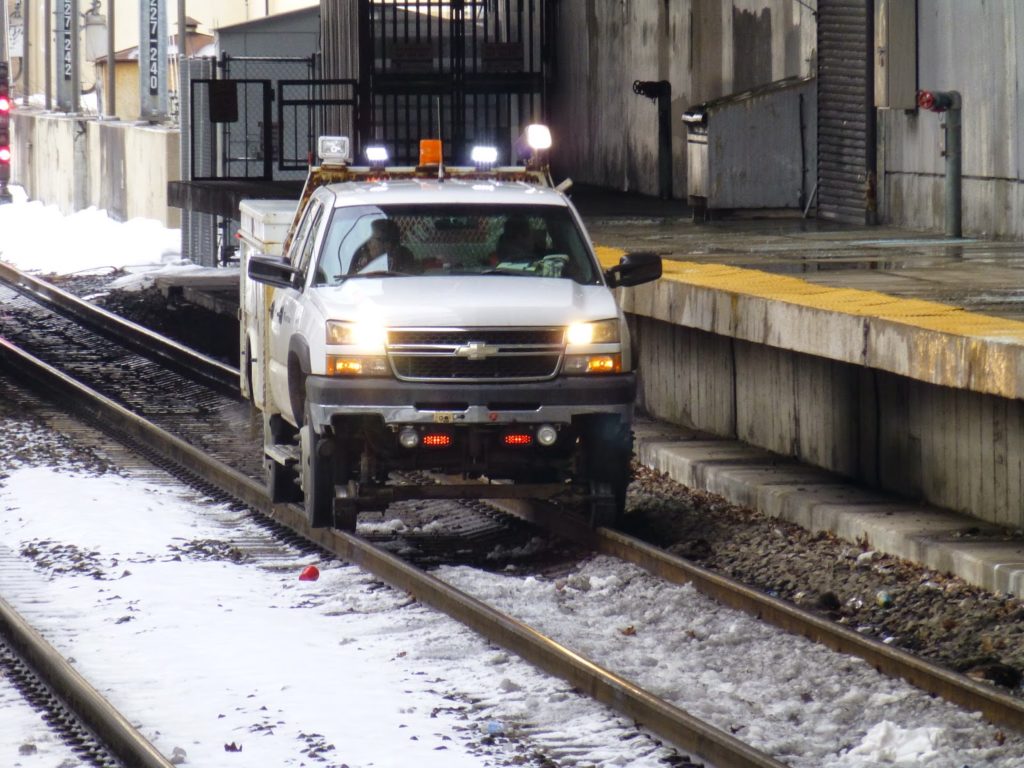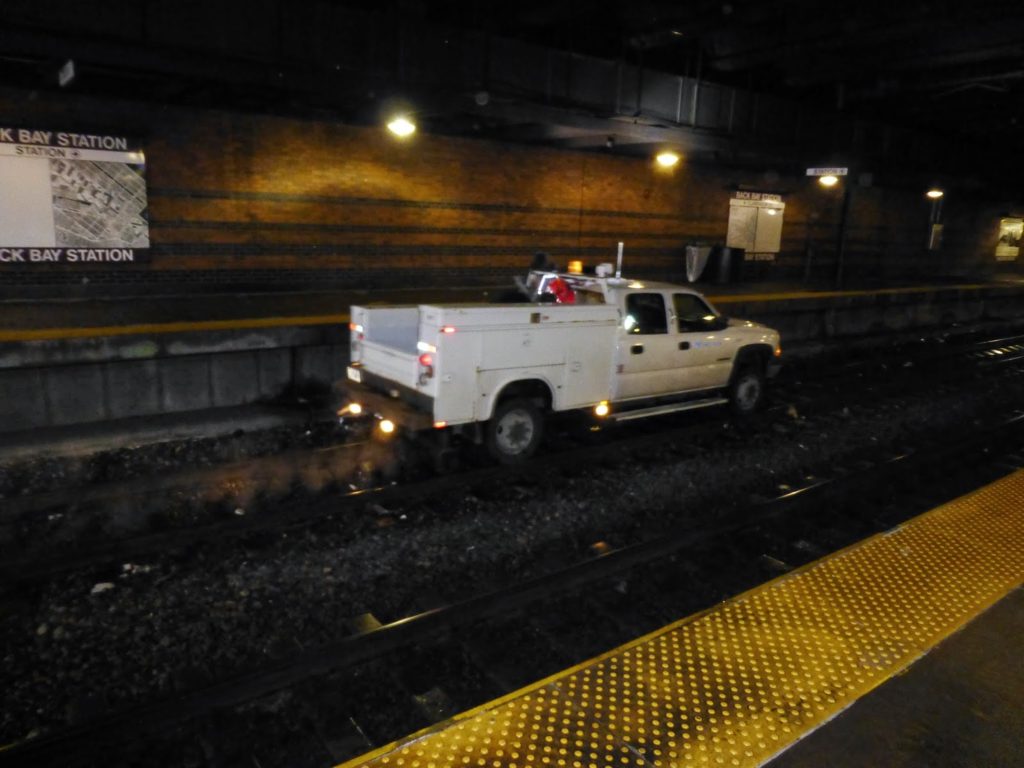 Two shots of a truck that came through the station.
We started walking further down the platform, when a cute little pickup truck came chugging down the tracks! It seemed to have wheels that allowed it to run on train tracks, but it looked really tiny compared to the high platform. What are these trucks actually used for? Leave a comment if you know.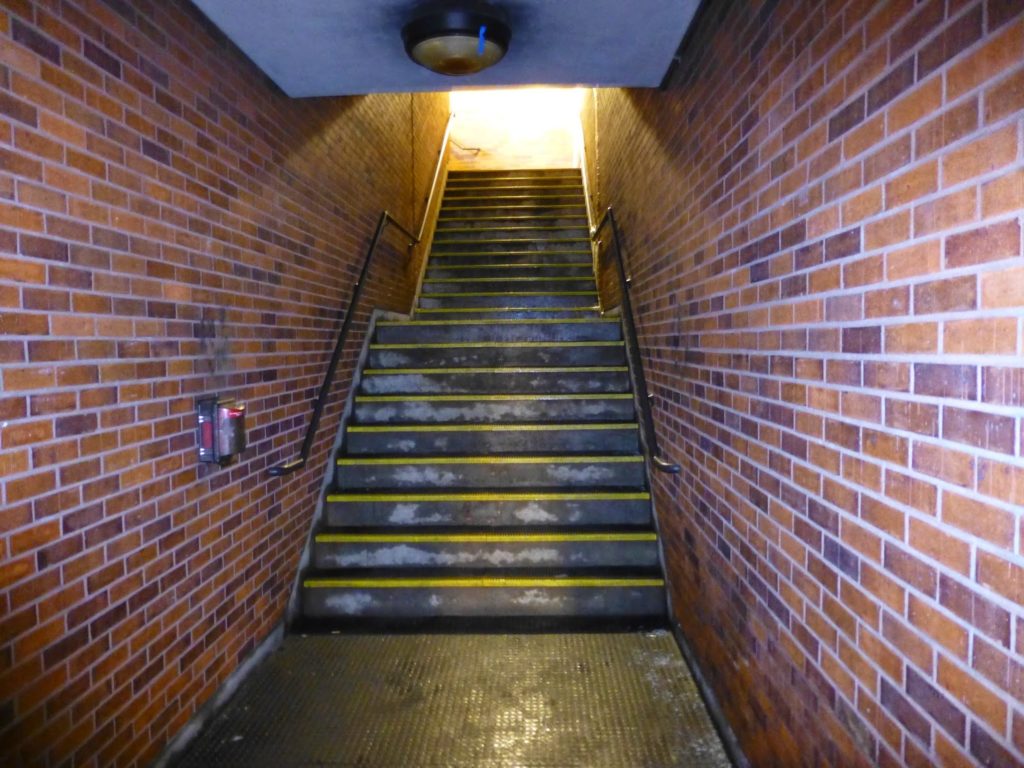 The most disgusting staircase you will ever climb. Note that the flash was on.
We came across a staircase from the platform that led up to Columbus Ave. Let me tell you, this was the grossest staircase I've ever been on. Water dripped from the ceiling constantly, and it was really, really dark. We tried to avoid any liquids when climbing it, but this proved to be impossible, as the whole thing was covered in water or possibly…something else.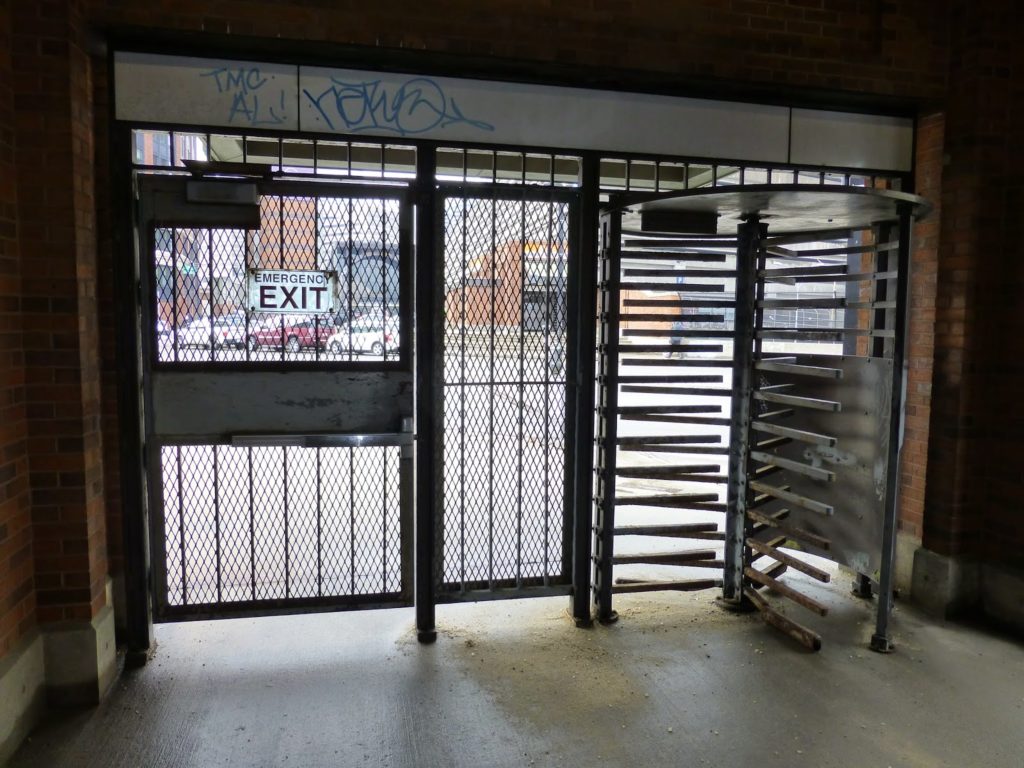 The exit.
It was invigorating to see broad daylight at the top of the stairs. This was exit-only, though, so we didn't want to leave. Indeed, it had a door that said it was an emergency exit, but maybe people are encouraged to use the turnstile next to it to leave. Honestly, though, doors are much more efficient than turnstiles.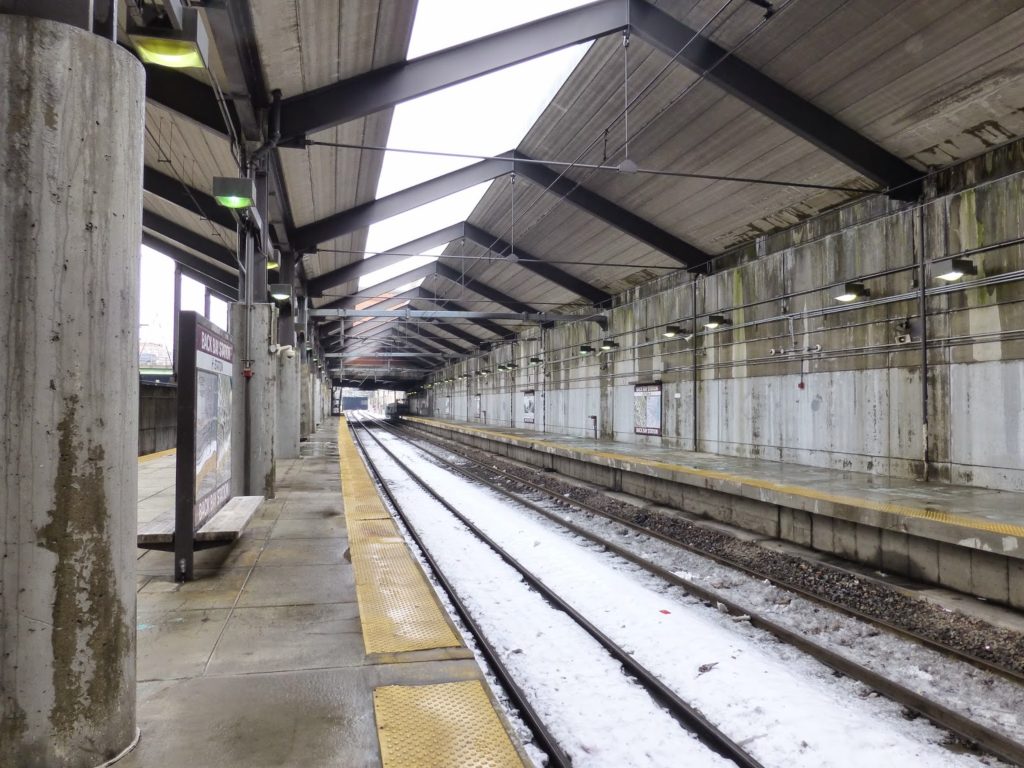 The above-ground bit of the platform.
Eventually the platform goes outdoors. Most of it is still sheltered, though. Honestly, I don't know why they built the platform out this far, since no trains seem to be long enough to stop out here. And there's still historical information out here! It's like a scavenger hunt or something! Something else we found was a pigeon that had been run over by a train, but the picture I took is kinda gross. I guess I won't post it here, then, to respect those who are faint of heart.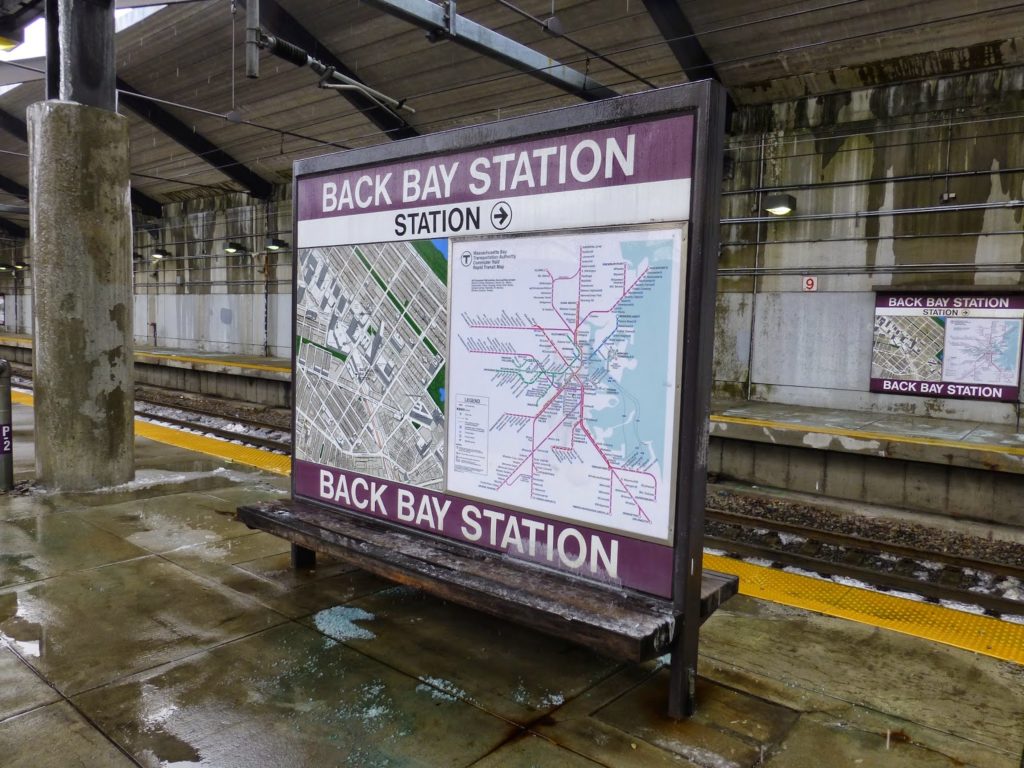 I wouldn't recommend sitting on this bench.
We also came across a bench that I dubbed "monsoon bench." The reason? There was a literal rainstorm of water coming from the ceiling onto this one bench. I don't know why anyone would wait out here, though, since again, the trains don't stop this far up the platform.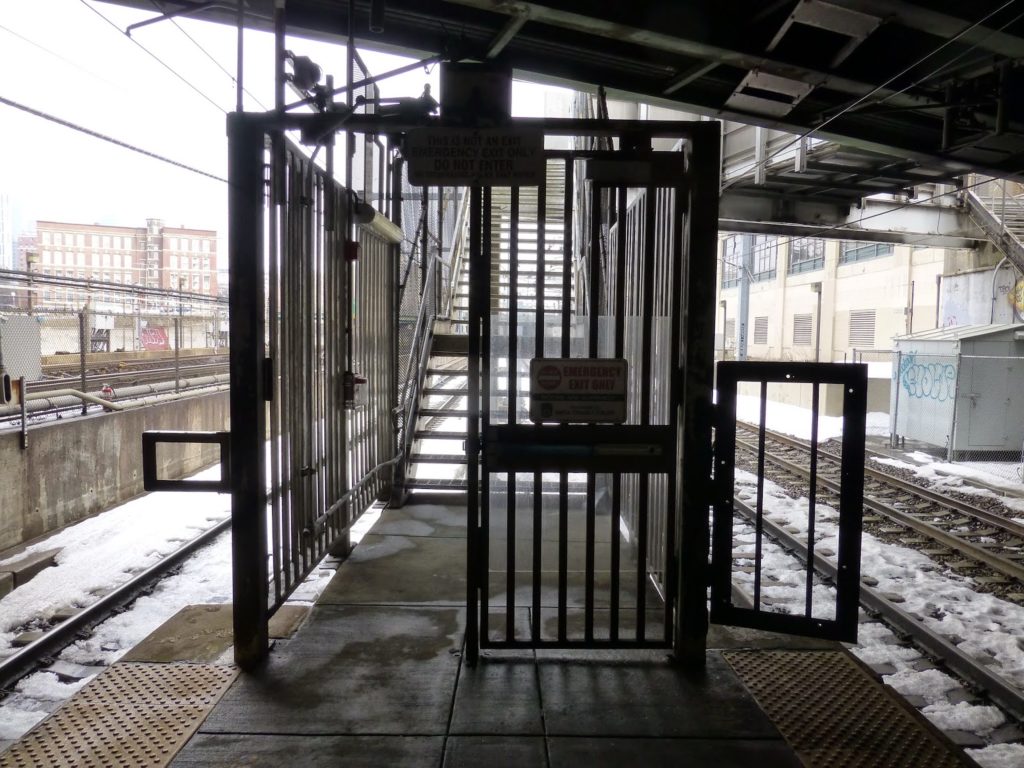 Well, that's…haphazard.
At the very end of the platform, there was an emergency exit staircase. Its door was open, and I really wanted to see what the stairs led to, but there were all these signs saying "police take notice" and stuff like that. I decided to play it safe and not go in.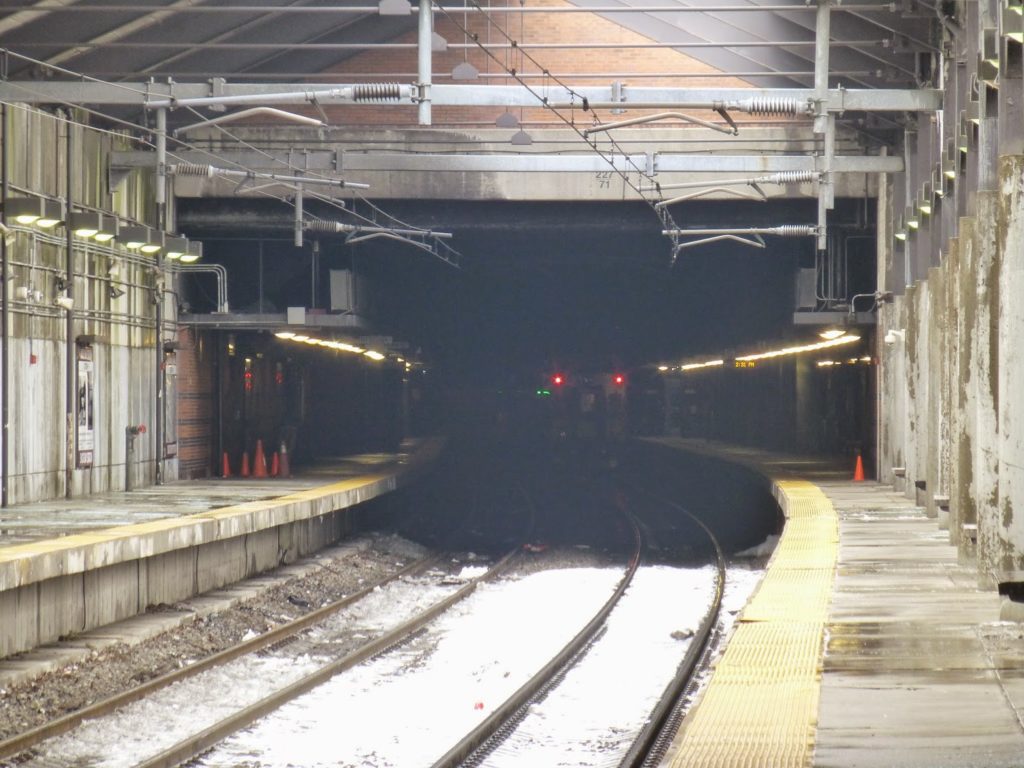 Look how smoggy it is!
On our way back into the tunnel, we had to dodge around some stuff that looked like a big pile of bird poop or something. We also had to duck around a pipe that was simply spewing out water. I guess the MBTA doesn't bother to fix this part of the platform because there's no point in waiting out here.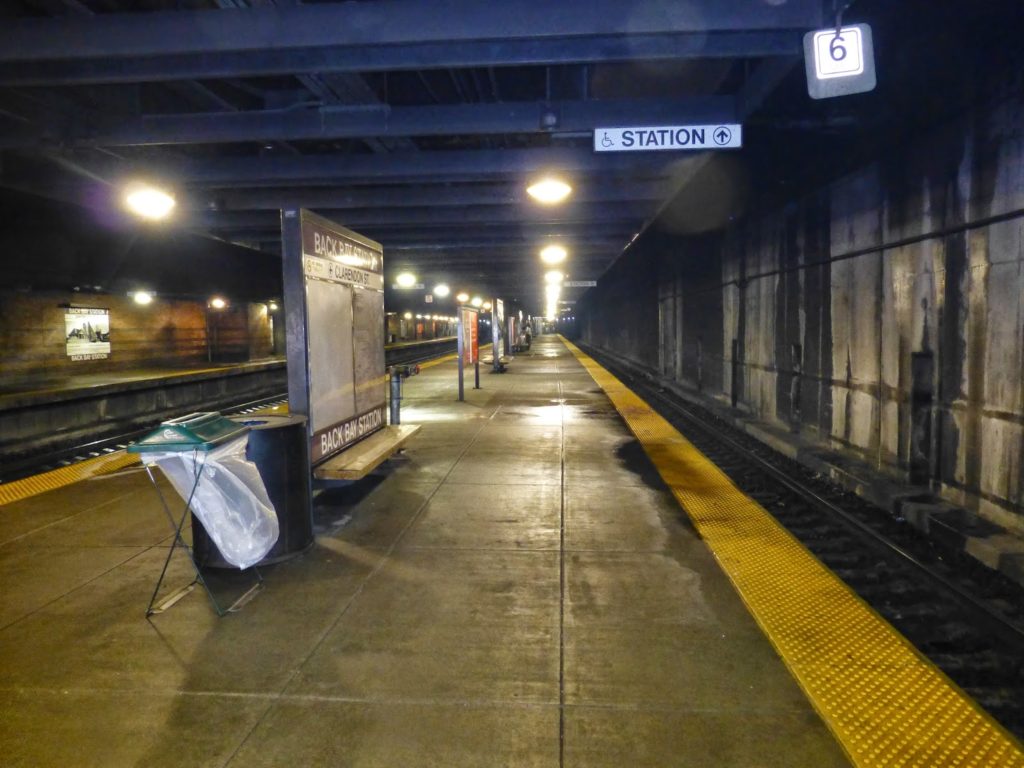 A better picture of the platform.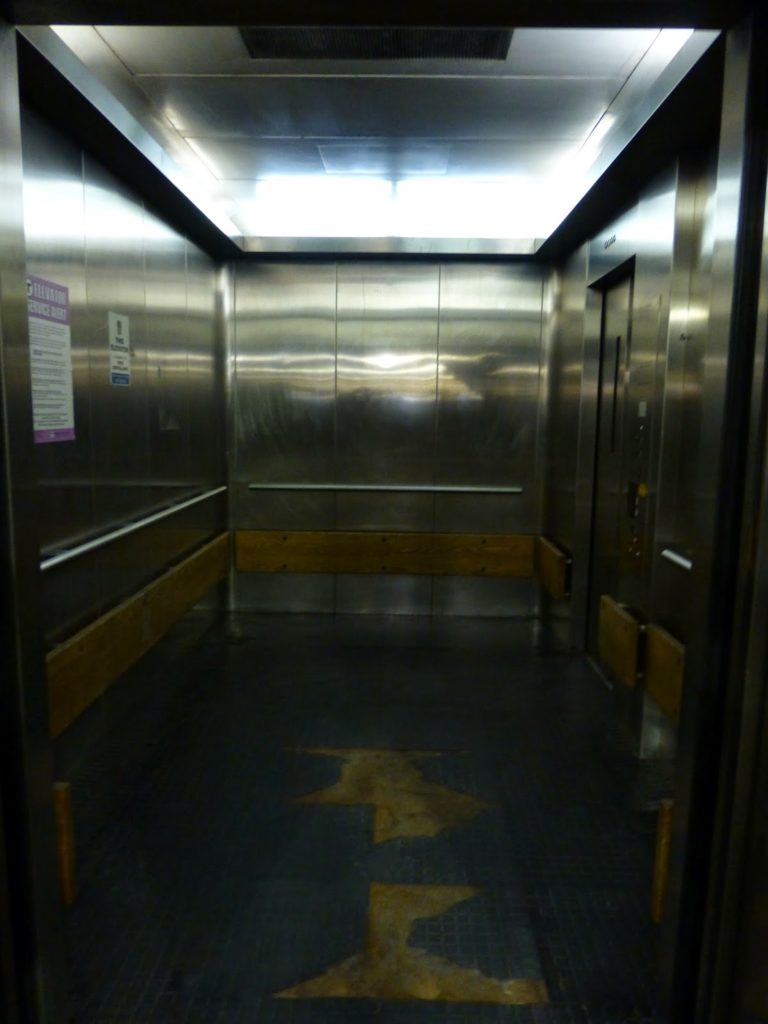 Inside the elevator.
The elevator was surprisingly smell-free. It was fairly clean, but the floor seemed to be a bit exposed. It was also a really slow ride, but overall, I was surprised by the cleanliness of the elevator. Okay, mostly the fact that it didn't have a smell. Seriously, how is that possible? This is the MBTA!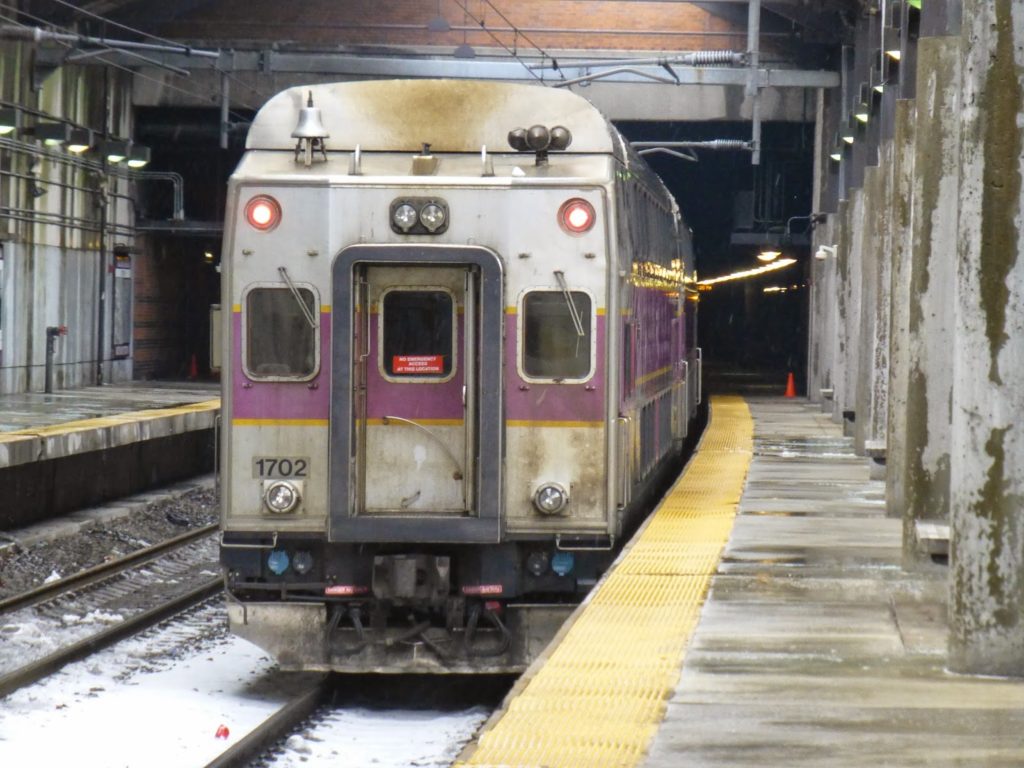 A train heading toward South Station.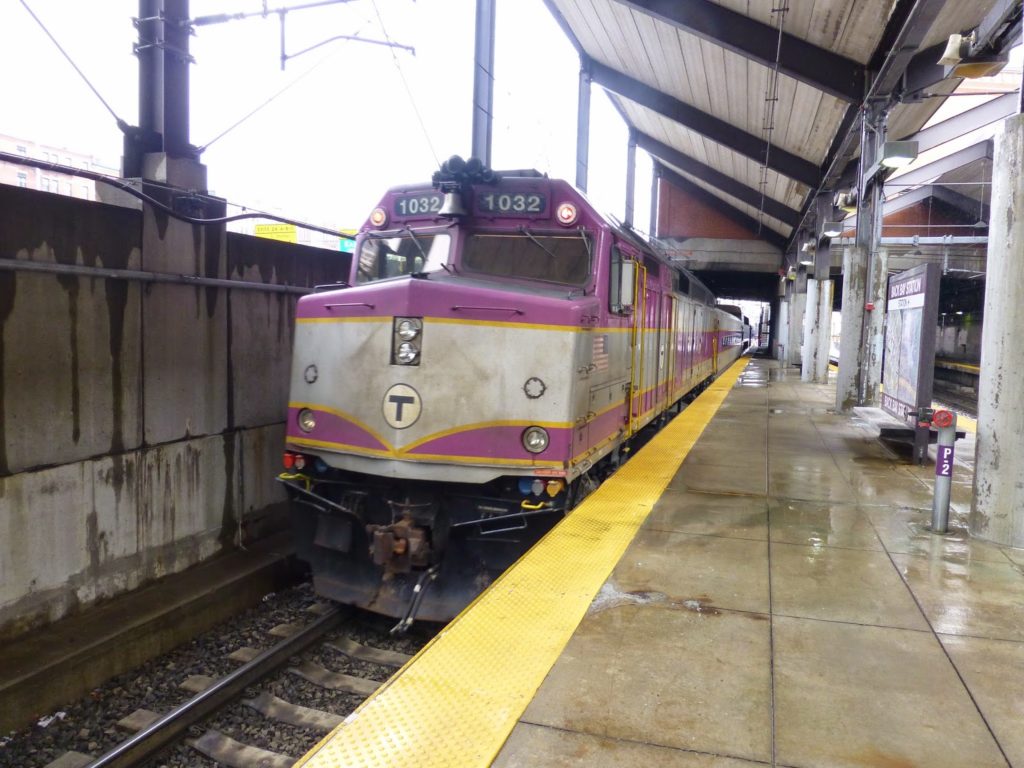 Another train.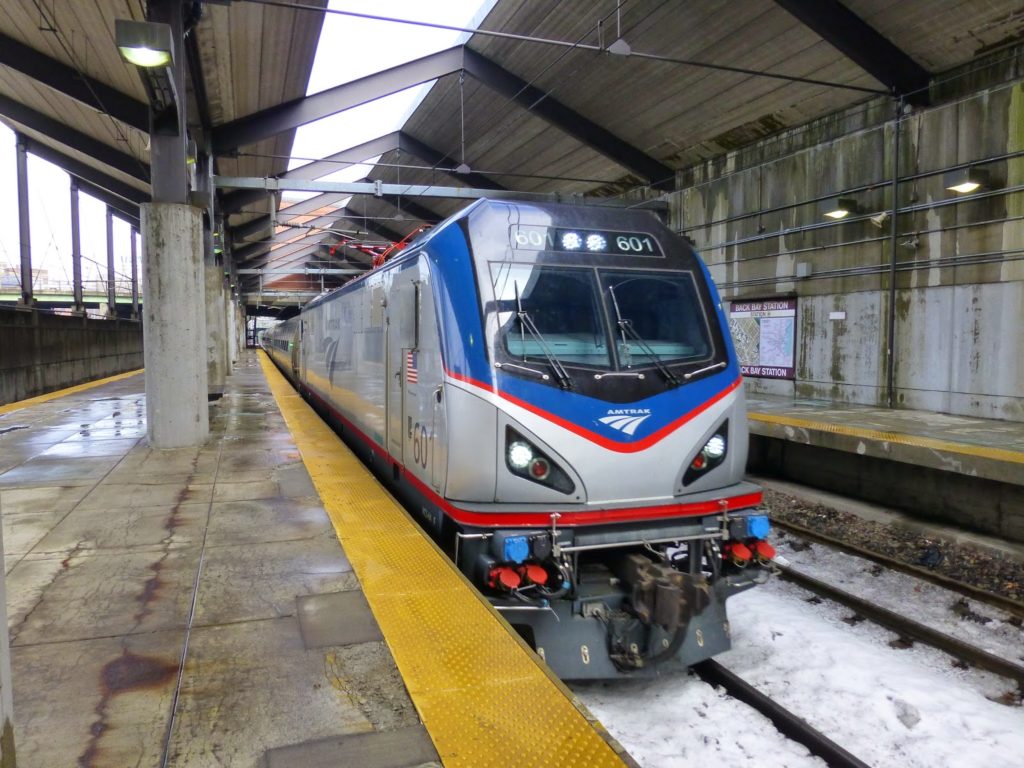 Cool, an Amtrak!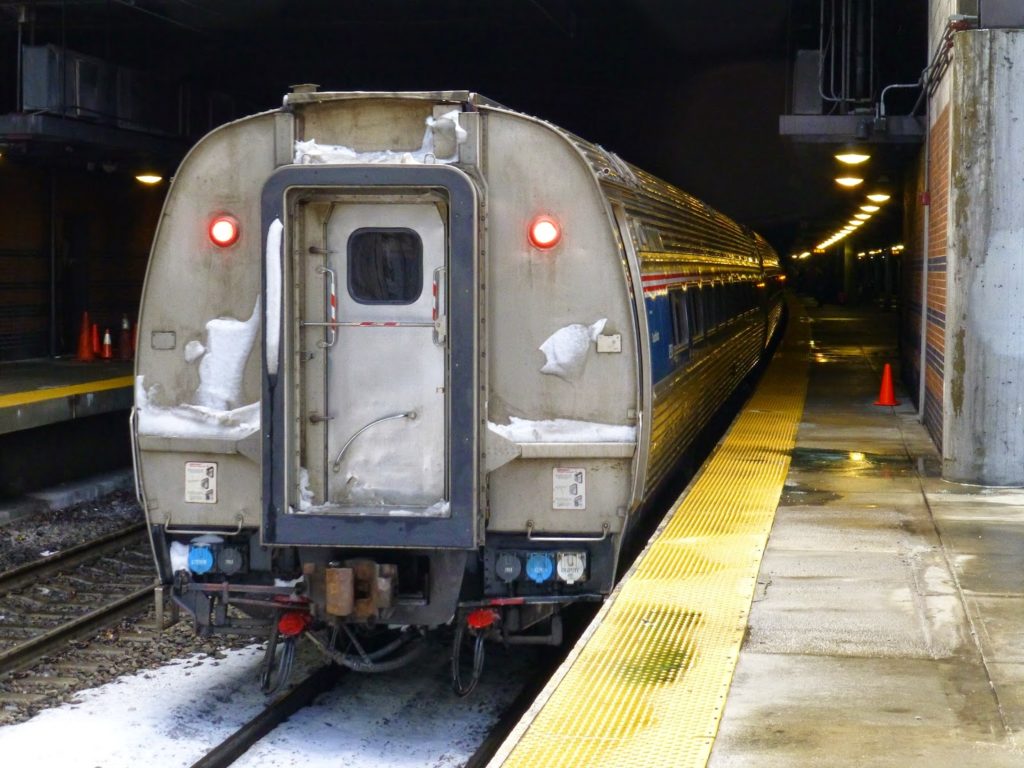 The back of the Amtrak train,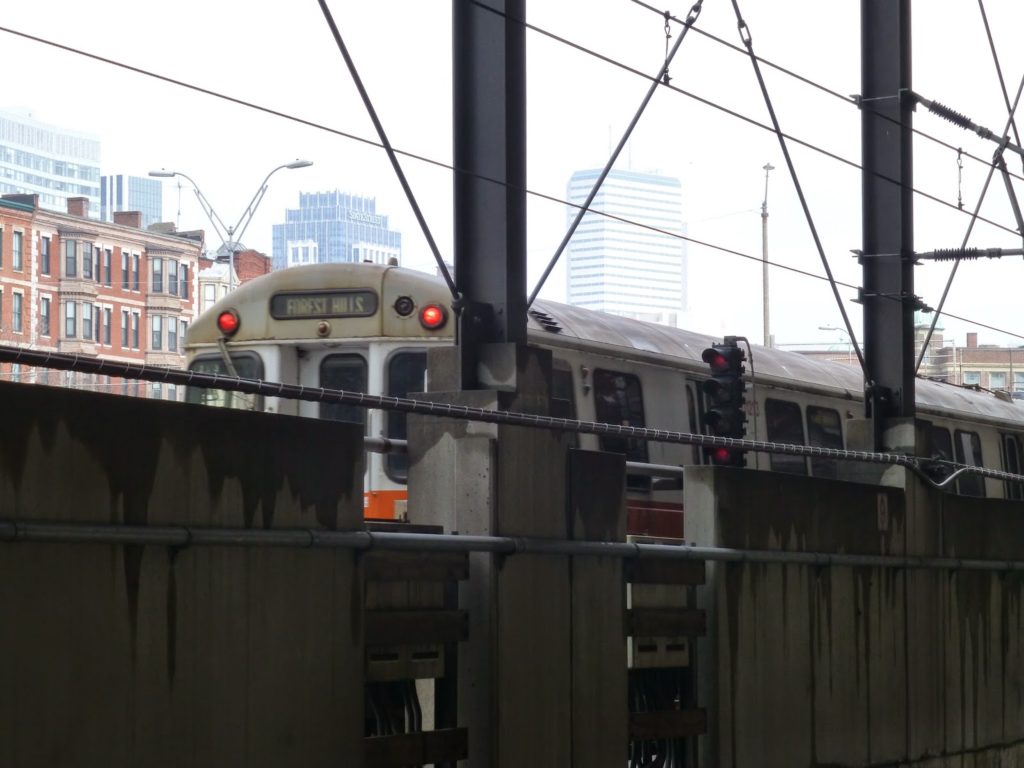 You can see the Orange Line trains going by from this platform, too.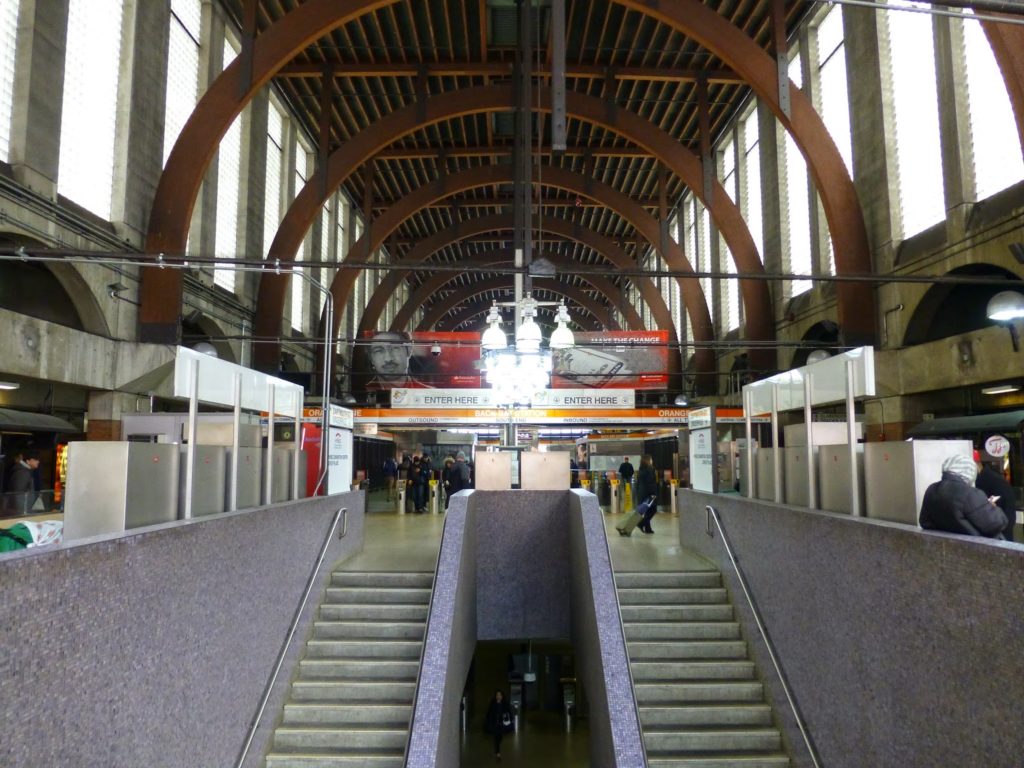 Looking down the mezzanine at the Orange Line entrances.
Chronologically, we went to the Orange Line platform last, but I'm gonna talk about that before I talk about the horrors of tracks 5-7. There are two ways to get into the Orange Line – the first is from the mezzanine itself, and the second is down by the Dartmouth Street Underpass (which I wasn't able to see). Heading in through the mezzanine, there's some nice art hanging above the stairs.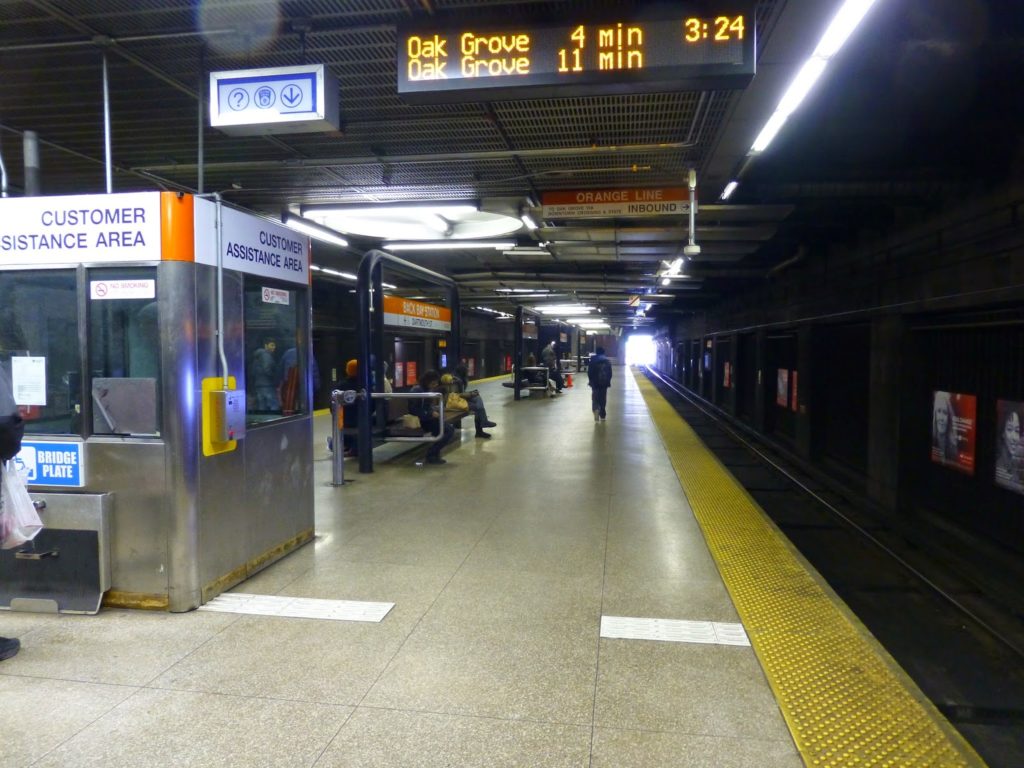 The platform.
The Orange Line platform is actually pretty nice. It was very clean, though once again completely dominated by Santander ads. Even though one side of the station is above ground, it does feel like a subway station. It even has some pointless televisions on the wall! The only thing I don't like about this platform is the ceiling, which is kinda ugly.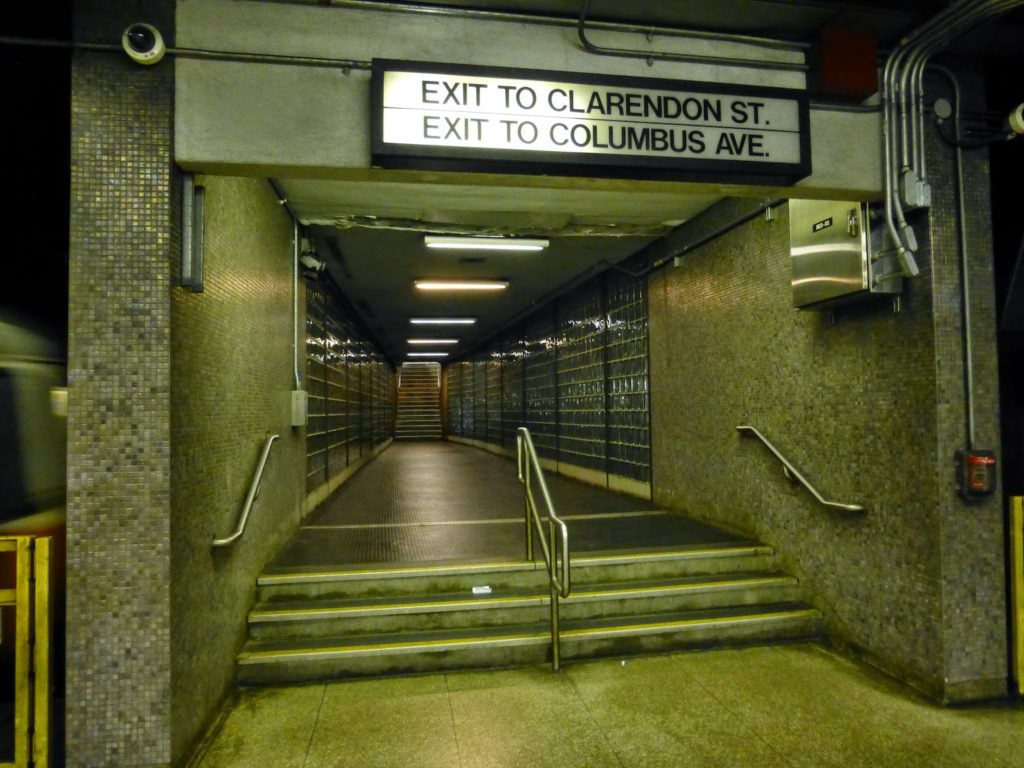 The exit-only hallway to Clarendon Street and Columbus Ave.
On one end of the station, there's an exit that leads to the intersection of Clarendon Street and Columbus Ave. The hallway itself is nice, with little glass squares on either side. The exit is more or less the same as the Commuter Rail exit, except with two sides. There's still the turnstile and door that says "Emergency exit," for some reason.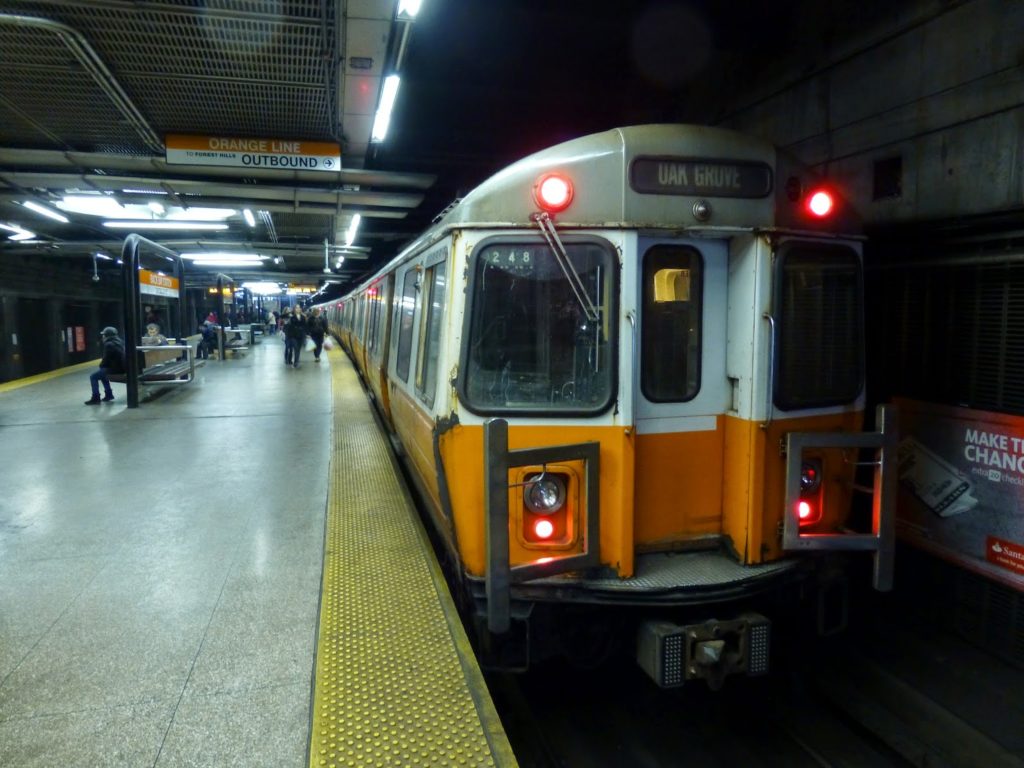 A train on the platform.
Okay, now it's time to go to Tracks 5 and 7. This station has been all right thus far, but wait until we get down to this platform. It's horrid. It's disgusting. It's dark. It is the dingiest, scariest place I've ever been to on the entire MBTA. Okay, here we go.
Enter…if you dare.
Tracks 5 and 7 serve the Framingham/Worcester Line, as well as Amtrak's daily Lake Shore Limited to Chicago. The entrance to the platform is fairly unassuming, with the same architecture as the rest of the mezzanine. It has a little departure board for Commuter Rail trains outside, as well as a Framingham/Worcester Line schedule.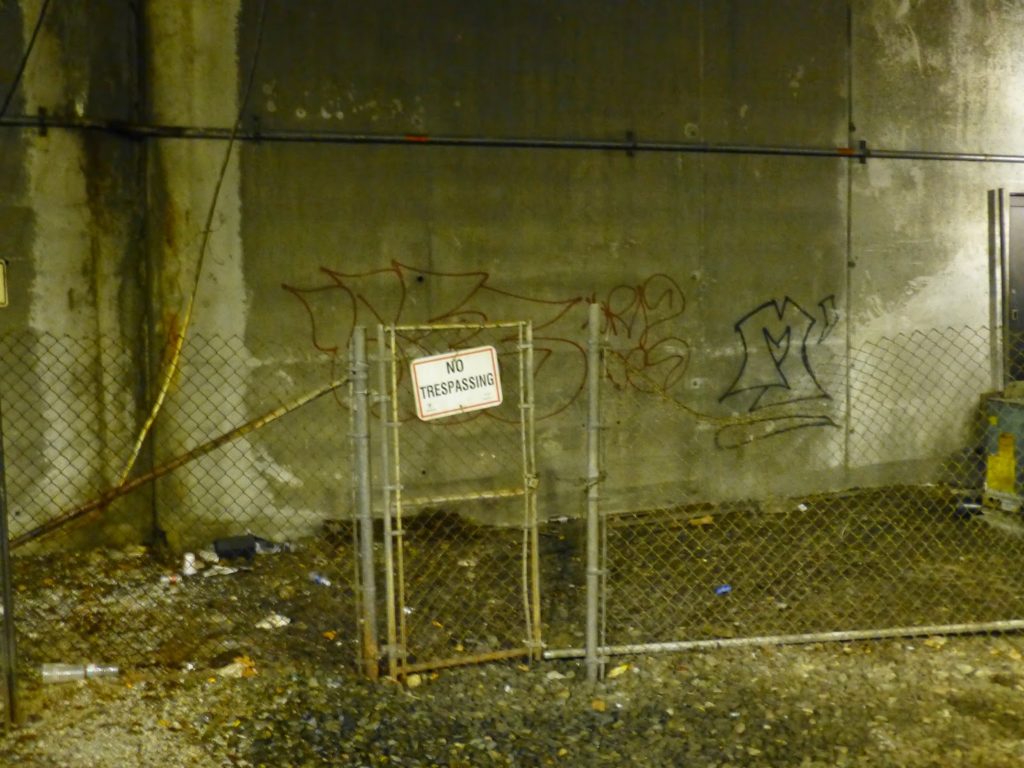 This was the first thing I saw in the platform. Great first impression…
At the bottom of the staircase, the ceiling and wall paint was peeling off. And then we actually entered the platform. Well, for one thing, it was extremely dark at that entrance. I used flash in a lot of these pictures, so just take my word that it was really, really dark.
Heading toward the light.
This station has a smaller above ground section, and it's as useless as the one back on Track 1. There were a few benches out there, but no one would have reason to wait in that section. Also, we found some…poop. Dog or human? We had no idea.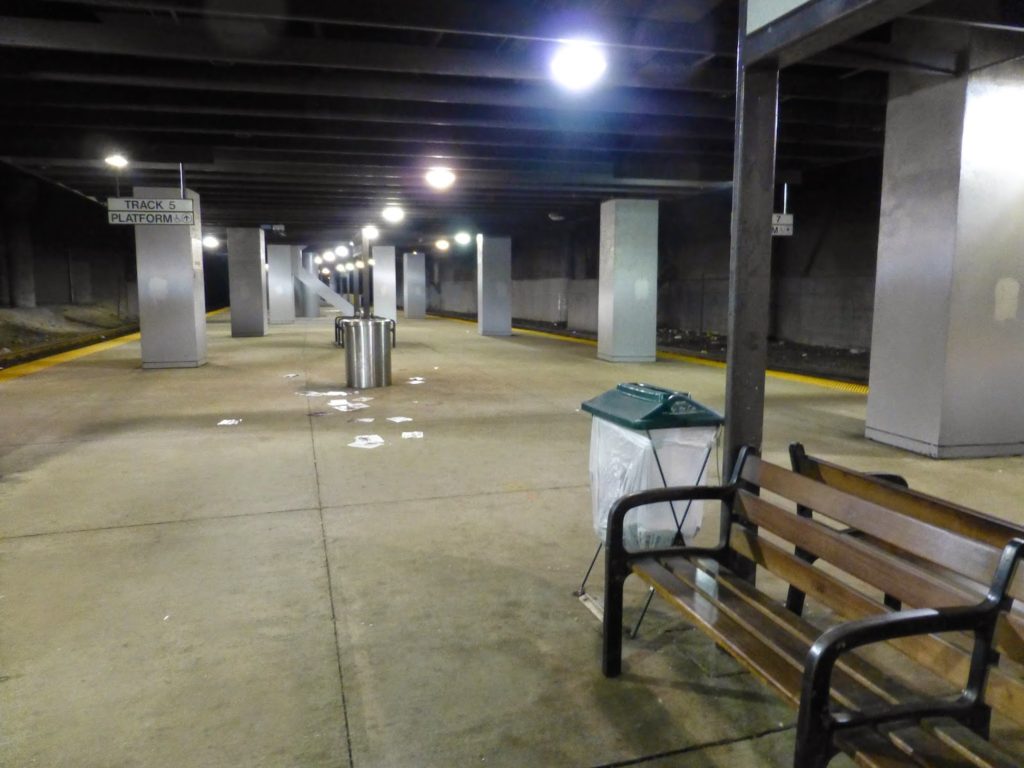 Well, at least it's brighter over here.
The platform got brighter in the middle. It did have a wastebasket and a recycling bin, as well as a bunch of papers strewn about the floor. There was an interesting pillar formation in the middle of the platform, with a random diagonal support that didn't seem to serve much of a purpose.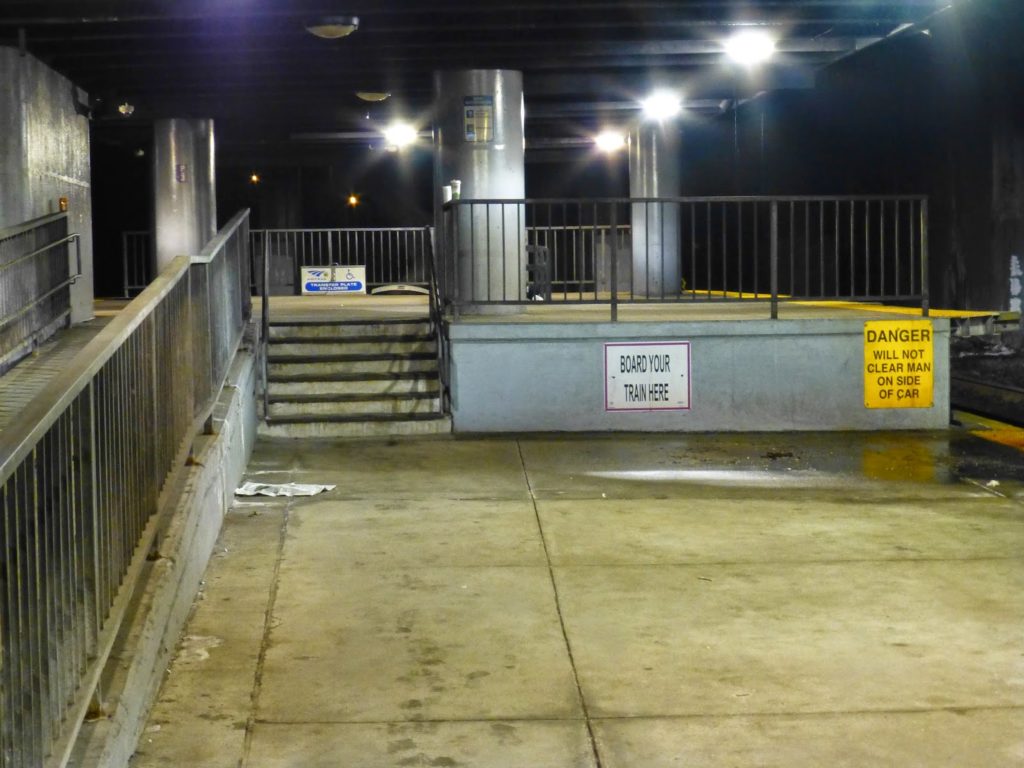 The boarding area.
Most of the platform is low-level, but there's a mini-high at the far end of the platform. Gee, MBTA, thanks for making everyone walk even deeper into Poor Air Quality Land. It's just as gross and disgusting as the rest of the platform, and there was a bunch of trash stuffed under the one bench in the boarding area.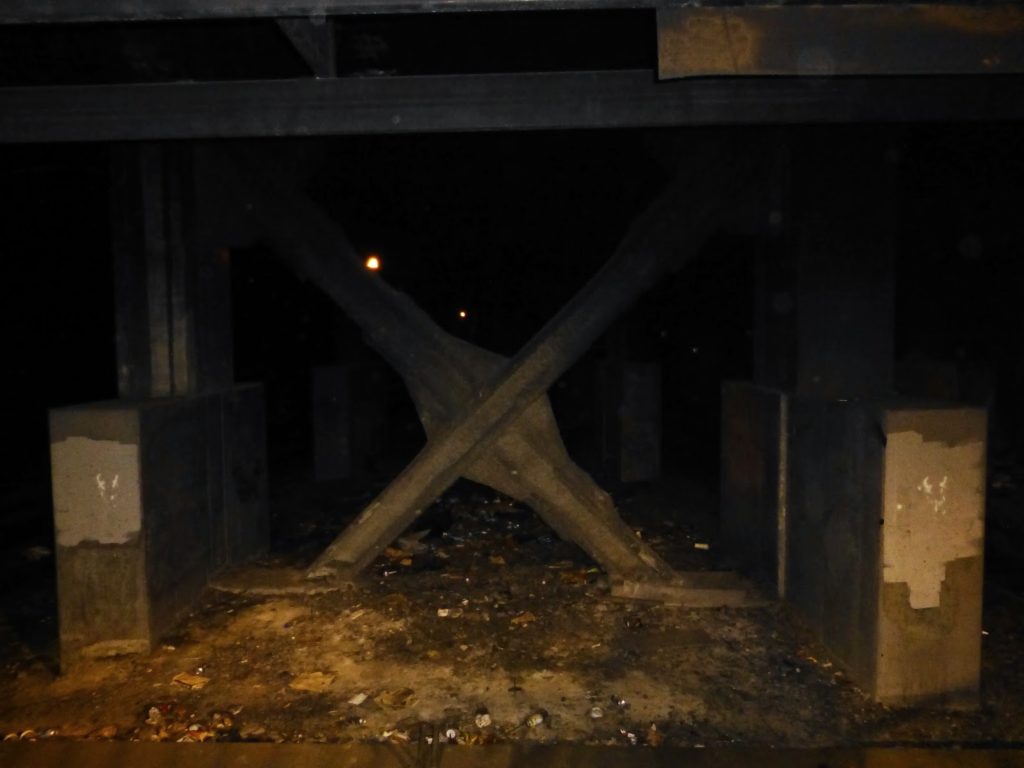 The bowels of the tunnel.
Past the waiting area, the dark, creepy tunnel continued past an "x" of supports. Beyond that was a whole bunch of trash on the floor and then darkness. We theorized that there have been a lot of wild parties thrown at this part of the station. But really, just standing there and looking into the tunnel was really, really scary, not just because of the darkness, but also these noises of water dripping from the ceiling and who knows what else. And speaking of scary things, here's the other crazy stuff we found on this platform!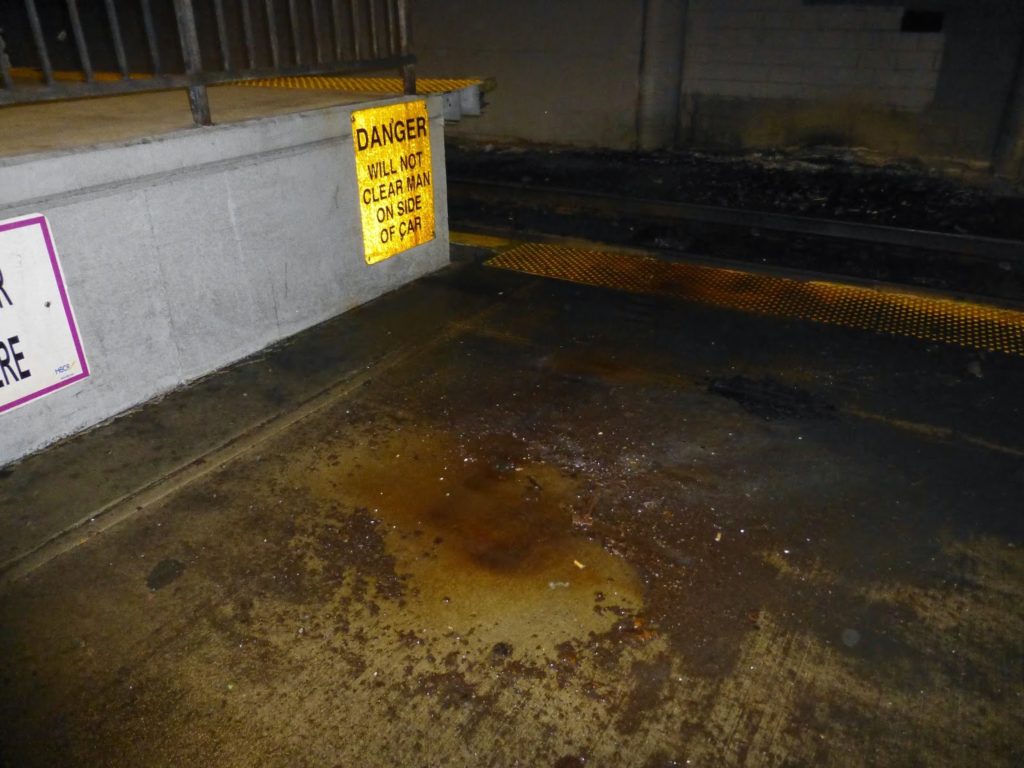 There was some sort of weird liquid there…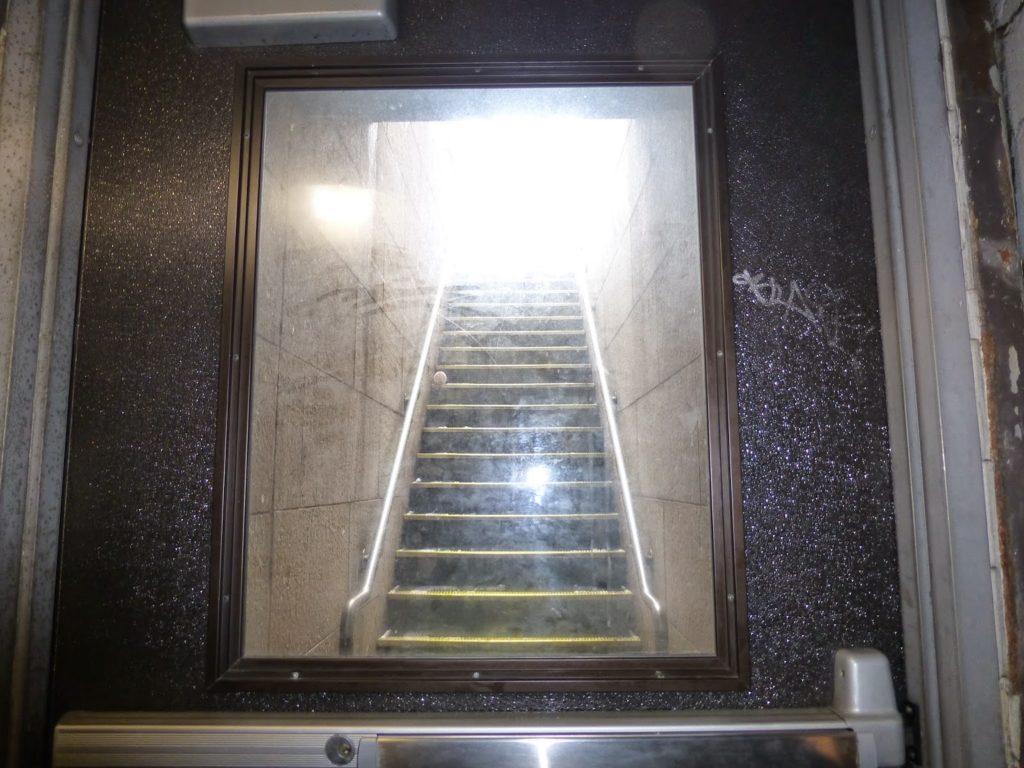 Look! Daylight!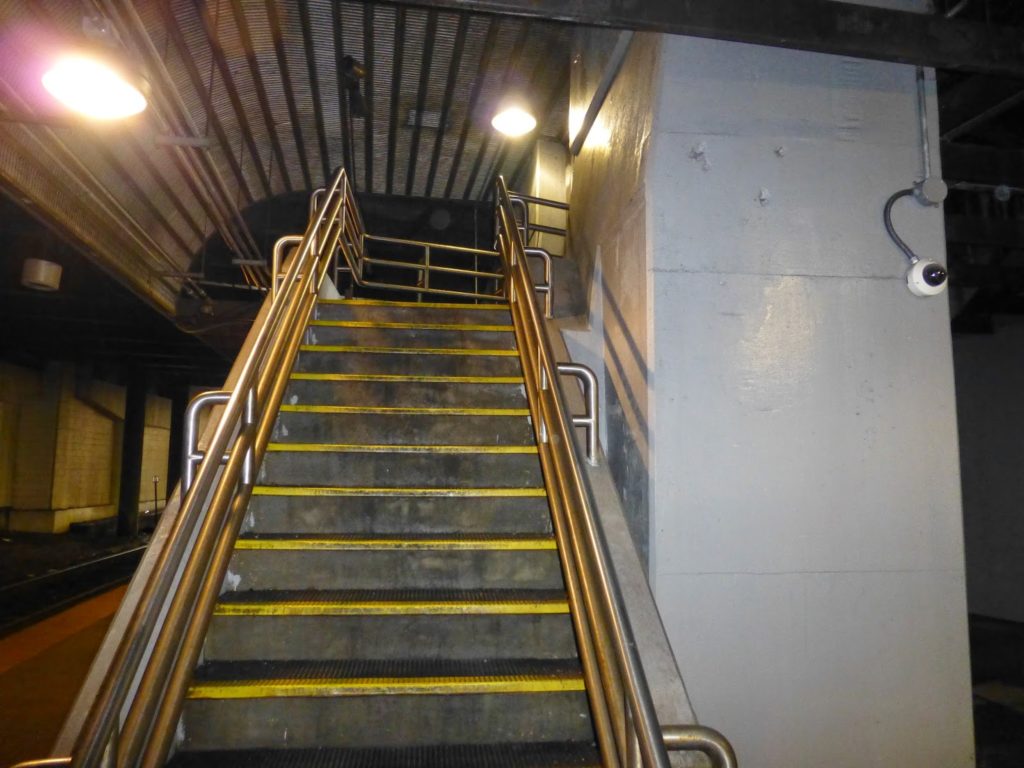 The staircase that led to that above door. I believe it's exit only.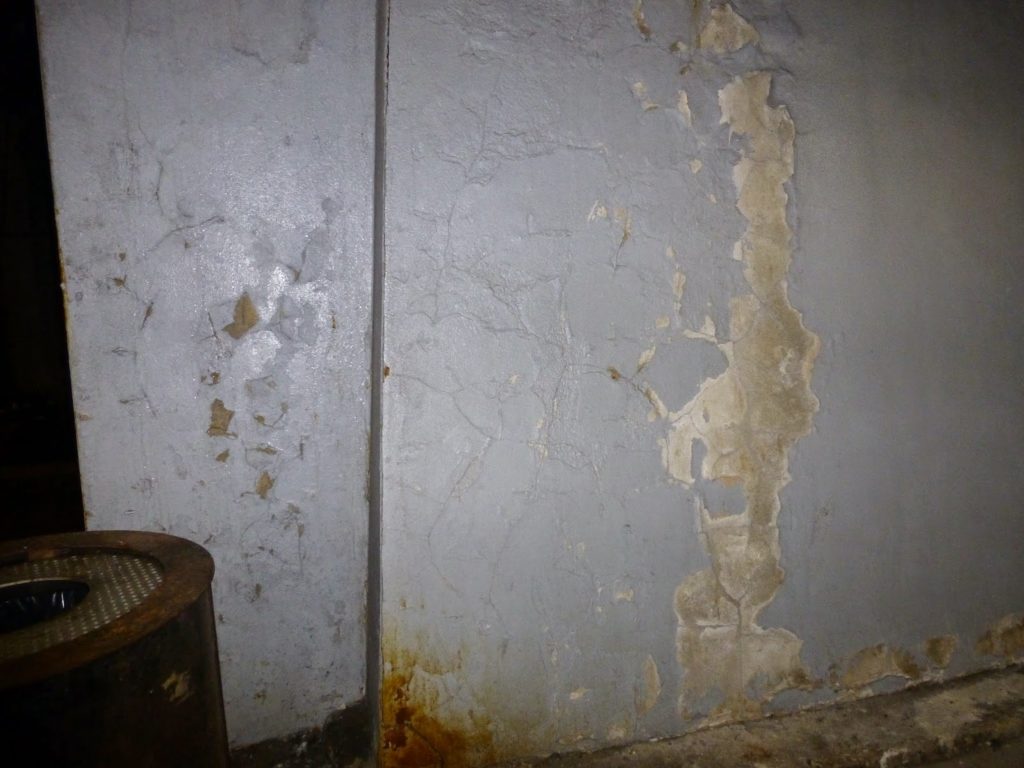 This wall is in dire need of some repainting.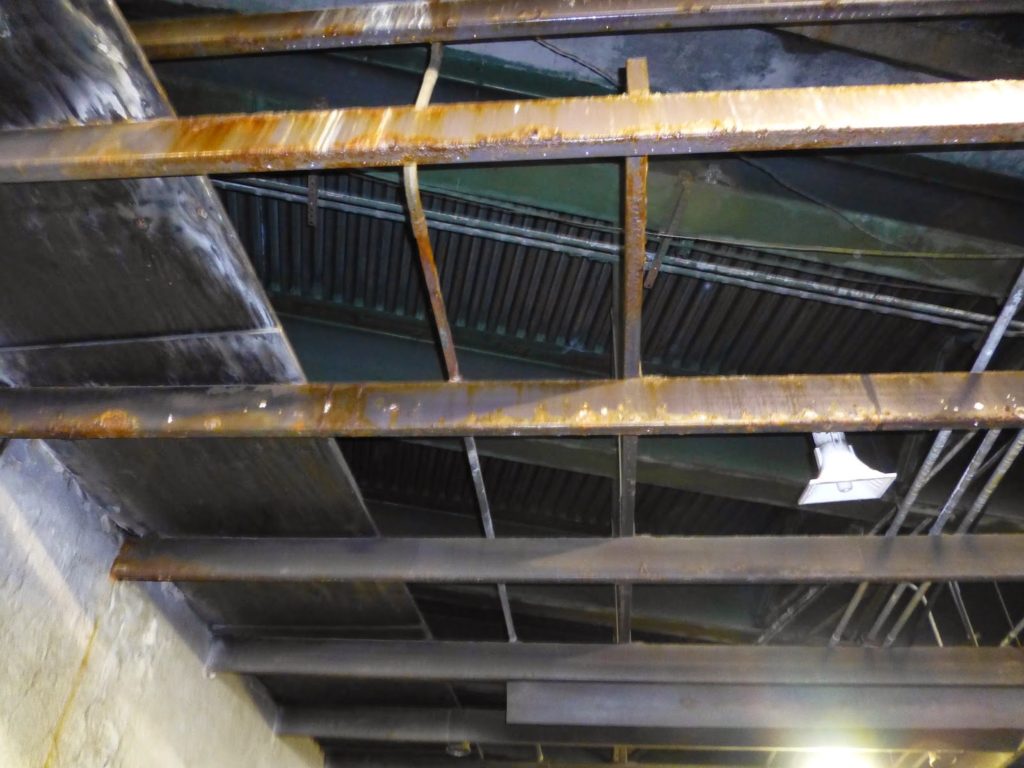 That is a really disgusting roof.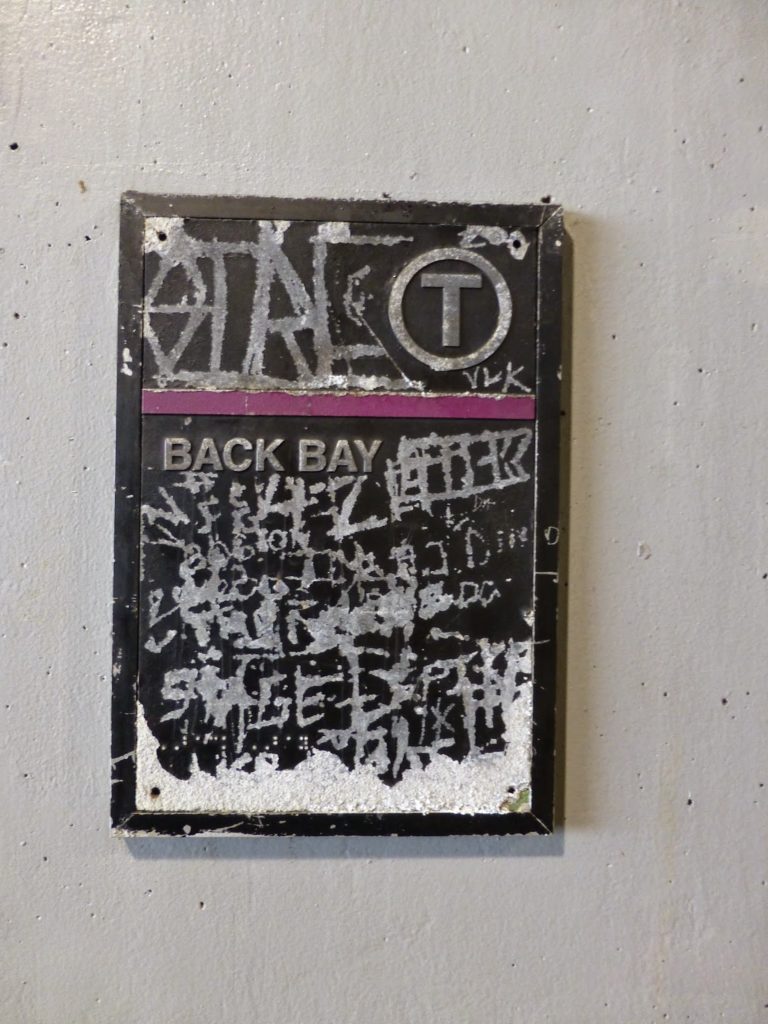 This sign has seen a bit of vandalism over the years.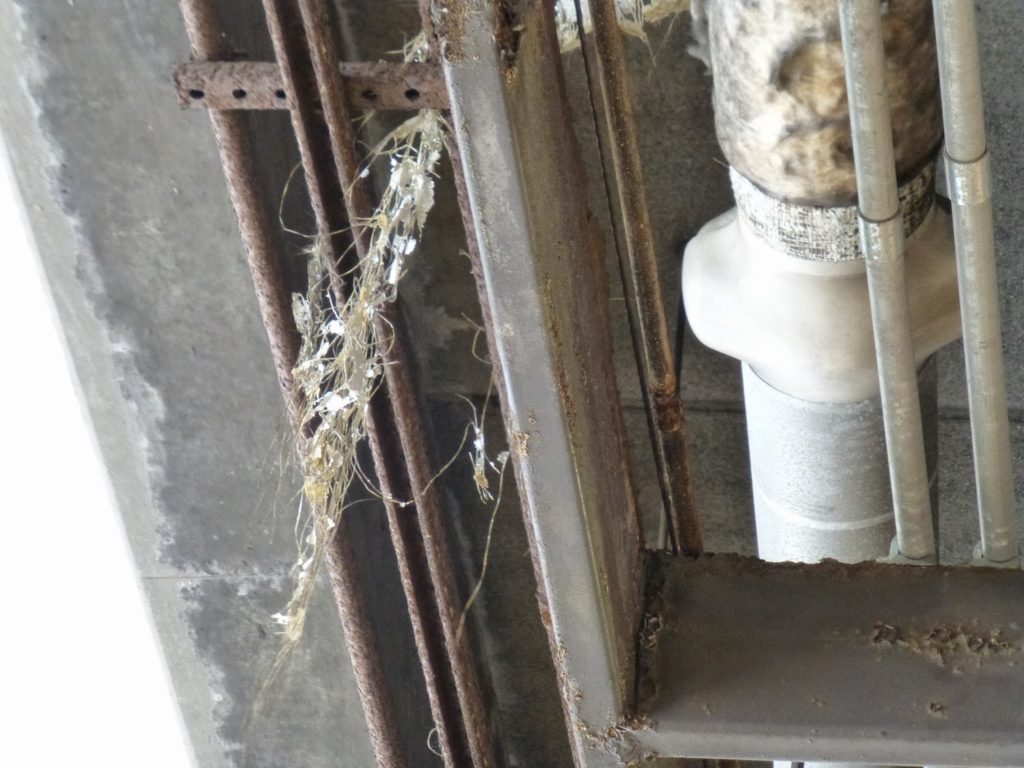 No idea what that thing hanging down is…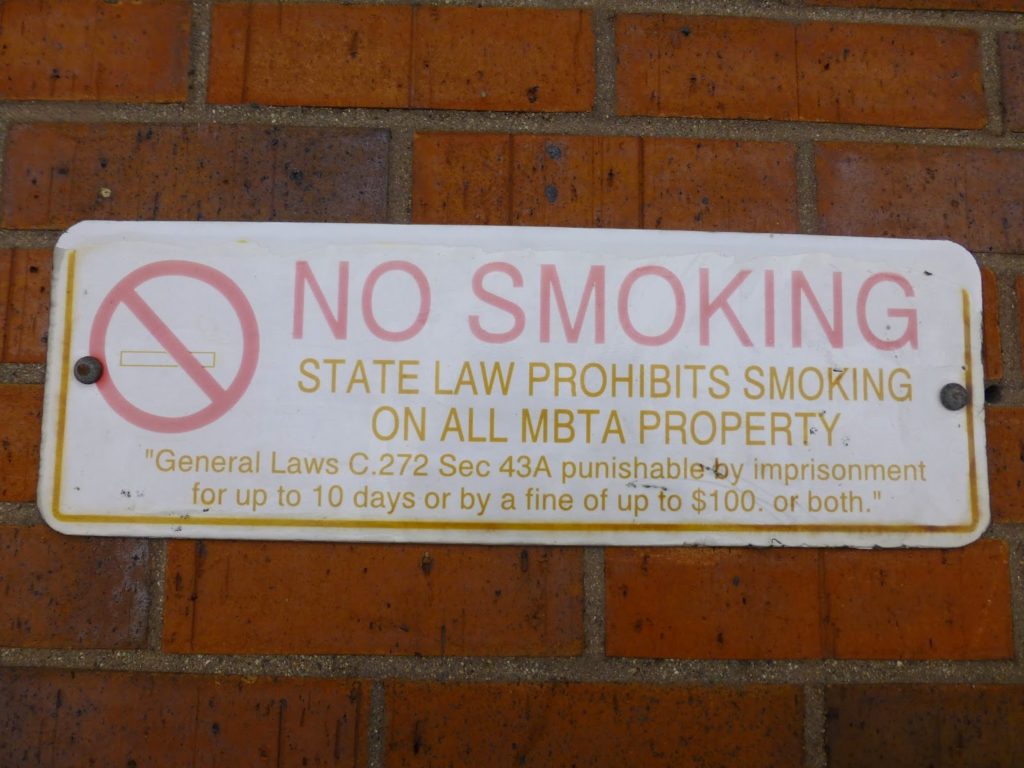 Pshh, down here? How many people do you think follow that rule?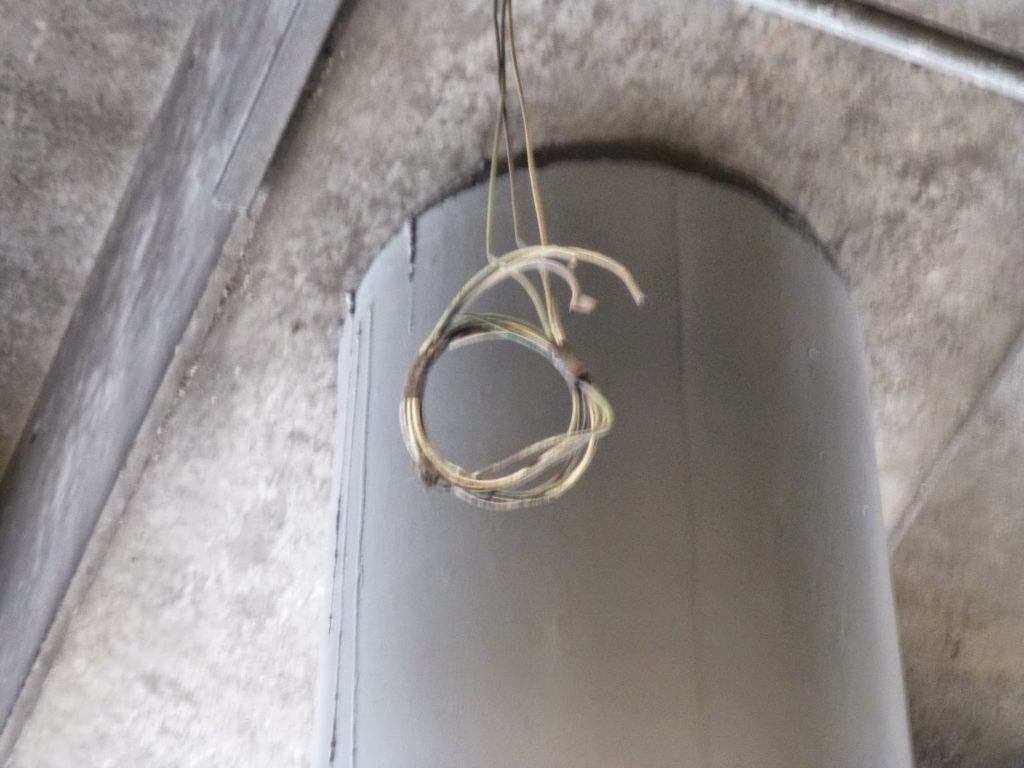 Some random wire hanging down.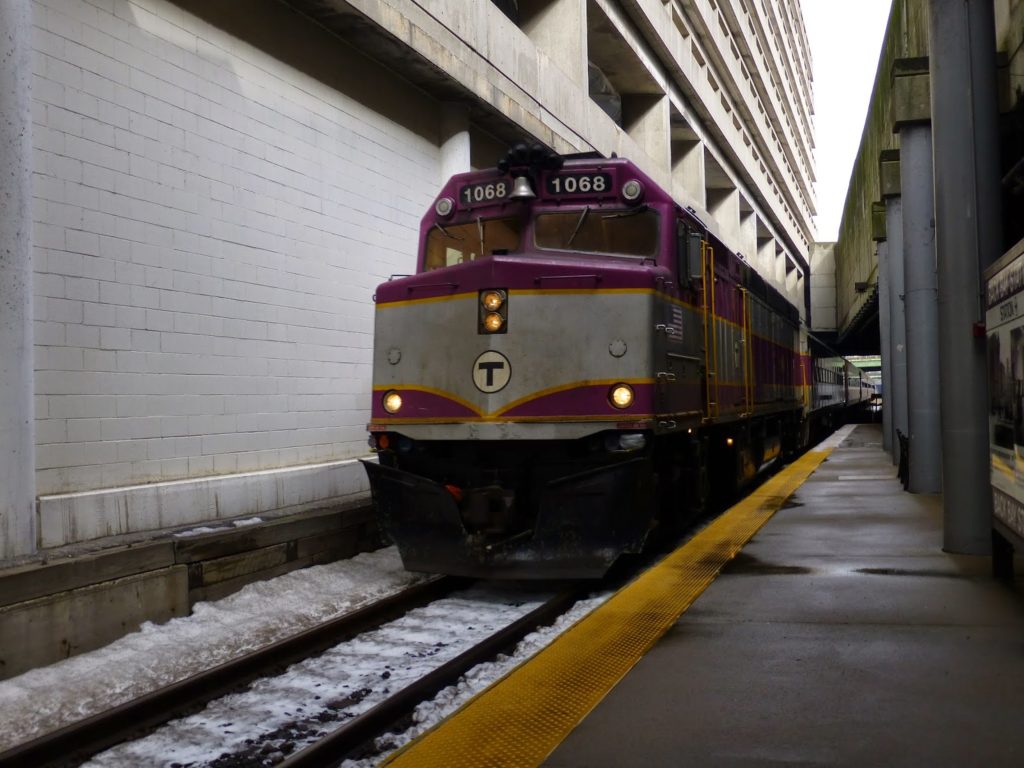 A train! Civilization!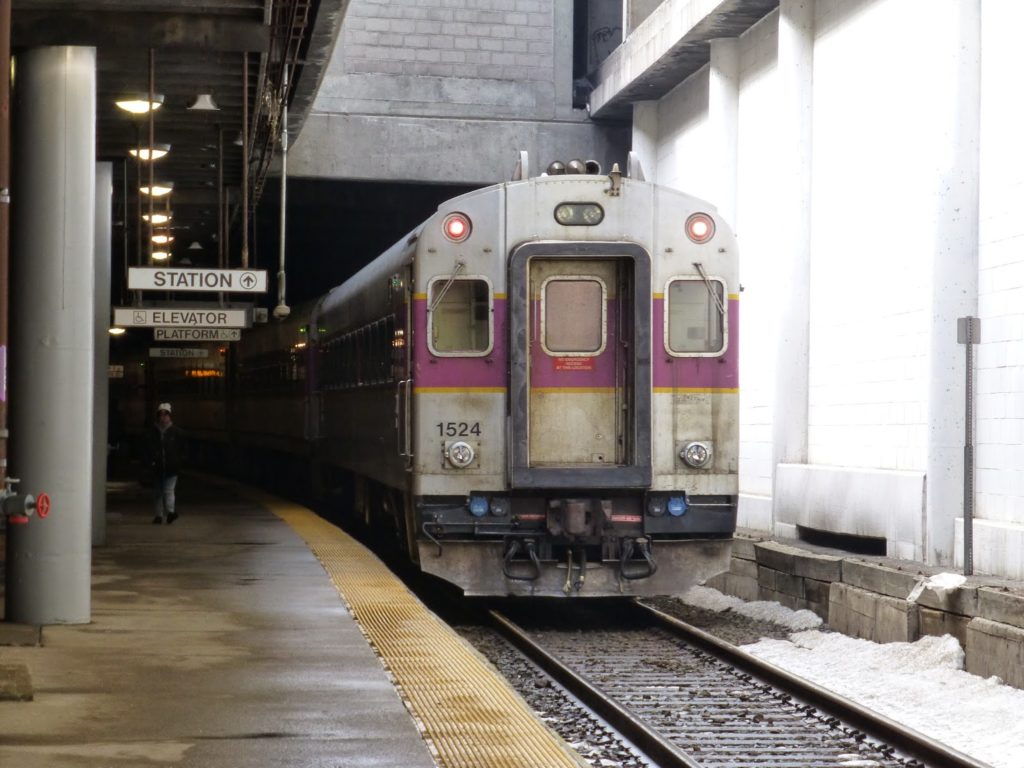 The back of the train.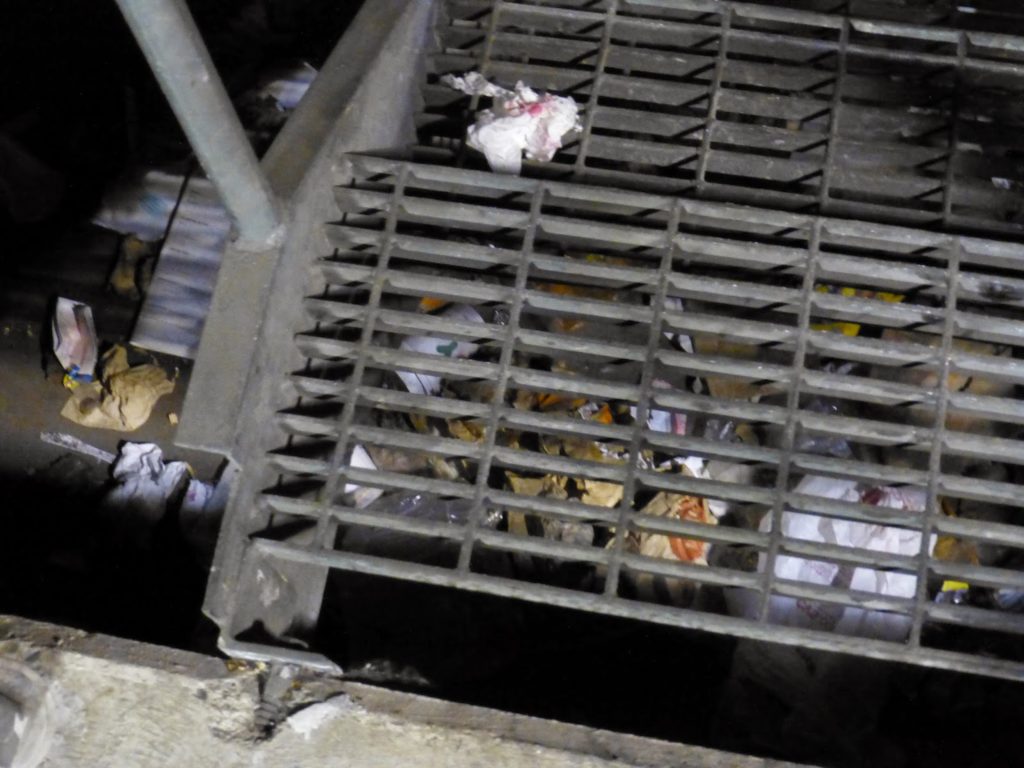 Trash galore.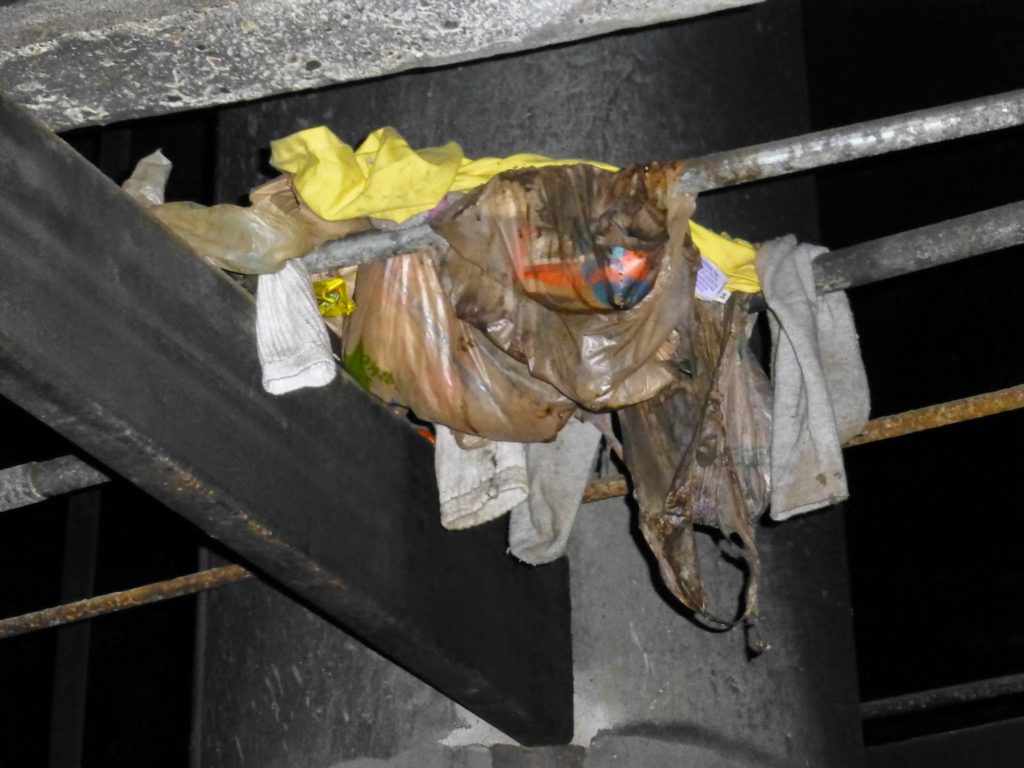 Okay, seriously, how the heck do you get all this stuff into the ceiling?
Station: Back Bay
Ridership: This is the fifth busiest subway station on the system, with 18,100 riders per day using the Orange Line platform. As for the Commuter Rail, the Blue Book only gives inbound data, so all I can say is that 126 people per day go to South Station from here. (That much? Really?) However, there were quite a lot of commuters when we were here, and that was on a Saturday. Finally, Amtrak gets 540,770 riders per year here, or about 1,482 riders per day.
Pros: Okay, well, it's definitely a well-located station. While South Station serves downtown and the financial district, Back Bay is here to serve the Back Bay (duh) and Copley Square. And I have to say, I like a lot of it. The entrances and mezzanine are great, and the Orange Line platforms aren't bad. In addition, in terms of aesthetics, Tracks 1-3 are all right. A little dark (okay, a lot dark), but I loved the train art on the wall and the historical images.
Cons: But of course, this station has really, really bad air quality. Like, that's dangerous! This is a dangerous station! And don't even get me started on Tracks 5 and 7. You can see in the photos above that this is not a nice place to wait for the train. And they put the waiting area at the very end of the platform, just to make people go further into the smog-infested station!
Nearby and Noteworthy: Copley Square is a stone's throw away from here, with lots of stuff to do. Also, if you head the other way down Dartmouth Street, you come across a place called Brownstone. I came here for brunch once, and it was really good. And they had 60's music playing on the radio, just to make the meal even better!
Final Verdict: 3/10
If we were to take the air quality issues and Tracks 5 and 7 out of the picture, this station would probably nab a 7. But alas, both of the problems above exist. The fact that this station is legitimately dangerous for people with lung conditions is just mind-boggling to me. The ventilation here needs to be fixed! And then Tracks 5 and 7 are just a total mess. I almost wonder if it's not worth renovating them, because they've reached the point of no return. That platform was quite fun to explore, though, I'll give it that. Bring a flashlight!
Latest MBTA News: Service Updates
Governor Charlie Baker says that change is required in "virtually all aspects of the MBTA." Read more here.