970-whaaaaat? Since when are there four-digit bus numbers on the MBTA? Well, there are a few – 9701, 9702, and 9703 – and they're all school trips from Brighton High School to Ruggles, Andrew, and Jackson Square, respectively. I never thought I would take these routes, but since my school had an early release day, I figured I'd take a ride on one of them! The 9702 was waiting there when I got to Brighton at around 1:45, so I hopped on.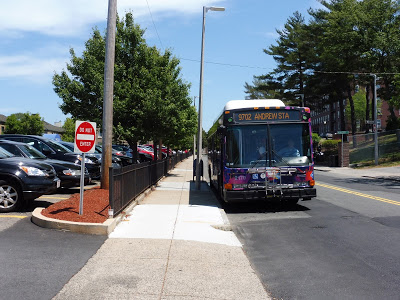 The bus at its makeshift stop.
I spent a little while looking for the stop around Brighton High School, and it turned out to not even be a stop. The route's supposed to leave from Cambridge Street @ Warren Street, but the 9702 was parked up further down Warren Street, just across the street from the school. I'm not sure if it always does this or not, but it was certainly unexpected.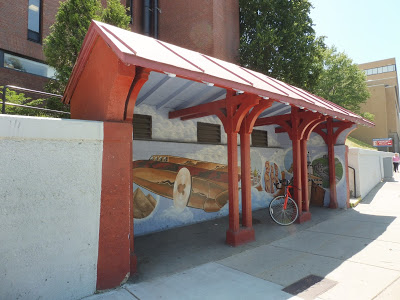 I will say that the shelter at Cambridge @ Warren is lovely!
Leaving the stop on Warren Street, we curved around onto Cambridge Street. It was residential for a bit, but we soon arrived at Union Square, where there were some retail blocks. It got industrial after that, due to the proximity of I-90, which we crossed over.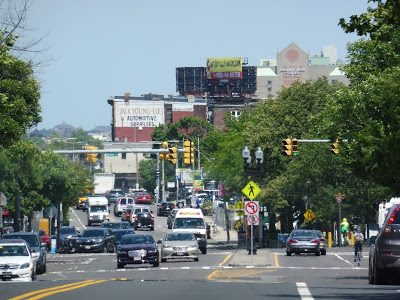 A front view of Union Square!
We continued down Cambridge Street for just a little while longer, with apartments on one side and a seemingly abandoned parking lot on the other. Soon, however, we took a highway ramp, passed through a toll, and got onto I-90 heading toward Boston. By this point, the highway was about to get onto its bridge, and onto the bridge we went, soaring past B.U. buildings.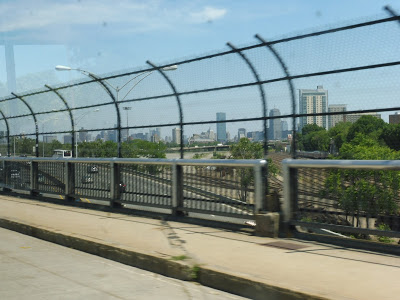 Hey, it's Boston! Blurry Boston!
The highway soon got down to below ground level, still going by more B.U. buildings. Eventually, we passed Yawkey Station and Fenway Park, then entered the Copley Square tunnel. We took the Back Bay exit, curving around for a while until we finally popped up onto Stuart Street.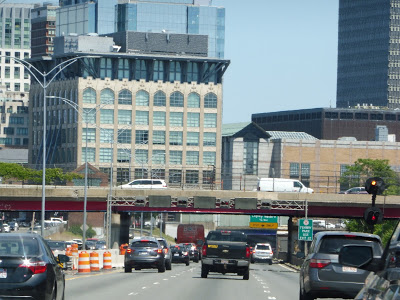 A highway view through the front of the bus!
We then turned onto Dartmouth Street, joining the 10. We passed Back Bay Station and after that, the street became lined with beautiful brownstone apartments. Once we crossed over Tremont Street, the road became West Dedham Street, and the surroundings got less old-looking, with a huge apartment tower and more modern townhouses on either side.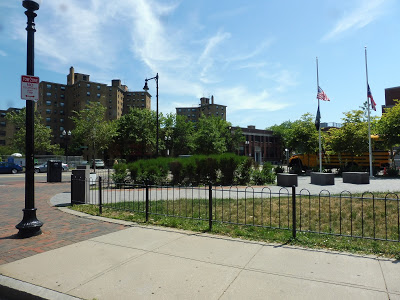 Some apartments at the intersection with Washington Street.
Outside of a school, we turned onto Washington Street, joining the Silver Line. We passed a few parks, then the street became lined with businesses and apartments, housed in 4-6 story buildings. Next, we turned onto Mass Ave, passing through the B.U. Medical Center. It got industrial from there as the street entered Newmarket.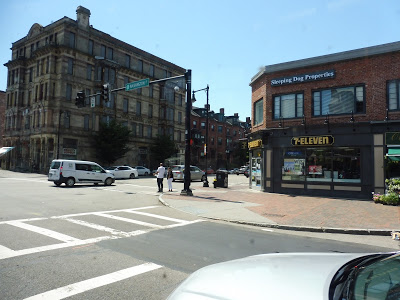 Some scenery on Washington Street.
We reached Newmarket Station, where we turned onto Newmarket Square. We passed a bunch of factories and warehouses and the like before turning onto Southampton Street. After going by the Southampton bus yard, the street rose up onto a bridge over I-93, the South Bay Center, and the Old Colony Line tracks. On the other side of the bridge, we pulled up into the Andrew busway, where the bus turned into a 16 and laid over for a little while.
The bus was signed as a 16 by the time we got to Andrew, so here's a front shot on Southampton Street.
Route: 9702 (Brighton High School – Andrew Station)
Ridership: I think Brighton High had an early release day like I did, because there were only two other people on board – students, of course – who had probably stuck around after school for a bit. On normal school days, though, the 9702 is as crowded as any normal school trip, with a full seated load or more.
Pros: Clearly there's a large group of students who go to Brighton High from Southie, and this bus gives 'em a fast way of getting there. Or…well, getting back, at least. Hang on a sec.
Cons: Yeah, this and the other Brighton High routes are all one-way. So basically, you've got the 2:05 outbound trip and that's it. The commute from Southie to Brighton is long without a direct route, so it's annoying how the 9702 only runs outbound. Also, the 9702 is a special case in that the route it's supposed to take is different from the route that the drivers are told to do! The bus is supposed to get out at South Station and take some route involving Broadway before getting to Andrew, but it "officially" travels via Back Bay and goes directly to Andrew. Then there's the fact that my trip was apparently a completely different route from either of those, which makes things even more confusing.
Nearby and Noteworthy: Are you a student? No? Then you really shouldn't have any need to take this route unless you're looking for an interesting, unique ride.
Final Verdict: 4/10
Two very simple changes can bring the 9702 up to at least an 8. Number 1: Add a morning trip. This one applies to all the supplemental routes, but with this one in particular, the ride from Andrew to Brighton is long if you use regular routes. Number 2: Standardize the route! Apparently whenever a new driver is on the 9702, students have to tell them to take the South Station routing instead of the official one. So…MAKE THE SOUTH STATION ROUTING THE OFFICIAL ONE! It's not that hard!
Latest MBTA News: Service Updates