UPDATE 4/8/2019: Yeah, this station's called Landsdowne now. Nothing else has changed, so I'm just gonna keep the review as is. Carry on.
This station's kinda weird. Tucked away behind a parking lot on Brookline Ave, Yawkey was originally opened just for ball games. It was even more hidden then, with only a tiny mini-high platform. The station began to be served regularly by peak-hour trains in 2001. Last year, a brand new Yawkey Station was opened with high-level platforms, and now all trains stop there. Does the station seem all that modern, though? Let's take a look.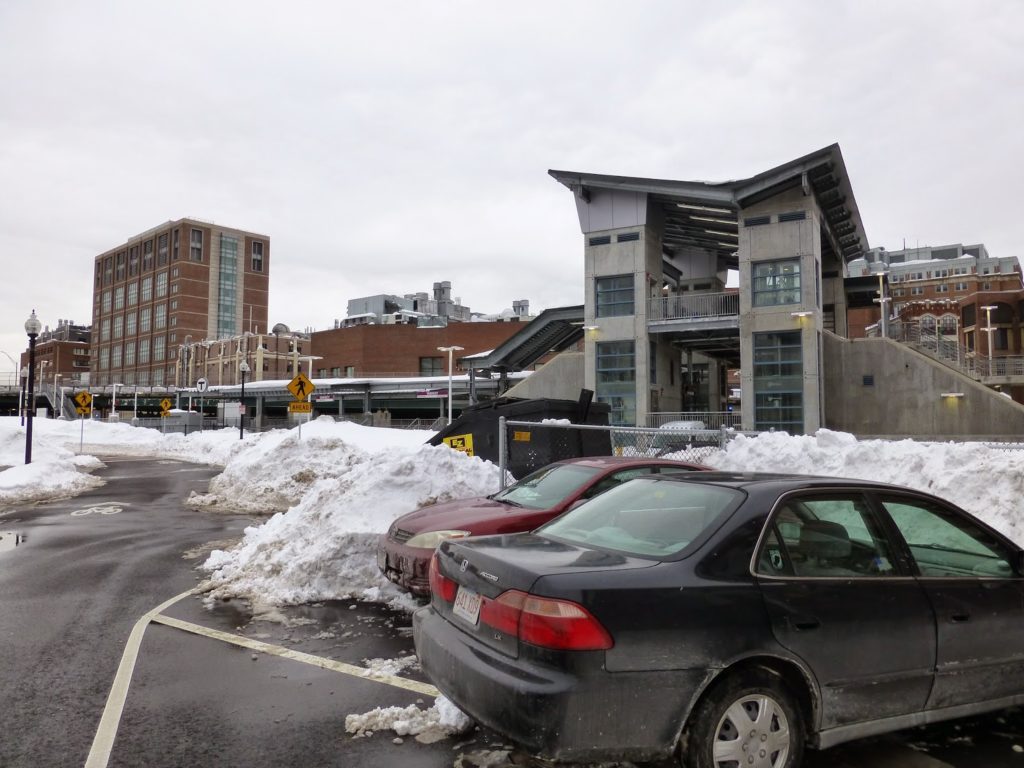 Looking at the station from the parking lot.
I think the parking lot next to the station is an all-purpose lot most times and a Fenway Park lot game days. It's kind of cool in that it has a bunch of big numbers in it – I believe they represent different Red Sox players. There's a T logo visible from the parking lot, but none on Brookline Ave, for some reason.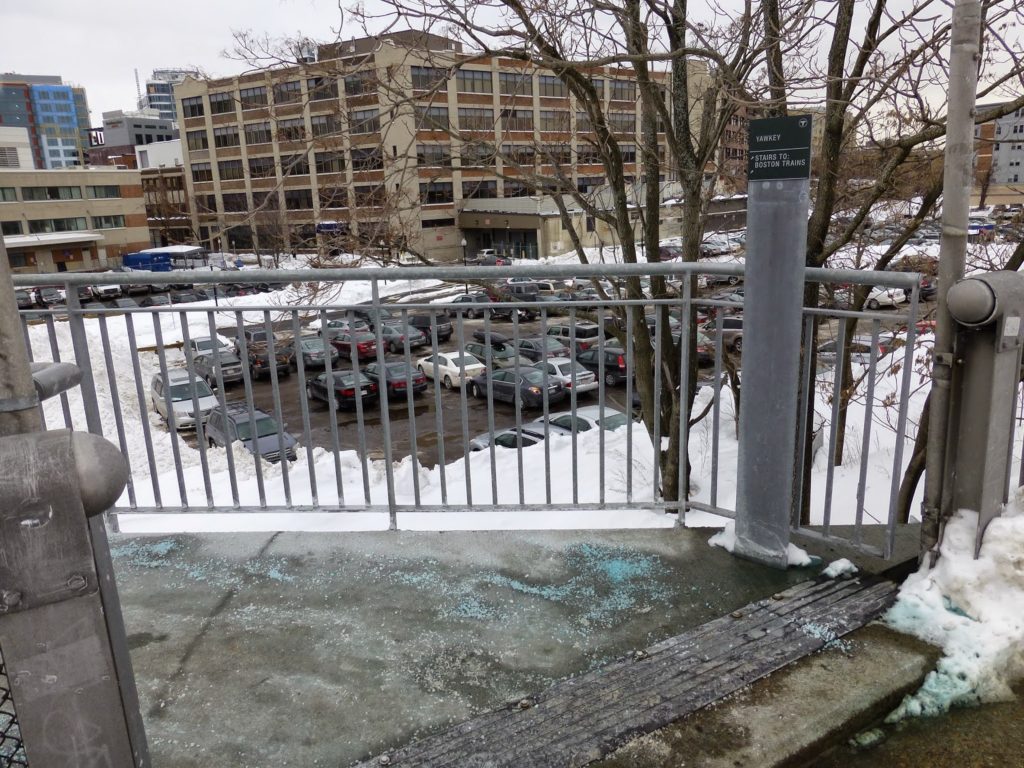 The second entrance from Beacon Street.
Does Yawkey want to be a "hidden gem" or something? Because it does not want to let people know it exists. The entrances on Beacon Street are simple staircases leading down to each platform. Their only indication that they lead to a train station is this tiny black sign that says "Yawkey." Good advertising, MBTA.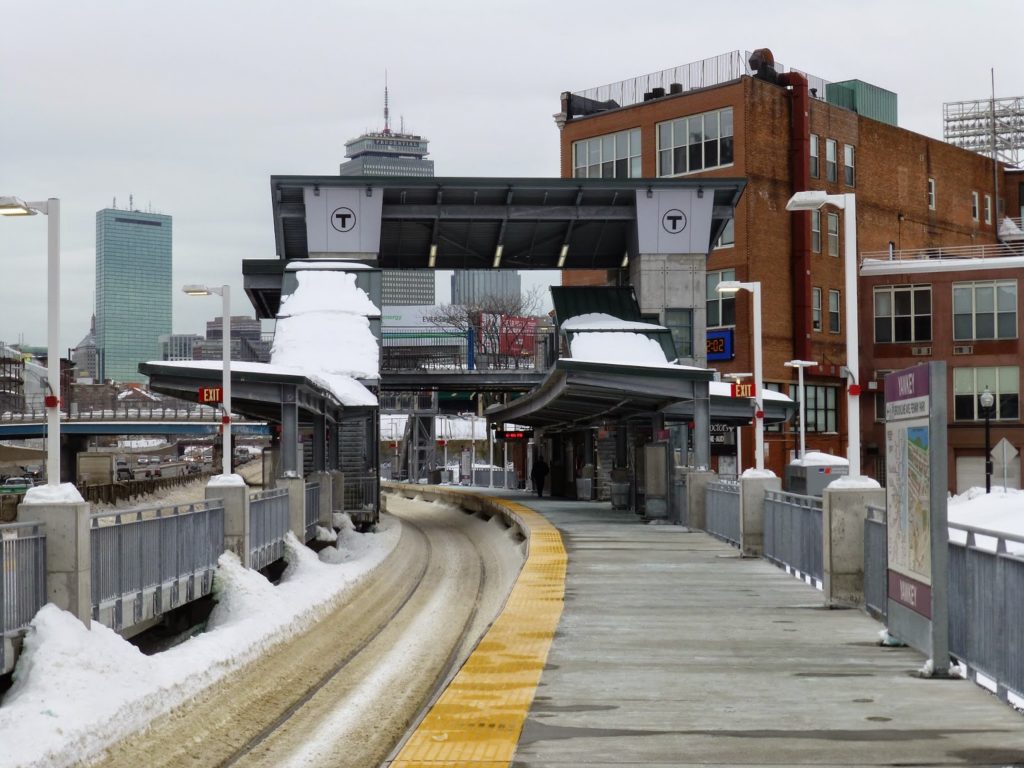 At least they thought to put some T logos up on the platform.
The station has an interesting layout, with two side platforms facing the same direction. These are connected by a big overpass, which will also connect to a development once it's built (the station will also be entirely solar-powered when the development is finished). As for the platform itself, it's mostly open air, with a sheltered portion near the overpass. The shelter is really stark and bland, though.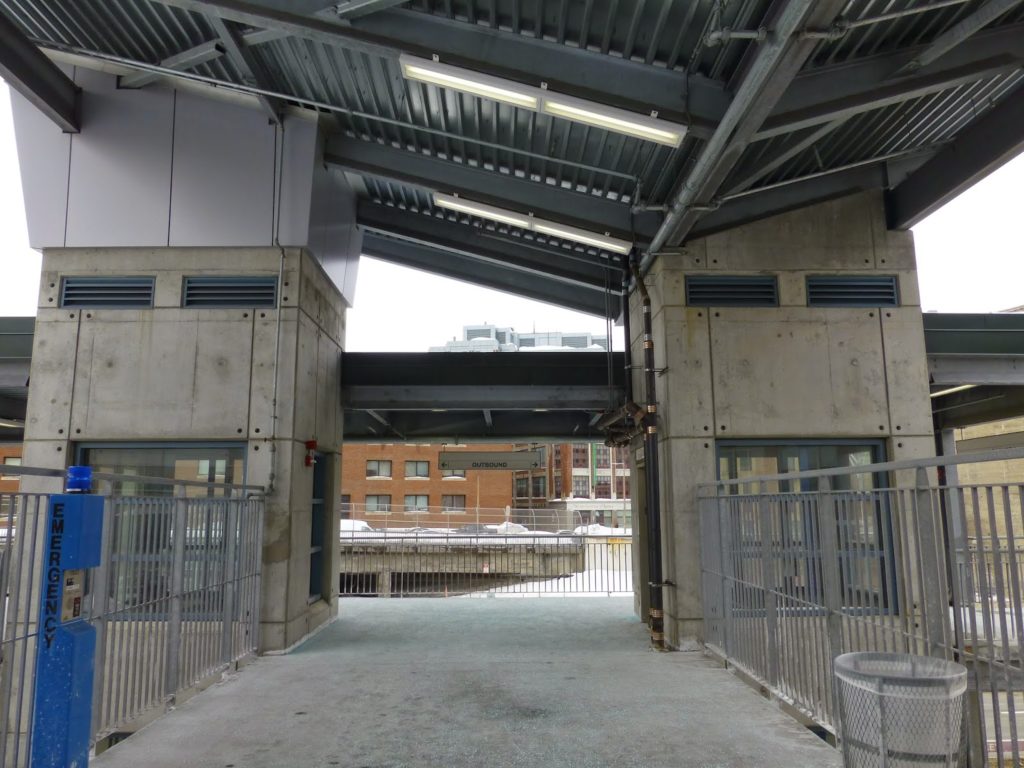 Ugh.
Ditto for the overpass. There's a lot of steel and concrete everywhere that doesn't do the station any favors aesthetically. There are two elevators for each platform, which is more than enough based on this station's ridership. That said, the ridership is expected to increase when the development opens up.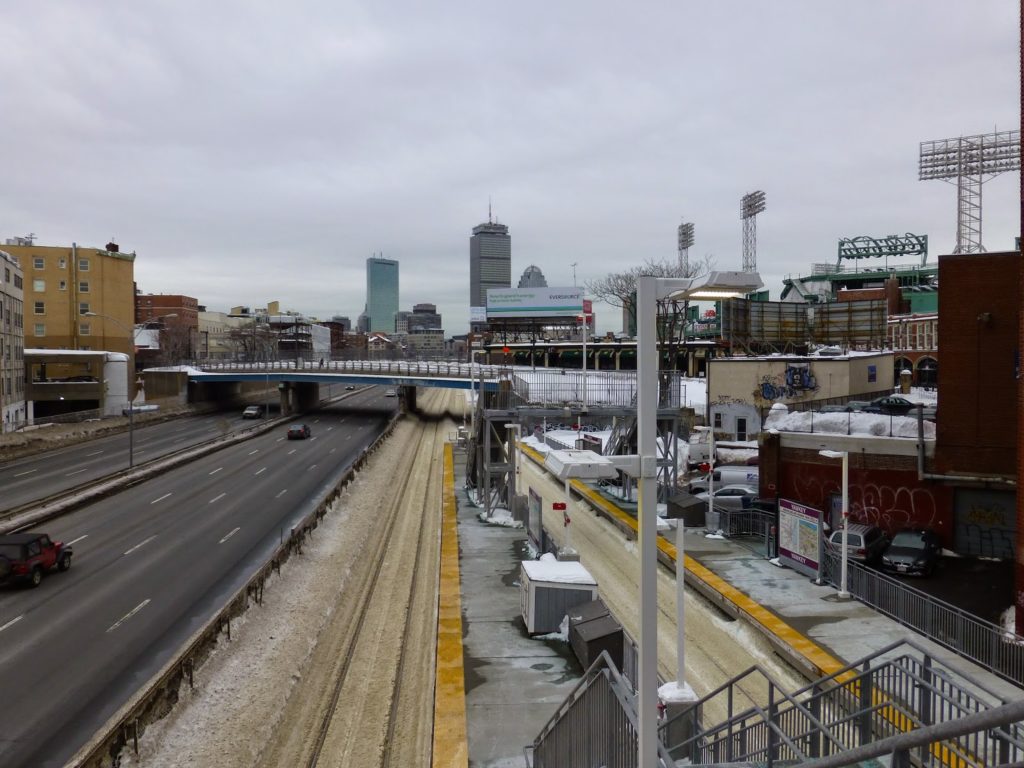 Nice view from the overpass. No train pictures, unfortunately.
Station: Yawkey
Ridership: Well, the Blue Book isn't much use because it only counts inbound riders (21, if you were wondering). Yawkey's Wikipedia page says the station had 585 daily riders in 2007, but that doesn't mean much now that it's 2015. Anyway, regular commuters here are usually headed for Kenmore, B.U., or the Longwood Medical Area.
Pros: It's nice that there's a station for commuters to the above locations. And this is a good option for people out west coming into Boston to see a baseball game. Yawkey is fully accessible with the renovation.
Cons: It's so bland, though! I would never guess that this station is brand new! And while the Beacon Street entrance isn't so bad since you can clearly see the station from there, Brookline Ave really needs some signage. This station is tucked away otherwise.
Nearby and Noteworthy: Fenway Park, and lots of bars and sports-related restaurants..
Final Verdict: 5/10
This is definitely a useful station, and it's great that it's here. But Yawkey has a lot of issues in terms of signage and aesthetics. It's so hard to find! And so boring and stark! Maybe it'll look better when they build that development? We'll see…
Latest MBTA News: Service Updates