The Federal and Franklin Street stop is always busy on weekdays, particularly at rush hour. This is where all the I-90 express buses go, so during peak periods lots of routes come here to transport commuters along the Pike. On Saturdays, though, the stop is mostly dead…except for one route. This is the 504, the only I-90 express bus that runs on weekends, or at least Saturdays.
After a few passengers got on, we turned onto Franklin Street, making a stop right around the corner from the last one. We then turned onto Otis Street, leaving the Financial District. The street became Kingston Street, and it also became extremely narrow. We barely squeezed through the parked cars on either side of the road. From there, we turned onto Essex Street, then Surface Road, passing the Chinatown gate.
During rush hour, the 504 goes right onto the highway from here, but midday and on Saturdays, it continues locally to Copley Square. Thus, we turned onto Kneeland Street, going by lots of Chinatown restaurants. We then turned onto Charles Street South, and then Park Plaza. This became Saint James Ave, and we went through Copley Square.
Right after the Copley Square stop, we merged onto the I-90 ramp, which went underground. The highway came up eventually, and we went by lots of apartments, then Yawkey and Fenway Park. After going under Commonwealth Ave, we rose up onto a bridge and went through the Allston tolls. We sunk back down to ground level after that, as it steadily got more suburban.
Eventually we took Exit 17 to Newton Corner, and merged onto Washington Street. After making a stop, we looped around the highway where it goes under a hotel, and made another stop on the other side. We then curved back north onto Galen Street, passing mostly businesses and a few houses. And soon after that, we turned into the Watertown Yard, ending a very quick journey.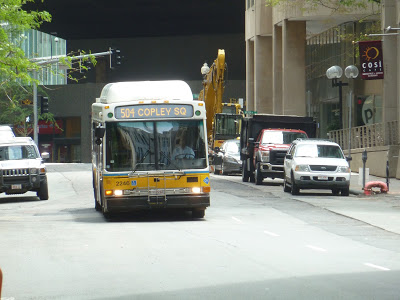 The bus heading down Federal Street.
Route: 504 (EXPRESS BUS Watertown/Newton Corner – Downtown via Mass Turnpike)
Ridership: On my ride there were about 10 passengers in total. But, I mean, it was a Saturday afternoon, so there wouldn't be too many people needing an express out to Watertown. The route does get rather high ridership on weekdays, with an average of 1,548 people. This drops to 558 on Saturdays, but again, not too many people would be expected to ride on weekends.
Pros: It's a very fast express out to Watertown, assuming there's no traffic. Even if there is traffic, it's still the fastest way to get there from downtown. I like how the route also serves Copley Square, and how it skips it during rush hour, when it's supplemented by the 502 (which runs from Copley to Watertown). And for an express bus, the 504 has an amazing schedule – every 10 minutes during rush hour, every half hour during the day, and every 40 minutes on Saturdays. That last one isn't too frequent, but come on, how many people are using the 504 on Saturdays? The fact that it even has weekend service is amazing.
Cons: I don't really have any problems with the route itself, but it seems like the 504 may have played a part in the elimination of the Green Line A Branch. Considering the route was initiated two years before the end of the A, and that the express probably went much faster than the streetcar, I wonder if the latter lost ridership because of that.
Nearby and Noteworthy: Watertown Square, I suppose. And downtown, but why would anyone who doesn't live in Watertown or Newton use the 504 to get there?
Final Verdict: 8/10
For an express bus, this is the creme de la creme. It runs often (including on Saturdays), is quick for the most part, and has a good local routing in Boston. Aside from the fact that it may have killed the A Line, the 504 is great.
Latest MBTA News: Service Updates