When I reviewed the 504, I talked about how it serves Copley Square most of the time. During rush hours, however, it runs completely express from downtown to Watertown. What bridges that Copley Square gap? Why, the 502, of course!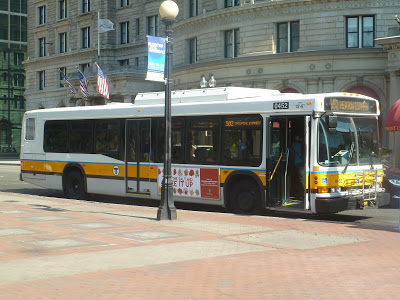 The bus at Copley Square.
The 502 takes the exact same route as the 504, except from Copley. I made it to the bus in the nick of time, and we were off. Right after leaving the stop, we merged onto a highway ramp that led to the Mass Pike's Copley Square tunnel. Coming back into the open, we went by Fenway Park on the left.
The highway went elevated after that, giving a view of the Charles River. We passed through the Allston Tolls, and it got more suburban from there. At Newton Corner, we took the exit, looping around the highway and making both Newton Corner stops. From there, we headed up Center Street, which became Galen Street as we entered Watertown. Soon after that, we pulled into Watertown Yard.
The bus in Watertown.
Route: 502 (EXPRESS BUS Watertown Yard – Copley Square via Newton Corner and Mass Turnpike)
Ridership: There must be quite a lot of commuters that need to get to Watertown, since the Watertown expresses are the second and third busiest I-90 routes. The 502 is in the latter position, with 1,206 riders per weekday. My ride only had about 20 people on it, but it was at 3:45 PM – not exactly rush hour yet.
Pros: As you can tell from the length of the review, this route is fast (as long as the Mass Pike is traffic-free). My bus was even five minutes early! Though it's confined to rush hour, the 502's schedule is also very good within those constraints – every 8 minutes in the morning and every 12 in the evening. And even when the 502 isn't running, Copley Square is still covered by the 504.
Cons: I know Newton Corner is a major destination, but looping around it takes forever. Yeah, yeah, there's nothing you can do about it, but this is a problem that plagues a lot of routes.
Nearby and Noteworthy: Well, there's Copley Square. And Watertown Square, if you're looking for someplace a bit more…well, boring.
Final Verdict: 8/10
As a supplement to the 504, the 502 is great. These routes can get busy during rush hour, so I like how the Copley Square portion gets its own during those times. It also runs often, and assuming the highway is okay, it's fast, too.
Latest MBTA News: Service Updates