Man, you've gotta love Copley Square. Trinity Church, the Boston Public Library, the John Hancock Building…there are a lot of great sites to see here. But does its subway station compare? Well, let's find out.
The outbound entrances on two sides of the street.
Firstly, Copley has no free crossovers. Ugh…anyway, this means there are entrances for either platform, and they couldn't be more different. The outbound side gets these modern glass entrances on either side of Dartmouth Street. I'm a fan of modernity, so these entrances are great in my book.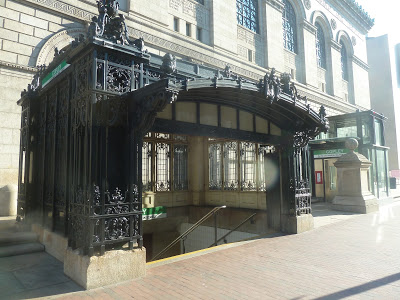 Ah, but how can you not love this entrance?
Of course, old-fashioned entrances are fantastic, too, and the one for inbound trains has to be one of the best on the system. I mean, look at it! What more do I have to say? The fine detail is just perfect. Both entrances at Copley have elevators, too, so it's accessible.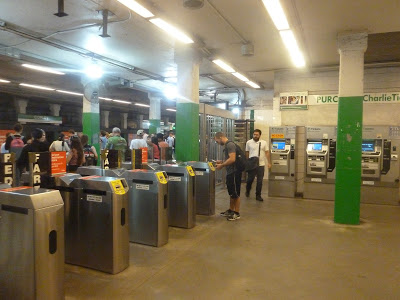 The inbound mezzanine.
Copley's platforms are diagonal from each other, which is quite annoying, but aesthetically, they're similar. This carries over to the mezzanines, which have a lot of fare gates and machines. Of course, they don't look too good, but they are functional.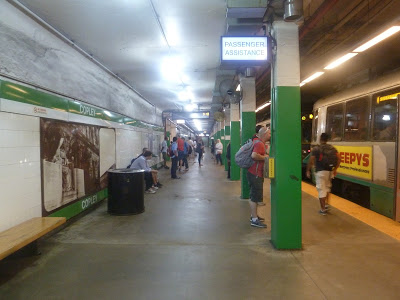 The outbound platform.
So…the platforms. Well, they're standard for the Green Line. Hey, at least the random pipes are kept to a minimum. And there are benches and wastebaskets, that's a good thing! But…they're just so bland! And they have cracking paint along the walls, ugh…Green Line, I'll never be able appreciate your aesthetics.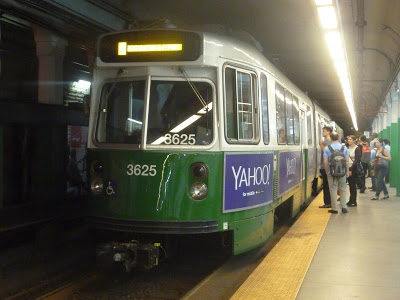 Boy, the renovations for these trains made them awfully shiny.
Station: Copley
Ridership: Copley makes it into the top 10 busiest MBTA stations at 10th place – 14,021 riders per weekday. This makes sense, as Copley is a major commuting center, as well as a huge tourist destination.
Pros: All of Copley's entrances are great, particularly the really ornate inbound one. Also, the mezzanines flow well and have capacity for a lot of riders. Finally, this station has a good amount of bus connections, from local buses to I-90 expresses.
Cons: On the topic of buses, the signage for those can be a bit spotty. That is, when you exit the subway, it's hard to know where you go to actually pick up the bus. In addition, the aesthetics down in the station are bland, which is typical for the Green Line, I suppose.
Nearby and Noteworthy: Oh, geez, there's so much. You've got the Trinity Church, BPL, and John Hancock Building as I mentioned at the beginning of the post, plus Newbury Street is a couple blocks away. On an unrelated note, this station is very close to Back Bay, so if you're coming from the Green Line, you can get off here and walk to the Commuter Rail instead of taking the Orange Line.
Final Verdict: 6/10
Copley is certainly a good station overall, but it has flaws. Namely, bus signage could be much better, and the station is bland underground. Above ground, though, it looks great – especially the inbound entrance. Just make sure you choose the right one, because again…no free crossovers.
Latest MBTA News: Service Updates