This one never made sense to me – why would a route that runs through such transit-starved neighborhoods run weekdays-only? I guess it's because almost the whole of
the 19's
length is shared with other routes, but it was always a little weird to me. But this route seems to be meant as a supplement to take rush hour pressure off of other routes – let's take a look.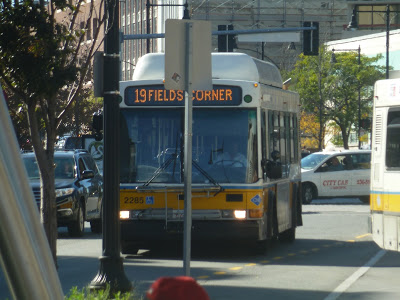 Well…this picture could've gone better.
Leaving Kenmore with an empty bus, we headed onto Commonwealth Ave, then turned onto Brookline Ave. After crossing over the Mass Turnpike, we passed Fenway Park and the multitude of sports bars that surround it. We went by the Landmark Center mall, then navigated through a mess of an intersection, continuing down Brookline Ave south of that.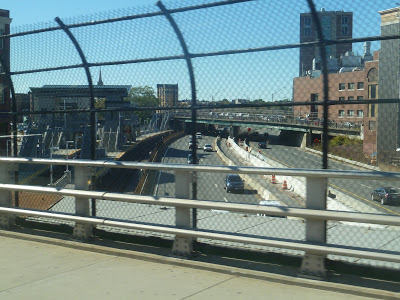 Going over the Mass Pike with Yawkey in view.
Now we were surrounded by university buildings, which became hospitals further down Brookline Ave. We were now in the Longwood Medical Area, going by more hospitals as we turned onto Longwood Ave. Swinging around onto Avenue Louis Pasteur, we then turned onto the Fenway, running through the Emerald Necklace for a bit.
Going by the E Line's Museum of Fine Arts station, we passed some more university buildings, then turned into the Ruggles busway. After that, we navigated our way to Ruggles Street, a small residential side street. We went by a park, then turned onto Shawmut Street, soon reaching Dudley Station. As with pretty much every Dudley bus, we gained a bunch of riders here.
From there, we headed down Warren Street, leaving the businesses of Dudley behind. Running along with a few other routes, we were going by a mixture of apartments and retail. A few people got off at the small Mall of Roxbury, then those apartments from before became houses. The retail came back once we reached Grove Hall, merging onto Blue Hill Ave for a bit before turning onto Washington Street.
We turned onto the wide Columbia Road for a block, then we turned onto Geneva Ave, which is the 19's only independent portion. There was a stop at the Four Corners/Geneva Fairmount Line station, then Geneva Ave was all houses and apartments. After passing the intriguing "Geneva Cliffs" park, we were joined by the 17.
The street was much straighter now, and lined with three-story apartments. There were a few businesses in the mix, too. We eventually reached the elevated Red Line tracks, but just before going under them, we turned onto their parallel busway. Running up to Fields Corner Station and back down again, we did a u-turn, pulling into the actual busway.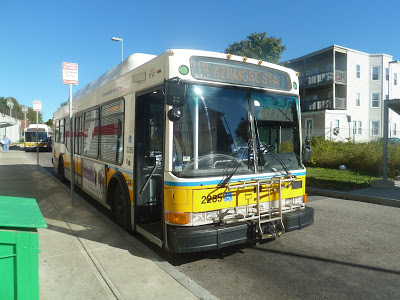 The bus at Fields Corner.
Route: 19 (Fields Corner Station – Kenmore or Ruggles Station via Grove Hall and Dudley Station)
Ridership: This is a busy route, with an average of exactly 3,600 people per weekday. On my ride, there was an interesting contrast between the two parts of the route – from Kenmore to Ruggles, the riders were few, just people working at or visiting hospitals. Then from Ruggles to Fields Corner, it picked up, and the route was significantly busier, all amounting to about 30 riders in total.
Pros: This route mainly seems to be a supplement for the Warren Street buses, and it does that job well. It also gives a link from there to Longwood during rush hour, which is good for hospital workers. During the day, the 19 is cut back to Ruggles, which makes sense – my trip was the first one of the afternoon to start serving Longwood, and it was quiet there. Speaking of rush hour, this route runs often then, going every 14 minutes in the morning and every 25 in the evening.
Cons: It's weekdays-only, though that makes sense, considering this is mainly a rush hour supplement. It does run midday, however, but only every hour.
Nearby and Noteworthy: I looked up the Geneva Cliffs, and I really like the concept. The park is an "urban wild", with walking trails and community events.
Final Verdict: 8/10
Concept-wise, the 19 is similar to the 29. They're both weekday-only supplements meant to take the pressure off of other routes they run along with (and yes, I know the 29 technically runs Saturday nights, but I don't count that). The 19 seems to be mostly meant for rush hour commuting, but it does get an infrequent day schedule, too. However, it has so many alternatives that the infrequency during the day doesn't matter much. As a supplement, the 19 fits its role quite well.
Latest MBTA News: Service Updates