After the wonderful downtowns of Wakefield and Peabody, I had high hopes for Saugus Center. Unfortunately, as my friend Nathan and I stepped off an outbound 428, it was clear that it wasn't much. Standing next to a rotary with only a few gas stations and pizza joints for company, we waited for the next 430 back to civilization.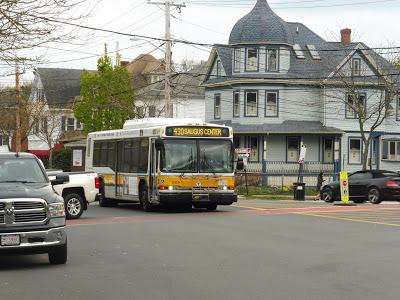 Okay, that house in the background is admittedly fantastic.
Before returning to Malden, though, the 430 first does a little loop north of Saugus Center, so we set out on that. We headed up Central Street, which was residential until we passed the Saugus Iron Works historical sight. And it's quite historical indeed – the first ironworks in North America, according to the always-trustworthy Wikipedia!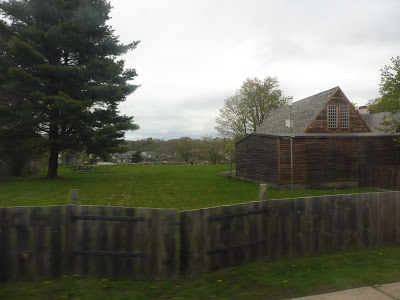 There's the iron works! Can't really see much…
We turned onto Appleton Street, which was lined with houses once more. Soon we reached a field, where we turned onto Summer Street. We hit Main Street eventually, which took us back into Saugus Center, where we went around the rotary again. Turning off at Central Street, we finally began the inbound route proper.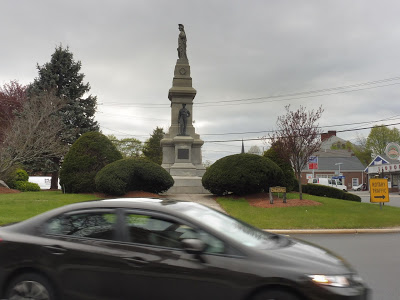 The rotary in Saugus Center, taken while we were waiting. That car really ruined the shot.
There were a few businesses south of the center, but it soon became just houses. We passed the Saugus Senior Center, and soon after, we turned onto Lincoln Street, connecting with the other three Saugus buses at Cliftondale Square. There was lots of retail here, of course.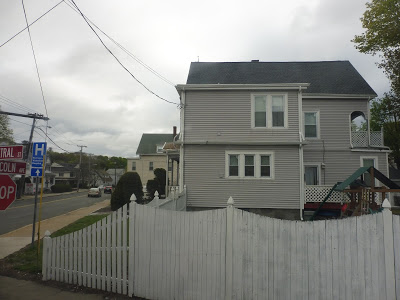 The turn onto Lincoln Street.
Going around a rotary, we headed down Essex Street with the 429. It was residential once more, aside from a field and a seemingly-unused train track. We merged onto Vine Street, which curved past more houses, then we turned onto Main Street – less than 10 blocks away from our Saugus Center starting point.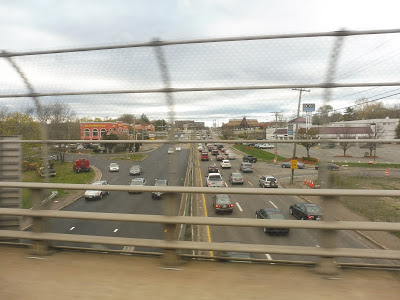 "Mmm…gotta love Route 1," said nobody ever.
We went around a highway ramp with a sharp curve onto Route 1, however we soon exited off to serve the Square One Mall. After many shoppers got on the bus (including an old lady who paid her entire fare in small change), we had to take an indirect route out of the mall through its parking lot. However, we eventually made it onto Essex Street, and then back onto Route 1.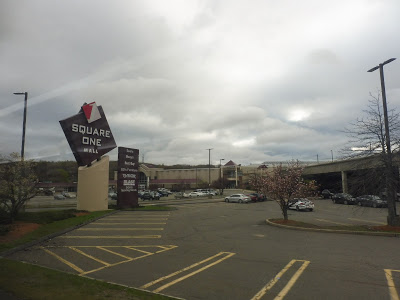 "Mmm…gotta love malls," said nobody ever. Oh wait, lots of people like malls. Never mind…
We passed some typical Route 1 scenery for a little bit (auto shops, fast food, strange highway motels, etc.), then merged onto Broadway. It was industrial, with a lot of empty parking lots next to strange businesses. As we were joined by the 411, now in Malden, the street got residential, including a big apartment building.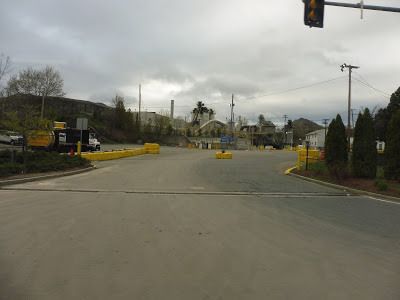 A quarry.
We turned onto Salem Street, joining the 108. This was typical Malden scenery, with houses most of the time and retail blocks at major intersections. There were a few breaks to the pattern, though, including some apartment buildings, a school, and various religious buildings.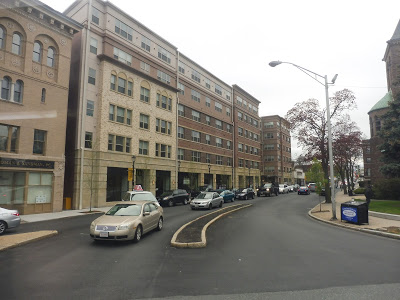 Some generic buildings near Malden Center.
It started to get denser as we got closer to Malden Center. After passing the high school, the surrounding buildings got much taller. We went through the Center's main pedestrian business area, but once we turned onto the wide Centre Street, it became parking lots, office buildings, and huge stores. Finally, we turned onto Commercial Street, then entered the Malden Center busway.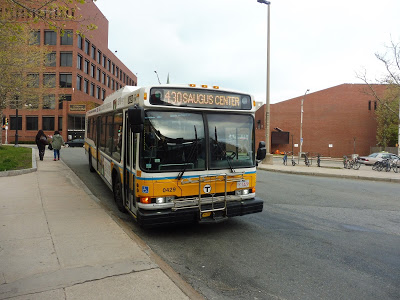 The bus getting ready to go back to Saugus.
Route: 430 (Saugus Center – Malden Center Station via Square One Mall)'
Ridership: For such a suburban route, the 430 gets pretty decent ridership, with 1,292 riders per weekday and 739 riders per Saturday. My trip was inbound during the evening, so I wasn't expecting too many passengers, yet there were still a bunch of shoppers heading home from Square One. In total, my ride had about 25 riders, which is great for a reverse-peak trip!
Pros: This bus serves a lot of Saugus, and connects it all up to the Orange Line! It's also the only weekend route to serve Saugus Center, and the only link from Square One to a subway station. Thus, it has a pretty good schedule considering its suburban nature – every 25 minutes during rush hour, every 65 minutes during the day, and every 70 minutes on Saturdays. The route also has two night trips that additionally serve the Granada Highlands Complex to cover for the 411, which stops running earlier in the day.
Cons: The route in Saugus is really, really indirect – it essentially makes a sideways "s". Also, the loop at Saugus Center seems pretty unnecessary outside of rush hour. It basically just serves a residential neighborhood, and it seems like the bus mostly runs empty around the loop.
Nearby and Noteworthy: There are a few downtowns along the route, Malden Center and Cliftondale Square being the two interesting-looking ones. Also, the Saugus loop does have one other purpose, and that's to serve the Saugus Iron Works! I can't imagine anyone ever using the bus to get there, but you could be the first!
Final Verdict: 8/10
Up until Square One, the 430 is a very direct link between Malden Center and Saugus. And even with its indirect routing, it does mean that the route serves more, and it's still the only route from Saugus to the Orange Line. Sunday service would be a bit much, but I'm glad the route has Saturday service, too, in order to cater to shoppers. Overall, the 430 may not be the most premier of MBTA bus routes, but it gets its job done!
Latest MBTA News: Service Updates