The last two buses I reviewed had pretty low ridership. It's probably because they have low ridership anyway, but one could make the argument that there weren't that many people around, as I took them on Christmas Eve. But if that were the case, it certainly wouldn't explain the extraordinary ridership I saw on the 108 the very same day. So let's take a trip up to one of my least favorite neighborhoods in Greater Boston, Linden Square!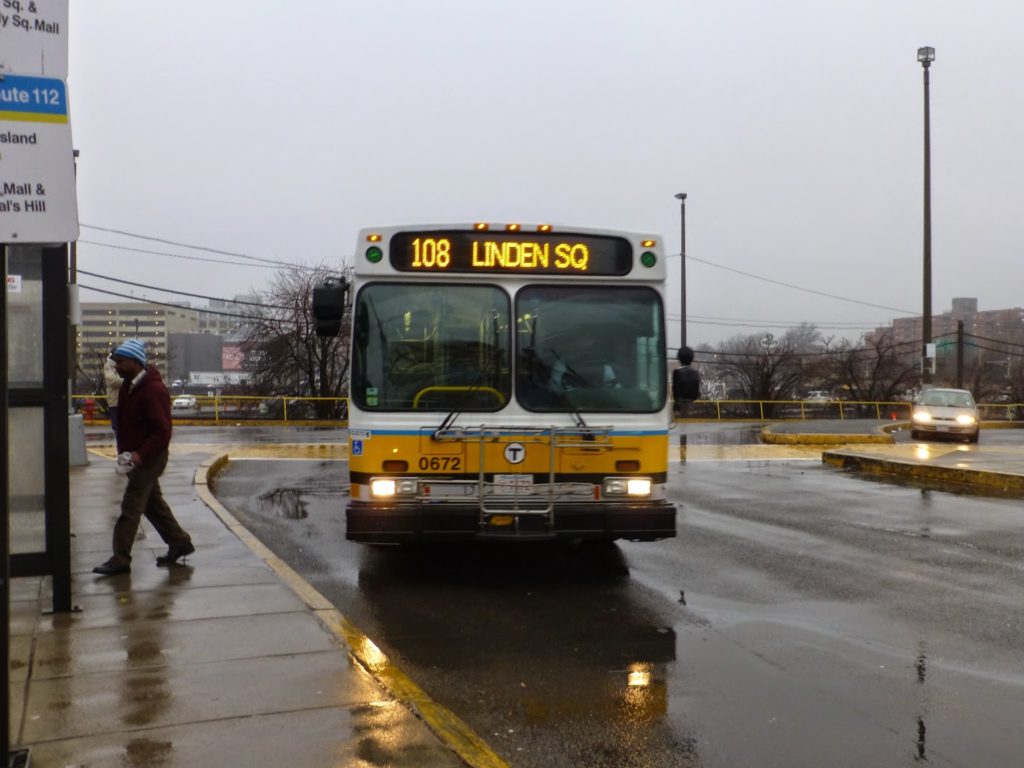 The bus at Wellington.
We looped around to Revere Beach Parkway having left Wellington, and braved a massive traffic jam over the Orange Line tracks. Luckily, things cleared up when we turned onto the Fellsway, going by a huge mall. We didn't stay for long, though, as we soon made a sharp right turn onto Riverside Ave.
It was a nice residential neighborhood, which continued onto Middlesex Ave. But soon, there was a block of businesses, a park, and the king of all superstores, BJ's. Indeed, the next section of the route was full of chain businesses with massive parking lots, but then it went back to houses suddenly. There was, however, the occasional business or apartment.
We turned onto Pleasant Street, and since this was a midday trip, Pearl Street. Passing a stadium and some more houses, we then turned onto Charles Street, passing under the Orange Line tracks. There was a short industrial section along Commercial Street, then we were surrounded by the tall buildings of Malden Center. We turned into the busway, where there was a hoard of people waiting to get on.
We then headed down Center Street, picking up more people at the king of all Stop & Shop stores, Super Shop & Shop. There were more businesses on Main Street, and the Malden High School on Salem Street. This marked the end of Malden Center, and the neighborhood was now a mix of houses and businesses.
It eventually turned entirely residential, though there was also yet another school. The intersection with Lebanon Street played host to more businesses, and another school. The 106 left Salem Street there, and the 411 and 430 turned onto Broadway a little later on, leaving just the 108. We passed the final school on the route, and then it became all residential. Salem Street curved to the east, paralleling Route 1 for a bit, then we turned onto Lynn Street. This led back to the Linden Square stop, which luckily wasn't in the really ugly area to the east.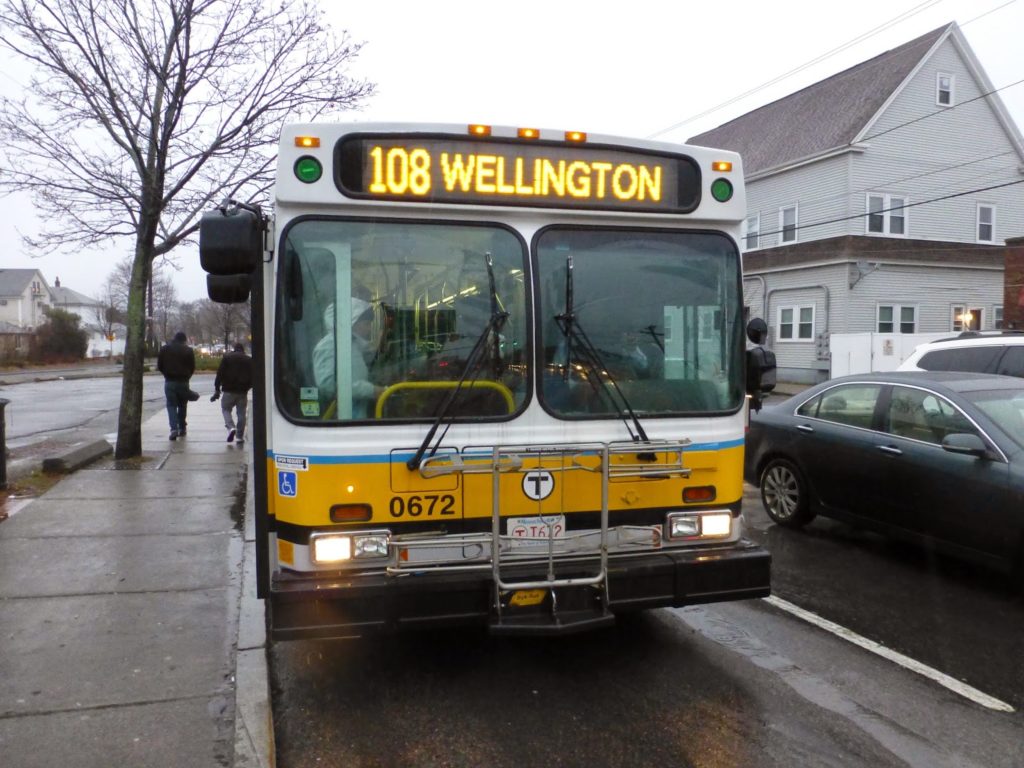 The bus gets ready to go back to Wellington.
Route: 108 (Linden Square – Wellington Station via Malden Center Station and Highland Ave)
Ridership: There were almost 55 people who rode in total! On Christmas Eve, too! The route was basically split into two in terms of ridership – the part from Wellington to Malden Center acts as its own self-contained route, while everyone heading out to Linden Square got on at Malden Center. I wouldn't be surprised if the 108 was a merger of two separate routes, since that's pretty much how it operates, ridership-wise.
Pros: This is the most direct route to Linden Square from Malden Center – the 411 follows almost the exact same route as the 108, but it diverges to serve the Granada Highlands housing complex. It does ultimately serve the same stop in Linden Square, though. But the 108 also runs more often than the 411, plus it serves the neighborhoods between Malden Center and Wellington.
Cons: Turns out I actually have quite a few problems with this route. First is the schedule – it's good during rush hours (about every 15 minutes) and on Saturdays (every half hour), but it's pretty bad other times. On weekdays it runs anywhere from every 15 minutes (good) to every 45 minutes (pretty bad). During the night and on Sundays it runs every hour, which is quite awful, especially considering the ridership I saw. But I also have a few issues with the route itself. For one thing, what's with the stretch on the Fellsway, then the sharp turn onto Riverside Ave? Wouldn't it be easier to avoid the Fellsway entirely and turn onto Middlesex Ave right from Revere Beach Parkway? And also, what's with the Pearl Street routing? It just seems like a pointless detour – buses only travel on it during midday, and nobody got on or off there on my ride.
Nearby and Noteworthy: Well, I'm not a fan of Linden Square, so I'd go with Malden Center. There are lots of interesting businesses there.
Final Verdict: 5/10
Well, I wasn't really expecting this low of a score. The 108 seems like a good link from Malden Center to Linden Square (as well as a good connector for the neighborhoods between Malden Center and Wellington), but just look at the size of that "cons" section! Aside from the schedule being pretty meh, the route seems to have a few seemingly unnecessary detours. Perhaps people use them, but no one on my trip did…
Latest MBTA News: Service Updates
Once again, the MBTA will be providing free rides after 8 P.M. on New Year's Eve. This is the 22nd year they've offered free rides for the holiday.