Malden Center is the undisputed hub of the northern Orange Line. The subway station is accompanied by a huge number of buses, as well as a Commuter Rail station. It's also elevated! However, brutalist architecture is very present here…uh-oh.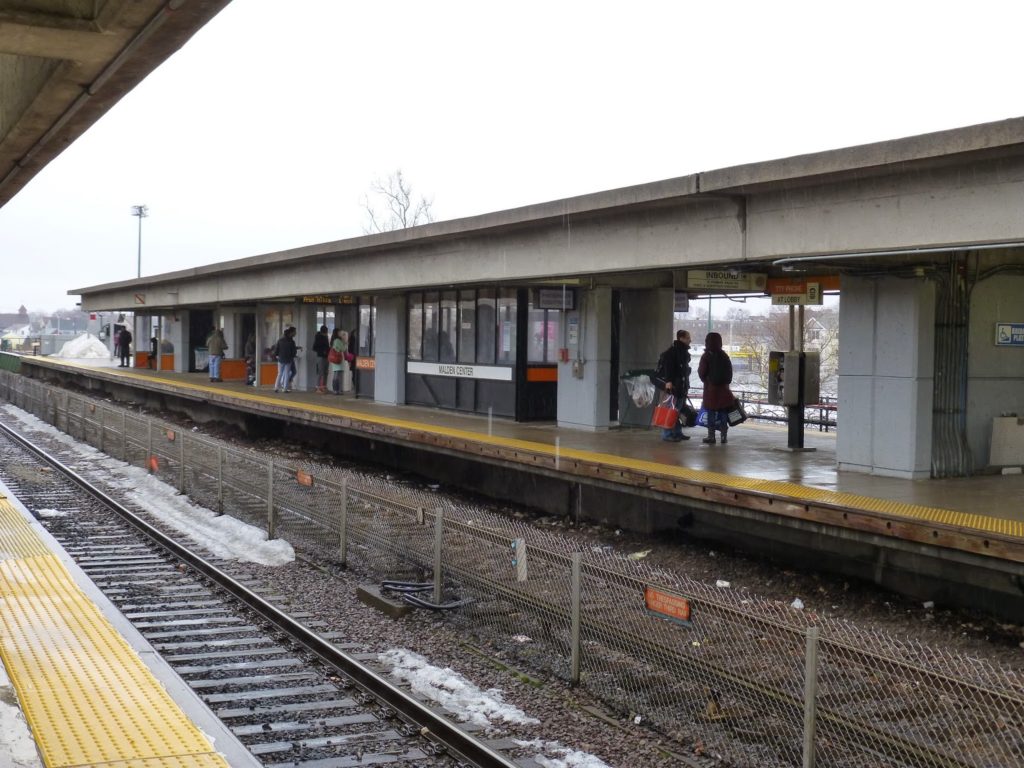 The Orange Line platform, as seen from the Commuter Rail platform.
There is a lot of concrete at Malden Center, and the platform is no exception. I think it looks really ugly, though the whole thing is sheltered. They even have pay phones right on the platform, which is convenient, even though probably no one uses them. An annoying and possibly dangerous aspect of this station is the fact that it's an island platform, with a very small space to wait in some cases. This station can get busy, so it's important to watch where you walk here.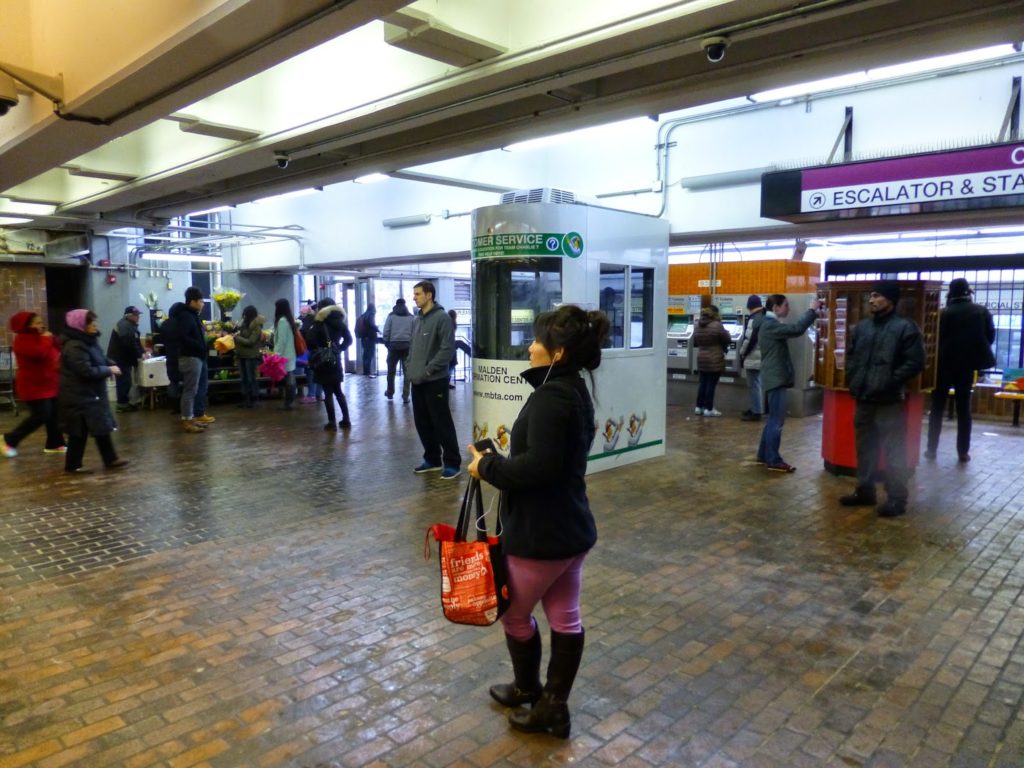 The crowded mezzanine.
The mezzanine is functional, for sure. It has a good amount of fare gates and machines, and is big and open with room to wait for trains if it's cold outside. There's one of those stands that would normally carry all the MBTA bus schedules, but for some reason it only has the Malden Center routes here. The mezzanine also has a little flower stand, which is really nice. In terms of aesthetics, though, this mezzanine is lacking.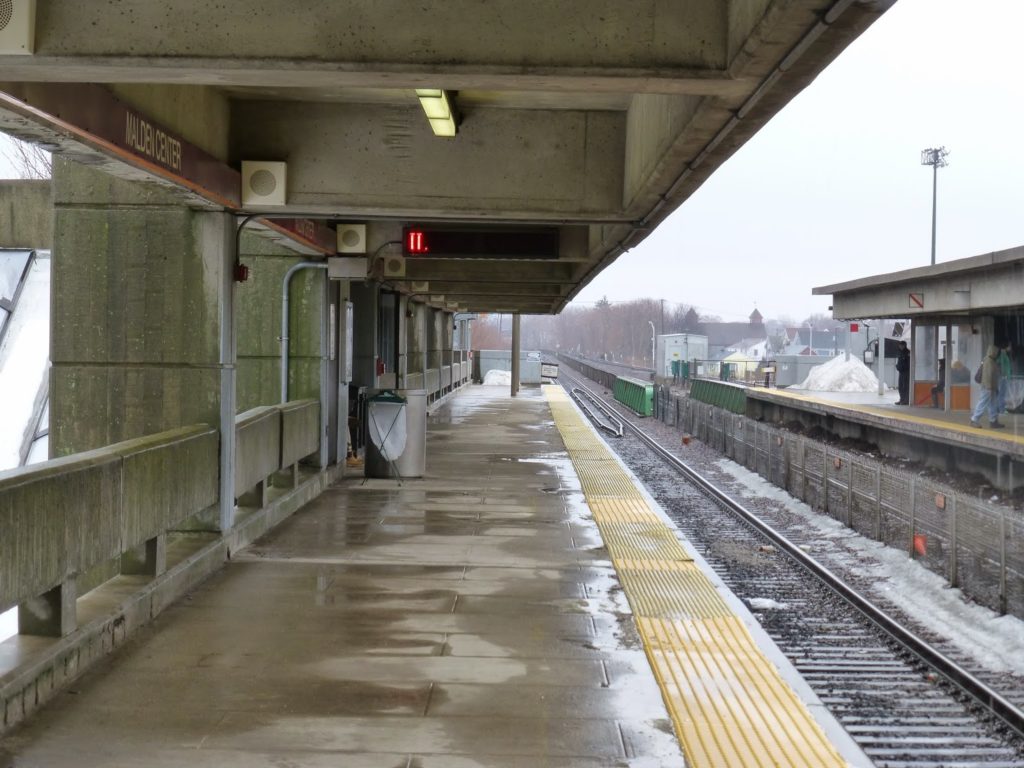 The barren Commuter Rail platform.
The Commuter Rail platform is parallel to the Orange Line one, and serves both inbound and outbound trains on a single track. This one is also entirely concrete, making it just as ugly as its subway counterpart. It also has just two benches, making much of the platform just barren concrete.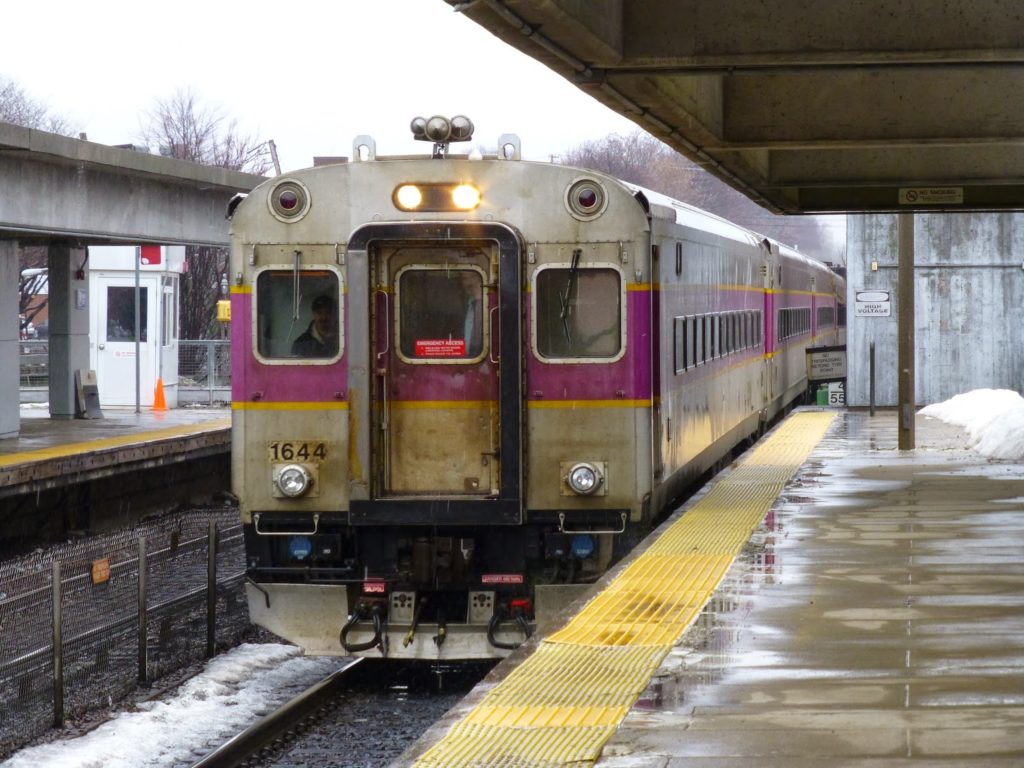 A train coming in.
A staircase leads from the Commuter Rail platform to street level, but it's emergency exit only – all passengers have to use the one that goes to the mezzanine. The latter is nice, though, with bright orange walls. There's also an elevator for the Commuter Rail platform, but it had some…unique smells inside.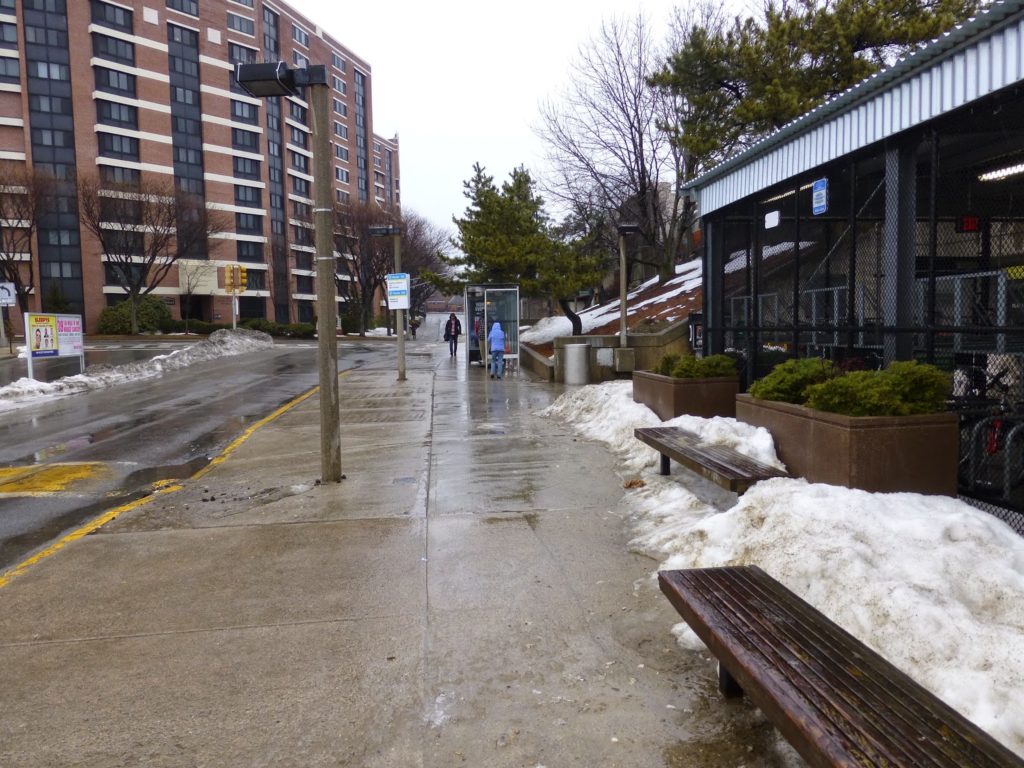 The smaller west busway.
Malden Center has two busways, but signage is either nonexistent or just not very obvious. The west busway is the smaller one, with four routes serving it. It's pretty simple, with a shelter and a few benches. This side of the station also has a "Pedal and Park" bike facility, as well as a small parking lot.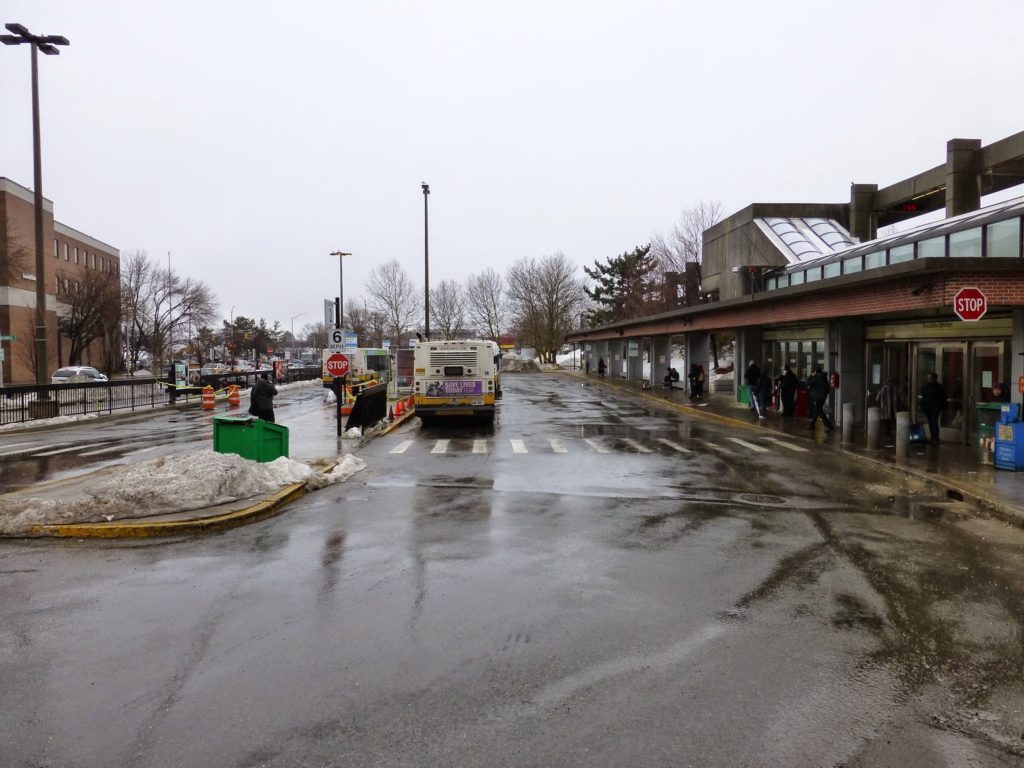 The east busway.
The bulk of Malden Center's bus routes go to the east busway, on the other side of the station. Like any busway with lots of routes, it can be confusing. Though it's easy to navigate, actually finding the route you want is a different story. As a busway, it's pretty nice, with lots of sheltered seating.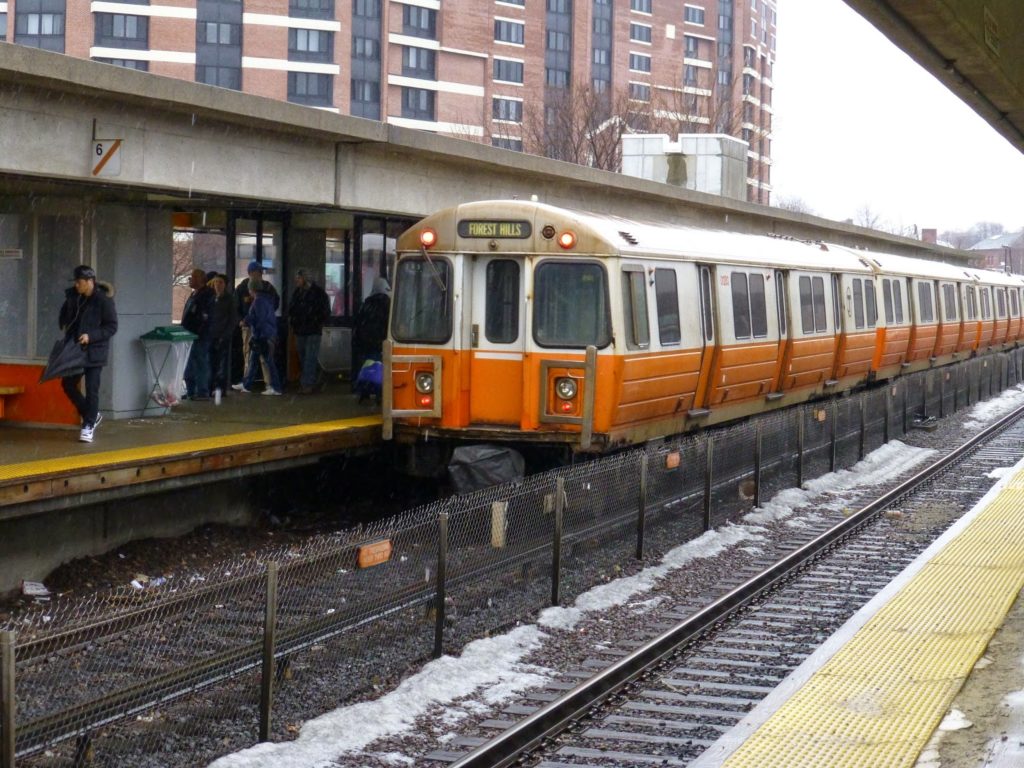 A train leaving the station.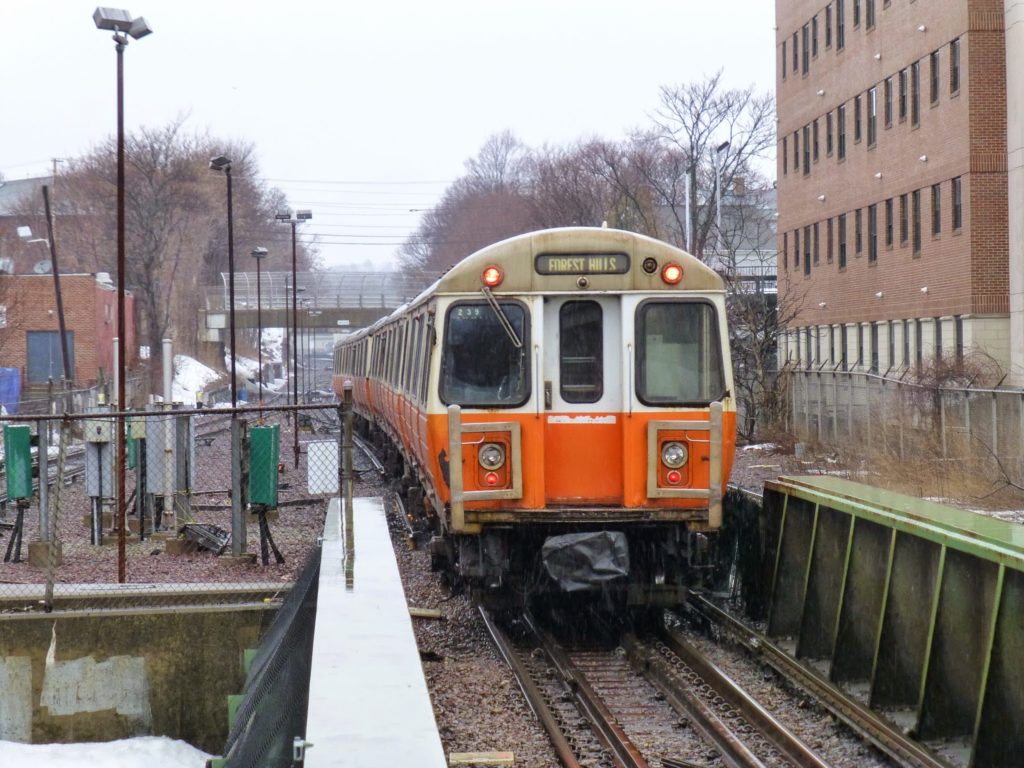 Another train, also leaving.
Station: Malden Center
Ridership: Being an intermodal station, Malden Center gets lots of ridership. On the average weekday, this station gets 12,686 riders! I assume a lot of them are transferring from other modes, though there's good local ridership here, too. As for the Commuter Rail, I know the station gets 80 inbound riders per weekday, and probably more outbound.
Pros: There are lots of transfers to be made here, which is great. And the station has amenities for sure, the flower shop in the mezzanine being a particularly nice touch. It's elevated, too, which is always fantastic.
Cons: But the station has some really ugly brutalist architecture. There's just concrete everywhere. It's a really ugly place. Plus, the platform gets really small in certain places.
Nearby and Noteworthy:
The area in the immediate vicinity of the station isn't much, and you have to make a short walk to Main Street to reach civilization. An interesting exception to this is the
Pearl Street Restaurant
, which is a bit north of the station – it's in the old station building that used to be here!
Final Verdict: 6/10
It's a functional station, that's for sure. This is a huge hub between the Orange Line, the Commuter Rail, and a bunch of buses. The problem is that it's so ugly. Brutalist style is a really awful-looking kind of architecture, and Malden Center demonstrates that awfulness quite nicely. In addition, the small amount of space at parts of the platform can be potentially dangerous.