The 411 has to be one of the most diverse – and crazy – routes on the MBTA. It includes a few strange deviations, including one through marshland in Revere! Keep in mind that this route sometimes uses new Excelsior buses, so it can be very odd to see them up north of Wonderland. Let's take a look at this madness.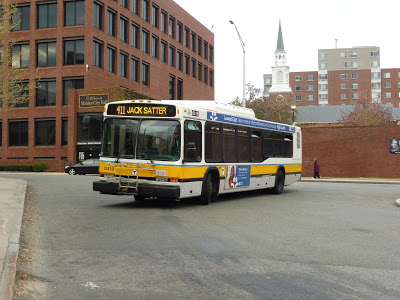 The bus arriving at Malden.
With lots of commuter passengers on board, we left the Malden Center busway and headed out onto Centre Street. Some more people got on outside of Super Stop and Shop, then we turned onto Main Street, running along Malden Center's main drag. Continuing onto Salem Street, we passed Malden High School, then it became a mixture of houses and businesses.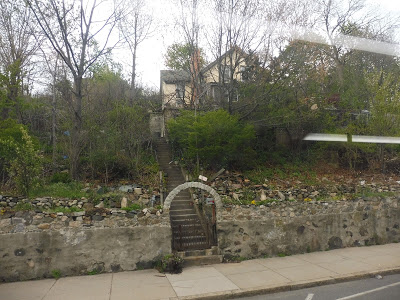 I love this house!
Eventually, we turned onto Broadway, going up a slight hill. It started to get a bit industrial, but before the scenery got too awful, we turned onto Central Ave. This street was lined with houses, although we soon turned onto Kennedy Drive, passing through a gate to enter the Granada Highlands Complex. We made a loop around it, going by apartments and various leisure activities for the residents before leaving the complex.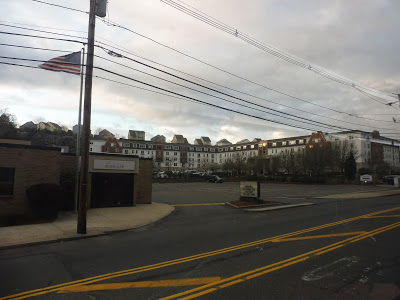 A different apartment building on Broadway.
The street curved around to parallel Route 1 for a bit, and we continued to run alongside the highway when we turned onto Salem Street. We then turned onto Lynn Street, which was lined with houses. Reaching industrial Linden Square, we turned onto the insanely wide Squire Road, passing Showcase Cinemas with its huge parking lot.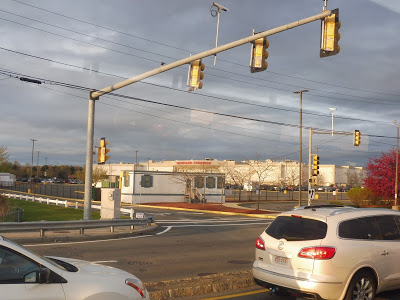 The view of the theater.
At an interchange with Route 1, we headed around a massive rotary, and there were lots of parking lots on the other side of it – they were practically lining Squire Road. We turned onto Charger Street, running along an industrial area next to Northgate, but then we headed into the mall itself. After dropping off some passengers there, we returned the way we came, all the way back to Linden Square.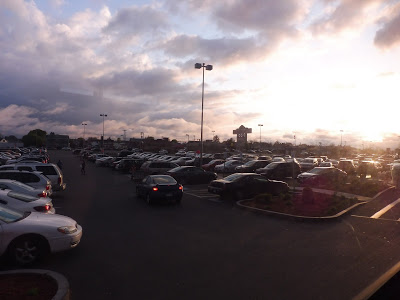 What lovely lighting for such an awful parking lot.
Back at Linden, we made a really sharp curve onto Washington Ave, which became residential. We then turned onto Malden Street, going under Route 1 and passing very dense houses. The street eventually curved to the right, but the houses felt never-ending…well, until they ended.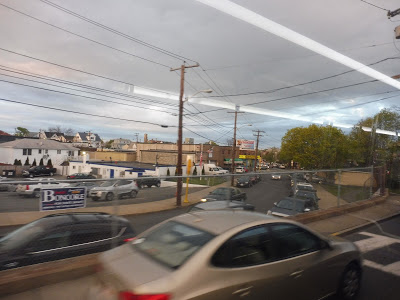 This pair of streets is awesome!
Near a school, Malden Street went up onto a slight hill, and it was all businesses when we turned onto Broadway. This is where the 411 splits, with the inbound route following the 117 and the outbound route following the 116. Since we were heading outbound, we turned onto Revere Street a block later, running along with the 116.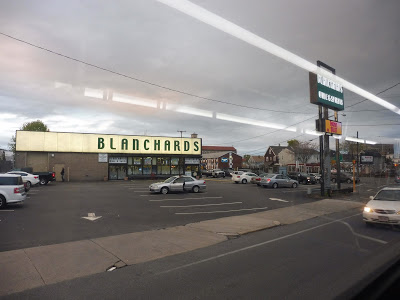 The intersection with American Legion Highway.
After some houses, there was some pretty ugly scenery at the intersection with American Legion Highway, where a lot of express routes into Boston run. After that, Revere Street made a few curves, passing houses, apartments, and the occasional business. We crossed over the Newburyport/Rockport Commuter Rail tracks, then turned onto North Shore Road, going by all houses. Eventually they fell away into just parking lots, and we went around a rotary into the Wonderland busway.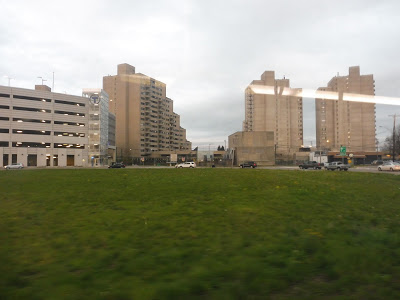 Some apartment buildings next to the station.
My friend Nathan and I could've stayed on the bus to continue to Jack Satter House, but we decided to wait for the next one instead, since we knew it would be an Excelsior. While waiting, we walked out to Revere Beach over Wonderland's fantastic Zakim Bridge replica. It was a little eerie in the darkening sky with a light rain coming down. We also got a few pictures of our previous bus returning from Jack Satter.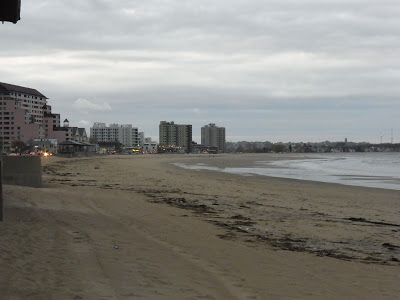 The beach!
We returned to the busway and caught the next bus, continuing the journey. Once again, we headed up North Shore Road, but continued past Revere Street this time. The houses gave way to marshland, but it was all so weird because we were on an Excelsior! Those buses never go to this part of the MBTA except when they're on the 411. Eventually, we turned onto Oak Island Street, making a stop right outside of the Jack Satter House apartment building and Revere Beach.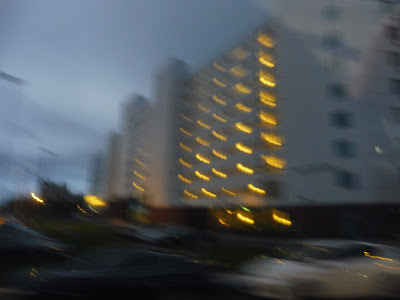 And here we see the gorgeous Jack Satter House, featured in an amazing photograph.
We turned onto Revere Beach Boulevard, with restaurants and apartments on one side and Revere Beach on the other. However, we had to move a block away from the beach when we made our way onto Ocean Ave instead. The scenery consisted of trees and parking lots, including a Wonderland back lot from which the station can be accessed.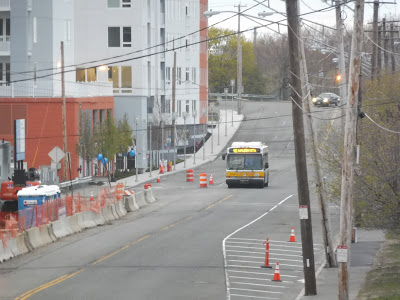 Prepare for an onslaught of pictures from the Zakim Bridge replica! I love these so much.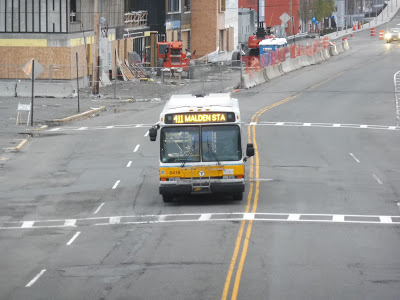 The bus getting closer.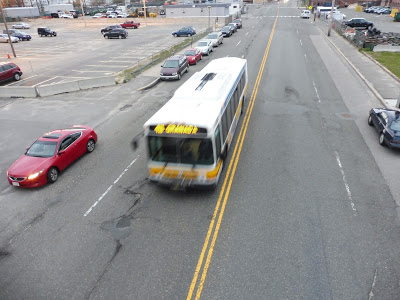 Going by in a blur.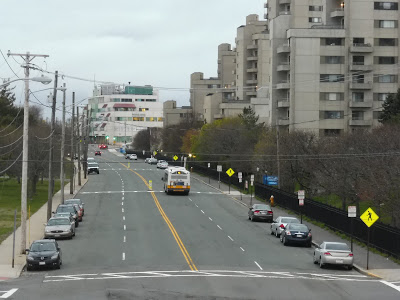 Goodbye!
We continued down Ocean Ave, going by some huge concrete apartment buildings. Finally, we turned onto Beach Street, crossing over the Blue Line tracks at Revere Beach Station. This is where Nathan and I got off to head onto the Blue Line, but the rest of the 411's loop just follows the 117, then runs up Broadway a bit more to rejoin the outbound route.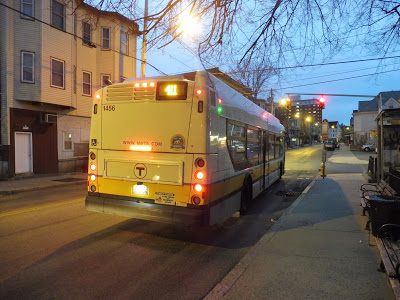 Excelsior! What are you doing up here?!
Route: 411 (Kennedy Drive or Jack Satter House – Malden Center Station)
Ridership: It's pretty low overall, with only 1,087 riders per weekday and 563 per Saturday. However, this could be because the route has a bunch of little pockets of ridership – no one rides this from beginning to end. Generally, you've got a lot of commuters from Malden Center to Granada, then there's a shopper contingency from Granada to Northgate. After that, buses are quiet up to Wonderland, where there's another group of riders that take the route from the station to Jack Satter House. My rush hour trip had about 45 riders in total, but most of them got off between Malden Center and Granada.
Pros: Well, for one thing, it's a really fun ride! It runs between two completely different parts of greater Boston – three if you count the marshland north of Wonderland! And of course, that means that the route also serves a lot. During the morning rush, it only runs between Malden Center and Granada, but it does so every 10-25 minutes. Otherwise, the 411 is less frequent, with every 25 minute service during the evening rush, every 65 minutes during the day, and every 70 minutes on Saturdays. However, this is a fine schedule for such a long, twisty route with a lot of shared sections.
Cons: Oh, that "twisty" part is very accurate. The section from Malden Center to Granada is direct, but you're in for a ride once you get past there. There are lots of twists and turns, including that long Northgate deviation, and the fact that it runs down Ocean Ave after Jack Satter House forces it to make a huge loop around Revere. It kinda feels like a few different routes patched together, which, in a sense, it is.
Nearby and Noteworthy: There are lots of small businesses along the route (plus Revere Beach), but it's almost guaranteed that the 411 is the least direct way of getting to any of them!
Final Verdict: 7/10
This is one of those routes that feels the urge to "serve" everything in its path, with deviations to Granada and Northgate. However, though it takes forever to do the whole route, no one is taking this from beginning to end. The deviations are mostly places where ridership swaps over, with most of the bus getting off and new people getting on – they don't inconvenience too many through riders. I mean, if you really want to get between the Orange Line and the Blue Line, the 110 does it in half the time! As for the 411, it may be completely insane, but it serves a few little ridership pockets, and it's a heck of a fun ride.
UPDATE 9/1/19: The route only runs past Kennedy Drive (er…"Granada Highlands") during middays on weekdays. I also have no idea why I gave this awful route a 7 when it deserves, like, a 4 at best.
Latest MBTA News: Service Updates