In my review of the 31 about a year and a half ago, I remarked upon how good the bus's schedule is for a non-Key Bus Route. One of the things I said was that it's "better than the 116 and 117, and those are both Key Bus Routes!" Something I don't think I realized at the time was that the 116 and 117 may have subpar schedules individually, but as a combined, coordinated unit they're as good as any other Key Bus Route. With that said, let's take a ride on both the 116 and 117 routes! (Oh, and as long as we're giving confessions from early blog posts, I'd like to apologize for saying that the sharp turn after Harvard is only on the inbound side. Not sure what I was thinking…)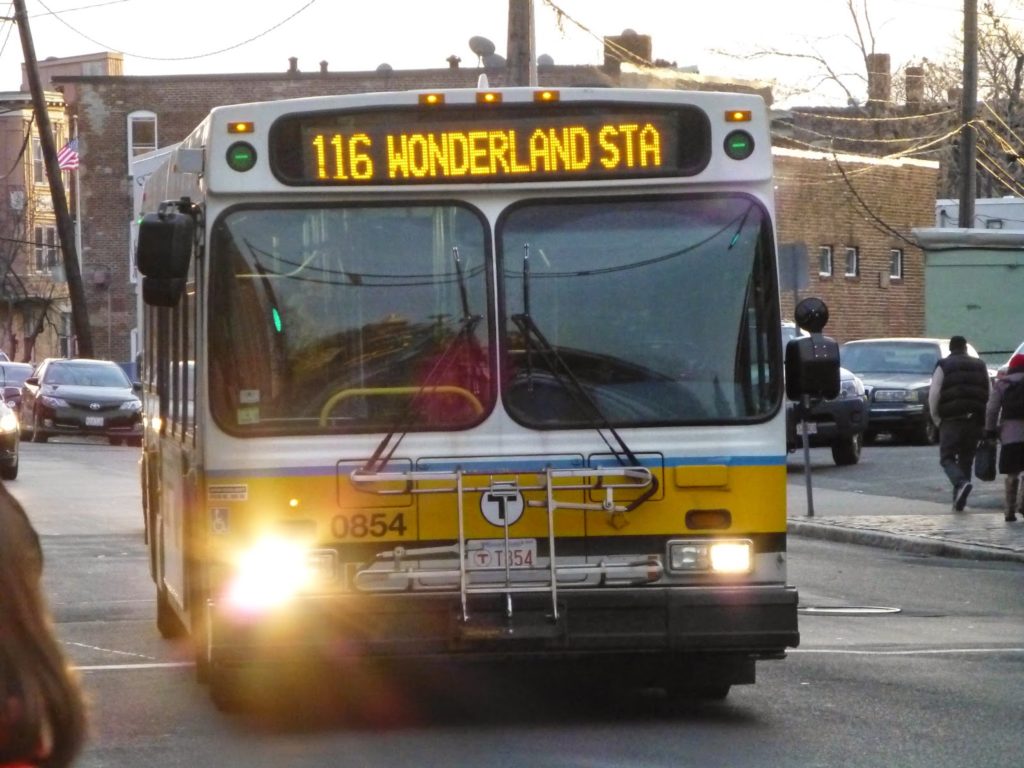 The 116 in Bellingham Square. That destination board seems a bit askew…
I got on the 116 in Bellingham Square heading towards Wonderland. I'm going to save this part of the route for the ride back, and skip ahead to the 116's unique portion. After the 117 turns off onto Central Ave up in Revere, the 116 continues up Broadway, going by a mixture of apartments and businesses. Eventually, we turned onto Revere Street, joining the 411's route.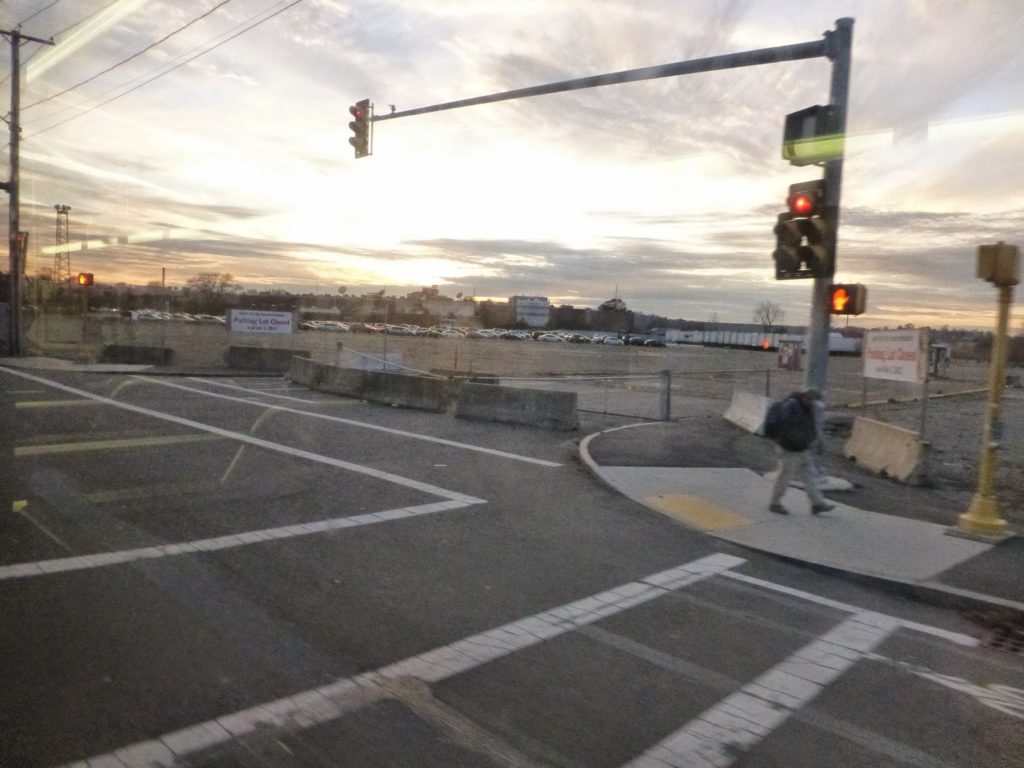 Sunset falls over some parking lots near Wonderland.
Revere Street was much more residential, though there were a few dodgy-looking businesses when we crossed American Legion Highway (upon which a plethora of 400-series buses toward Lynn and Salem go). The street curved north for a bit, and we went by the "Friendly Garden Co-op" – how I love names of residential developments. It then curved east again, where there were apartments and some businesses, as well as a school. Crossing over the Commuter Rail tracks, we turned onto North Shore Road (along with another bunch of 400s), went around a rotary, and came into the Wonderland busway.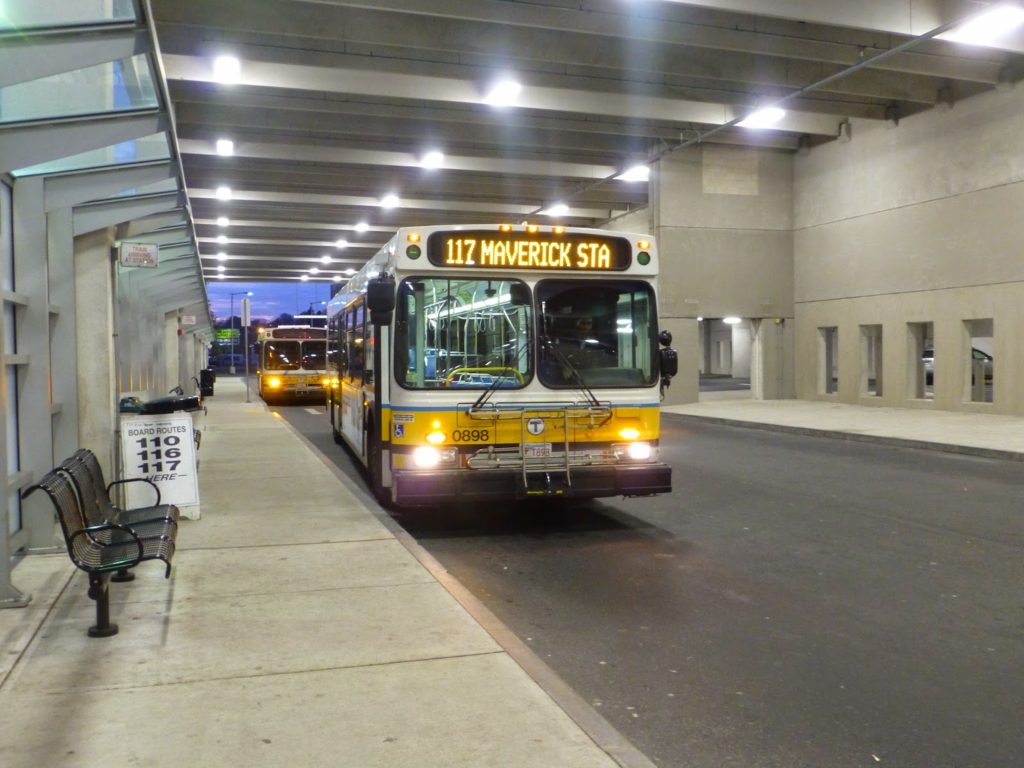 The 117 in the well-lit busway.
Unfortunately, the 116 was a few minutes late, and I had just missed the 117 going back to Maverick. I had to wait 20 minutes for the next one, and though I could've gotten the 116 that arrived in half that time, I wanted to do both buses for one review. So after the wait that felt much too long, we headed down North Shore Road, following the 110 route.
We came pretty close to Revere Beach Station, but rather than directly serving it, we turned onto Beach Street. There were some nice apartments along here, then we went over the Commuter Rail tracks, past a plaza, and around Bell Circle. Continuing down Beach Street, the apartments became houses until we turned onto Broadway, rejoining the 116.
Broadway had a bunch of small businesses, and was well-lit thanks to some fantastic old-fashioned streetlights (night had fallen by this point). We passed Revere City Hall, then went under Revere Beach Parkway and over a small creek. It then became more residential, with apartments lining the street.
Nice view.
After crossing the Commuter Rail tracks yet again, the buildings got more dense as we entered Bellingham Square. We turned onto City Hall Ave, then Washington Ave, and then Broadway again. We stayed on it for about three blocks before turning onto Cross Street, which had a very back-alley feel to it. Almost immediately after, we turned again onto Pearl Street, which went on a bridge over the Chelsea River. The view was pretty nice, even at night, with Boston partly visible and the massively high Tobin Bridge dominating the scene. Unfortunately, pictures from lit-up buses don't come out well at night, so…no pictures. Sorry.
Now on Meridian Street in East Boston, we went by a bunch of cute apartments. These soon turned to businesses as we went through Central Square, then we crossed over the Callahan Tunnel portal. We turned onto Chelsea Street, and were let out right outside Maverick Station. The bus then looped around the entrance, changed its destination board to 116, and shut off, presumably for a short layover.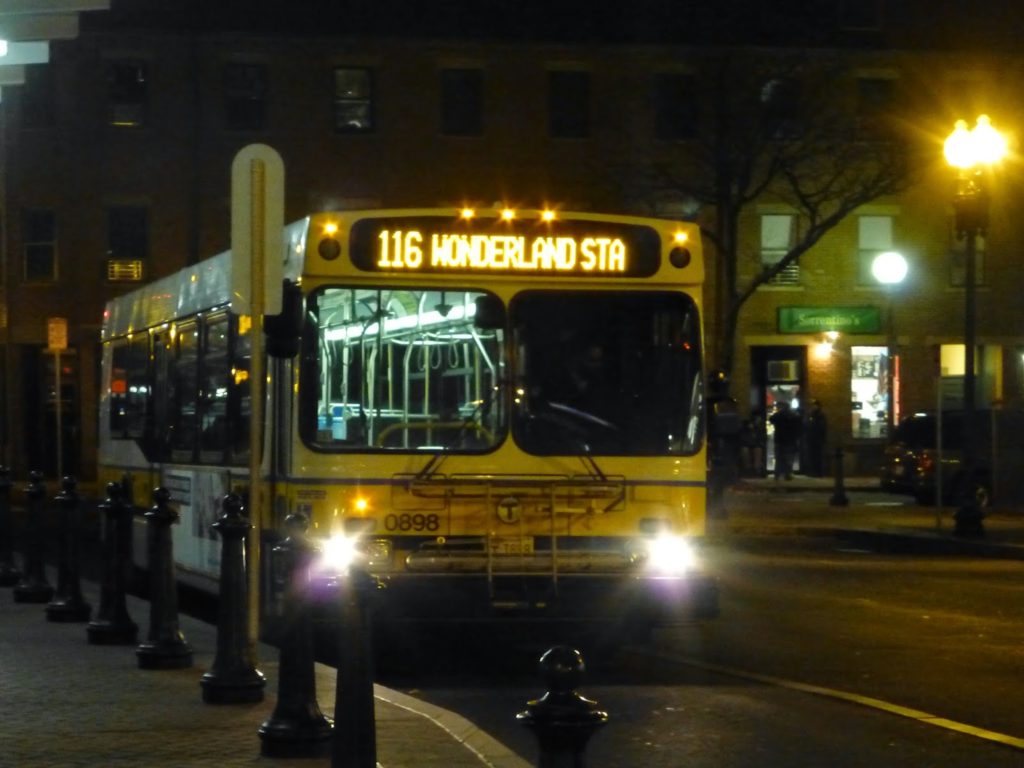 A nice night shot at Maverick.
Routes: 116/117 (Wonderland Station – Maverick Station via Revere Street or Beach Street)
Ridership: It's a Key Bus Route, so heavy. The 116 from Bellingham Square to Wonderland only saw about 25 passengers, but the 117 back to Maverick had almost 50. Bellingham Square was a major stop, but for the most part people got on at local stops and fed into Maverick. There were surprisingly few people that got on at Wonderland.
Pros: These buses serve a lot, including transit-starved Chelsea. And the schedule, with both buses coordinated, is great. It's every 10 minutes during rush hour with additional short-turn service from Bellingham to Maverick, about every 10 minutes during the day, every 20 minutes at night (with service running until 2:30 on Fridays and Saturdays), about every 15 minutes Saturdays, and about every 20 minutes Sundays.
Cons: First of all, I noticed some bunching with buses going the other way – there was a 117 running right behind a 116. Also, you may have noticed that I said "about" a lot in the schedule description above. That's because 116 and 117 buses seem to leave at totally random times rather than following consistent headways. It can make following the schedule very hard. And finally, I'm not sure if we need two separate routes here. Based on the ridership I saw, the MBTA could probably combine them into one.
Nearby and Noteworthy: There were lots of small businesses along the route, with Bellingham Square being the largest commercial area. Bellingham isn't very nice, though…
Final Verdict: 7/10
I wasn't sure whether to do a six or a seven, but thinking about it, these buses do serve a lot. Chelsea may not have a subway service (they're getting a Silver Line, though), but at least the bus routes that run through it are frequent. That said, I feel like the 116 and 117 don't have to be two different routes. Turning all the buses into 116's would make things much less confusing for passengers. Still, they could also just run buses at consistent headways instead of the current craziness to cut down on confusion.
Latest MBTA News: Service Updates