"It's actually rather uninviting, but there are some businesses quite close to the stop. We didn't get to try any of them, however, as a 110 came (review coming at some point) and we continued our journey." – Miles on the MBTA's review of the 111. Well, if by "some point," I meant over a year and a half later, then I guess I was telling the truth! Yes, for some reason I never got around to reviewing the 110 then. But now, let's remedy that, as I got the chance to take the whole route all over again.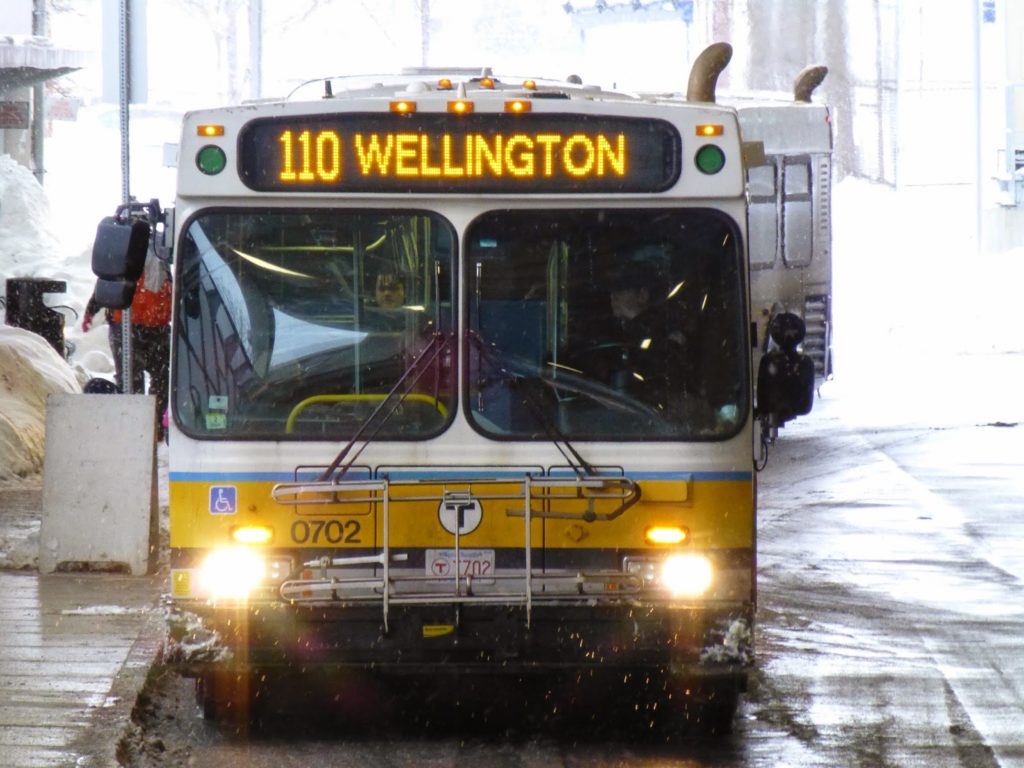 Excellent timing! The bus was there right when my train arrived.
Leaving the Wonderland busway, we made our way down North Shore Road, then turned onto Beach Street. This was a residential neighborhood, but there was a small plaza when the street merged into a rotary. From there, it turned back to houses, and continued like that until Broadway.
We were on Broadway for about a half-block before turning onto Park Ave, going solo. Passing a park (the street's namesake, perhaps?), it then became entirely residential. I was wondering if the 110 was on its snow route, which bypasses a portion of Park Ave, but evidently we weren't as we floored it over a huge hill. We crossed over Route 1 and stopped at Woodlawn, the quiet terminus of the 111.
This was also where we entered Everett, and Park Ave became Elm Street. It stayed residential all the way until the massive Everett High School. Here, we turned onto Ferry Street, which was a mix of houses and businesses. All of a sudden, we reached a massive traffic jam at the intersection with Chelsea Street. It took a full five minutes to make it through, after which we turned onto Chelsea.
The street was mostly houses, with a few apartments. Eventually, we joined some other routes when we turned onto Broadway (a different Broadway from the one before). It was lined with businesses, but before it got industrial, we turned off onto Revere Beach Parkway. Surprisingly, it was a quick run without any traffic, and we soon pulled into the Wellington busway.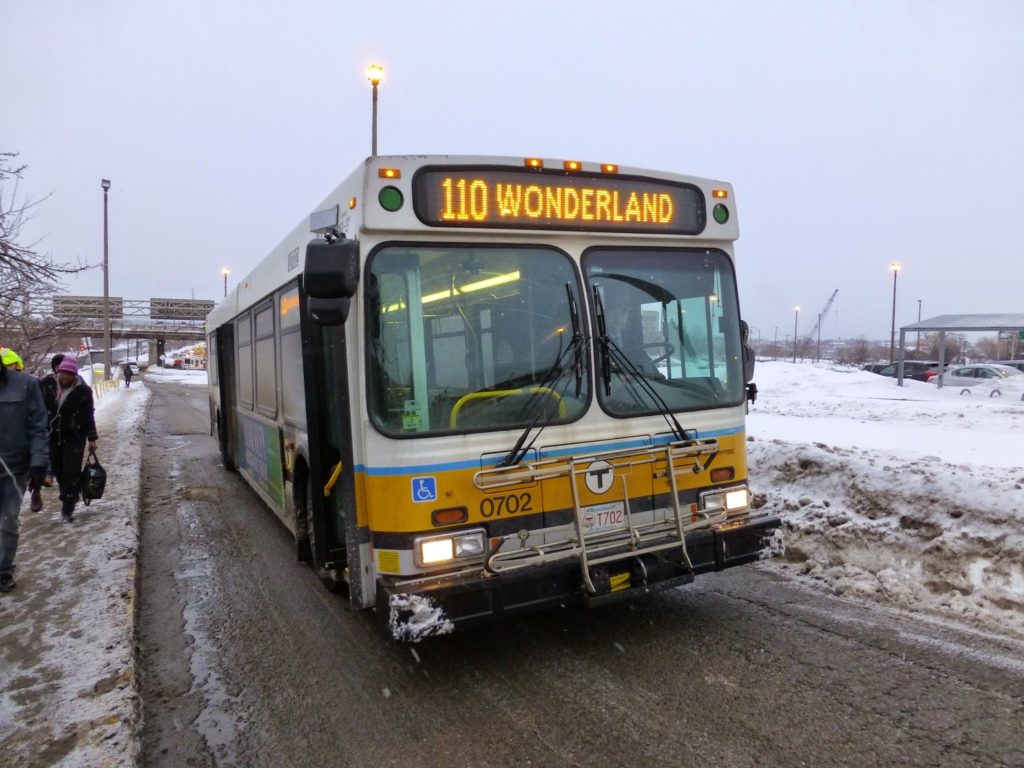 Looks pretty bleak…
Route: 110 (Wonderland or Broadway and Park Ave – Wellington Station via Park Ave and Woodlawn)
Ridership: This route gets very high ridership, all things considered – there were about 35 people on my ride. However, in total, the 110 ranks 38th compared to other MBTA buses on weekdays, with almost 3,500 daily riders! It performs similarly well on weekends, with over 1,600 riders on Saturdays and a little over 1,000 riders on Sundays. On my ride, most people who got on at Wonderland got off along Park Ave, with people starting to get on for Wellington after Woodlawn.
Pros: This is an important crosstown route up north, cutting across both Revere and Everett. It has a good rush hour schedule (every 20 minutes, with additional short-turns from Wellington to Broadway and Park Ave) and a decent Saturday schedule (every 35 minutes). Alas, the rest of the time, the route is a bit… terrible. Read on…
Cons: Yeah, so considering how high this route's ridership is, it has some terrible headways. It runs every 40 minutes during the day, and every hour nights and Sundays! Come on, 110! That's awful!
Nearby and Noteworthy: Beats me. We went by some small businesses, but none of the ones I saw seemed especially notable.
Final Verdict: 6/10
I never know how to give a number to clearly important routes with really bad schedules. Do I increase the score because lots of people rely on the route, or do I lower it because the schedule is so bad? I decided to do the latter for this one, though not by too much. An improvement to the 110's schedule would be great, though.
Latest MBTA News: Service Updates (you'll need 'em!)
Oh, you know, it'll take 30 days minimum for the MBTA to get back to normal, and that's without any big blizzards! Also, I'm pretty upset that Beverly Scott resigned as GM. I liked her!