All right, it's time for another installment of Express Buses That Run Incredibly Infrequently and Are Extremely Hard to Find! In today's episode, we have the 428, a Tobin Bridge express route that heads up to the Wakefield High School, more or less in the middle of nowhere! Let's get started, right after this message from our sponsors.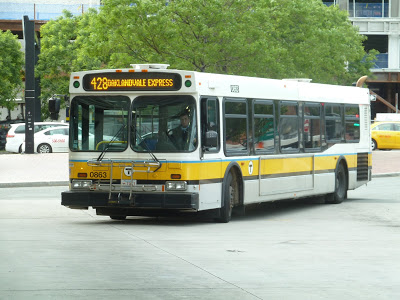 Okay, I don't actually have sponsors, so let's just get started.
We left Haymarket and headed up North Washington Street, though being an express bus, we didn't make any stops. We crossed over a bridge, then the street became the incredibly wide New Rutherford Ave. Soon after, we turned onto the Tobin Bridge on-ramp, which sunk down into a tunnel, then sprung up into the air.
Zooming over Charlestown, we crossed the Mystic River, where I saw a massive cargo ship being tugged from the harbor. We came over downtown Chelsea, then Route 1 came back down to ground level. Then we hit traffic. Blech…
We muddled through for a while as the highway went past lots of houses. We took the exit for Route 60 and went around a huge rotary, then headed down Squire Road, going by the huge Showcase Theater. Dropping a few people off in Linden Square, we turned onto Lynn Street, which was residential.
Just before Route 1, we turned onto Salem Street, then onto Kennedy Drive. We climbed up a hill, then went through a gate into the Granada Highlands Complex. Making a loop around the complex, going by apartment buildings, we dropped a few residents off here. After that, we headed back down to Lynn Street the way we came and crossed under Route 1.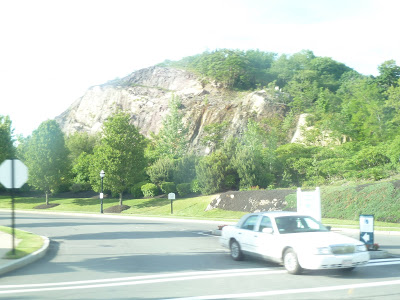 That's a big rock…
We entered Revere and the street became Salem Street. We went by some apartments and curved our way up a hill, and after passing some more houses, we entered Saugus. The street was Lincoln Ave now, and some businesses came up when we reached Cliftondale Square. Here, Lincoln Ave curved to the right and it became residential again, with the occasional small business.
After a while, we turned onto Winter Street, beginning the solo portion of the 428. We went by a cemetery, then turned onto Central Street, joining the 430. There were more businesses, as this was Saugus Center. Going around a rotary with a nice statue in the middle, we turned onto Main Street. It was once again residential, but when we crossed over Route 1, the Square One Mall was visible.
Main Street curved north, and we reached Oaklandvale, which is both a school and technically the terminus of the 428. However, the route does go further, so we continued down Main Street, passing a small plaza. We also went by a baseball field and an auto shop, but it was residential for the most part.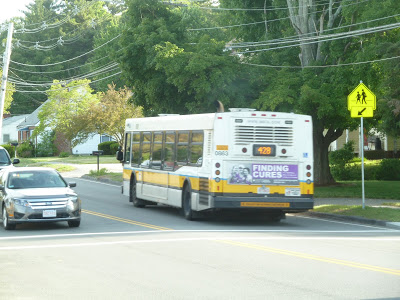 The bus in Wakefield.
From there it became very rural-feeling as we went through some woods. Soon after, Main Street became Farm Street as we entered Wakefield. We passed another baseball field, then turned into the Wakefield High School parking lot. The driver opened the doors here, and I prepared myself for the walk down to Wakefield Square, a mile and a half away.
The front of the school.
Route: 428 (Oaklandvale – Haymarket Station via Granada Highlands)
Ridership: On my ride, there were almost 30 people on the bus, all of whom got on at Haymarket. Aside from the Granada Highlands Complex, most people got off at parts of the route shared with the 426. There were only about three or four people who got off along the 428's solo portion. Yet there were about seven or eight people who got off at Granada, which makes me wonder if they should extend some 426 trips to go there, too. Overall, the route gets an average of 168 riders per day, and it's the 10th worst MBTA bus route for ridership.
Pros: This is a good cross-Saugus route, and one of only four MBTA buses that goes through Saugus. Plus, it provides express service to Granada Highlands, and it and the 411 are the only routes that serve the complex.
Cons: Problem is, being a potentially useful route through Saugus isn't the best if the route only runs three times a day. But that being said, there were very few people who went further than Cliftondale Square, so is it worth running the 428 more often? I'm not sure.
Nearby and Noteworthy: The main business areas seemed to be Cliftondale Square and Saugus Center, but the rest was mostly residential.
Final Verdict: 5/10
As an express bus, the 428 is fine. Three runs during rush hour to supplement the 426 and bring commuters to Granada and Saugus is fine – for an express bus. But I wonder how much ridership an experimental midday 428W would get. It could come from Oaklandvale, serve Granada Highlands, and then follow the 426W to Wonderland. Just an idea…
UPDATE 9/1/19: Not a huge change here, but 428 service will now end at Main Street @ Lynn Fells Parkway instead of Wakefield High School, a slight cutback. Also…midday 428W service? Keep dreaming, Young Miles, keep dreaming…
Latest MBTA News: Service Updates