I can't say I was expecting much with the town of Wakefield. I mean, look at its name: Wakefield. I'm sorry, but it just sounds like a boring suburban community. Not so, as it turns out – Wakefield actually has a very active and walkable downtown with lots of restaurants and businesses. And a quarter of a mile to the west is the Commuter Rail station with the same name.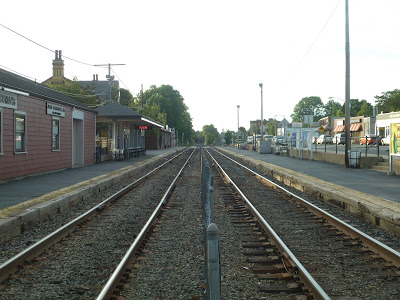 Looking down the platforms.
The outbound platform is pretty barebones, with a low-level platform and no shelters. It's slightly below the road, so it has little staircases along it to get in. The platform does have a bench, but it's not nailed to the ground, so there's just a chain locking it up to the railing. It also has wastebaskets and a few bike racks.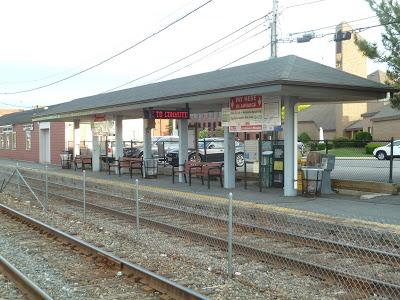 The shelter on the inbound side.
The inbound side, as you might expect, is much nicer-looking. It has an actual shelter, proper benches, wastebaskets, and newspaper boxes. In addition, the parking pay station is on this side – Wakefield has 117 spaces, which seems to be more than enough for the station. Plus, there are even these little restaurants on the platform! I love that! It means that while you're waiting for the train, you can grab a quick bite literally without going anywhere.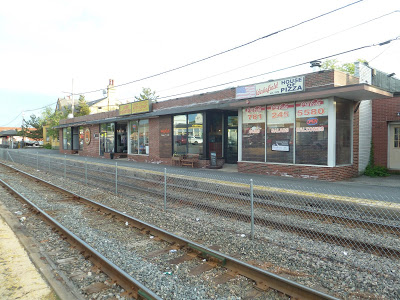 That's amazing! I love this!
But we can't forget about the old station house here. It's a beautiful old building that now has an insurance company and a barbershop in it. Listed on the National Register of Historic Places, it doesn't contribute anything to the station functionally, but it sure looks great.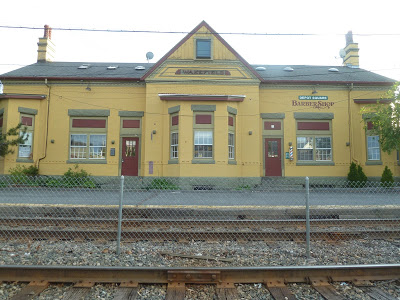 I love it.
Station: Wakefield
Ridership: It was empty when I was there, but that was because no trains were coming for another hour. The station's overall ridership is actually pretty good, at least for the Commuter Rail, with 682 inbound riders per weekday.
Pros: I have nothing but praise for the inbound platform. It has a nice shelter, lots of amenities, the restaurants, and of course, the amazing old station building. Also, Wakefield Station's proximity to downtown is fantastic – it's literally a block away. And for people coming from farther out, the parking lot has lots of space for commuters.
Cons: The outbound platform is much more barebones, but admittedly, not many people go outbound from here. Wakefield's main problem, however, is that it's not wheelchair accessible. Installing a mini-high platform here would do the station wonders.
Nearby and Noteworthy:
I went into
My Brother's Place
expecting a standard, generic pizza parlor. I came out having eaten some of the best pizza I've ever had in my life. Seriously, if you end up in downtown Wakefield, this place is amazing.
Final Verdict: 7/10
Argh, I'm a sucker for old buildings. And seriously, restaurants right on the station platform? That is so amazing. That said, Wakefield does lack accessibility, which is bad. But really, those restaurants, am I right?